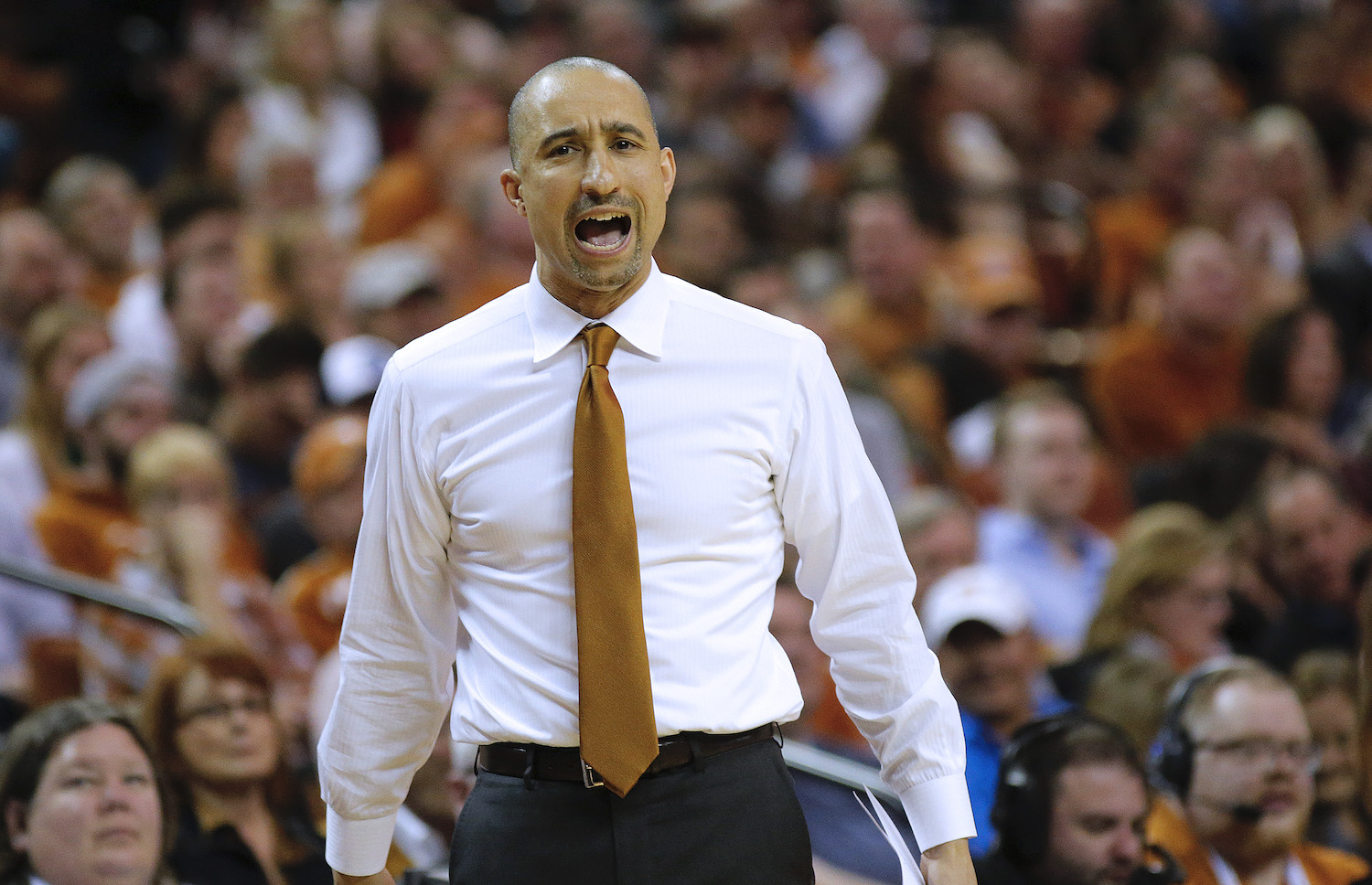 Emotional Texas Longhorns Coach Shaka Smart Candidly Admits to Severity of COVID-19 Virus and How Dark Thoughts Crossed His Mind and Forced Him to Reprioritize Life
Texas Longhorns head coach Shaka Smart is back after battling COVID-19. He's a changed man and admits he encountered dark thoughts and the time away forced him to reprioritize life.
Shaka Smart and his Texas Longhorns basketball squad, like every other team and every other sport in America, have been affected by the COVID-19 virus. Smart recently tested positive and missed a game against the rival Oklahoma Sooners while in quarantine.
Upon his return and before Smart's No. 6 Texas team plays host to the No. 2-ranked Baylor Bears in Austin, the 43-year-old coach said he encountered dark thoughts while battling COVID-19 and it forced him to refocus his priorities in life.
Shaka Smart's career and time in Austin
Shaka Smart joined the Texas Longhorns back in 2015, replacing Rick Barnes. During his first season in Austin, Smart led the Longhorns to a 20-13 record and a berth in the NCAA Tournament, where they made an early exit in a first-round loss to Northern Iowa.
Until this season, that first year in Austin was the high-water mark for Smart. In the four years in between, the Longhorns made one NCAA Tournament and eclipsed the 20-win mark during one season, both of which happened in different seasons.
Shaka Smart took the Texas Longhorns to the 2017-18 NCAA Tournament, but the team again exited in the opening round. A year later, Texas took a 16-15 record into the postseason and the National Invitational Tournament, where the Horns got hot, winning five games and were crowned champions. 
Last season Texas appeared ready to make another NCAA tourney appearance with a 19-12 record before the postseason was canceled due to the pandemic. This season the Longhorns have been ranked in the top 20 all season and are currently ranked No. 6 with an 11-3 mark.  
COVID-19 issues for Smart and Texas Longhorns team
Shaka Smart and his Texas Longhorns have certainly not been immune to the pandemic this season, with four games postponed or canceled. The most recent cancellation occurred last weekend against Kentucky with the Wildcats experiencing virus issues. 
The Longhorns were also hit hard by the virus in the last month. In each of the team's last two games, three players sat out due to COVID protocols. Against the rival Oklahoma Sooners, Texas had eight scholarship players available for the game, which exceeded the Big 12's minimum of six. Texas lost 80-79.
On January 25, Shaka Smart announced he had tested positive and was isolating from the team. 
Smart returns changed man and admits to seriousness of virus
Shaka Smart returned to the team on Sunday and talked about what he experienced with the virus during a press conference. The Texas Longhorns coach said he experienced "significant" symptoms and it was during the worst of those symptoms, Smart admitted some dark thoughts crossed his mind. 
"This was not a walk in the park for me, not saying it has been for anyone else," Smart said. "When you go through that kind of stuff, it certainly swirls some things around your mind."
"But there's a lot up there for me and I think just to sum it up — maybe a prioritization of what matters most, both as it relates to our team and also as it relates to my family, loved ones. The one thing when you have this thing is, and I'm sure other people maybe went through this is, it certainly gives you a little bit of a second sight to see some things a little more clearly."
It's hard to believe COVID-19 began disrupting sports and college basketball almost a year ago. And it's clear by Smart's personal ordeal, it's still just as frightening as it was when it first arrived.