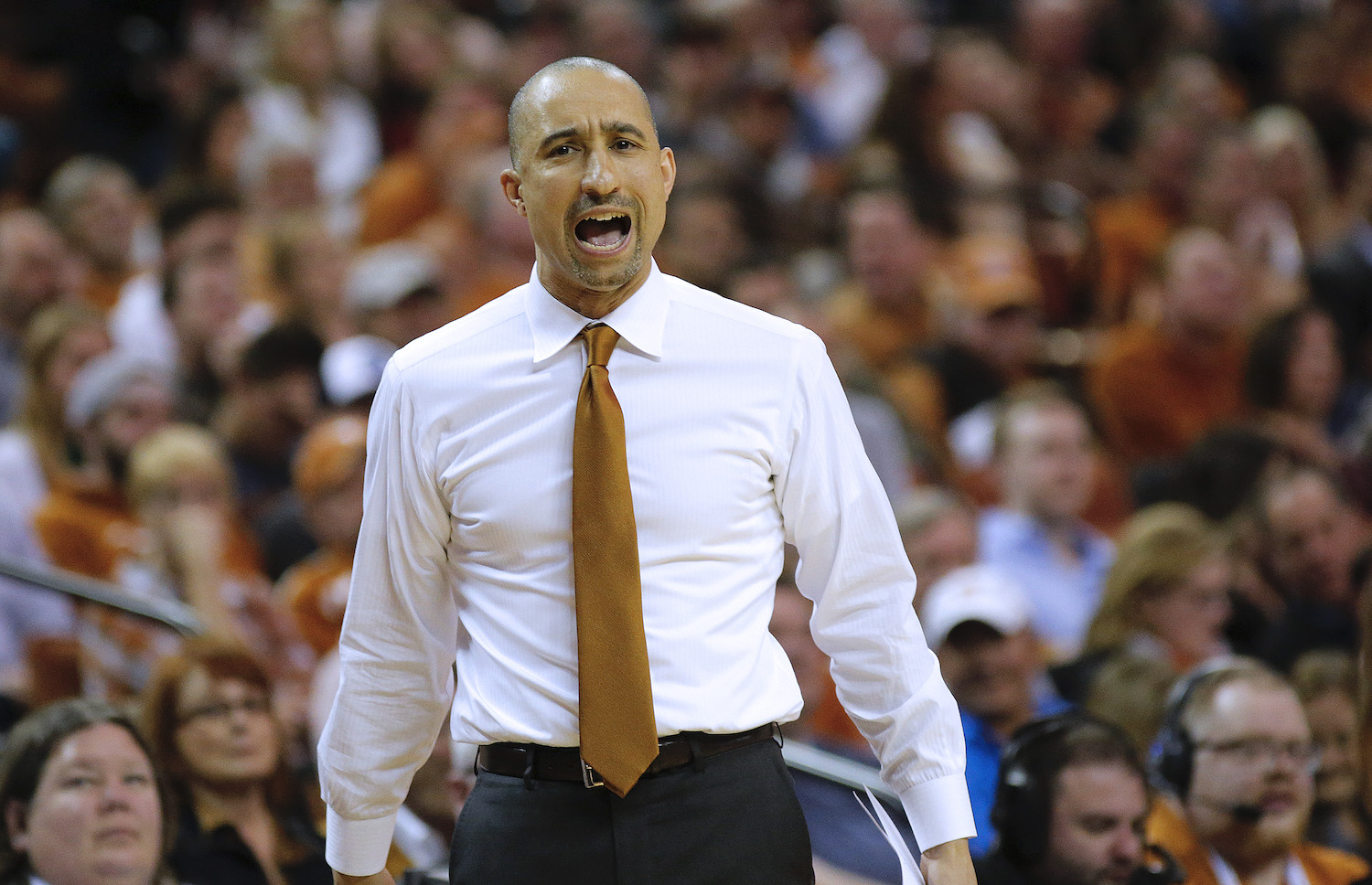 Texas Longhorns Basketball Coach Shaka Smart Stuns National Television Audience with New Hairstyle
For a dozen years Shaka Smart has roamed the sidelines for VCU and Texas with a shaved head. His new look with a full head of hair stunned college basketball fans and sent Twitter into a frenzy.
Shaka Smart is starting his sixth season as the basketball coach for the Texas Longhorns and 12th season overall. Many believe this is the best team Smart has had in Austin with a veteran group of players and the addition of superstar freshman Greg Brown. However, after the Longhorns' first nationally televised game against Davidson in the Maui Invitational on ESPN, the Twittersphere had no interest in talking about the Longhorns' victory, but instead, was obsessed with Smart's new look and his full head of hair. 
Shaka Smart's career and time in Austin
After six seasons and a 163-56 record at Virginia Commonwealth, the Texas Longhorns tabbed Shaka Smart as a replacement for Rick Barnes. In his first season in Austin, Smart guided the Longhorns to a 20-13 record and an NCAA Tournament appearance, where the team bowed out in a first-round loss to Northern Iowa.
That first season turned out to be a high-water mark for Smart. In the four years that followed, the Longhorns only managed to make one additional NCAA Tournament and eclipse the 20-win mark in one season, and interestingly, they achieved both in different seasons.
Texas made the 2017-18 NCAA Tournament with a 19-14 record, but like Smart's first season, the team lost in the opening round. A year later, after going 16-15 in the regular season, the Horns lost their only game in the Big 12 Tournament, before receiving a bid in the National Invitational Tournament. In five games, the Longhorns ran the table and were crowned the NIT champions, finishing the season with a 21-16 record.   
2020 is pivotal year for Shaka Smart and Longhorns
Shaka Smart's Longhorns were streaky throughout much of the 2019-20 season, including a five-game winning streak late in the year with victories over ranked West Virginia and Texas Tech. The Horns had hopes for an NCAA invitation with a record of 19-12 overall and 9-9 in Big 12 play. The pandemic, however, had other ideas and ended any thoughts of postseason play.
After five seasons in Austin, Smart has led the Longhorns to a 90-78 overall record and just two NCAA Tournament appearances, three fewer than what he achieved at VCU. This season, by most accounts, is a pivotal one for the 43-year-old coach. 
Shaka Smart has a veteran lineup, including guards Courtney Ramey and Matt Coleman, plus he has the addition of one of the top freshman in the country, 6-foot-9 Greg Brown, who many think will be a lottery pick for the next NBA draft. 
Social media responds to new hairstyle
After the bizarre ending to the 2019-20 campaign in March, Shaka Smart comes into the 2020-21 season with a renewed attitude, and more surprisingly, a new look. For the first time since Smart has been a coach, his formerly clean-shaven head has been replaced by a full head of curly black hair. 
He debuted the new do in the Longhorns' season-opening victory over UT-Rio Grande Valley in front of a limited home crowd of a few hundred fans at the Frank Erwin Center. His hairstyle made its national television debut on ESPN against Davidson, and, naturally, social media reacted.
"I was not prepared to turn on the TV and see Shaka Smart with hair," wrote someone on Twitter. 
"The greatest come back in sports history just might be Shaka Smart's hair," wrote another. 
Smart had his own response after the team's 78-76 win over a solid Davidson team at the Maui Invitational. "I only did it because my daughter and wife asked me to."
It is, after all, 2020. Nothing is normal. Not even Shaka Smart's hair. 
All stats courtesy of College Basketball Reference.