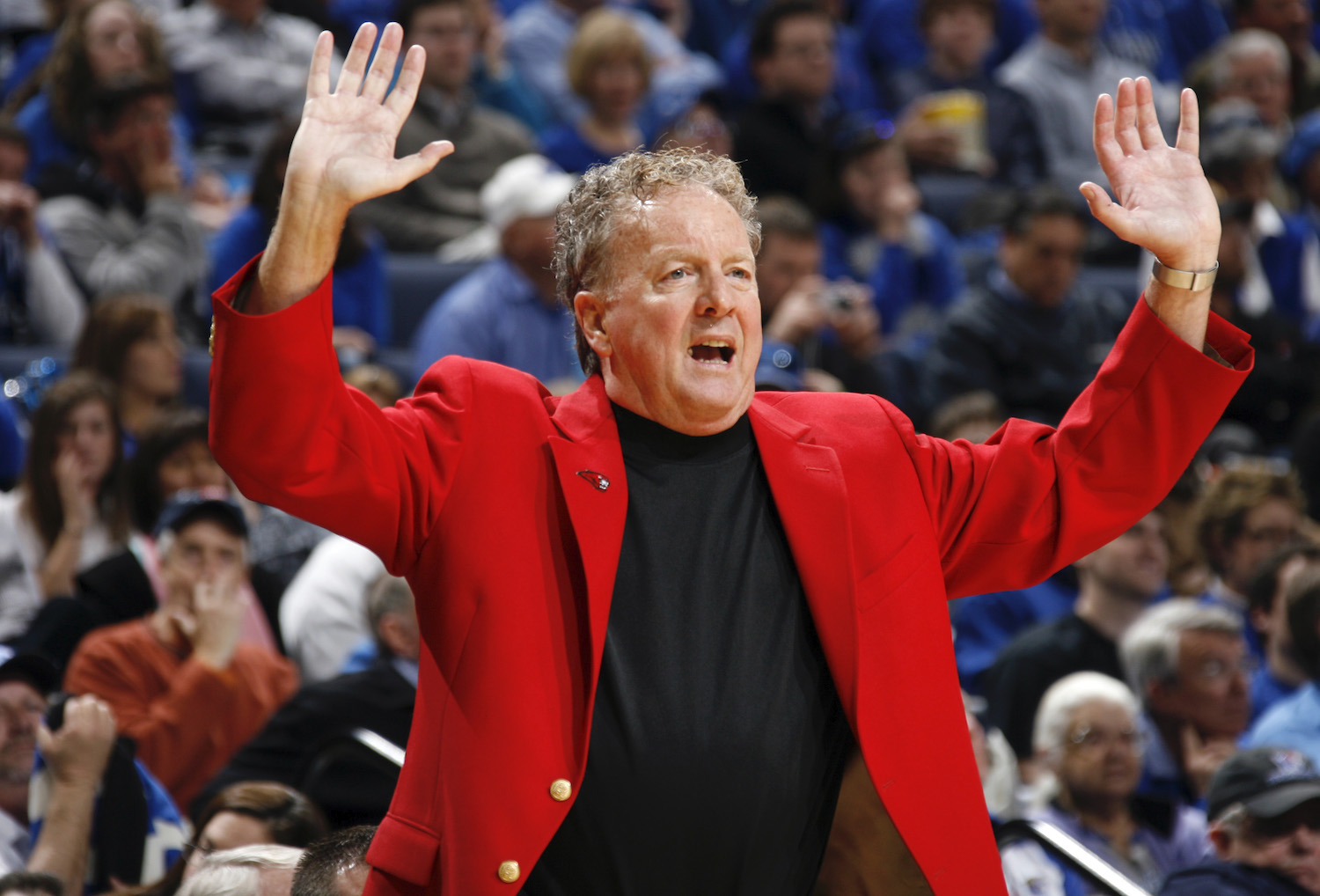 Former Texas Longhorns Coach Tom Penders Receives College Basketball's Highest Honor
Tom Penders is one of eight coaches to take four different teams to the NCAA Tournament. He's been rewarded with an invitation to join the National Collegiate Basketball Hall of Fame.
Tom Penders will always be remembered as a college basketball coach with an up-tempo style, who took the Texas Longhorns to eight NCAA tournament appearances in 10 seasons. His success, however, wasn't just limited to Austin. In his 36 seasons coaching at the collegiate level, he finished with a 648-438 record and is one of only eight Division I coaches to take four different schools to the NCAA tournament. And now, Tom Penders' achievements will forever be recorded in history at the National Collegiate Basketball Hall of Fame. 
Tom Penders coaches his way up the ranks
After early success coaching in high school, Tom Penders migrated to the college game at Tufts University in 1971, where he stayed three seasons and compiled a 54-18 record. He then made stops at Columbia and Fordham.
At Fordham, Penders led the Rams to a MAAC Conference Tournament Championship in 1982-83. After eight years, he finished with a 125-114 record before leaving for another set of Rams in Rhode Island. At Rhode Island, Penders earned Atlantic 10 Conference Co-Coach of the year during his first season, as the team went 20-10 and earned a berth in the NIT.
A year later, Tom Penders became known nationally in college basketball as he took a relative unknown Rhode Island team on a deep run in the 1988 NCAA Tournament, with upset wins of Missouri and Syracuse. The Rams lost 73-72 in their Sweet 16 matchup against a heavily-favored Duke Blue Devils team. 
Tom Penders nominated for Longhorns Hall of Honor
Tom Penders became a hot commodity with his success at Rhode Island and accepted a job with the University of Texas in 1988. He picked up right where he left off, leading the Longhorns to a 25-9 record his first season and an NCAA Tournament bid. 
In Austin, NCAA Tournament appearances became the norm. In Penders' decade with the Longhorns, the team made it to eight NCAA Tournaments, the most successful run coming in the 1990 season when the Runnin' Horns reached the Elite 8. The team also won three regular-season titles and captured a pair of conference tournament championships during his tenure at Texas. 
In August, the University announced Tom Penders was part of the next Hall of Honor class along with some of the greats in Texas sports history, including D.J. Augustin and P.J. Tucker in basketball, along with Jamaal Charles and Jordan Shipley in football. 
"It's a great honor. I've been very lucky," Penders said. "The older you get, the more you appreciate it. And you realize the people at the university and the athletic department, they realize what you did and the impact you had. It's very nice. I can't tell you how proud I am of that."
Selected for National Collegiate Basketball Hall of Fame
In addition to Tom Penders receiving recognition for his accomplishments at the University of Texas, the National Collegiate Basketball Hall of Fame has acknowledged Penders' overall success and contributions to the game, announcing him as an inductee for the 2021 class. 
Penders will be joined by fellow coach Rick Byrd, along with the late Len Bias (Maryland), Hersey Hawkins (Bradley), Antawn Jamison (North Carolina), Jim Jackson (Ohio State), and Paul Pierce (Kansas). 
"It's a tremendous honor and very humbling. I'm thankful that it happened while I was alive," the 75-year-old Penders said. "A lot of people told me that I belonged. I never worried about it. I never thought about those things while I was coaching. It's an honor that it's given from your fellow coaches. It's very nice to be thought of and voted in by your coaches."
Penders, who splits time between Florida and Texas, is scheduled to be inducted into both halls sometime in 2021. 
All stats courtesy of College Basketball Reference.