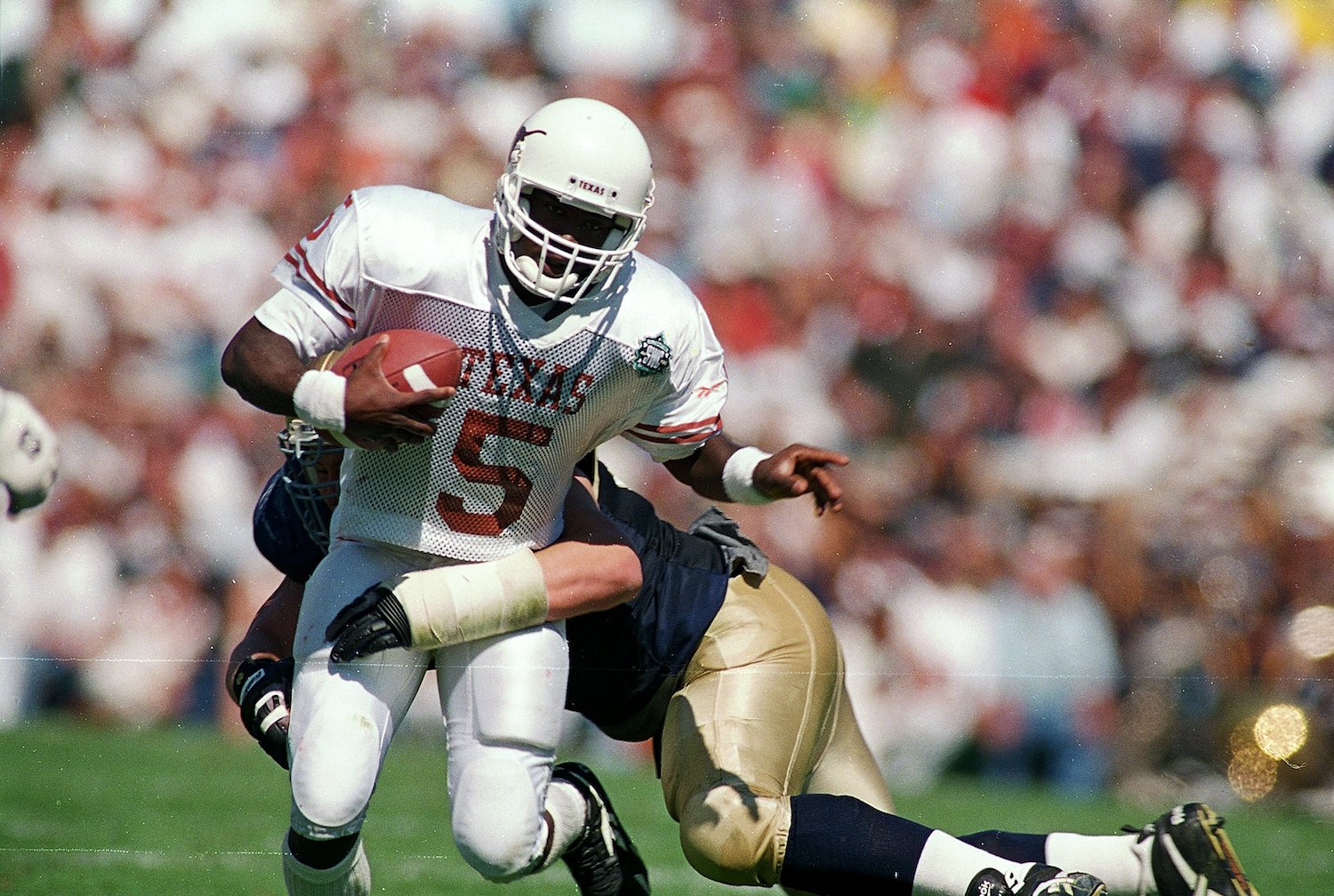 What Happened to Texas Longhorns Impostor Player Whose Scandal Rocked the Team on Eve of Sugar Bowl?
The Texas Longhorns were rocked by an impostor player scandal on the eve of the 1995 Sugar Bowl. What happened to the 30-year-old player who lied his way on to the team?
The shocking news broke on the eve of the 1995 Sugar Bowl. The Texas Longhorns football team had a 30-year-old impostor on the roster, and he had just skipped town. The coaching staff and players didn't have a clue that someone who had played in 12 games that year wasn't who he said he was, and the subject of an FBI investigation. The fans, while intrigued by the made-for-TV drama, were more concerned with how it might affect the team's play against Virginia Tech. It did. Dramatically. What happened to the player and where is he today?
Texas Longhorns ranked in top 10 at end of 1995 season
In 1995, the Texas Longhorns put together their best season under head coach John Mackovic during his six years in Austin. After opening the season with a couple of non-conference wins over Hawaii and Pittsburgh, the Longhorns were brought back down to earth with a 55-27 thumping against the Fighting Irish in South Bend. 
Texas followed up the humiliating loss by defeating SMU and Rice in the first two games in Southwest Conference play, the final year of the conference. After tying the No. 13-ranked Sooners 24-24 in Dallas, the Longhorns went on a six-game winning streak. The No. 9-ranked Horns concluded the season with an SWC title-clinching victory over the No. 16-ranked Aggies on the road in College Station. 
Following the game, the 10-1-1 Texas Longhorns received an invitation to play in the Sugar Bowl, where they would face Frank Beamer and a Virginia Tech Hokies team that lost the first two games of the season before it reeled off nine straight and held a 9-2 record. 
Texas Longhorns shocked by the discovery of impostor on roster
Texas Longhorns cornerback Taje Allen awoke in his New Orleans hotel room at the urging of his roommate and teammate Ron McKelvey in the early morning hours of December 30. McKelvey had something to tell him. He was leaving the team, and he was doing it right at that moment, in the dark of night. A still half-asleep Allen didn't fully comprehend what his teammate was telling him.
"I'm thinking, go do your thing. We didn't have a curfew, so no one told you to come home anyway, so go party. He said, 'No, I'm leaving. I'm leaving the team. My bags are packed.' So I kind of raised up and asked him where he was going. He said, 'Man, they're on to me.'
"He said you guys will find out. Just know this, don't tell anybody, but I'm heading up to Colorado. I'm not coming back to school. You probably won't see me anymore. It's been great playing with you guys. If you guys can get in my dorm room, you can have everything. I'm not coming back for anything."
Ron McKelvey quit the Texas Longhorns football team and vanished into the night. Several hours later, university and law enforcement officials came knocking on Allen's door. He didn't answer. They had a master key and came in anyway. Allen explained his roommate had left in the middle of the night. He was surprised by it all but then went back to sleep. 
Where is Ron Weaver today?
The next day, the Texas Longhorns scored 10 points, all in the first half, and were embarrassed by the Virginia Tech Hokies at the Sugar Bowl 28-10. The game was over, but the story of Ron McKelvey was just beginning to unfold. 
McKelvey turned out to be Ron Weaver, a 30-year-old man who played wide receiver at Sacramento State and used up his college eligibility years earlier. He concocted the scheme to return to college by assuming a new identity using his friend Joel McKelvey's Social Security number and last name. He then proceeded to play two seasons at LA Pierce College before being recruited and transferring to Texas as a 23-year-old cornerback.  
Today, Weaver is 55 years old. He worked in the restaurant industry for years. He is now employed by an aircraft services company at Las Vegas' McCarran International Airport. He has a 10-year-old son and six-year-old daughter. He told the Houston Chronicle what happened during the Texas Longhorns' 1995 season was all a very surreal experience.
"The last day, leaving town and then going to court (to plead guilty for improper use of a Social Security number), it was like a movie," he said.
It was like a movie and Ron Weaver wrote a fairy tale script where he played a season with the Texas Longhorns football team as a 30-year-old man. He also authored its inevitable nightmare ending and it's one Longhorn fans won't soon forget.