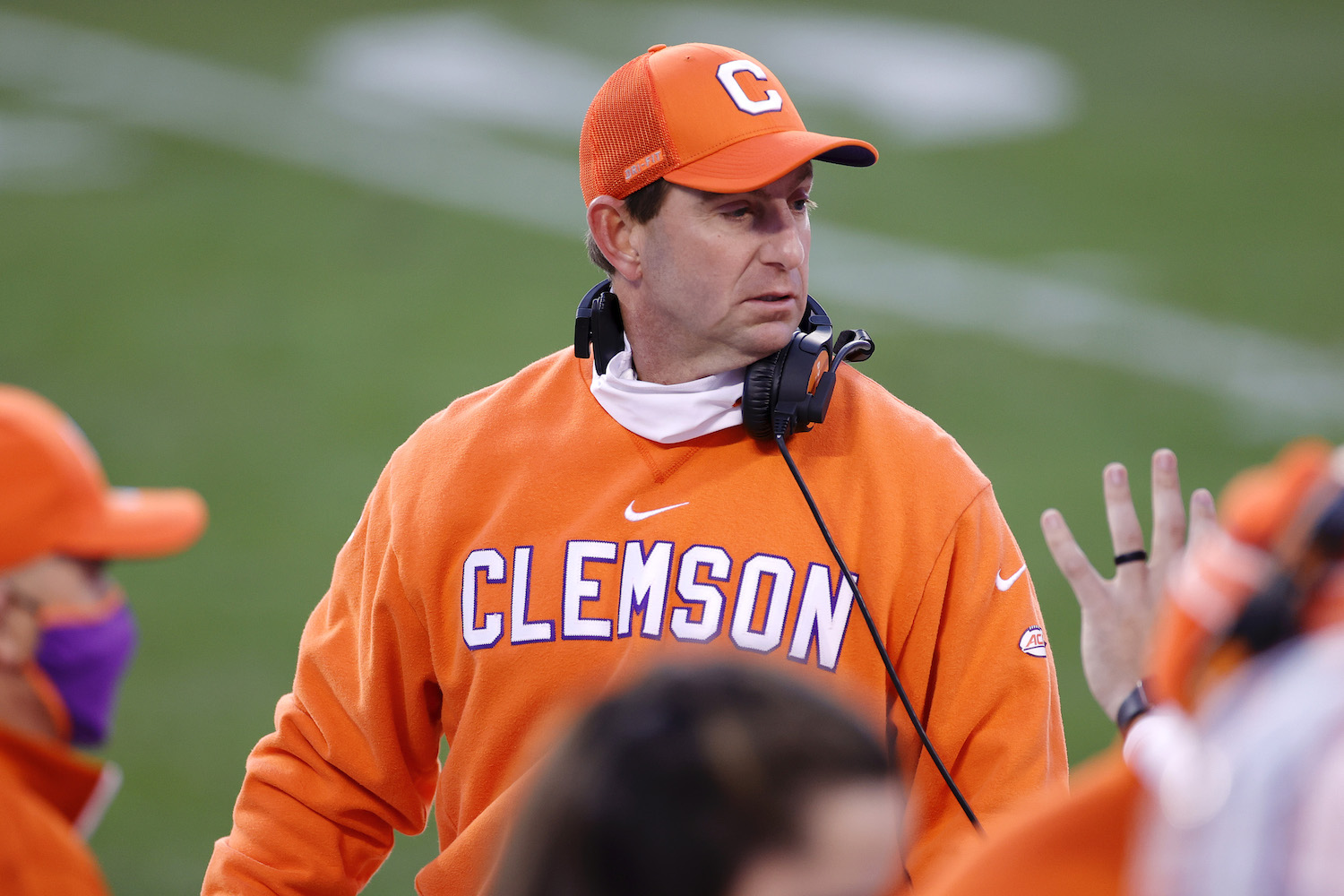 Dabo Swinney Disrespects Sugar Bowl Opponent Ohio State in Final Coaches Poll by Ranking Outside Top 10
Dabo Swinney's Clemson Tigers will face Ohio State in the College Football Playoff. Swinney has confirmed he doesn't think the Buckeyes are a top-10 team.
Dabo Swinney has never been one to shy away from sharing his opinion. A few weeks ago, the Clemson Tigers head coach called out Florida State officials for calling off their game just hours before kickoff. This week, Swinney has a new team in his sights. In the season's final release of the Amway College Coaches Poll, Swinney completely disrespected the Ohio State Buckeyes, Clemson's upcoming opponent in the College Football Playoff, by not even ranking them in the top 10. 
Dabo Swinney dealing with COVID-19 
Dabo Swinney and the pandemic made headlines more than a few times this season. In April, a month after the sports world shut down, Swinney admitted he and his family took a vacation to Florida and "the plane was sanitized." He received considerable pushback.
Once the football season started, the pandemic hit a little closer to home for Swinney and his Clemson Tigers squad when quarterback Trevor Lawrence tested positive. The potential Heisman Trophy candidate missed a couple of contests.
Fortunately for Dabo Swinney, he had a more-than-capable backup quarterback in freshman D.J. Uiagalelei who guided the team to a 34-28 come-from-behind victory over Boston College. In the second game without Lawrence against Notre Dame in South Bend, the Clemson offense wasn't the problem. The defense surrendered over 500 yards to the Fighting Irish and the Tigers lost in double overtime, 47-40, and also lost their stranglehold on the No. 1 ranking.  
Dabo Swinney critical of Florida State officials
Having had his star quarterback unavailable for multiple games, Dabo Swinney and the Clemson Tigers had firsthand experience with the virus. Unlike other schools, Clemson never had an outbreak that required closing team facilities and missing any games. 
However, the Tigers didn't play one game in the 2020 season, and ironically, it came in what was supposed to be Trevor Lawrence's return to action. The cancellation occurred in a road matchup with the Florida State Seminoles, and adding more intrigue to the situation, it happened a matter of hours before kickoff. All of it did not sit well with Dabo Swinney and he let Florida State officials know.
"If the standard to play was zero positive tests, then we would have never had a season," Swinney told reporters. "This game was not canceled because of COVID. COVID was just an excuse to cancel the game. To be honest with you, I don't think it has anything to do with their players. I have no doubt that their players wanted to play and would have played. Same with the coaches. To me, the Florida State administration forfeited the game."
Disrespects Ohio State and doesn't rank in top 10
Following the Clemson Tigers' dominant 34-10 revenge victory over Notre Dame in the ACC Championship game, Dabo Swinney's club was all but guaranteed a spot in the College Football Playoff. The only real debate by the college football pundits was what two teams would be joining the Tigers and top-ranked Alabama. 
When the final poll and CFP schedule came out, No. 1 Alabama will face No. 4 Notre Dame at the Rose Bowl, or first playoff semifinal game, followed by No. 2 Clemson taking on No. 3 Ohio State in the Sugar Bowl. The matchups weren't all that surprising because most experts had predicted those four teams would be in the playoff. 
On Monday, the Amway College Coaches poll was made public in USA Today, and Dabo Swinney does not believe Ohio State is a team worthy of facing his Clemson squad in the Sugar Bowl. Of the 61 coaches who voted, three ranked Ohio State No. 5, Georgia's Kirby Smart ranked the Buckeyes No. 6, and then there was Swinney, who ranked the Big 10 champions at No. 11, not even in the top 10.
If there ever was a case of bulletin-board material, this is it. And while most agree the College Football Playoff isn't the perfect solution because it often features many of the same teams each year, Swinney's disrespect for the Buckeyes adds a whole other level of intrigue to this year's version and makes it must-watch TV.