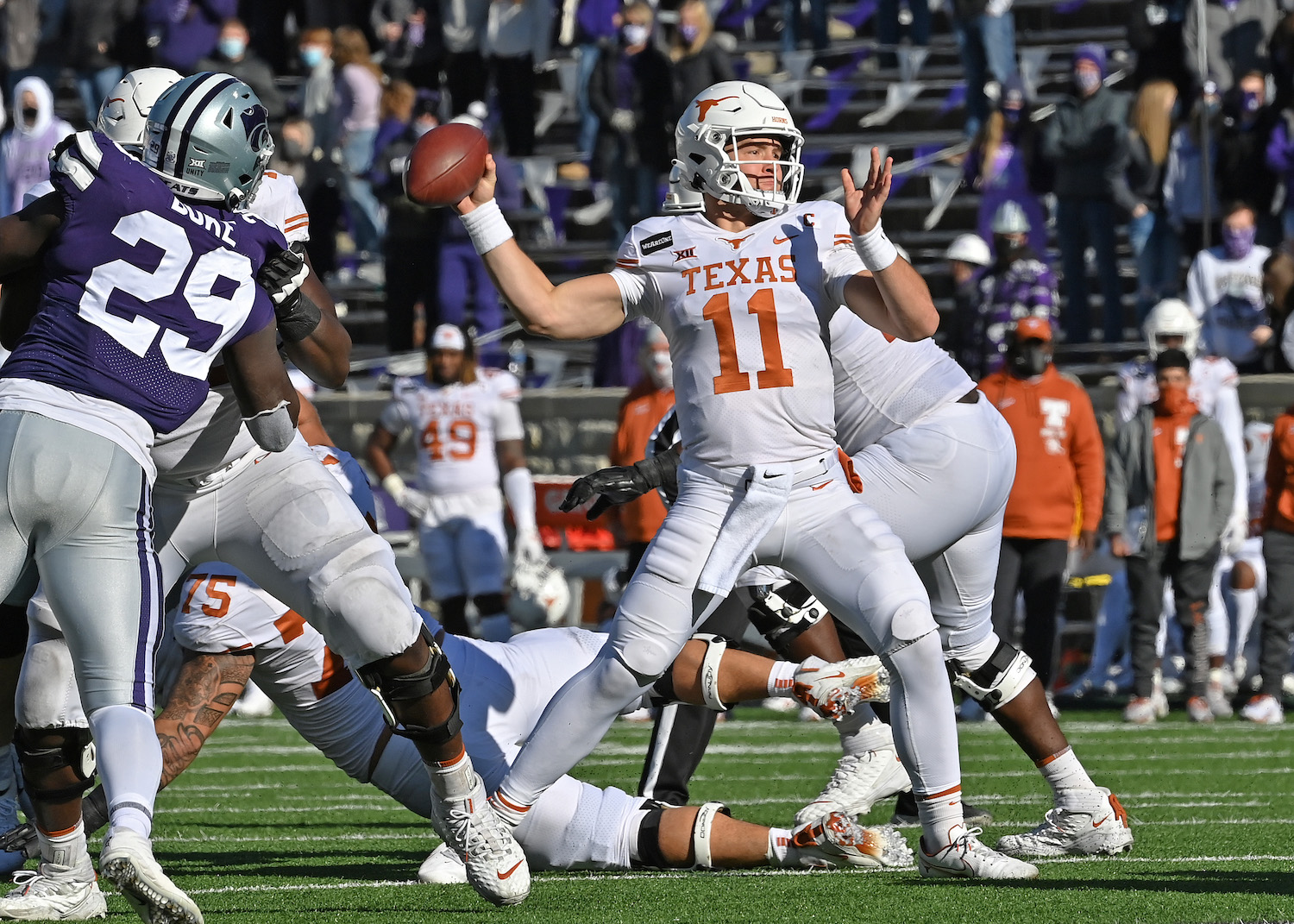 Sam Ehlinger Returning to Texas Longhorns in 2021 Makes Dollars and Sense as He'll Likely Earn a Large Amount of Money Due to Rule Changes
Sam Ehlinger and his return to the Texas Longhorns in 2021 makes sense for a lot of reasons, including he will likely get paid handsomely as a college athlete this upcoming year.
Sam Ehlinger and his love for the Texas Longhorns is undeniable. If he could play for another 10 years in Austin, he would. However, it's his senior season. In an ordinary year, Ehlinger stepping onto the turf at the Alamo Bowl would typically be the last time he donned the burnt orange and white uniform.
But as we all know, 2020 has been anything but ordinary with a worldwide pandemic that dramatically affected the sports landscape. As a result, the NCAA granted Ehlinger and other college football seniors an extra year of eligibility. That doesn't mean they have to come back, but the option is there if they're interested in returning.
For Ehlinger, another year in Austin is exactly what his game needs and he doesn't have to worry about losing out on NFL money because new NCAA rules will allow him to make plenty of cash.
Sam Ehlinger guides Texas Longhorns to three bowl-winning seasons
Sam Ehlinger stepped onto the University of Texas campus, ready to go. The freshman quarterback played in nine games in 2017, starting six times. He finished the season throwing for 1,915 yards with 11 touchdowns and seven interceptions. He also rushed for a pair of touchdowns and became the first Texas QB since Colt McCoy in 2008 to lead the team in rushing and passing in a season. 
In 2018, Ehlinger started all 14 games and was impressive. He finished the season throwing for 3,292 yards, and included 25 touchdowns and only five interceptions. He also rushed for 16 touchdowns. Ehlinger's total of 41 that year was also second to McCoy and his 45 in 2008. 
More importantly, Ehlinger led the Longhorns to a 10-4 record, which included a win over Oklahoma in October, a berth in the Big 12 title with a loss to the Sooners, and the season ending with a convincing 28-21 victory over the No.6-ranked Georgia Bulldogs. Texas was ranked No. 9 in the final poll. 
During Sam Ehlinger's junior season, he had the best year of his career statistically. He finished with 3,663 yards, which included 32 touchdowns and 10 interceptions. He also rushed for 663 yards and seven touchdowns. Despite his individual success, the Texas Longhorns finished 8-5, including an Alamo Bowl win over Utah, and ranked No. 25 in the AP Poll.
Sam Ehlinger and Texas Longhorns inconsistent in 2020
The Texas Longhorns and their fans had high expectations heading into the 2020 season. Sam Ehlinger was the senior leader on a senior-laden roster on both sides of the ball. With a top-25 finish last year and an experienced group returning, most experts thought the Longhorns would contend for the Big 12 title.
It never happened. Sam Ehlinger and the Texas Longhorns were consistently inconsistent the entire year. After a season-opening win over UTEP, Ehlinger orchestrated a miracle comeback and overtime victory over the Red Raiders in Lubbock in Week 2. Momentum was high.
Then, the Longhorns suffered back-to-back defeats to TCU and Oklahoma. Ehlinger had flashes of greatness in both games mixed in with bad decisions not expected of a veteran quarterback. After the loss to Oklahoma, Ehlinger was the lone player standing on the field for the singing of the "Eyes of Texas." It was the first public display of trouble behind the scenes and a divided locker room.
Texas finished the regular season with a 6-3 record and a No. 20 national ranking, heading into the Alamo Bowl matchup with former Big 12 foe Colorado.  
Returning in 2021 makes dollars and sense
In recent weeks, there has been speculation about whether or not Sam Ehlinger would take advantage of the NCAA's rule allowing seniors an extra year of eligibility and return and play for the Texas Longhorns in 2021. 
While Ehlinger could enter the NFL Draft and likely get selected, it's in his best interest to play one more year for the Longhorns. For starters, in 2020, if anything, his draft stock dropped. He finished the season throwing for 2,406 yards, including 25 touchdowns and five interceptions. 
Ehlinger's completion percentage dropped to 60.1, his second-lowest outside of his freshman season of 57.5. He struggled on the deeper throws outside all season. 
Development aside, Ehlinger could also benefit financially if he returned to the Texas Longhorns for 2021. That's because the name, image and likeness rules adopted by the NCAA will allow athletes in 2021 to profit off their personal brand. Sam Ehlinger could get paid to post something on Twitter or Instagram. According to Opendorse, Ehlinger could have earned $360,000 in endorsements this year.
For Ehlinger, it's a perfect aligning of the stars. He gets to return for one more season and play for a Texas Longhorns team he has cheered for since he was born. He can improve his game and his draft stock. And the cherry on top—he will likely be making plenty of money while doing it. 
All stats courtesy of College Football Reference.