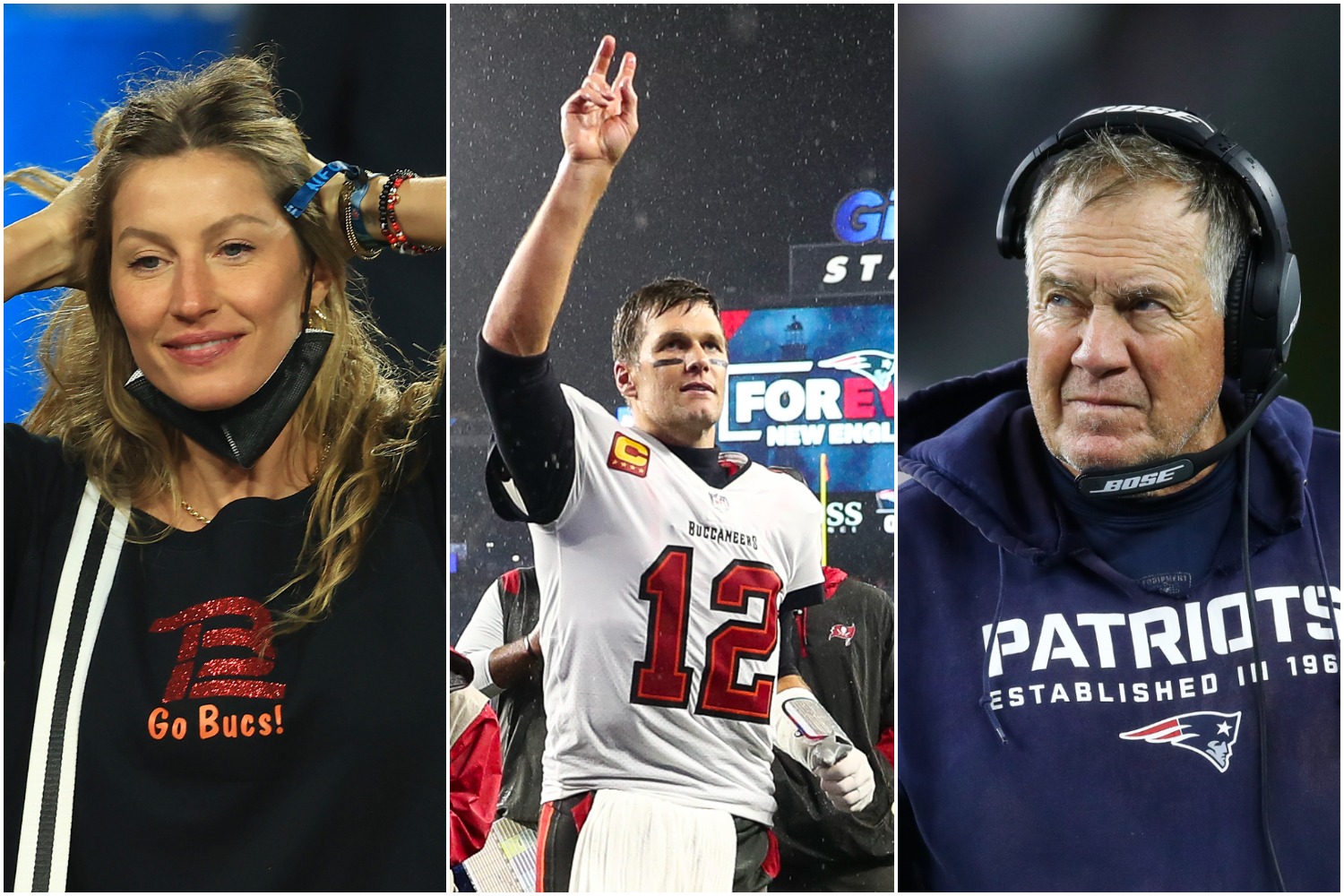 Tom Brady's Shocking New Claim About How Long He Could Play in the NFL Won't Make Gisele Bundchen or Bill Belichick Particularly Pleased
Tom Brady made a shocking claim about how long he could play in the NFL that won't sit too well with two people who expected him to be finished with football by 45: Gisele Bundchen and Bill Belichick.
Tom Brady has managed to fend off Father Time longer than anyone could have imagined. After all, Bill Belichick started planning for the post-TB12 era in Foxborough nearly a decade ago when he spent a 2014 second-round pick on Jimmy Garoppolo.
Obviously, though, the New England Patriots shouldn't have doubted Brady's ability to keep playing at a high level at an advanced age.
Of course, Belichick isn't the only person who expected him to be finished with football by his mid-40s. However, considering Brady still calls a helmet and shoulder pads his work uniform, it's clear Gisele Bundchen has not been able to convince her husband to call it quits just yet.
And based on the legendary quarterback's new claim about how long he could keep playing pro football, neither his former boss nor his wife should be particularly pleased.
Brady has never shied away from talking about his NFL longevity. Years ago, he made it clear he wanted to play until the age of 45. And considering his 44th birthday took place two months ago, it's safe to say he's close to achieving that lofty goal.
But just because Brady's age continues to climb doesn't mean he thinks his career will come to an end anytime soon due to a declining skill set. In fact, the five-time Super Bowl MVP made a new claim about how long he could last in a league that typically sees players retire in their mid-to-late 30s.
ESPN's Hannah Storm took to Twitter Thursday to share Brady's thoughts on sticking around well past his previous projected timeline.
"I really think I can play as long as I want," he told Storm and Andrea Kremer. "I really do. I could literally play until I'm 50 or 55 if I wanted to. I don't think I will obviously… my physical body won't be the problem."
What would cause Brady to retire with gas left in the tank?
"I think it'll just be, I'm just missing too much of life with my family," he explained.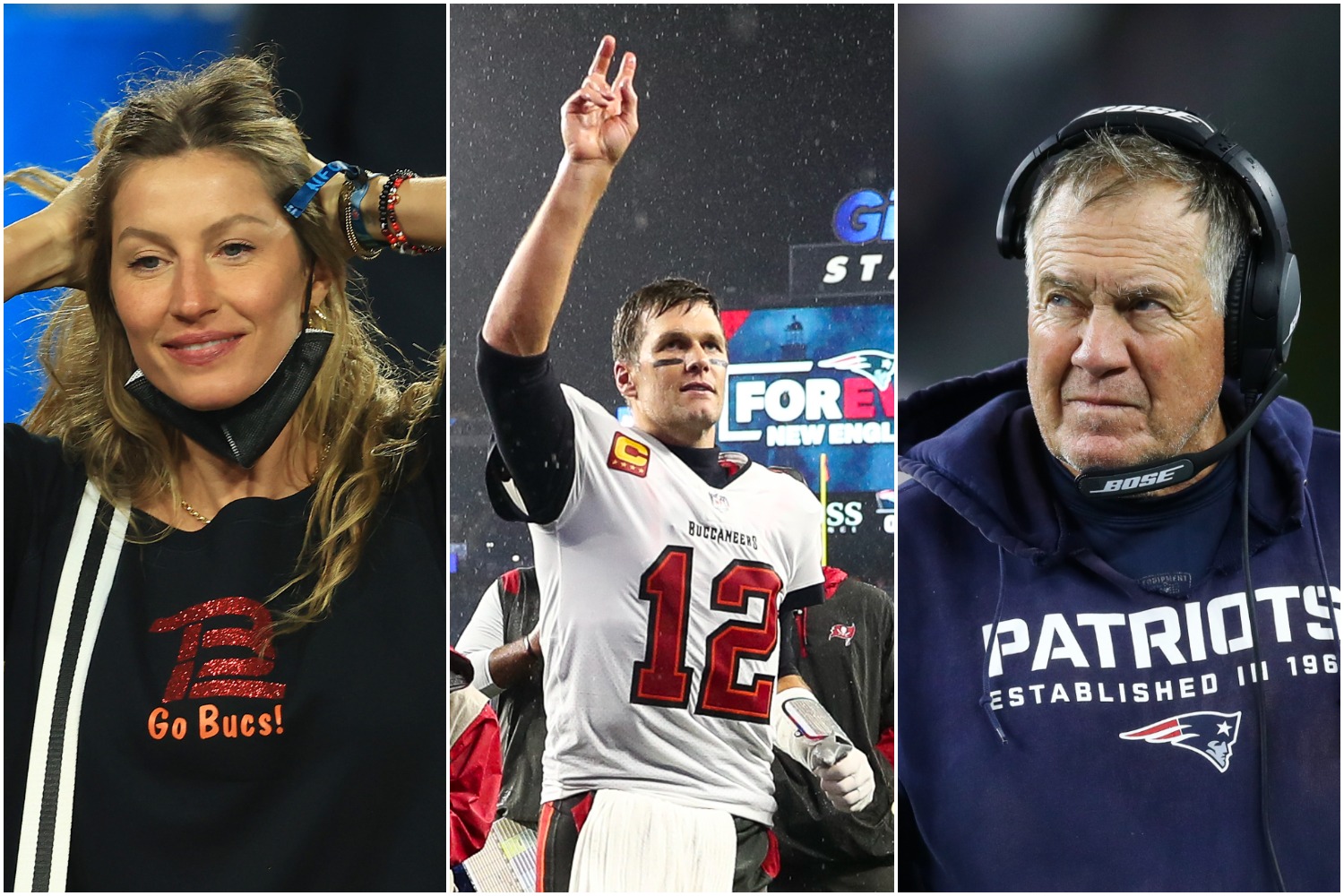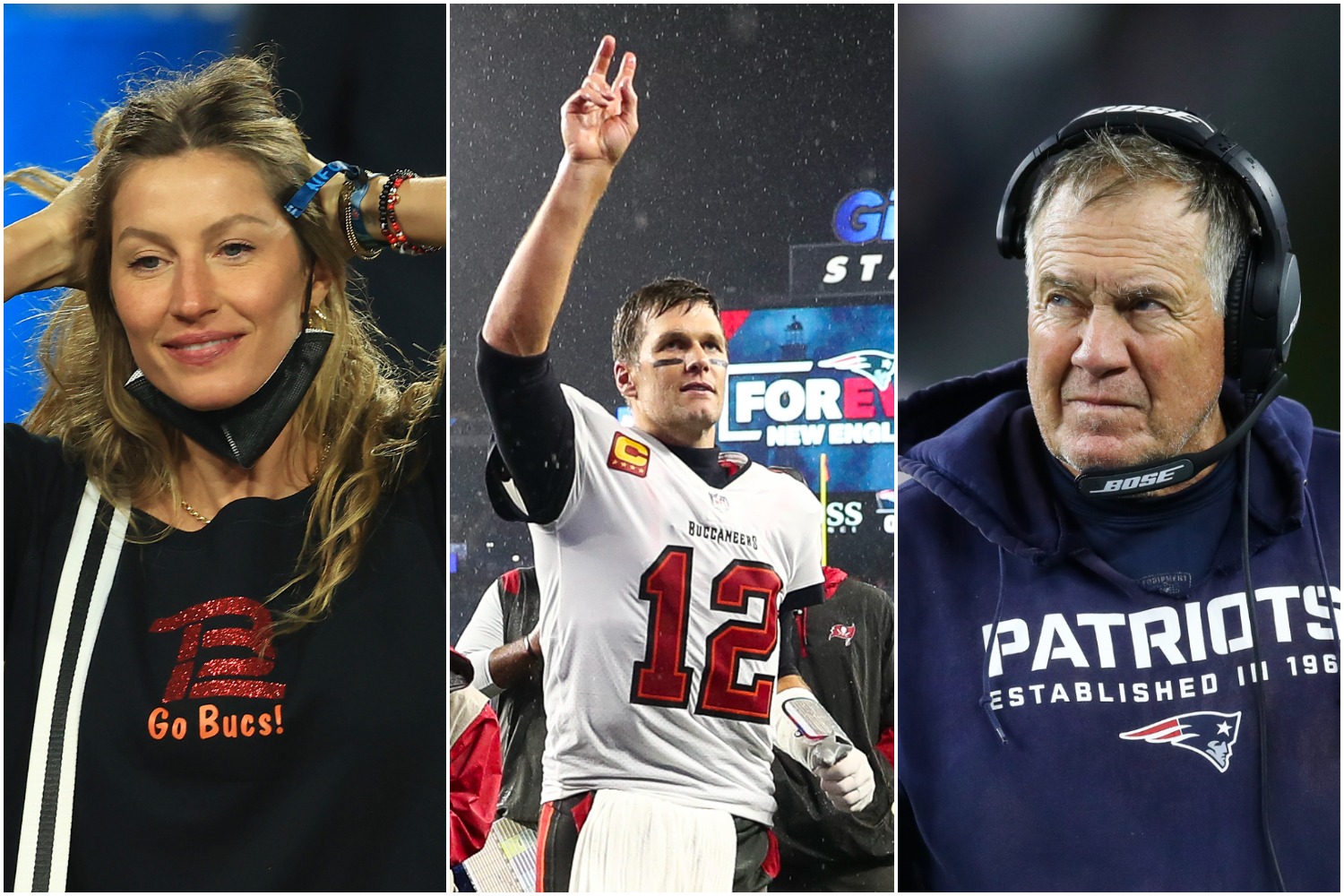 The idea of Brady throwing touchdown passes at 55 may seem silly, but should anyone doubt him at this point? He's made a habit of proving people wrong, so perhaps he really could achieve that seemingly impossible feat.
Still, his claim about being able to play until he's "50 or 55" shouldn't sit well with two prominent figures who know him quite well.
In Bundchen's case, does she really want to hear her husband talk about the possibility of suiting up in an NFL game a decade from now? If she had it her way, Brady would have retired already. But as he continues to carve up defenses and rack up wins, the odds of him extending his stay with the Buccaneers look even more promising.
While Brady acknowledged family will factor into his decision to hang 'em up for good, he obviously hasn't reached that point yet. And if he feels supported and respected in Tampa, what's stopping him from keeping a good thing going? Bundchen may believe her husband has nothing left to prove, but Brady's passion for the game and competitive nature remain as strong as ever.
Meanwhile, his former boss can't be too happy about hearing the number "55" getting thrown around. Belichick believed Brady was in danger of falling off the proverbial cliff before he turned 40. Yet it's abundantly clear he was completely off with his calculations.
Not only has Brady been arguably the best quarterback in the league in 2021, but he doesn't think his "physical body" will be an issue 10 years from now.
Digest that for a moment.
The Patriots could have extended Brady's contract in the spring of 2017, or at any point up until he officially took his talents to Tampa. Instead, Belichick let his most important player walk, and his team doesn't appear close to contending for a championship.
But with Brady confidently projecting he could play quarterback in the NFL into his 50s, how bad does Belichick look for moving in a different direction at the most important position in sports?
Ultimately, Brady seems poised to play at least another year or two. He's under contract through 2022, and the Buccaneers have expressed interest in keeping the relationship going.
And why not?
The front office has done everything possible to surround Brady with a top-notch supporting cast, he doesn't have to pay state income tax, and he gets to spend ample time in the warm weather of Florida. Plus, his team has a legitimate shot to capture back-to-back titles, and perhaps even more.
For someone who's set the bar impossibly high, it's incredible to see Brady doing what he's doing at 44 years old. So, until he officially announces his retirement, nobody should question whether he still has what it takes to shred secondaries and win Super Bowls.
For Bill Belichick and Gisele Bundchen, hopefully they don't have to wait another decade for Tom Brady to finally walk away from the game that's made him one of the most recognizable athletes in the world.
But if he remains one of the best in the business, why should he think about stopping at all?
Like Sportscasting on Facebook. Follow us on Twitter @sportscasting19.