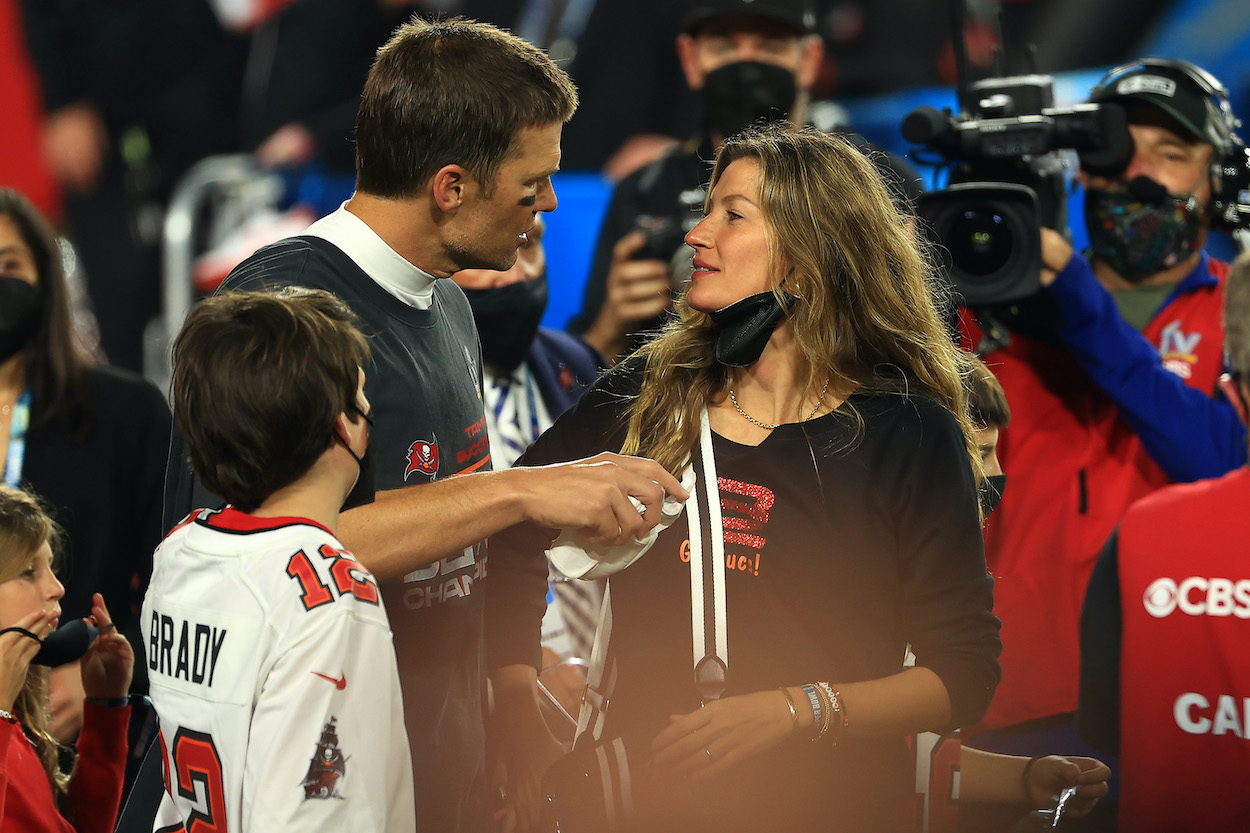 Tom Brady's Wife Gisele Bundchen Sent Him a Not-So-Subtle Retirement Message After Super Bowl 55
Tom Brady recently revealed what his wife, Gisele Bundchen, said to him on the field after Super Bowl 55, and he didn't want to hear it.
Tom Brady has devoted the last 21 years of his life to chasing Super Bowl rings in the NFL. For six months every year, Brady barely gets to spend any quality time with his family because of his relentless work ethic, and his wife, Gisele Bundchen, is more than ready for their life after football.
When Bundchen found Brady on the field after he won Super Bowl 55 with the Tampa Bay Buccaneers, she gave him a not-so-subtle hint about retiring from the NFL as a seven-time champion.
Tom Brady has already cemented his legacy as the GOAT
GOAT debates are all the talk in sports nowadays. Everyone has an opinion about who the greatest of all time is in a specific sport, but it's nearly impossible now for NFL fans to argue against Tom Brady.
Brady won an NFL-record six Super Bowls in 20 years with the New England Patriots, but he wasn't done there. He left New England last offseason for the Tampa Bay Buccaneers and won a seventh Super Bowl with his new team like it was nothing. No one in professional sports has made winning championships look easier since Bill Russell in the 1950s and 60s.
Aside from his record number of Super Bowl titles, Brady has also thrown the most touchdown passes in NFL history (581). He ranks second all-time in passing yards (79,204) and pass completions (6,778) as well.
There is no longer a debate. Brady could retire today and still be considered the greatest player and winner in NFL history.
Gisele Bundchen sent a not-so-subtle retirement message to Tom Brady after Super Bowl 55
After Brady triumphed in Super Bowl 55 to earn his seventh championship ring, he found his wife, Gisele Bundchen, on the field for a heartwarming embrace. Television cameras could pick up a conversation between the two, but we didn't know what was said until now.
Brady appeared on The Late Late Show with James Corden Tuesday night and revealed the not-so-subtle retirement hint Bundchen gave him as confetti rained down on the happy couple.
"It's a big moment, obviously, it's the culmination of a lot of months of everyone working hard," Brady told Corden. "There's so many people around us to support us. And then all of a sudden the game ends, you realize, OK, the season is over, we won the Super Bowl, they're dropping confetti, and this year was obviously different with a lot of the protocols.
"But anyway, we're looking for my family. And I was saying, 'Where's my family? Where's my family?' And all of a sudden I see my oldest son run over to me and he's says, 'Dad!' I gave him a big hug. I saw my two little ones, and then I saw my wife. Just as I gave her a big hug, and just as I did it, she says, 'What more do you have to prove?'"
Bundchen has a point. Brady has the most Super Bowl titles in NFL history. He holds almost every record imaginable for NFL quarterbacks. He's the greatest of all time. Why not go out on top?
Tom Brady quickly shrugged off Gisele Bundchen's retirement hint
Bundchen might think Brady wants to ride off into the sunset and retire as a Super Bowl winner at 43 years old, but that's just not how his mind works. As long as Brady still believes he can win in the NFL, he won't be going anywhere. Brady does want to go out as a Super Bowl champion, but he most likely believes he can still win No. 8.
After Bundchen dropped the retirement bomb on the field last month, Brady was quick to shrug it off.
"I just gave her a big hug," Brady said. "I was trying to figure out a way to change the subject really quick. I think I moved onto something else pretty quickly."
Bundchen is looking forward to her family's quiet, less hectic life after football, but she might have to wait at least another year.