A Troubling Situation Poses a Serious Threat to Bill Belichick's Reputation and Mac Jones' Health and Development
A troubling situation poses a major threat to Bill Belichick's reputation and Mac Jones' health and development. Will the Patriots turn things around before it's too late?
If Mac Jones plans on having a lengthy NFL career, he better pray Bill Belichick works some magic over the weekend.
Oh, and he better wear his knee brace, tighten up his chin strap, and prepare himself for what could be a painful day at the office.
Although the New England Patriots entered the season with what appeared to be a top-notch offensive line, Carmen Bricillo's unit simply hasn't come close to living up to expectations. Isaiah Wynn, the team's top pick in 2018, looks overmatched at left tackle. Michael Onwenu, the man tasked with filling Joe Thuney's shoes at left guard, has gone from starring as a rookie to getting benched for career backup Ted Karras.
Even veteran center David Andrews doesn't seem to have everything clicking, as evidenced by his failure to snap the ball on time on a critical fourth-quarter play against the Tampa Bay Buccaneers. Plus, the right tackle spot has been an abject disaster and remains one of the biggest weaknesses on the entire roster.
Unfortunately for Jones, the Patriots are dealing with a nightmare scenario that poses a serious threat to his health and development and his coach's reputation.
Already the most problematic position group on the team, the offensive line looks severely undermanned heading into a road matchup in Houston. According to Mike Reiss of ESPN, Shaq Mason (abdomen) and Trent Brown (calf) will not suit up due to injuries. Meanwhile, Wynn and Onwenu remain on the COVID/reserve list after sitting out of practice all week.
The Patriots will likely have to play four new starters up front, which doesn't bode well for Jones' chances of earning his second NFL victory. Not known for his mobility or athleticism, the first-year pro faces a major test of his toughness and pocket presence against the Texans. Meanwhile, Belichick and his staff have to determine the best way to keep the team's promising signal-caller out of harm's way as much as possible.
However, that's a job easier said than done.
And the troubling state of New England's offense line both in terms of depth and effectiveness carries major ramifications for Jones and Belichick.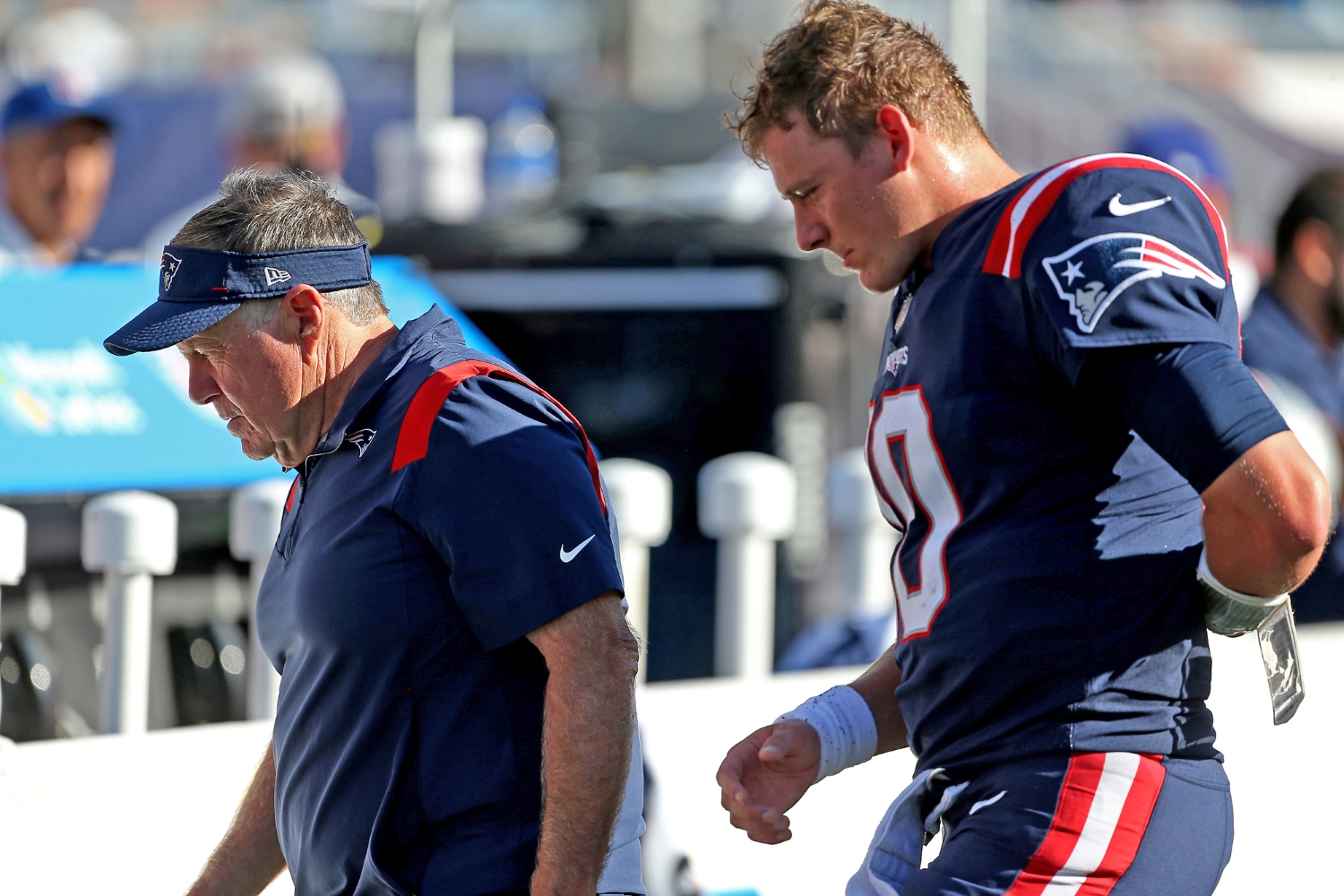 On one hand, how can the Patriots expect a first-year quarterback to string together success playing behind an underperforming (and now undermanned) unit? When given time, Jones has shown the ability to execute the offense at a more-than-acceptable level. Yet he's rarely been given a clean pocket to work with, which speaks to the team's struggles up front. And since he doesn't boast a particularly strong arm or imposing physical profile, Jones needs proper protection to do his job effectively.
Moving forward, though, will he even be able to make it through the NFL's first 17-game season? If the offensive line continues to be a major issue, he will certainly get exposed to more physical punishment. It's already tough to make the transition from college to the pros from a mental perspective, but the toll of absorbing blows from NFL defenders cannot be understated.
As we saw with Joe Burrow a year ago, all it takes is one hit to completely ruin a rookie's progress. Jones already wears a knee brace, and he's had a few moments where he's looked less than 100% after getting up off the ground. If the Patriots' backup offensive linemen have miscues that allow rushers to have a clean path to the quarterback, that could lead to a disastrous outcome in the form of a serious injury.
Taking more of a macro view of the situation, Belichick's reputation is also at stake. Sure, he can't control whether a player gets injured or tests positive for COVID. But it's his job to construct the roster, and some of the decisions he's made along the offensive line appear in danger of backfiring.
Whenever Wynn comes back, will he actually play up to his first-round status? The injury-prone tackle ranks 48th out of 73 players at the position in Pro Football Focus' grading system, and he gets beat far too often for someone who got selected 23rd overall. Don't forget Belichick spent a 2019 third-rounder on the 6-foot-5, 310-pound Yodny Cajuste, who still has a grand total of zero offensive snaps on his NFL resume.
Belichick may have made a miscalculation at right tackle, too. After moving on from Marcus Cannon, he brought back Brown for a second tour of duty. However, the talented but unreliable veteran played seven snaps before he got hurt. As a result, the Patriots have tried to get by with Justin Herron and Yasir Durant — an experiment that has directly put Jones in the line of fire on a few occasions.
Despite having the reputation as the greatest head coach of all time, Belichick's reputation as a general manager doesn't carry quite the same prestige. And with so many question marks along the offensive line, it's fair to wonder if he did the best job of setting Jones up for success. After all, the running game has been virtually non-existent, and pass protection has been a glaring issue.
If the situation doesn't take a 180 sooner than later, Jones could experience some stagnation in his development. He can't possibly grow as a quarterback if he faces pressure on a down-to-down basis, sometimes within a fraction of the snap. And he certainly can't make positive strides if he gets battered and bruised playing behind a porous offensive line. Without at least some semblance of a rushing attack and better blocking on passing downs, Jones will struggle to stack success as a rookie.
As for Belichick?
Perhaps the only thing he has going for him right now is that he seems to have found a franchise quarterback. But if he fails to protect his most valuable asset, the future of football in Foxborough could look a whole lot different.
After all, with his reputation as a GM dangling by a thread, Bill Belichick can't afford many more mistakes.
Like Sportscasting on Facebook. Follow us on Twitter @sportscasting19.