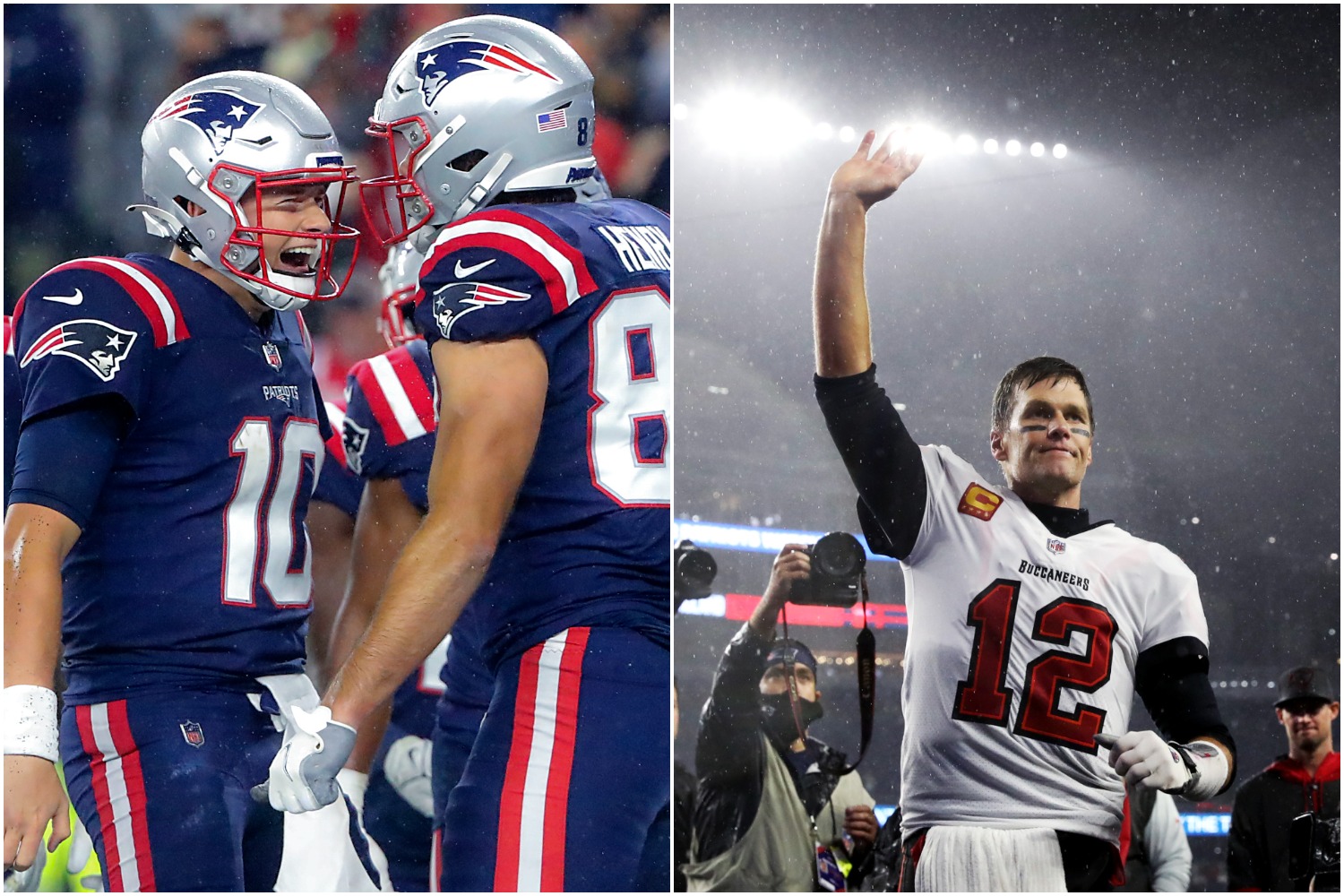 Mac Jones Just Confirmed Bill Belichick Made the Right Call to Move on From Tom Brady
Bill Belichick took a big risk by moving on from Tom Brady. But with Mac Jones looking like a true franchise quarterback, it's clear the Patriots made the right call to get younger at the position.
No, Mac Jones hasn't surpassed Tom Brady on the hierarchy of NFL quarterbacks. To say that would be utterly inaccurate and downright disrespectful. But make no mistake about it — he just confirmed Bill Belichick made the right call to move on from the greatest player in league history.
Even though the legendary head coach fell short in his quest to ruin Brady's return to Foxborough, he should undoubtedly feel encouraged by how his team fared against the reigning Super Bowl champions. After all, the New England Patriots came within inches of taking a one-point lead over the Tampa Bay Buccaneers with less than a minute remaining before Nick Folk's 56-yard field-goal attempt bounced off the left upright.
While the defense deserves praise for its performance, it's impossible to look at what Jones did and not come away thinking Belichick has a surefire successor to the signal-caller who spent two decades dominating the sport in a Patriots uniform. And when you take a step back and consider all the factors involved in his decision to build around someone other than Brady, it's clear he truly did what was in the best interest of the football team.
Jones didn't need to defeat the GOAT to send a message to the rest of the NFL. Sure, it would have been a major feather in his cap to score an early-career victory over Brady. But he still emerged as a winner by showcasing the skills that coaches look for in a franchise quarterback. And if this is just the beginning for the 23-year-old, it's scary to think how much better he will look later this season.
Facing consistent pressure from a blitz-heavy Buccaneers defense, Jones completed 31 of 40 attempts for 275 yards, two touchdowns, and one interception. He showed excellent command of the offense, and his ability to find open receivers and deliver the ball accurately stood out yet again. And he displayed admirable toughness by getting up after every hit delivered by a Tampa defender.
Needless to say, Jones looked nothing like a first-year player making his fourth career start.
Meanwhile, Brady posted an uncharacteristically low 51% completion rate against a secondary that doesn't exactly have a wealth of cornerback talent outside of J.C. Jackson. Belichick and his staff obviously had inside knowledge on how to defend the seven-time Super Bowl champion. And given all the hype surrounding TB12's return to Gillette Stadium, it's safe to say nerves (plus the rainy weather) may have factored into Brady's underwhelming outing.
Still, it would be fair to say Jones outplayed his adversary in a game that featured many pressure-packed moments. And the fact he looked unrattled by the entire situation while displaying the traits needed to be successful at the pro level should cement the fact Belichick chose the right path by moving in a different direction at the most important position in sports.
Did losing the greatest quarterback of all time hurt a year ago?
Considering how awful Cam Newton played, it's clear the Patriots would have been better with Brady under center. However, while it's fair to criticize Belichick for not locking up his biggest star once he sent Jimmy Garoppolo to San Francisco, it's hard to fault him for bringing the TB12 era to an end after the 2019 season.
First, the cost of keeping Brady would have eaten up a sizable chunk of salary-cap space. The two-year, $50 million deal he signed with the Buccaneers simply didn't fit into New England's economic plan. If Belichick had given him that type of contract, he would have been forced to cut ties with other players for financial purposes.
Remember, Brady still counted $13.5 million against the 2020 cap even though he left.
Plus, it's not as if the Patriots were a championship-caliber team during Brady's final season. Belichick's poor drafting and personnel management resulted in an uninspiring offense that sorely lacked weapons. And even after spending an unprecedented amount of money in free agency this spring, he still may not have a good enough roster to make a legitimate run at the Lombardi Trophy.
It didn't make sense to commit significant financial resources on an aging quarterback who would not have an adequate supporting cast to win a title.
Ultimately, Brady needed a change of scenery, and New England needed to build around the next guy. Belichick didn't get it right with Newton, but he secured an incredibly valuable asset by waiting patiently for Jones to fall into his lap on draft night.
Instead of paying a 44-year-old Brady more than $20 million per season to try to lift an average roster to unattainable heights, he bit the bullet and now has a young, talented quarterback on a four-year, $15.6 million contract that also contains a fifth-year option.
Jones gives the Patriots hope for a brighter future. He has a chance to develop into an elite player, and that could happen sooner rather than later if Belichick the general manager does his job properly. It may take another year for New England to truly become a Super Bowl contender, but the arrow is definitely pointing up for a franchise that stayed stuck in neutral in 2020.
Of course, things could have been totally different if the team had signed Brady to a five-year extension after Super Bowl 51.
But that didn't happen.
And it's no secret that Gisele Bundchen and her husband embraced the idea of leaving New England several years before they moved to Florida.
In the end, Bill Belichick did what he always does — he made a choice that was in the best interest of the team. Retaining Tom Brady wouldn't have put the Patriots in an optimal position to sustain long-term success, so a necessary parting of ways took place.
Luckily for Robert Kraft, he only had to endure one losing season before his team landed a new franchise quarterback. And if Mac Jones keeps playing with the same poise, toughness, and focus that he did against the Buccaneers, don't be surprised if the Lombardi Trophy finds its way back to Foxborough in the future.
Like Sportscasting on Facebook. Follow us on Twitter @sportscasting19.