Bill Belichick is Bringing a Familiar Face Back to Foxborough at Exactly the Right Time
Bill Belichick has a reputation for getting the best out of players who don't live up to expectations elsewhere. While not all of his reclamation projects have panned out, there's no doubt the New England Patriots have benefitted from his ability to turn castoffs into contributors.
With his team off to a 1-3 start, Belichick can't afford many more losses if he plans on making the playoffs. Luckily for the legendary coach, the Detroit Lions opened the door for him to bring a familiar face back to Foxborough at exactly the right time.
Bill Belichick just can't get enough of Jamie Collins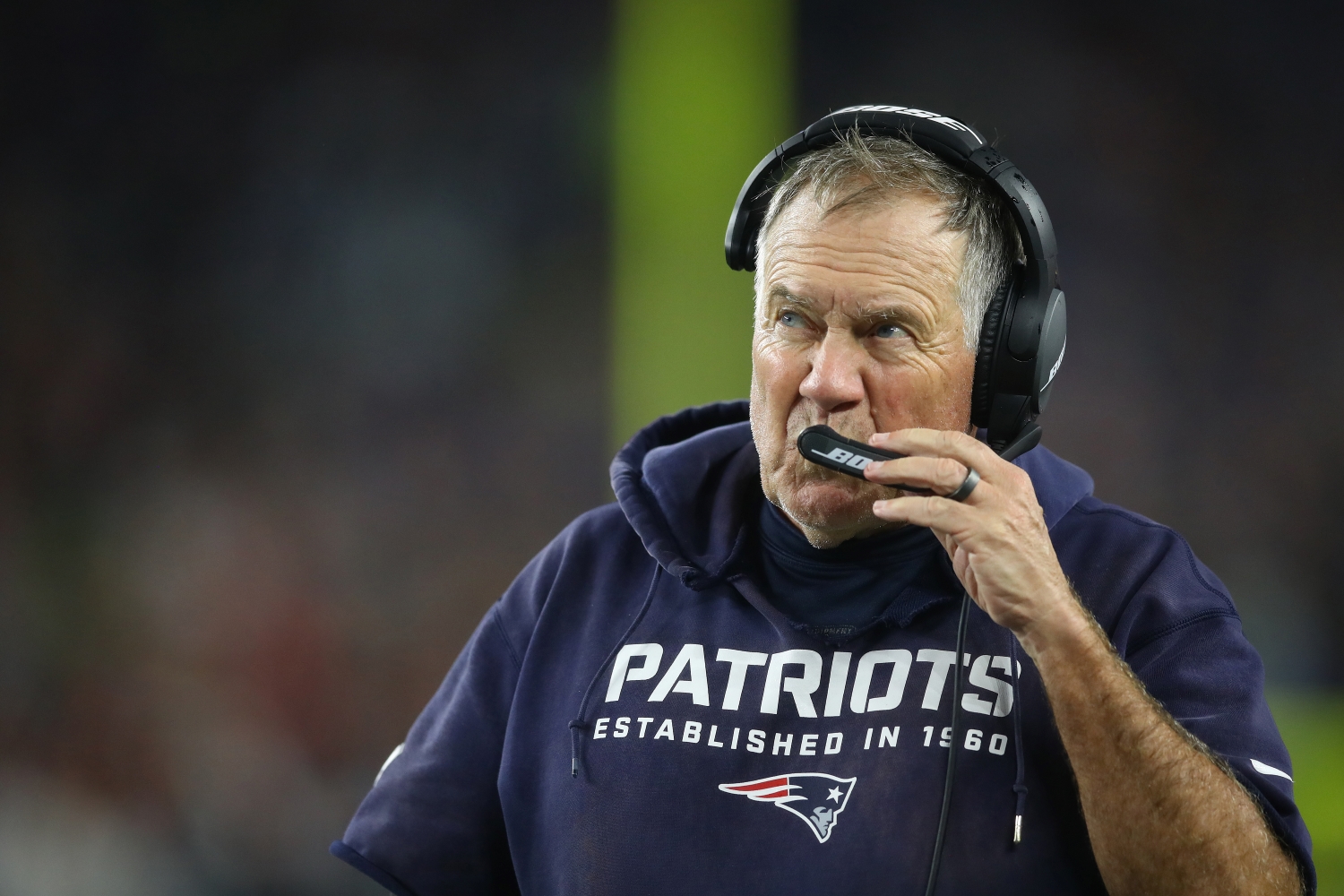 Belichick may have shipped Jamie Collins out of town in 2016, but that didn't stop him from bringing the talented linebacker back a few years later. While the 2013 second-round pick shined in his second stint with the Patriots by posting career-highs in sacks (seven) and interceptions (three), he didn't deliver the type of impact the Lions expected when they signed him to a three-year, $30 million contract in March 2020.
Once Detroit released Collins on Sept. 28, speculation started to swirl about a return to New England. Given his knowledge of the defense and the team's need for better linebacker depth, it made sense to view him as a potential fit for the Patriots.
To no surprise, Belichick seems eager to make that a reality.
"A reunion in the making: the Patriots are working toward a deal with free agent LB Jamie Collins to bring him back for his third stint with the team, per source," ESPN's Field Yates tweeted Tuesday. "Collins should be able to contribute right away given his familiarity with the system."
The 6-foot-3, 255-pound defender would bring much-needed size, physicality, and versatility to a talented front seven that includes familiar faces like Dont'a Hightower and Kyle Van Noy and newcomers such as promising rookie Christian Barmore and high-priced free agent Matt Judon.
The veteran linebacker is coming back to Foxborough at exactly the right time
Belichick picked a good time to bring Collins back. After all, the Patriots have dug themselves into an early hole by losing winnable games against the Miami Dolphins and Tampa Bay Buccaneers. Needless to say, the six-time Super Bowl champions must step up and start stringing together victories before it's too late.
The offense obviously needs a ton of work, but the defense has played fairly well to this point. Considering how many new faces they have on that side of the ball, the fact the Patriots rank sixth in points allowed through four games seems encouraging. Yet it's also fair to criticize the unit for not coming up with stops in crunch time.
Could that change if Collins comes aboard?
It's hard not to get excited about all the personnel packages the Patriots could deploy with him in the mix. Collins, Hightower, and Van Noy can all play off the ball or on the line of scrimmage. Judon, Josh Uche, and Chase Winovich give Belichick three explosive edge rushers who can wreck havoc on quarterbacks. Plus, Ja'Whaun Bentley factors in as an early-down run stuffer.
Adding Collins would allow New England to get even more creative with blitzes and stunts. In fact, it wouldn't be a surprise if Belichick uses the amoeba defense to maximize the talents of his linebackers. That approach could help the Patriots confuse opposing offensive lines, disrupt the timing of the passing game, and force much-needed turnovers.
Do the Patriots have the pieces to become an elite defense?
Belichick invested significant financial and draft resources to bolster a defense that finished xx in points allowed a year ago. At this point, though, it's unclear whether he did enough to put together a championship-caliber unit.
On one hand, the front seven has better pieces than it did in 2020. The addition of Collins would undoubtedly make the Patriots more dangerous up front, but it will take the return of another big-name player for the defense to become elite.
Stephon Gilmore's future in Foxborough hangs in the balance. Eligible to come off the physically unable to perform list after Week 6, it remains to been whether he will take the field again in a Patriots uniform. The All-Pro corner has to prove he's healthy if he wants to get paid this offseason, so perhaps that will convince him to play a few more games for Belichick.
Ultimately, New England needs a healthy, motivated version of Gilmore to truly have a chance to shut down the likes of Patrick Mahomes and Josh Allen. So, even if Jamie Collins rediscovers his prime form in his third go-around with the Patriots, this team has no chance to represent the AFC in Super Bowl 56 without another familiar face returning to the starting lineup.
All statistics courtesy of Pro Football Reference.
RELATED: Shocking Details About Robert Kraft and Tom Brady's Plan to Replace Bill Belichick Should Make Texans Fans Absolutely Furious