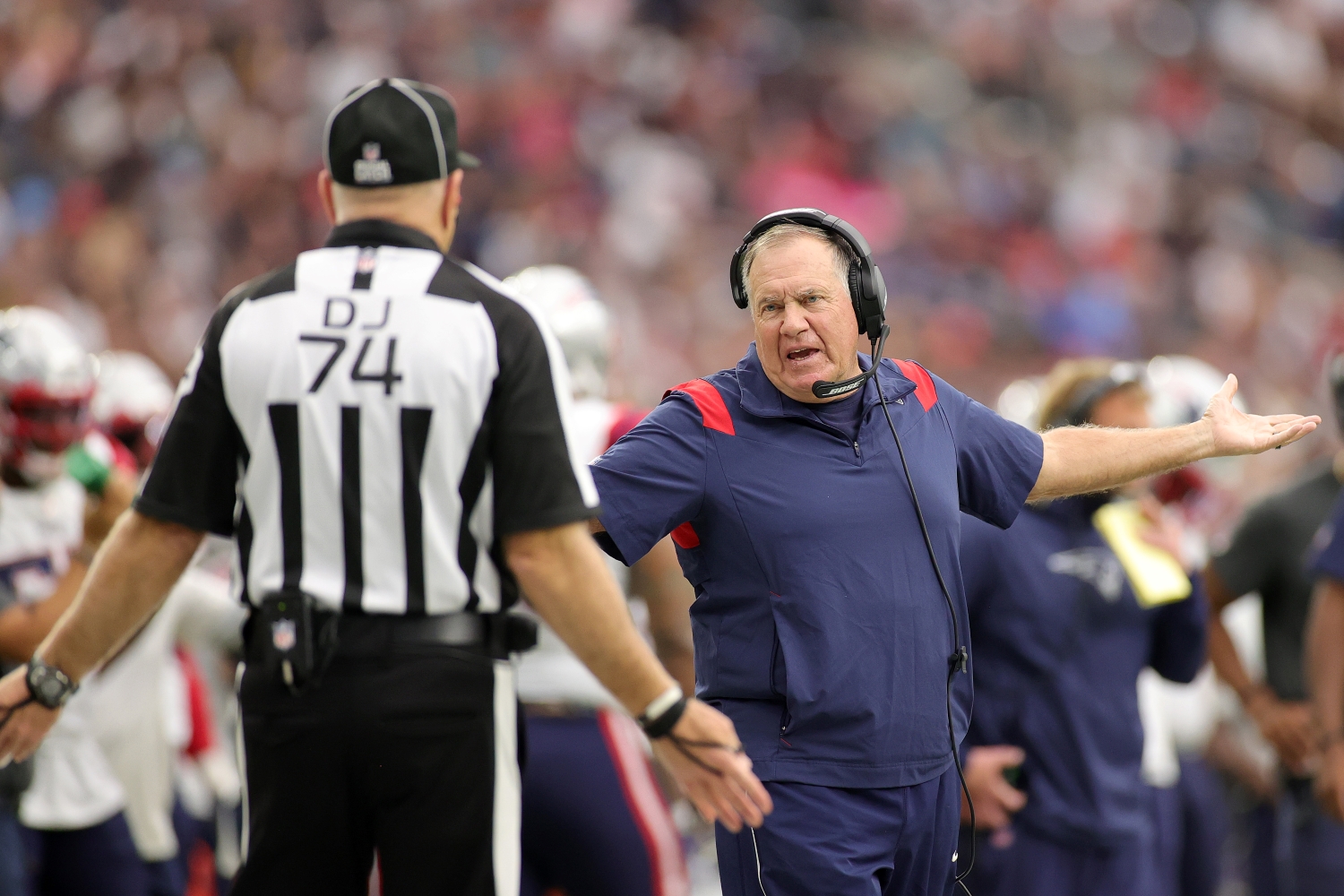 Patriots Suffer Critical Injury Blow That Exposes Just How Badly Bill Belichick Botched the Stephon Gilmore Situation
With the Patriots suddenly even thinner at corner due to a serious injury, it's clear Bill Belichick badly botched the Stephon Gilmore situation. Will New England pay the price?
The New England Patriots sure could use Stephon Gilmore right now.
However, with the 2019 NFL Defensive Player of the Year inching closer to making his first appearance in a Carolina Panthers uniform, the dream of having a top-flight corner returning to the lineup will never come true for fans of Robert Kraft's franchise. Instead, Gilmore will attempt to rehab his value and set himself up for one more lucrative contract by suiting up for a team that's actually trending in the right overall direction.
Unfortunately for the Patriots, a key injury has opened another hole in a secondary that could easily look completely different if Bill Belichick had taken care of business with his most accomplished defensive player. And based on the current roster, the cornerback position looks like a major area of weakness both now and in the future.
New England won't have Jonathan Jones in the lineup for the foreseeable future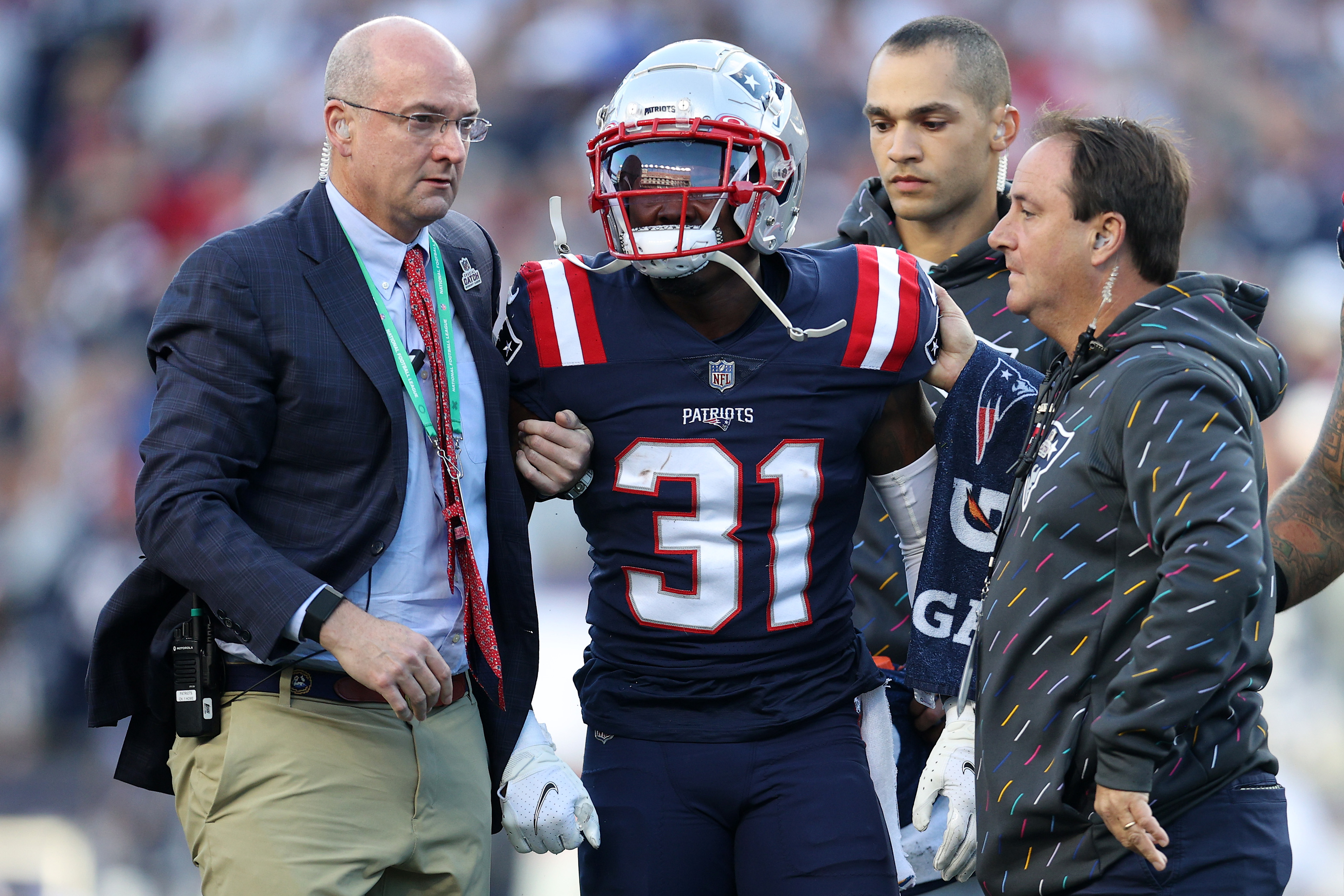 Coming off a game in which the Cowboys racked up a record-setting 567 total yards against his defense, Belichick will have to find a way to slow down opposing passing attacks without one of his most dependable players.
According to Mike Reiss of ESPN, Jonathan Jones will miss the New York Jets game due to a shoulder injury he suffered against Dallas. However, New England fans shouldn't expect to see the team's top slot cornerback on the field again anytime soon.
"The team is bracing for the possibility of being without him for an extended period of time," Reiss reported.
A tough, reliable veteran and well-respected leader, Jones has played 54% of the defensive snaps this season. The 5-foot-10, 190-pound corner has missed just one regular-season game since he entered the league in 2016 as an undrafted free agent out of Auburn.
But with the 28-year-old sidelined for the foreseeable future, the Patriots will be forced to rely on less-established players in coverage. And when you look at the depth chart minus Jones, it only makes Belichick look even worse for how he handled the Gilmore situation.
Jones' injury exposes just how badly Bill Belichick mismanaged the Stephon Gilmore situation
New England may have a true No. 1 corner in the form of J.C. Jackson. However, the talented fourth-year pro still has to answer questions about his ability to cover top-flight receivers on a consistent basis. After all, he hasn't looked quite the same without Gilmore lined up on the opposite side of the field.
Other than Jackson, though, the Patriots possess few proven players at the position. In fact, with Jones out, it's scary to think about what lies ahead for a cornerback group that could have Gilmore in the meeting room if not for Belichick.
Instead of adding a premier coverage artist to the mix at a pivotal time of the season, he foolishly sent a two-time first-team All-Pro to another team for a measly 2023 sixth-round pick. Of course, that came after Belichick passed on dealing Gilmore prior to the 2020 trade deadline and at any point during this past offseason.
Needless to say, he badly mismanaged a valuable asset.
And with Jones injured and unavailable for an extended period of time, Belichick deserves more criticism for not just the Gilmore situation but his overall handling of the position.
Why didn't he spend a single draft pick on a corner? For someone who always likes to be a year ahead, it certainly didn't make sense that the Patriots didn't devote a single selection on such a critical position. If Belichick didn't plan on paying Gilmore, he definitely should have found a younger, cheaper replacement via the draft.
Why did he give Jalen Mills a four-year, $24 million contract instead of working things out with his four-time Pro Bowl corner? Surely the Patriots would be in a better position to stop elite quarterbacks with Gilmore rather than a player who earned a reputation for getting burned in Philadelphia.
Why did the Patriots spend a 2019 second-round pick on Joejuan Williams? He's been a healthy scratch in recent weeks, which shows how poor of a fit he's been in Foxborough.
Belichick's refusal to give another star player a well-earned raise has come back to bite him. The Patriots have struggled in coverage for most of the season, and with Jones out and Gilmore ready to showcase his skills for another fanbase, they look bound to give up chunk plays on a consistent basis the rest of the way.
The future of the cornerback position doesn't look promising for the Patriots
Unfortunately for Patriot Nation, the idea of winning a championship with a strong defense doesn't look so feasible anymore. After all, it's hard to get excited about the future of a unit that relies heavily on past-their-prime versions of Dont'a Hightower, Kyle Van Noy, and Jamie Collins. Plus, the lack of a consistent pass rush (outside of Matthew Judon) makes it even less likely that an undermanned secondary will make life difficult for opposing quarterbacks.
And things could get really ugly moving forward.
Jackson should generate ample interest in free agency, and given Belichick's history of letting players walk, it wouldn't be a surprise if he takes the same approach with a player who seems poised to break the bank. And even if the Patriots use the franchise tag to retain Jackson's services for another season, will they pay up to keep him around on a long-term deal?
Meanwhile, Mills looks destined to spend at least one more year in New England. He carries a $5.375 million dead cap hit for 2022, so it would be cost-prohibitive for the team to release him. However, if he continues to get torched in coverage, perhaps Belichick will pull the plug on another personnel experiment that hasn't paid off.
Like fellow 2019 draftee N'Keal Harry, Williams might as well start searching for real estate elsewhere. Both have failed to live up to the hype and should be gone after the season.
As for what's left?
Myles Bryant and Shaun Wade possess intriguing skill sets and theoretical upside, but banking on an undrafted free agent and a fifth-rounder who got traded four months after he got drafted to become building blocks seems overly optimistic. Then again, considering the Patriots found their best two cornerbacks after the draft, perhaps Bryant and Wade can develop into key contributors like Jackson and Jones.
At the end of the day, though, it's clear Bill Belichick has a lot of work to do this offseason to restock the corner position.
That is, of course, if Robert Kraft gives him the chance to do so.
All statistics courtesy of Pro Football Reference. All contract data courtesy of Spotrac.