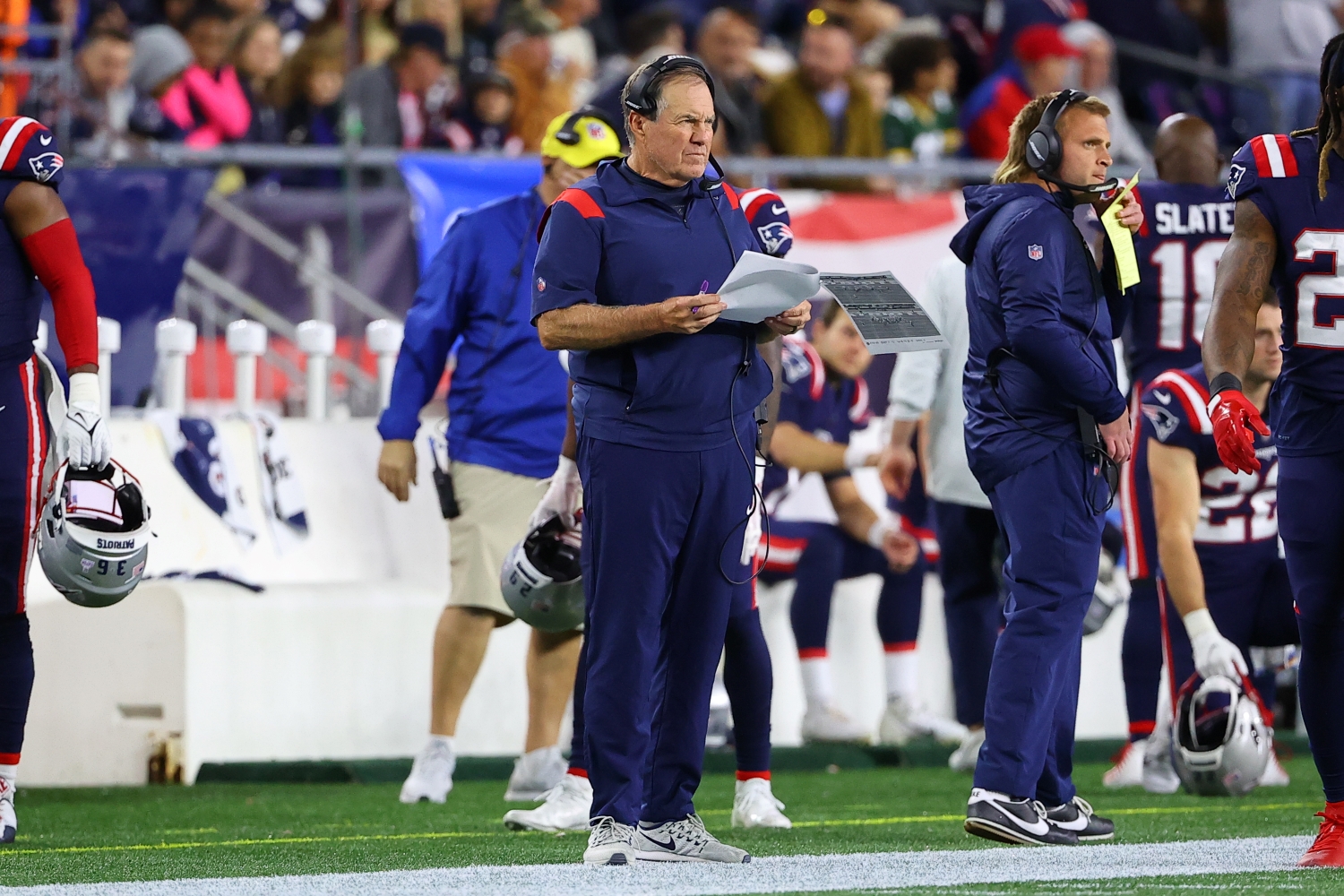 Bill Belichick Has Apparently Retired and Been Replaced With an Imposter
The Patriots may have had an advantage over other teams for two decades, but with the real Bill Belichick seemingly gone, they no longer look capable of competing for championships.
Will the real Bill Belichick please stand up?
Better yet, does that person still exist?
Apparently, the Belichick who won six Super Bowl titles across 19 seasons retired at some point without telling anyone. Even though he still stands on the sidelines with a headset on, it's safe to say the New England Patriots no longer employ the same head coach who gave the team the ultimate trump card in any matchup over the last two decades.
Instead, Robert Kraft is paying an imposter a lucrative salary to ruin run his franchise.
It's impossible to watch the Patriots without thinking there's something fundamentally different going on. Sure, there are plenty of new faces in Foxborough, including big-name free-agent additions like Matt Judon, Jonnu Smith, and Hunter Henry, and promising rookie quarterback Mac Jones. And it certainly wouldn't be a stretch to suggest the team's slow start has something to do with having significantly different personnel from a year ago.
But it's entirely fair to place the lion's share of the blame for the Patriots' disappointing 2-4 record on the 2021 version of William Stephen Belichick. Unfortunately for New England fans, whoever's currently in charge bears no resemblance to the man who won double-digit games for 17 straight years by out-scheming his peers, making smart decisions, and trusting his players to do their jobs.
Nothing sums up the strange situation going on in Foxborough better than the Patriots' recent defeat at the hands of the Dallas Cowboys.
Facing a loaded offense led by one of the NFL's best quarterbacks, New England surprisingly gained an early lead over Dallas. And after Ja'Whaun Bentley punched the ball out of Dak Prescott's hands at the goal line, the Patriots took over possession with 1:30 left at their own 20-yard line.
Yet instead of trying to score points, they made no attempt to do so.

Following a 1-yard run by Damien Harris, Jones took a knee twice, and Belichick's team went into the locker room up by four against an offense that moved the ball up and down the field at will in the first half.
That decision made little sense at the time, especially given the huge swing in momentum created by the Cowboys' costly turnover. Plus, with the Patriots in line to receive the second-half kickoff, they could have gone for the classic double score — a hallmark of the Tom Brady era.
But that didn't happen.
Belichick's "better safe than sorry" approach came up again shortly thereafter, as the Patriots punted on 4th-and-2 from the 50-yard line early in the third quarter. His lack of faith in the offense to move the ball six feet against a defense that nobody would describe as elite looked even worse since Prescott immediately staged a touchdown drive.
Of course, the ultra-conservative version of Belichick reared his ugly head at the most critical juncture of the game. Facing a 4th-and-3 from their own 46-yard line in overtime, the Patriots passed on the opportunity to ramp up the pressure on the Cowboys' defense and go for the win.
Seven plays later, CeeDee Lamb easily got open against Jalen Mills for a 35-yard touchdown that sealed the victory for Dallas.
While some would describe Sunday's loss as a moral victory, since when did that become acceptable under Belichick? During the Brady days, he showed no hesitation about being aggressive, and he always seemed to have a trick up his sleeve to outsmart his opponents. Plus, his obsession over the minute details of the NFL rulebook, along with his attempts to push the limits of what was permissible, made it clear that he would do just about anything to win.
What happened to that Belichick?
Apparently, like the quarterback he kicked out of town, he left, too.
What we're witnessing from the Patriots — including the bizarre decision to have a banged-up, 36-year-old Nick Folk attempt a 56-yard field goal in the driving rain against the Tampa Bay Buccaneers — is something entirely foreign. Belichick has gone from being a defensive genius with all the answers to someone who's lost his magic touch and trust in his players, and it's fair to question whether he's coaching to manage losses rather than to go after victories.
Oh, and besides the fact he continues to make uncharacteristically bad decisions in crunch time, let's not ignore some of the other red flags associated with his team.
Since when do the Patriots get punts blocked? That's happened twice this season, including against the Cowboys.
Since when do the Patriots put the ball on the ground? Damien Harris, J.J. Taylor, and Rhamondre Stevenson have combined for four fumbles, and Jones has three of his own.
And since when do the Patriots determine Brandon Bolden to be their best option in crunch time? The 31-year-old career special teamer opted out in 2020 and is somehow just two touches shy of matching his 2019 total of 24.
That's not a recipe for success.

New England has been in position to win on a weekly basis, but the imposter on the sidelines has played a massive role in at least three of the four losses by failing to take calculated risks that could have led to game-winning opportunities. If the real Bill Belichick were still around, the Patriots could easily have a 5-1 record and be well on their way toward earning a postseason berth.
Instead, with an entirely other person in charge, they look poised to land a top-10 pick in the 2022 NFL Draft and watch the playoffs from home — again.
All statistics courtesy of Pro Football Reference.