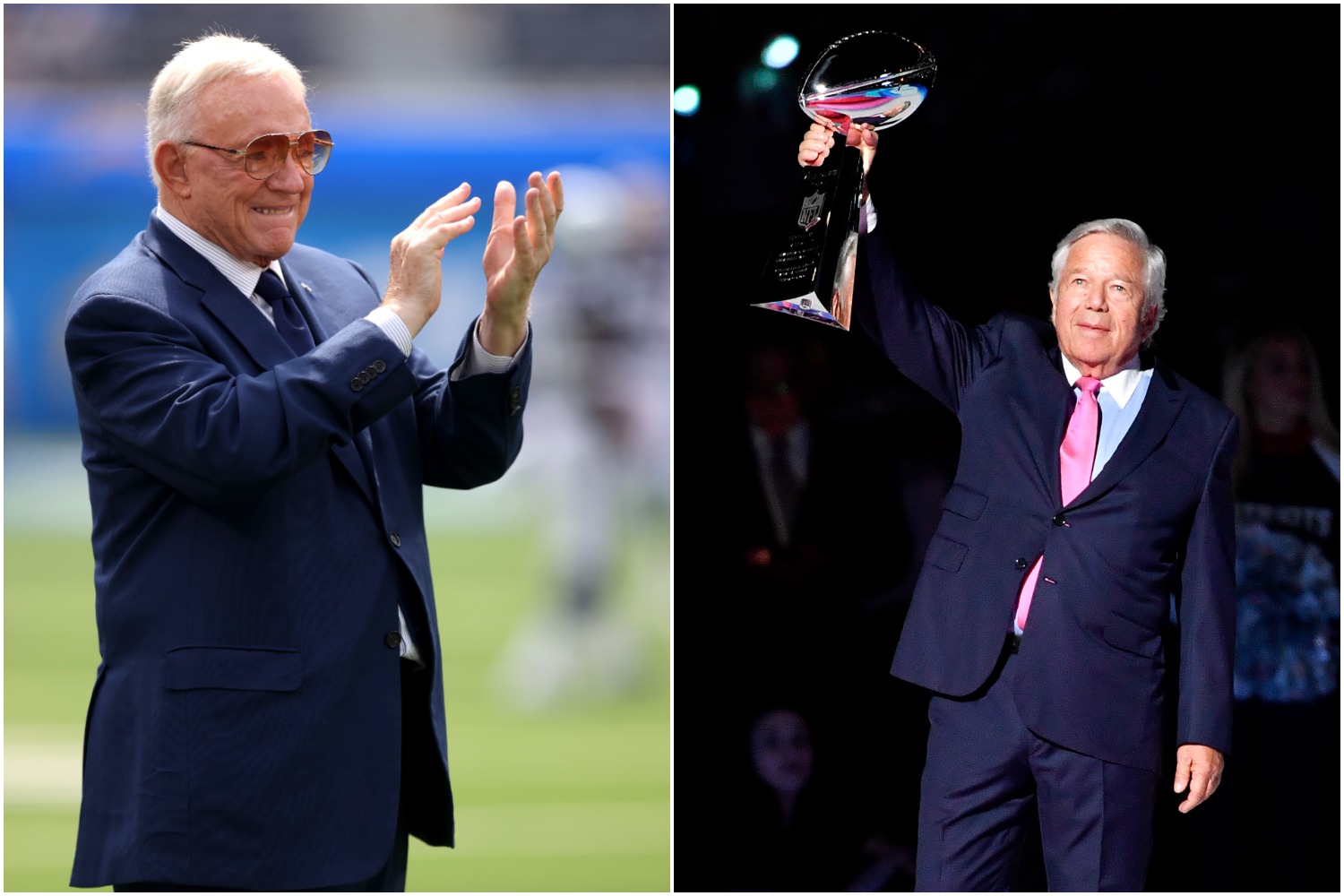 Jerry Jones is Worth a Whopping $10.6 Billion, But Robert Kraft is Wealthier Where it Matters Most
Although Jerry Jones can say he's worth $10.6 billion, he doesn't come close to measuring up to Patriots owner Robert Kraft in terms of championship hardware. Are the Cowboys really America's Team?
Jerry Jones isn't the most wealthy owner in the NFL, but he's undoubtedly the most recognizable and arguably the most powerful. Never afraid to speak his mind and always looking for an opportunity to promote his beloved Dallas Cowboys, the 79-year-old has done a masterful job turning the franchise into a money-making machine. 
However, even though Jones boasts a net worth in excess of $10 billion and has "America's Team" as part of his financial portfolio, he still falls short where it really matters to one of his peers with a little less spending power. 
Despite having a smaller net worth than Jones, New England Patriots owner Robert Kraft possesses plenty of valuable items money can't buy. But with the way things are trending in Foxborough, Bill Belichick's boss should be concerned about what lies ahead. 
On the other hand, Jones' confidence level about the Cowboys' chances of capturing some championship hardware in the the near future should be at an all-time high. 
Few NFL owners have a higher net worth than Jerry Jones
Money can't buy titles, but it can help you get a seat at the table in pro sports. For Jerry Jones, the price of admission into the NFL came out to $140 million. And it's safe to say his investment has more than paid off. 
After purchasing the Cowboys for roughly the same amount as Dak Prescott's contract, Jones went to work building a brand so he could capitalize off his team's popularity. Thanks to the terrific trio of Troy Aikman, Michael Irvin, and Emmitt Smith, Dallas won three Super Bowls in a four-year span, which certainly made ownership happy. 
Although the Cowboys haven't experienced much playoff success since, they remain the most valuable franchise in the NFL. 
As for Jones' net worth? 
According to the most recent estimate by Forbes, he's worth $10.6 billion. Needless to say, he made a smart business decision to buy the Cowboys back in 1989. 
While he never has to worry about being able to afford a potential purchase, Jones has learned the hard way that wealth doesn't necessarily equate to success. At least, not where it really matters in the pro football world. 
Robert Kraft is wealthier where it matters most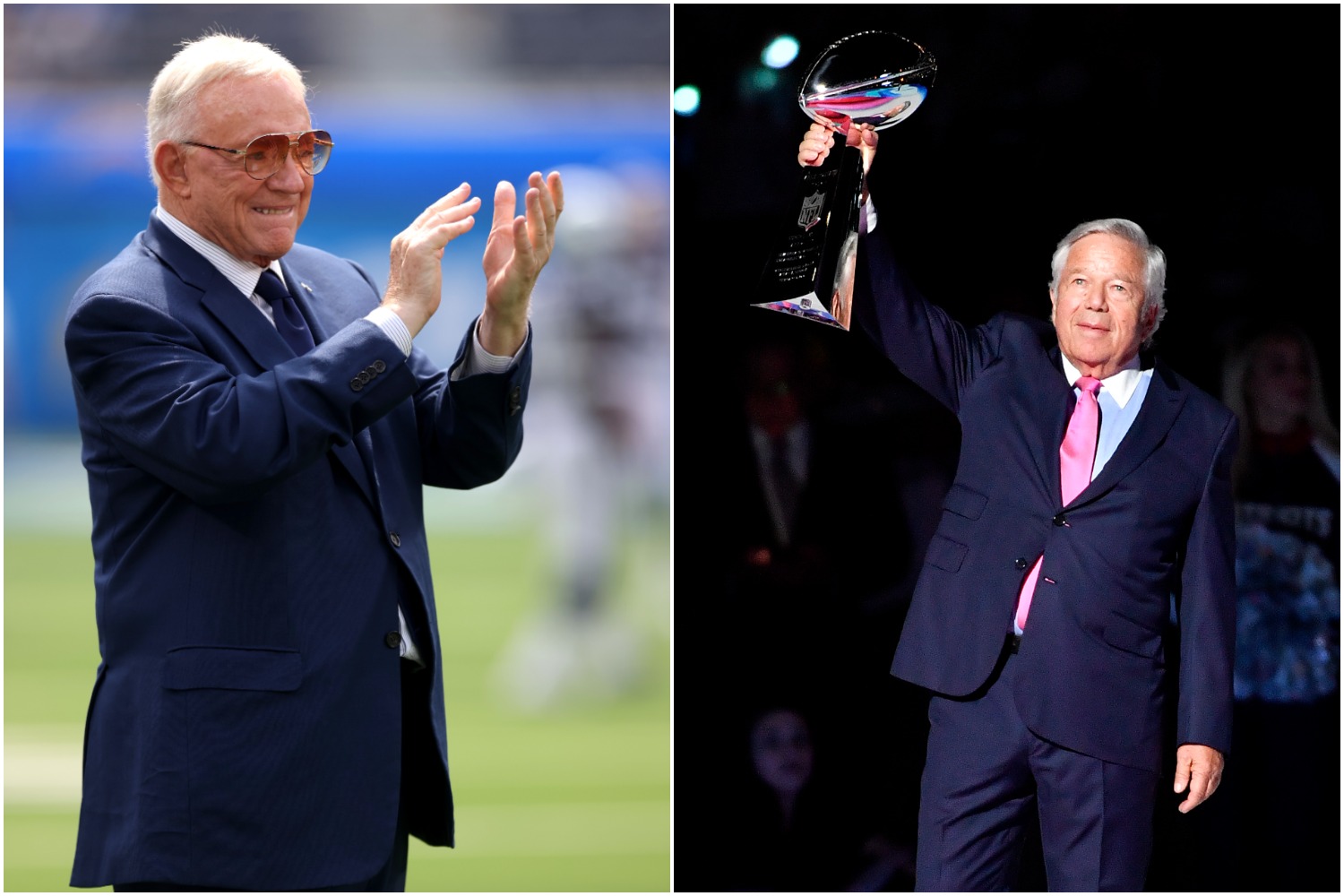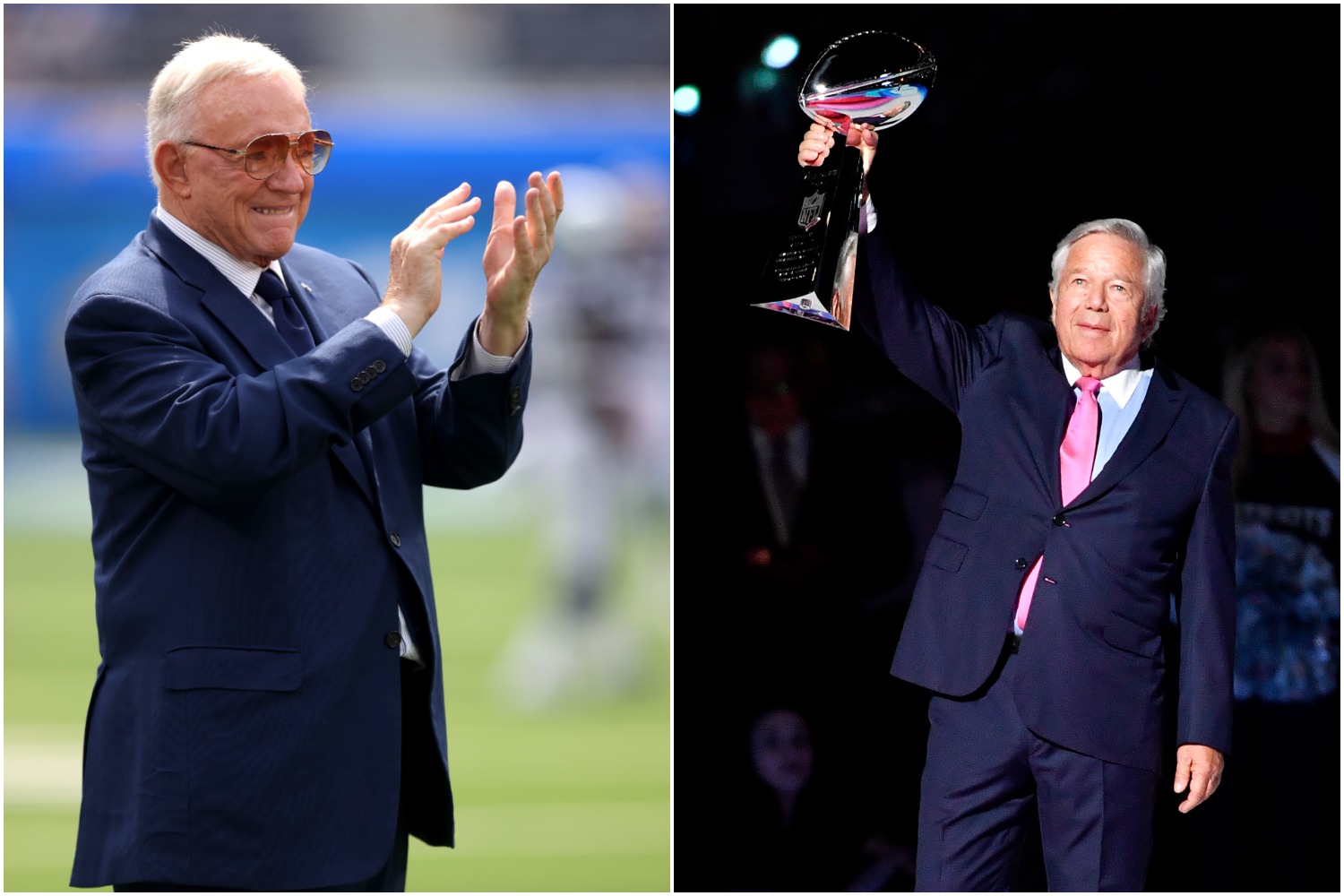 With an estimated net worth of $8.3 billion, Robert Kraft doesn't have quite the same riches as the Cowboys' outspoken owner. 
What he does have, though, is a collection of Lombardi Trophies. And when you consider what it took for the Patriots to become a dynasty, Kraft deserves tremendous credit for doing something Jones has not: finding a way to sustain success. 
While the Cowboys enjoyed an impressive run in the early '90s, they haven't advanced past the Divisional Round since 1995. Meanwhile, the Patriots won six Super Bowl titles between 2001-18 while dominating their division and making going to the AFC Championship a near-annual trip. 
And none of that would have occurred without Kraft. 
After all, don't forget the Patriots didn't just hire Belichick. Instead, Kraft traded a first-round pick (plus some change) to the New York Jets to secure a new leader for his beloved team. The deal came with significant risk, as Belichick arrived in New England with a losing record and a less-than-stellar reputation. Obviously, though, parting ways with a few picks turned out to be an absolute steal. 
Has everything gone right for Kraft during his tenure? 
Absolutely not. 
Spygate, Deflategate, and the Aaron Hernandez saga all brought negative attention to the Patriots. 
But his team received plenty of positive press for winning at an unprecedented clip — a particularly impressive feat given the constraints of the salary cap. Plus, Kraft figured out a way to keep things working with Bill Belichick and Tom Brady for two decades — an equally impressive accomplishment given the egos at play.
Ultimately, Jones may have the higher net worth, but he remains well behind Kraft in terms of NFL wealth. 
But could he close that gap? 
What does the future hold for the Cowboys and the Patriots? 
The Cowboys haven't come close to winning a title in quite a while. However, they have a loaded roster that looks capable of ending an agonizingly long championship drought. 
Ironically, after contending for the Lombardi Trophy on a yearly basis for two decades, the Patriots don't look close to capturing title No. 7. 
Dallas has a diverse offense that features star power at every position except tight end. On the other hand, New England has a promising first-year quarterback, a few solid role players, and a whole bunch of question marks. 
On the other side of the ball, the Cowboys have two rising stars in rookie linebacker Micah Parsons and second-year cornerback Trevon Diggs. The defense may not be elite, but it certainly has a few exciting pieces. 
Meanwhile, the Patriots have a mix of aging veterans on their last legs (Dont'a Hightower, Devin McCourty, Kyle Van Noy), a few high-upside youngsters (Josh Uche, Kyle Dugger), and some solid established starters (J.C. Jackson and Adrian Phillips). 
Overall, though, it's difficult to see Belichick's squad coming out on top against the Buffalo Bills, Cleveland Browns, Kansas City Chiefs, or Baltimore Ravens based on the talent disparity. Until the Patriots start hitting on their draft picks and prove they can score points on a consistent basis, they will continue to look up in the AFC East standings. 
Luckily for Jerry Jones, the Cowboys have a real shot at representing the NFC in Super Bowl 56. 
And with Prescott playing at an MVP level, it wouldn't be a surprise if the Lombardi Trophy makes it way back to Dallas sooner than later. 
Like Sportscasting on Facebook. Follow us on Twitter @sportscasting19.