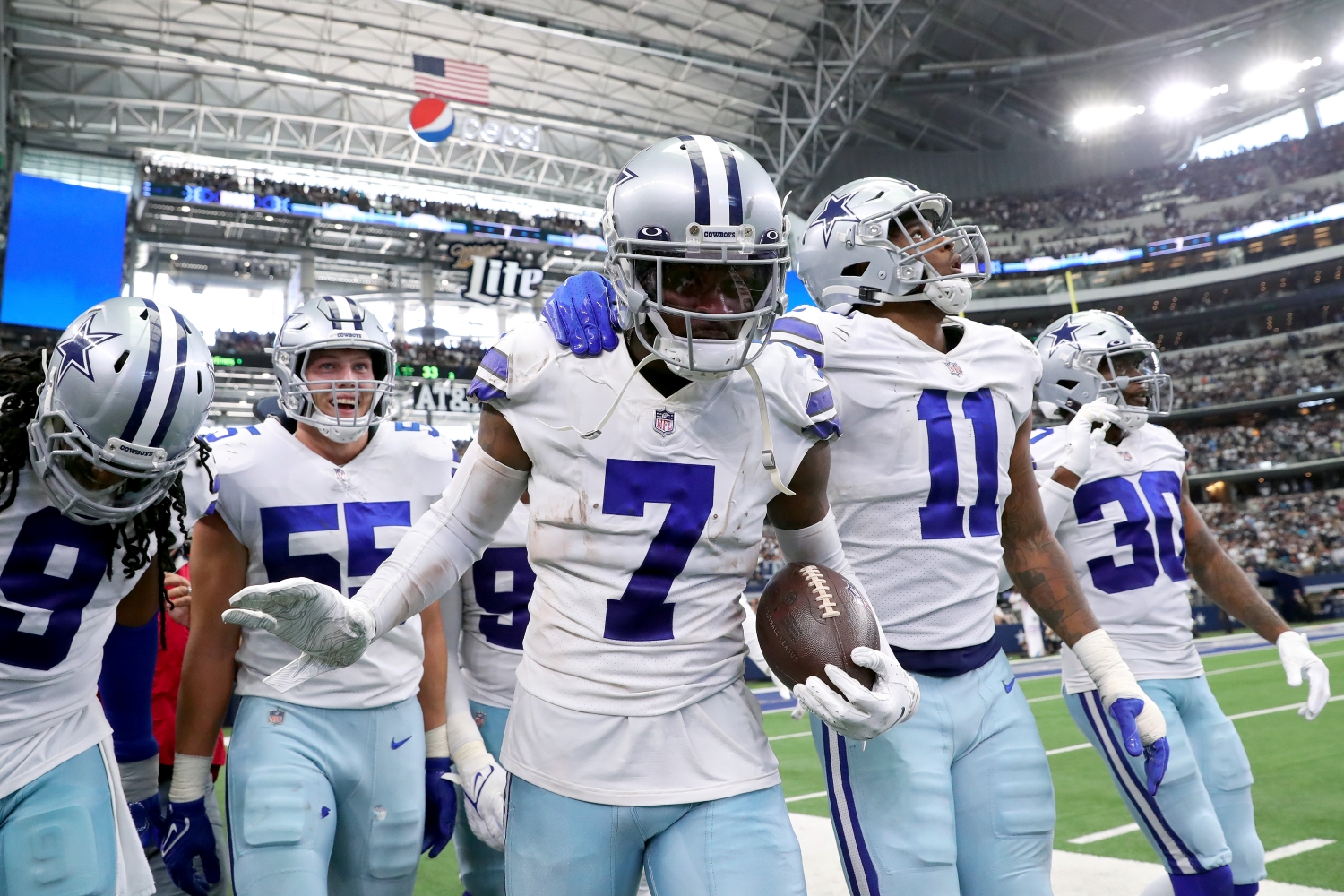 Nick Saban's Tear-Inspiring Suggestion Set the Stage for the Dallas Cowboys to Secure a Franchise-Altering Superstar
Jerry Jones and the Cowboys can thank legendary Alabama coach Nick Saban for setting the stage for a superstar cornerback to emerge in Dallas.
The Dallas Cowboys added a receiver teeming with talent with their top pick in the 2020 NFL Draft, but even CeeDee Lamb would have to admit they landed a true franchise-altering superstar in the second round.
After all, nobody can deny that Trevon Diggs has entered elite territory well before the halfway point of his second season in the league. And thanks to the ball-hawking cornerback's dominant play, Dallas has gotten off to a surprisingly decent start on defense under first-year coordinator Dan Quinn.
While the team obviously believed in Diggs' upside to take him 51st overall, his rapid rise has certainly been one of the biggest storylines of the 2021 season. And even though Nick Saban doesn't get paid by Jerry Jones, he deserves credit for making a tear-inspiring suggestion that set the stage for the Cowboys to secure a cornerstone player.
Trevon Diggs has quickly emerged as a Defensive Player of the Year candidate in his second NFL season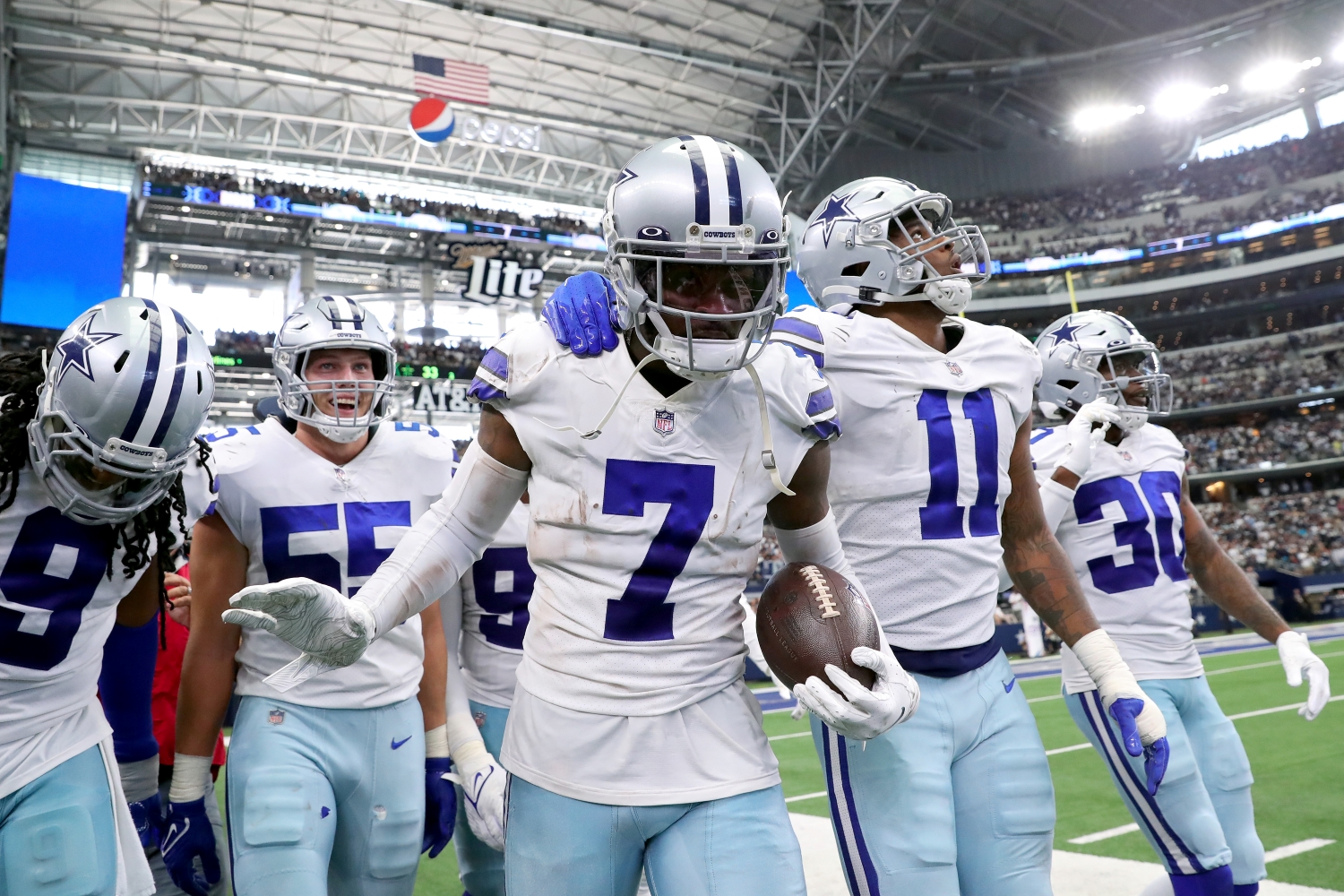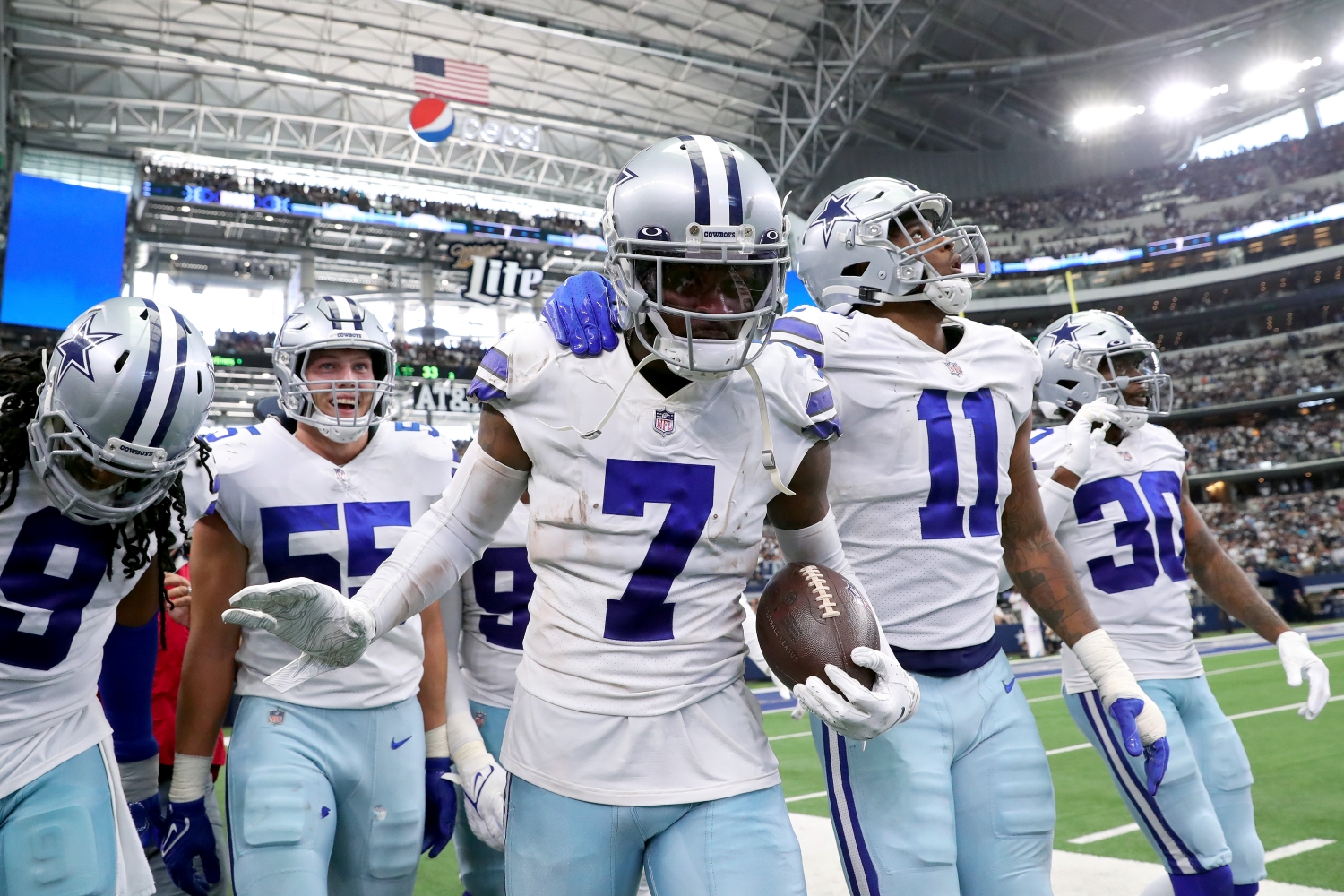 Seven cornerbacks went off the board before Trevon Diggs.
That was a mistake.
With Jeff Okudah and CJ Henderson failing to live up to expectations thus far as top-10 picks, it's clear the Cowboys made the right call to wait until the second day of the draft to address the position. At the same time, it underscores how big of a steal they got by ending Diggs' slide at pick No. 51.
Coming off a solid rookie season in which he recorded three interceptions and 14 passes defended in 11 starts, the 6-foot-2, 195-pound corner has quickly emerged as a bonafide star. Diggs kicked off his sensational sophomore campaign by intercepting Tom Brady, and he followed up by picking off Justin Herbert in the Cowboys' 20-17 win over the Los Angeles Chargers.
His hot start continued with a pick-six against the Philadelphia Eagles and a two-pick performance in a win over the Carolina Panthers. The New York Giants became the latest team to suffer the consequences of targeting Diggs, as the second-year pro extended his interception streak to five games by snagging an ill-fated attempt by journeyman backup Mike Glennon.
Despite playing a position that ordinary doesn't get much love from voters, the Cowboys' superstar corner looks firmly in the mix for Defensive Player of the Year honors.
And if it wasn't for the most recognizable coach in college football, Diggs may have carved out a career trying to help quarterbacks instead of attempting to make their lives miserable.
Nick Saban's tear-inspiring suggestion set the stage for the Cowboys to secure a franchise-altering superstar
Like many players who suit up for Nick Saban, Diggs joined the Crimson Tide football program as a highly coveted high-school recruit. And when he came aboard, the Maryland native wanted to follow in his brother's footsteps and become a top-flight college wideout.
However, Alabama's legendary leader had a different plan in mind for Stefon Diggs' sibling.
Saban felt the youngster's length would come in handy at corner, particularly at the pro level. But as Diggs revealed in his post-game press conference, he reacted to his coach's suggestion in a less-than-enthused manner.
"I was hurt at first, honestly," the 24-year-old said after the Cowboys' 44-20 win over the Giants. "I called my brother. I was crying."
Ultimately, though, Diggs embraced the idea and worked tirelessly to master a new position. He became a full-time defensive back as a sophomore, won a national title as a junior, and earned first-team All-SEC honors as a senior. And by snagging six interceptions in five games, he seems well on his way to earning his first of many Pro Bowl selections.
Diggs may have cried years ago about switching from receiver to corner, but it's clear things worked out well.
"I thank Saban for that," he said. "Appreciate ya."
Diggs isn't the only young defender who looks like a long-term building block for Dallas
Diggs gives Dallas a true No. 1 corner who looks capable of becoming one of the best at his position. Luckily for Mike McCarthy, he has a few more young defensive players worth getting excited about.
Like Diggs, Micah Parsons joined the Cowboys as a highly regarded prospect with star potential. And like his teammate, the promising rookie has made a major impact and seems well on his way to becoming a perennial Pro Bowler, too.
Used in more of a pass-rushing role due to injuries, Parsons has proven capable of handling just about everything asked of him. The 6-foot-3, 245-pound linebacker has racked up 25 tackles, 2.5 sacks, and 10 quarterback hits while playing 78% of the defensive snaps. With sideline-to-sideline speed and rare overall athleticism, the 22-year-old has the physical tools to dominate in today's NFL.
Plus, Parsons isn't the only member of the Cowboys' 2021 draft class who should fill a starting role for years to come.
Third-round pick Osa Odighizuwa has found a way to get on the field as a rookie thanks to his ability to rush the passer. The 6-foot-2, 280-pound defensive tackle ranks second on the team (behind Parsons, of course) in sacks and quarterback hits. His hot start suggests he has what it takes to stick around in Dallas for the long haul, too.
So, even though the Cowboys recently said goodbye to a homegrown defensive star who faded out of the picture, it's clear they landed a few key building blocks in the draft over the last two years.
All statistics courtesy of Pro Football Reference.