Despite Being a Perennial Disappointment, Jerry Jones' Beloved Dallas Cowboys Are Shockingly Worth $1.5 Billion More Than The Real America's Team
Decades before Dak Prescott arrived, the Dallas Cowboys dominated the NFL and established a reputation as America's Team. Yet for all of the hype surrounding the historic franchise, Dallas simply hasn't come close to living up to expectations in the post-Triplets era. While their Lombardi Trophy collection hasn't grown at all, the Cowboys have continued to climb in value over the years.
However, even though Jerry Jones maintains a major edge over other NFL owners from a financial standpoint, that doesn't mean Dallas deserves to be called America's Team. As much as it might pain Robert Kraft to finish behind his peer in the valuation rankings, he can sleep soundly knowing the New England Patriots stole that title a long time ago.
But after watching their respective teams fall short of expectations in 2020, will Jones and Kraft have much to cheer about this season?
The Dallas Cowboys are still the most valuable NFL team despite being a perennial disappointment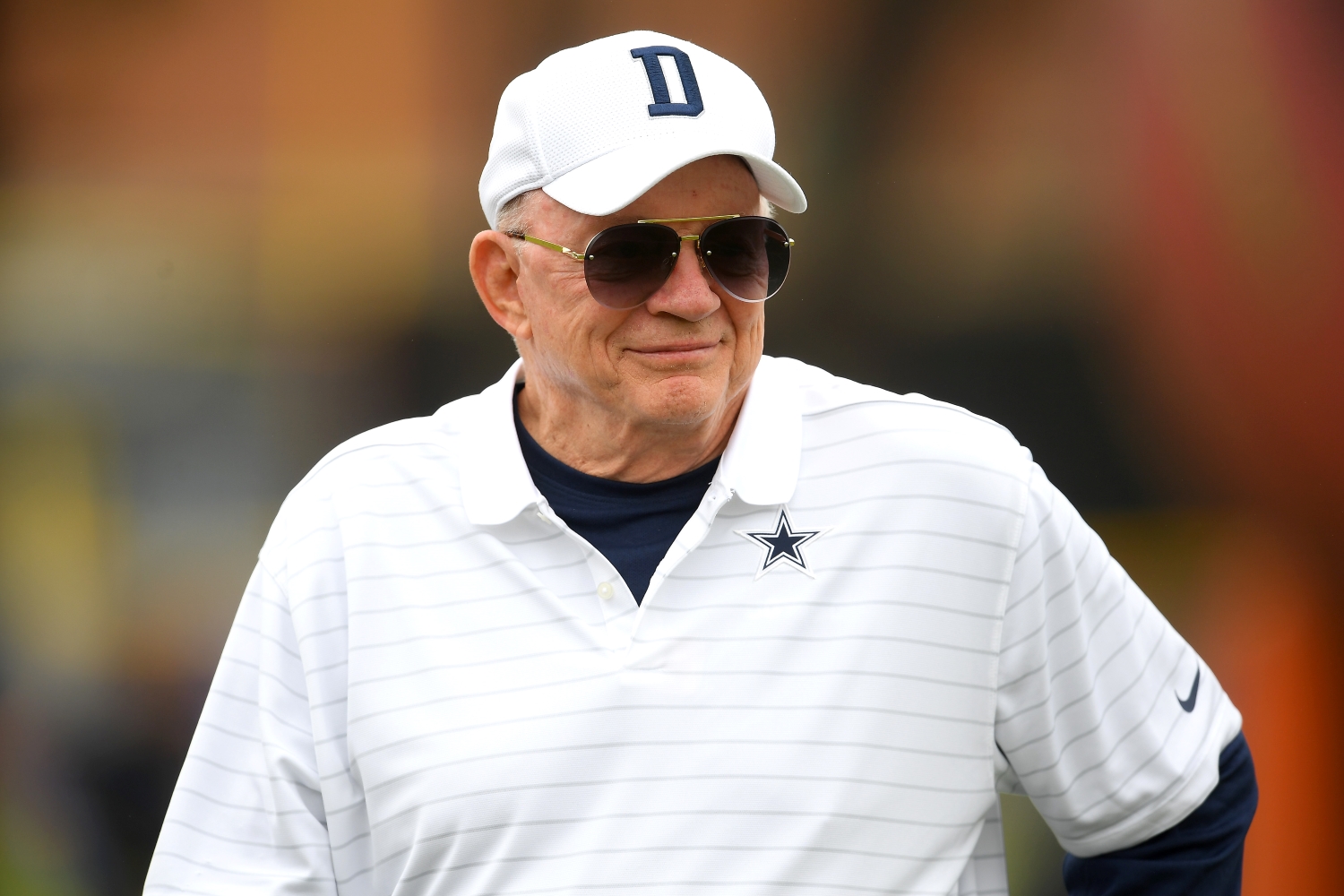 Cowboys fans haven't had much to cheer about for a while. Sure, making the playoffs may elicit some applause, but there's no doubt Dallas has largely been a disappointment for the past two decades.
After missing the postseason only once between 1991-99, the Cowboys have made the playoffs just seven times during the new millennium. Obviously, none of those trips ended with Jerry Jones hoisting the Lombardi Trophy. In fact, Dallas has never advanced past the Divisional Round since it won the Super Bowl at the end of the 1995 season.
Despite their status as a perennial letdown, the Cowboys can rightfully call themselves No. 1 in one category: value. According to Forbes, thanks to a one-year jump of 14%, Jones' team is currently worth $6.5 billion. With an operating income of $280.4 million, Dallas is truly in a class of its own.
No NFL team comes close to the Cowboys in terms of valuation. In fact, besides Jones, only one owner can claim his franchise is worth at least $5 billion.
The Patriots may be second on the valuation list, but they deserve the title of America's Team
Even though Robert Kraft's beloved Patriots don't top the list of the NFL's most valuable franchises, they deserve the title of America's Team over the Cowboys. A $5 billion valuation may leave the 80-year-old owner behind Jones from a financial standpoint, but Kraft can certainly sleep soundly knowing his team actually takes care of business on the field.
Unlike the Cowboys, the Patriots figured out how to win in the playoffs. And thanks to the combined brilliance of Bill Belichick and Tom Brady, the Kraft family got a chance to taste championship glory six times between 2001-18. During that stretch, the Patriots routinely won double-digit games, made deep playoff runs, and did so despite having to deal with the constraints of the salary cap and free agency. Plus, New England enjoyed an unparalleled run of sustained success in spite of major scandals like Spygate, Deflategate, and the Aaron Hernandez saga.
The Cowboys may have been America's Team back in the '90s, but the days of Dallas dominating opponents with relative ease ended long ago. Instead, they got replaced by a franchise that made nine Super Bowl appearances across an 18-year stretch. Belichick deserves tremendous credit for consistently fielding playoff-caliber teams on an annual basis. Brady's legendary postseason performances will get talked about forever. And Kraft's ability to keep everyone on the same page (mostly) for two decades gets vastly underrated.
New England's dynasty undoubtedly tops anything Dallas did decades ago. So, if we're going to crown anyone as America's Team, it has to be the Patriots given their six Super Bowl titles and number of record-setting accomplishments.
Jerry Jones and Robert Kraft should both feel optimistic about what lies ahead for their respective teams
Kraft has the edge over Jones when it comes to winning championships. The latter maintains a $1.5 billion lead in the valuation rankings. Clearly, both men have a lot to be proud of.
But will the NFL's most recognizable owners have much to cheer about this season?
Luckily for Kraft and Jones, both of their teams look capable of getting back to the playoffs.
The Patriots made massive upgrades across the board this offseason, so Bill Belichick's squad seems to have the pieces in place to make a run at the Lombardi Trophy. With a championship-caliber defense and an offense that could look imposing if Mac Jones plays up to his first-round pedigree, New England should get back on track after a rare losing season.
Meanwhile, the Cowboys have plenty of talent on both sides of the ball. Assuming Dak Prescott's shoulder makes a full recovery, the offense should put up big point totals. After all, it's hard not to get excited about a unit that features Ezekiel Elliott, Amari Cooper, and CeeDee Lamb. Of course, whether Dallas improves enough on defense to earn a postseason berth remains a question mark.
Ultimately, though, expect the Patriots and the Cowboys to win a majority of their games during the regular season.
Once the playoffs arrive, though, we all know who has a track record of getting the job done.
Sorry, Cowboys fans. The real America's Team plays in the AFC East.