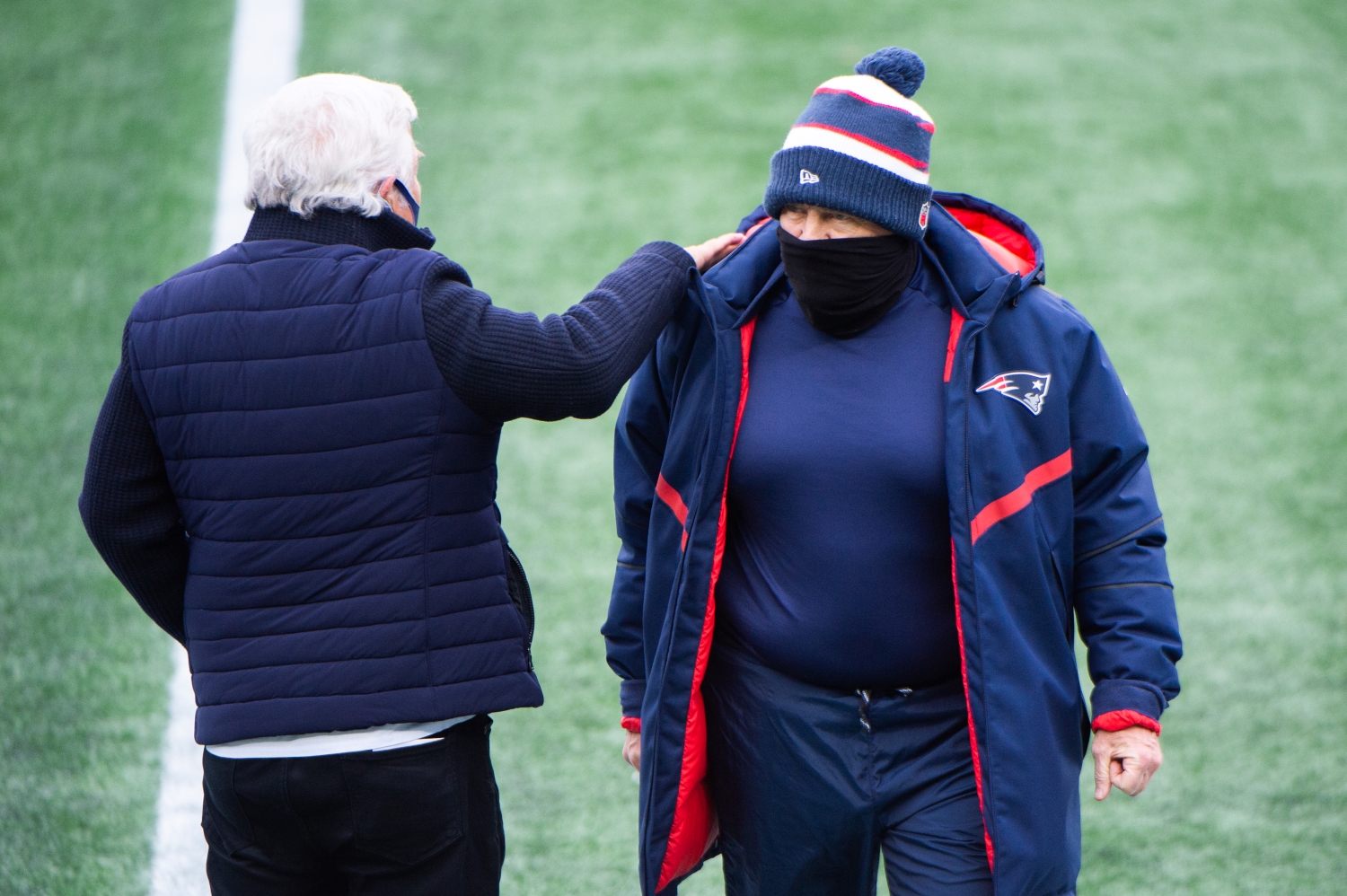 Bill Belichick and Robert Kraft Score Legal Win to Secure Their Secrets in Scandal Involving $7 Million and a Former Patriots Employee
Bill Belichick and Robert Kraft can rest easy (for now) after receiving good news about the privacy of their emails in a $7 million scandal involving the Patriots and former assistant Bret Bielema.
The New England Patriots have a well-documented history of pushing the boundaries of what the NFL considers legal. So it should come as no surprise that Bill Belichick and Robert Kraft have once again found themselves in headlines for their alleged involvement in another scandal.
Luckily for the two remaining pillars of the Patriots organization, they just managed to avoid having their secrets exposed in a legal case concerning $7 million and how exactly Bret Bielema came to New England.
New England has plenty of experience dealing with scandals
The Patriots won six Super Bowl titles in an 18-year span. However, their on-field success could not totally overshadow several scandals that rocked Robert Kraft's franchise.
In 2007, Spygate became the biggest story to follow around the NFL. Bill Belichick and Tom Brady faced plenty of questions about the alleged cheating that occurred in New England. Roger Goodell fined the Patriots $250,000 and docked the team a first-round pick. Belichick received a record-setting $500,000 fine and opened himself up to speculation about the authenticity of his NFL resume.
In 2015, Deflategate emerged as yet another football-related scandal tied to the Patriots. The entire saga led to multiple federal court hearings. And by the end of it, Brady served a four-game suspension to start the 2016 season.
Given the franchise's checkered past with video cameras, that only made Spygate 2.0 an even bigger story. The NFL fined the Patriots $1.1 million and stripped the team of a 2021 third-round pick for a videotaping violation that occurred in Week 14 of the 2019 season against the Cincinnati Bengals.
Former Arkansas coach Bret Bielema has come under scrutiny for how he joined the Patriots
New England may not be in hot water with the NFL at the moment, but the franchise once again finds itself in the spotlight for another scandal. However, this controversy has nothing to do with stealing an opponent's signals or making sure a football has just the right amount of air inside.
Instead, the Patriots have a potential problem on their hands because of a former employee.
After getting fired by Arkansas in November 2017, Bret Bielema joined Bill Belichick's staff in July 2018 as a defensive consultant. Of course, the team won a Super Bowl title in his first year working in Foxborough.
Bielema got promoted to defensive line coach for the 2019 season. The Patriots finished first in points allowed for just the third time under Belichick.
However, while he seemed to have done a good job with his last employer, the current University of Illinois head coach apparently burned some expensive bridges with the program he worked at prior to joining the Patriots.
Because based on court filings, Arkansas believes Bielema's journey to working for the Patriots included a coordinated scheme designed to maximize the financial benefits for both he and Robert Kraft.
Bill Belichick and Robert Kraft will keep their secrets safe
In early January, Michael McCann of Sportico delivered some key updates about the legal proceedings involving Bret Bielema and the Razorback Foundation.
The Illinois native filed a federal lawsuit against the Foundation because he insists the buyout he signed entitles him to $7 million. The organization countered that Bielema failed to meet a contractual obligation of "best efforts" to land a new job.
In addition, the Razorback Foundation asserts the former head coach conspired with Bill Belichick and their shared agent, Neil Cornrich, to pay Bielema a low salary as an assistant in order to fall in line with a buyout provision that allowed him to earn up to $150,000.
Of course, that theory could potentially be proven false or correct with evidence. Luckily for Robert Kraft and his longtime head coach, a recent win in court will prevent any of their secrets from coming out.
On Tuesday, McCann reported U.S. District Court Judge P.K. Holmes III agreed to keep emails between Belichick and Kraft sealed as part of a protective order. In a brief to the judge, the Patriots said disclosing the emails would reveal confidential trade secrets that could include salary information, financial strategies, and football-related concerns.
While Judge Holmes said he is "extending the Patriots the benefit of the doubt" for the time being, he could revisit the matter down the line.
So for now, New England's secrets remains safe.
But it sure would be interesting to see exactly what words get exchanged between Bill Belichick and Robert Kraft.
Like Sportscasting on Facebook. Follow us on Twitter @sportscasting19.