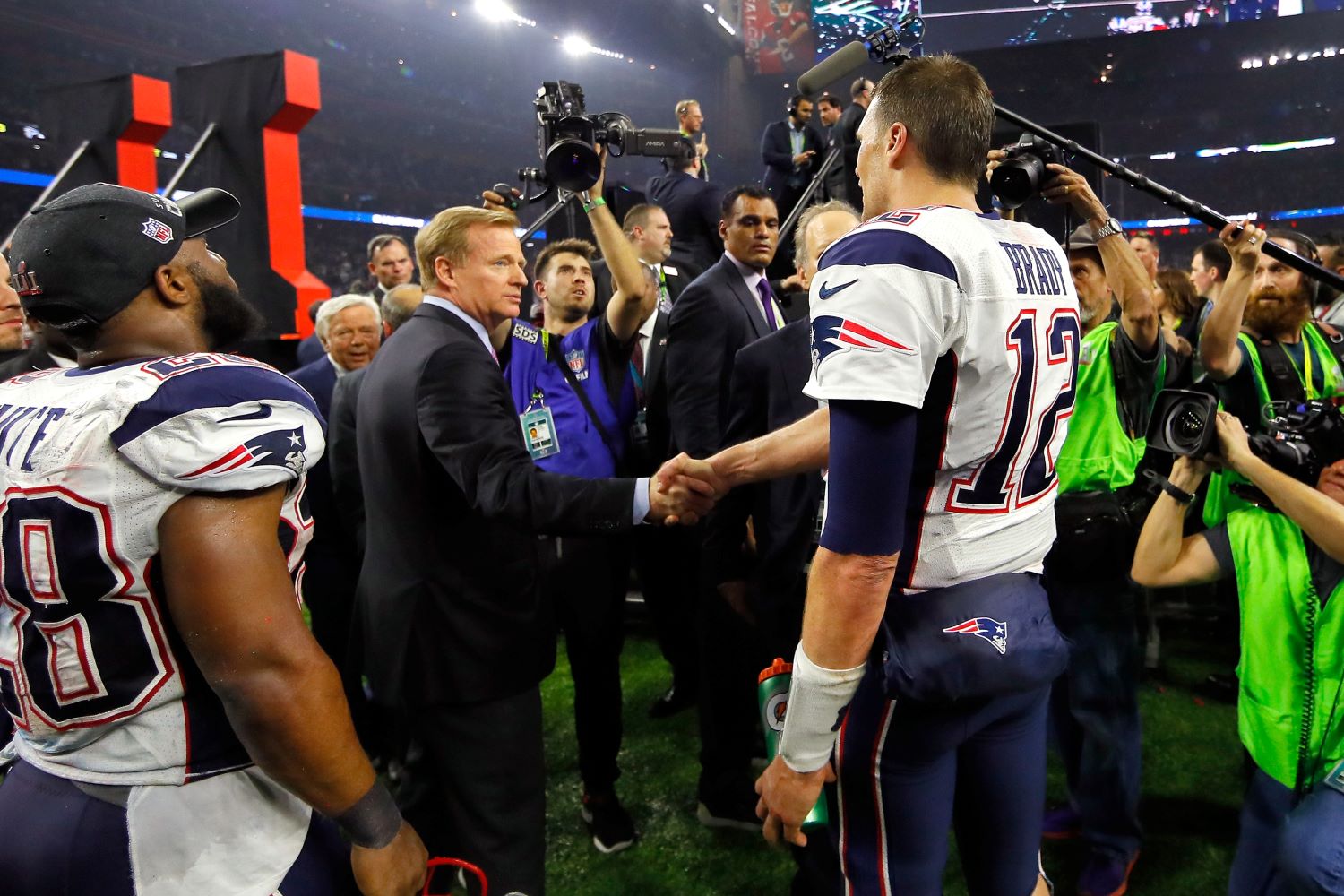 Tom Brady Receives Powerful Praise From His Sworn Enemy Despite Their Icy Past
Even though Roger Goodell and Tom Brady have an icy past, the NFL commissioner spoke highly of the Buccaneers QB ahead of Super Bowl 55.
Naturally, you would think the greatest player in NFL history and the man responsible for running the league would be friends. But when Roger Goodell refused to give up on suspending Tom Brady, he created a sworn enemy.
Considering the number of players who have received lesser punishments for far worse offenses than letting air out of footballs, it certainly did not help the NFL commissioner's already-rocky reputation with fans when he took the future Hall of Famer to court.
Still, Brady exacted his revenge at the end of his suspension-shortened 2016 season. And he did it again in 2018 by hoisting the Lombardi Trophy for the sixth time in his career.
Now that Brady's one game away from accomplishing the feat for the seventh time, Goodell took the time to deliver some public praise for his impressive career. However, that only came after he deflected an incredibly ironic question.
Roger Goodell made Tom Brady pay for his alleged role in Deflategate
If it wasn't for Roger Goodell, there's a very good chance Tom Brady would have a fourth NFL MVP trophy at home. After all, his 2016 season with the New England Patriots ranks right up there with his record-setting 2007 campaign.
While Brady ultimately got the last laugh by winning Super Bowl MVP honors, he missed out on taking home the regular-season award due largely to the fact he only played 12 games.
Of course, he didn't miss time with an injury. Instead, the greatest quarterback of all time had to serve a four-game suspension for his alleged role in Deflategate.
Thanks to Jimmy Garoppolo and Jacoby Brissett, the Patriots survived without their longtime leader under center. Still, that did little to soothe the frustration from Brady and Patriot Nation over the punishment Goodell handed down. After all, this wasn't just another run-of-the-mill suspension doled out by the NFL commissioner.
Somehow, a simple matter concerning air pressure and footballs became a highly-publicized legal battle that culminated in the United States Court of Appeals for the Second Circuit reinstated Brady's four-game suspension for the 2016 season.
Ironically, the NFL's most decorated star and the man tasked with running the league became sworn enemies. In fact, Brady's father accused Goodell of constantly lying during Deflategate, according to The Washington Post.
Getting the ultimate revenge
Missing four games did nothing but motivate Tom Brady to get his revenge against Roger Goodell. And boy did he do just that.
After putting up MVP-worthy numbers in 12 games—including 28 touchdowns and just two interceptions—he staged the largest comeback in Super Bowl history against the Atlanta Falcons. Like he did two years prior against the Seattle Seahawks, Brady caught fire in the fourth quarter (and in this case, overtime) and completely ended any debate about the GOAT title.
Needless to say, it certainly seemed fitting that two of the league's most recognizable faces had to stand on the same stage at the end of Super Bowl 51. Despite much speculation about what an encounter between Brady and Goodell would look like, the post-game award ceremony didn't include any drama between the Super Bowl MVP and the NFL commissioner.
Two years later, Brady once again collected the Lombardi Trophy from Goodell. While the legendary quarterback didn't play much of a factor in New England's 13-3 win against the LA Rams in Super Bowl 53, he only added to his mystique by securing a sixth championship ring.
Despite switching teams, Brady once again finds himself in a position to stand on stage next to Goodell at the end of a Super Bowl.
The six-time Super Bowl champion receives public praise from his sworn enemy after a clever deflection
For Rogder Goodell, the idea of having to hand another Lombardi Trophy to a player he once fought to keep off the field must be a tough pill to swallow.
For Tom Brady, it can only cement his case as the ultimate victor if he gets to gleefully listen to Goodell congratulate the Tampa Bay Buccaneers as Super Bowl champions.
But if the commissioner does have to make that happen, at least he got some practice in on Thursday.
During his press conference, Goodell was asked if he still believes suspending Brady for four games for his alleged role in Deflategate was the right thing to do.
However, he deflected the question and instead took the time to praise the 43-year-old quarterback for what he's done during his Hall of Fame-worthy career.
"Tom Brady has shown that he's probably the greatest player to ever play this game," Goodell said. "His ability to rise to the big occasion and make everybody rise around him. That's what's absolutely incredible to me. Everyone just plays better when they're with him."
He further added, "He's an exceptional talent, but more importantly, he's one of the great guys."
And with Brady recently leaving the door open about playing past the age of 45, it sounds like the NFL commissioner knows he can count on seeing a familiar face in the future.
"I think he's going to continue to be a great performer," Goodell said. "I'm glad to hear he's going to play a few more years."
And as long as he stays pliable and keeps eating avocado ice cream, don't be surprised if Tom Brady finds himself back in the Super Bowl for an 11th time…and possibly more.
All statistics courtesy of Pro Football Reference.