With His NFL and Financial Future on the Line, Patriots OT Trent Brown Wisely Joined Forces With an NFL Legend at Exactly the Right Time
New England Patriots fans shouldn't need any reminder about what Trent Brown can do on a football field. During the 2018 season, the towering tackle put together a dominant campaign that helped Tom Brady and Bill Belichick win their sixth Super Bowl together. Of course, Brown certainly benefited from the tutelage of legendary Patriots offensive line coach Dante Scarnecchia.
However, since he left the Patriots for a big-money contract with the Las Vegas Raiders, Brown has watched his stock slip quite a bit. Back for a second stint in Foxborough, the 28-year-old faces enormous pressure to protect Cam Newton's blind side and open up holes for New England's deep stable of running backs.
With his NFL career and financial future on the line, Brown wisely joined forces with an NFL legend this offseason to help him in his quest to prove Belichick made a smart decision to bring him back.
Trent Brown needs a big year in New England to get his NFL career back on track
After an up-and-down three-year career with the San Francisco 49ers, Brown took advantage of the opportunity to get coached by one of the best in the business. And by entrusting Scarnecchia and buying into Belichick's team-first program, the 2015 seventh-round pick put himself in line for a life-changing raise.
Unfortunately for the Raiders, they didn't get their money's worth for when they made Brown the highest-paid offensive lineman in the league. Signed to a four-year, $66 million deal with nearly $37 million guaranteed, the 6-foot-8, 380-pound tackle did make the Pro Bowl in 2019. But considering he only played 11 games that season and just five a year ago, Brown clearly fell short of expectations.
The Raiders brought an end to the experiment in March by trading their prized 2018 free-agent signing to the Patriots in what amounted to a late-round pick swap. Reunited with Belichick and back in a system in which he shined once before, Brown has plenty of motivation to play at a high level in 2021. As an impending free agent, he needs to prove he can stay healthy and execute blocking assignments on a consistent basis in order to set himself to get a long-term deal from the Patriots or another NFL team.
Brown found an ideal mentor this offseason in NFL legend Willie Anderson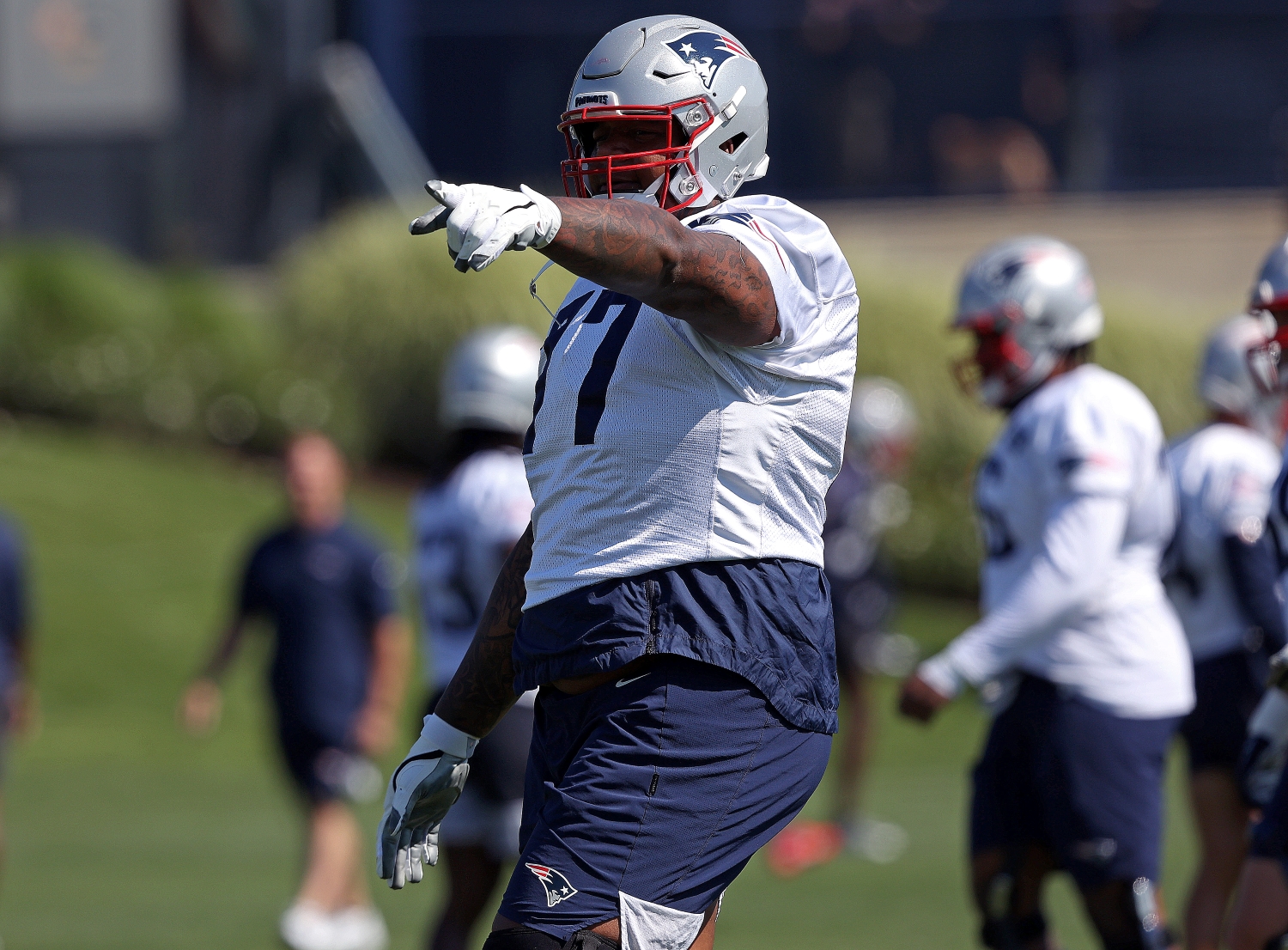 At a career crossroads of sorts, Brown understands what's at stake. While nobody doubts his physical abilities, there are understandable concerns about his durability and dependability. In desperate need of a bounce-back campaign, the Patriots' projected starting right tackle connected with an NFL legend this offseason who knows exactly what it takes to dominate at that position.
As detailed by Andrew Callahan of the Boston Herald, Brown found a mentor in longtime Cincinnati Bengals right tackle Willie Anderson.
"He was saying, 'I have to show people again,'" the 46-year-old retired NFL player told the Herald.
A three-time first-team All-Pro who was a Pro Football Hall of Fame semifinalist in 2020, Anderson runs a portable academy for offensive linemen of all levels. Three weeks before the Patriots began training camp, he and Brown spent two days together in Atlanta.
So, what did they focus on?
Because Anderson places a major emphasis on stretching and mobility, he made sure Brown spent 45 minutes working on those two areas prior to conducting any football drills.
"When I saw him play with the Patriots, I was astounded. Like, how is he doing this?" Anderson said. "It took me having a workout with him, when I finally got a glimpse of his legs and I said, 'Oh, that's how he's doing it. He's got Olympic sprinter's legs carrying that big upper body.'"
Brown impressed his mentor by pushing himself to complete the grueling core exercises. Overall, the Patriots lineman appears highly motivated and focused heading into the most pivotal season of his career.
"He's definitely very excited about being back with the Patriots. His mindset, just where he is and wants to be, it's definitely changed over the past year," Brown's trainer, Lily Abdelmalek, said. "I think there's a sense of being home with the Patriots. He's just taken a different approach with his life, on and off the field."
The Patriots should have a dominant offensive line if their talented tackle tandem plays up to expectations
By joining forces with one of the best right tackles of all time this summer, Brown certainly made sure to seek advice from a well-qualified source. Given how things went the Raiders, anything he does to put himself on a path for success has to be viewed as a positive development for the Patriots.
Of course, Brown isn't the only member of New England's offensive line who has to silence doubters this season.
Isaiah Wynn enters his fourth year with the organization, but the 2018 first-round pick faces an uncertain future in Foxborough. A talented pass protector with good movement skills, the 6-foot-2, 310-pound left tackle has started only 18 games since the Patriots took him 23rd overall in the 2018 draft. Like Brown, he needs to stay healthy and play up to his physical abilities if he wants to get a long-term deal.
Both players have Pro Bowl upside, and with a strong interior trio of Michael Onwenu, David Andrews, and Shaq Mason, New England's offensive line boasts top-five potential. Then again, given their durability issues, Brown and Wynn could just as easily miss time and leave the Patriots short-handed at the tackle spot.
For the sake of the Patriots' offense, hopefully whatever wisdom Willie Anderson imparted upon his latest pupil pays off. As we saw in 2018, New England can win a championship with a healthy, motivated version of Trent Brown.
Given all the upgrades Bill Belichick made this offseason, don't be surprised if history repeats itself.
All statistics courtesy of Pro Football Reference. All contract data courtesy of Spotrac.