Troy Aikman's Ominous Comment About Dak Prescott's Shoulder Injury Should Give Cowboys Fans Concerns About Their $160 Million Quarterback
Troy Aikman's take on Dak Prescott's mysterious shoulder injury should cause some concerns for Dallas Cowboys fans. Will the $160 million quarterback get back to 100% and live up to his lucrative contract?
Although his surgically-repaired ankle seems to be in good shape, Dak Prescott already finds himself in the unenviable position of having to deal with an injury. Considering he gets paid to pass the ball for a living, the fact his throwing shoulder is at less than 100% at the beginning of August doesn't exactly bode well for the Dallas Cowboys.
While the Cowboys may not seem overly worried about the long-term status of their starting quarterback, one of Jerry Jones' former stars doesn't see things quite the same way. And based on Troy Aikman's ominous comment about Prescott's shoulder injury, Dallas fans should have concerns about the team's highly-paid signal-caller.
Dak Prescott's health remains a key storyline to follow in training camp
Despite suffering a gruesome ankle injury five games into the 2020 season, Prescott still received a lifechanging raise from the Cowboys this spring. Signed to a four-year, $160 million extension with $126 million guaranteed, the two-time Pro Bowler entered training camp with the confidence of having long-term financial security.
However, it didn't take long for the 28-year-old to encounter a setback. While Prescott's ankle has held up well through the early portion of training camp, his right shoulder has become one of the biggest injury storylines to follow.
The sixth-year signal-caller left practice early on July 28 with tightness in his throwing shoulder. Naturally, that raised questions about Prescott's status for the upcoming season. Coming off a major injury that ended his 2020 campaign prematurely, the star quarterback can't afford to miss games if he wants to live up to his $160 million contract.
From the Cowboys' perspective, they desperately need Prescott in the lineup every week if they plan on making the playoffs. But with their highest-paid and most important player sidelined with latissimus strain, there's certainly a reason to be skeptical about what lies ahead.
Troy Aikman's ominous comment about Prescott's shoulder injury should give Cowboys fans concerns about their $160 million quarterback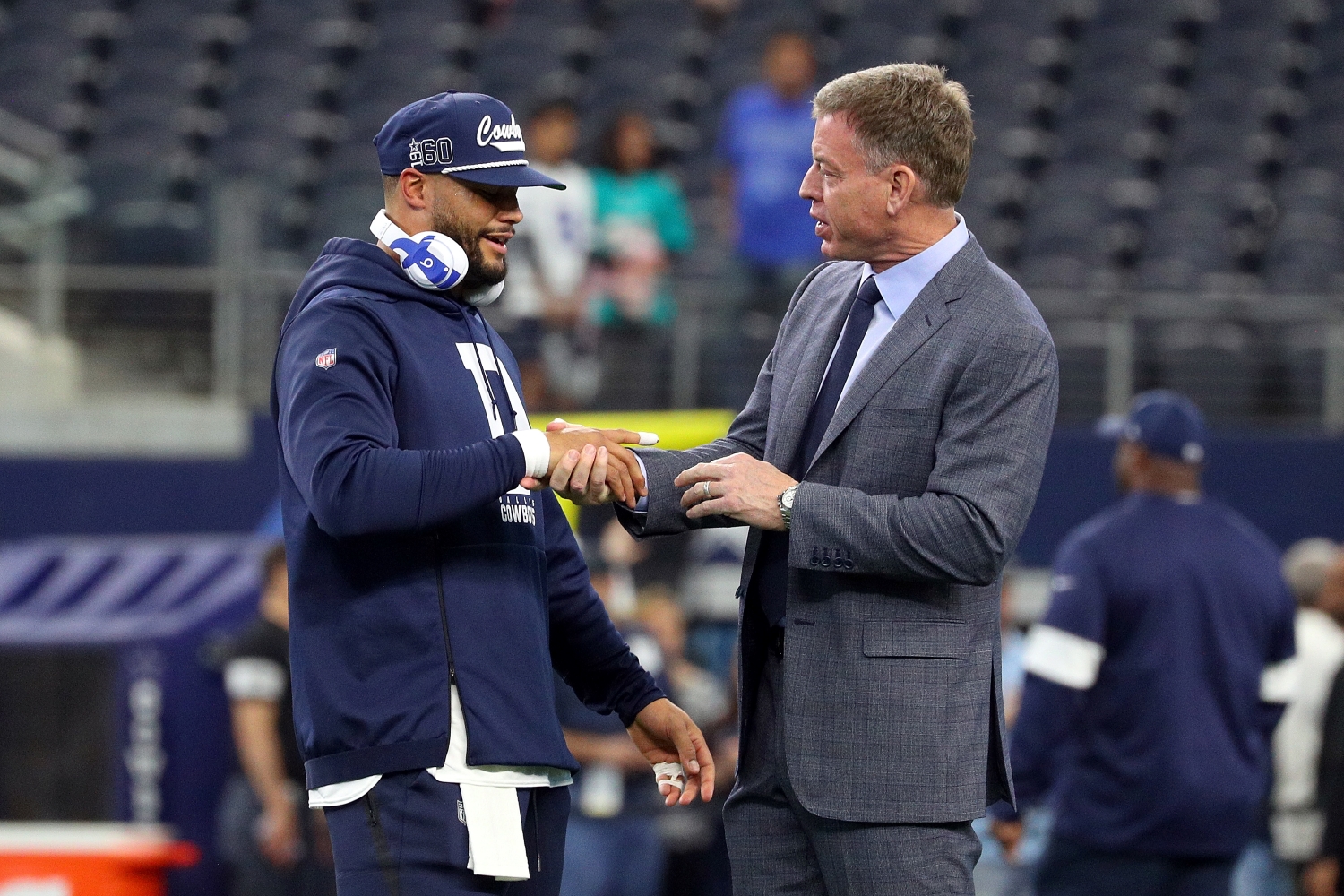 The Cowboys took on the Pittsburgh Steelers Thursday night in the Hall of Fame preseason game. Of course, Dallas didn't have its usual starting quarterback under center. Instead of operating the offense, Prescott gave an update on the status of his injured shoulder during a halftime interview with FOX.
"We're being cautious," he said. "We're taking it day by day, obviously. It's five weeks before the season opener, so I've got a lot of time. And I'm going to use that time to get myself ready for that game."
While neither Prescott nor the team appear too worried about his availability for Week 1, not everyone associated with the organization feels as optimistic. Speaking on the FOX broadcast, Cowboys legend Troy Aikman delivered an ominous comment that should cause some concerns for Dallas fans.
"The Cowboys are downplaying it, but I think when your franchise quarterback is missing the amount of time he's missing, I tend to think it's a little bit more significant than what they have led on," he said, according to a tweet shared by The Athletic's Jon Machota.
Considering he played the position for 12 years in Dallas, Aikman obviously brings a unique perspective to the equation. Perhaps the Cowboys are underselling the severity of their star quarterback's injury. Maybe Prescott doesn't want to put a damper on Dallas fans' Super Bowl dreams by giving more details about what's going on with his throwing shoulder.
Either way, Aikman's comment doesn't sound particularly promising for a player coming off a significant lower-body injury. If the damage is more worse than anticipated and Prescott can't perform at his best, Dallas will be in serious trouble.
The Cowboys have no chance of winning the NFC East without a healthy version of Prescott in the lineup
Whether the Cowboys can make the playoffs with a healthy version of Prescott remains up in the air. After all, in addition to improving on offense, Dallas needs to take a much bigger leap forward on defense. The presence of promising rookie linebacker Micah Parsons should help that come to fruition, but that might not matter if Prescott's shoulder becomes a major problem.
Cowboys fans witnessed the fallout of sub-par quarterback play (plus horrific defense) during the 2020 season. Considering the same names round out the depth chart, there's no doubt Dallas would be in trouble if it had to rely on the likes of Cooper Rush, Ben DiNucci, or Garrett Gilbert. If Prescott struggles or can't play at all, Mike McCarthy has no shot at making the postseason in his second year in Dallas.
The Cowboys better hope their most important player gets as close to 100% healthy over the next five weeks.
And even if Dak Prescott's shoulder feels better heading into the season, there's no guarantee he'll make it through the year unscathed.
Dallas fans can only hope 2020 doesn't repeat itself.