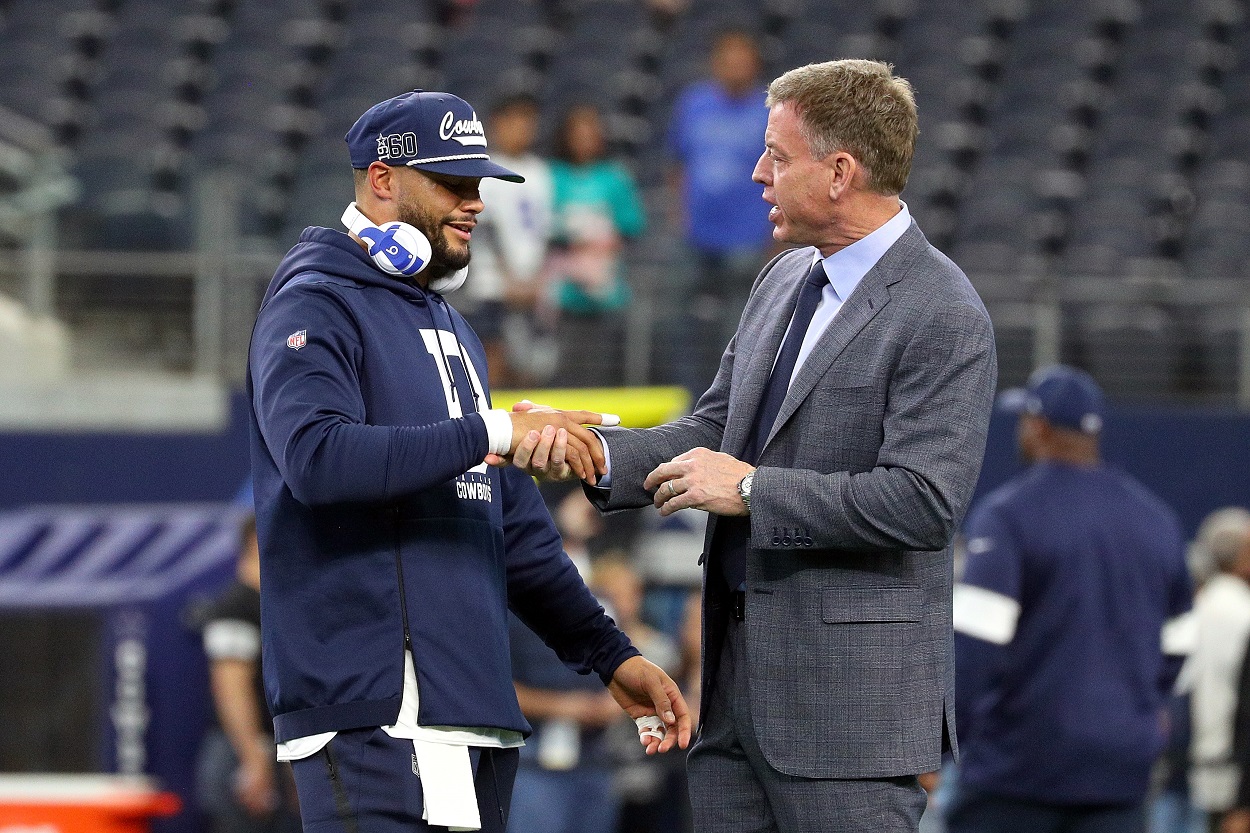 Troy Aikman Calls Dak Prescott the 'Best' Leader in the NFL, Says He's the 'Perfect Guy' to Handle the Pressures That Come With Being a Dallas Cowboys Quarterback
Hall of Famer Troy Aikman discusses the pressure that comes along with being the quarterback of the Dallas Cowboys and says Dak Prescott is the best leader in the NFL today.
If there's anyone who knows how to lead the Dallas Cowboys, it's Troy Aikman. After all, the Hall of Fame quarterback led "America's Team" to three Super Bowl victories in the 1990s and picked up a Super Bowl MVP trophy in the process. While Dak Prescott may never see all of that success, Aikman sees a lot of himself in the current Cowboys quarterback and even called him the best leader in the NFL today when he visited Dallas training camp on Sunday, where he also discussed the pressures of being the signal-caller in Big D and how he thinks Dak will perform coming back from his devastating ankle injury.
Troy Aikman discusses the pressure that comes along with being the quarterback of the Dallas Cowboys
For quite some time now, there are two types of NFL fans: those who love the Dallas Cowboys and those who hate the Dallas Cowboys. Much like the New York Yankees in Major League Baseball, Floyd Mayweather in boxing, or Conor McGregor in UFC, there's really no in-between when it comes to the Cowboys. Their fans tune in every week to watch them win and everyone else tunes in to watch them lose.
Like it or not, Dallas is still the most popular team in the NFL despite the fact they haven't reached a Super Bowl in more than a quarter-century. From 2010 to 2019, Sunday Night Football games featuring the Cowboys averaged over 20 million viewers an NFL-leading 30 times. Second on that list was the New England Patriots — you know, the team that appeared in five Super Bowls and won three of them in that same time frame — who brought in 20 million viewers or more on 20 occasions. People simply love watching and talking about the Cowboys.
As someone who's played the most important position in the NFL for the league's most popular team, Aikman understands the pressure that's on Prescott as the signal-caller in Big D and recently discussed it with Sports Illustrated.
"I think the challenges are a little bit different for the Cowboys quarterback because of the visibility and the expectations and coming in each season.

"When you're the quarterback for such a visible franchise like the Cowboys, I think that you're really under a microscope then, and you hope that you have someone that can deal with that part of it and still go out and perform on the field."

Troy Aikman on the pressures of being the quarterback for the Dallas Cowboys
And how does Aikman think Dak is doing?
He believes Dak Prescott is 'the best' leader in the NFL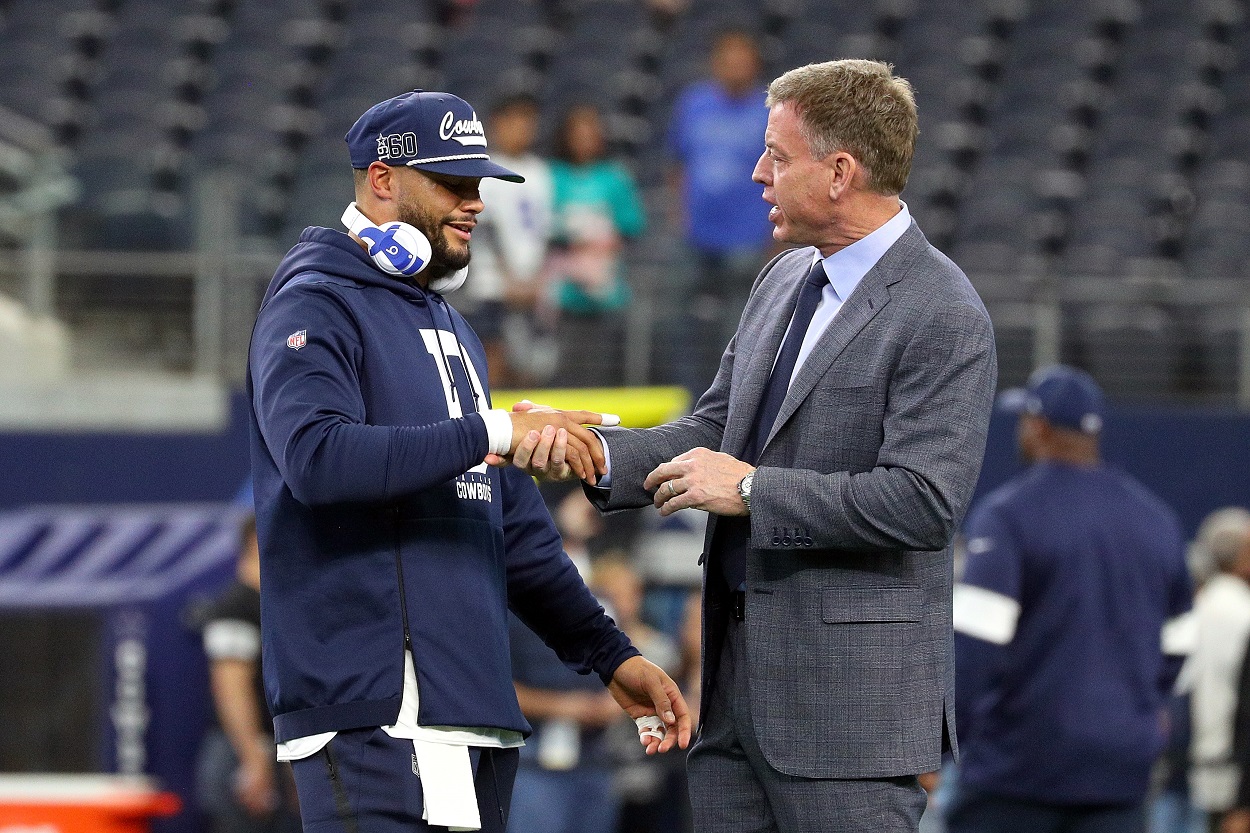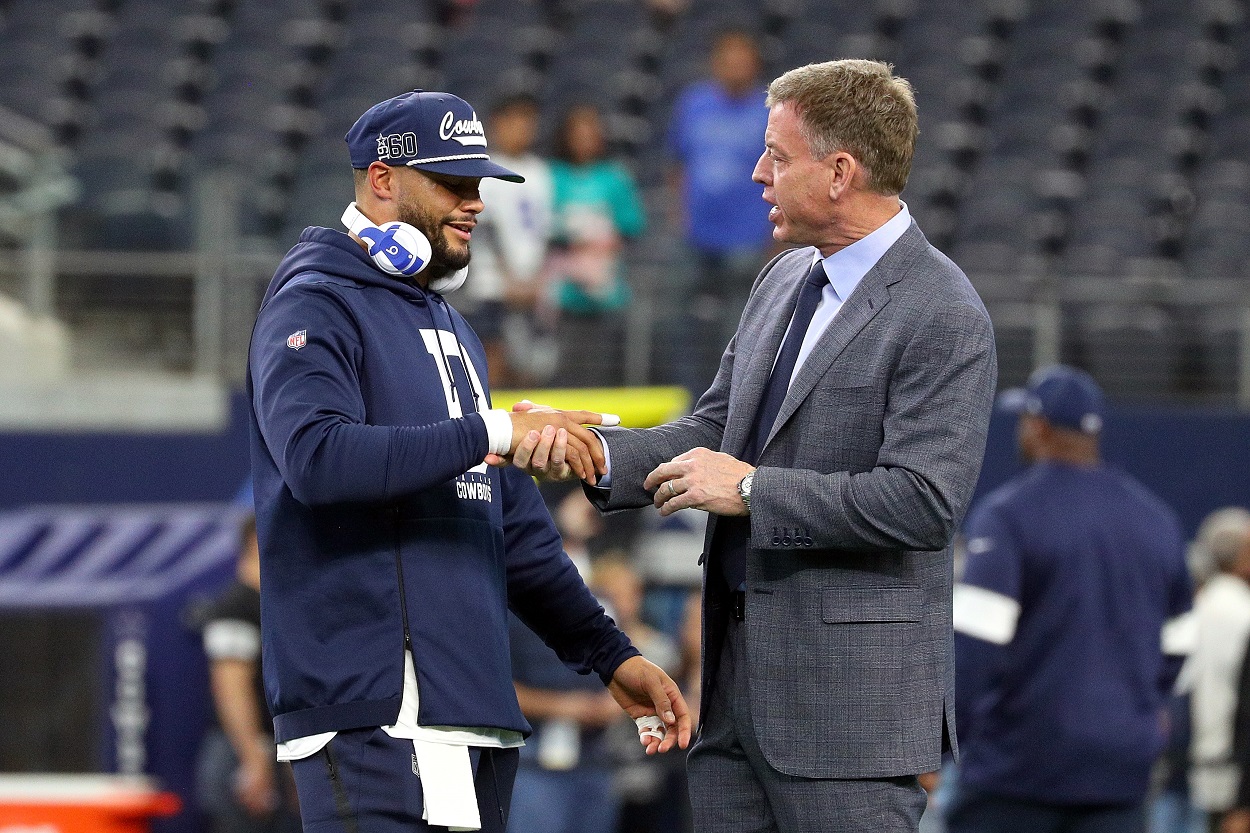 Aikman has long been a fan of Prescott and publicly lobbied for him to receive a contract extension long before Jerry Jones finally signed Dak to a four-year/$160 million deal back in March after two years of negotiations and a season under the franchise tag.
Aikman was a guest of Jones at Cowboys training camp in Oxnard, California, this past Sunday, and as the two were watching practice, the Super Bowl 27 MVP leaned over to his former boss with an observation that included some extremely high praise for Prescott.
"I haven't been around many players, as a broadcaster or as a player, who carry themselves the way that he does. The Cowboys are very fortunate to have someone like him representing the team."

Troy Aikman on Dak Prescott
But Aikman didn't stop there. When specifically asked by SI if he thought Dak was a good leader, this was Aikman's response:
"I think he's the best at it. I put him in a category in a handful of players in this league. What he represents for this franchise and this league. The type of person and teammate he is."

Troy Aikman on Dak Prescott
And as for how Aikman feels Prescott will come back from his season-ending ankle injury?
Aikman expects Dak to have a great 2021 season
Aikman clearly liked what he saw from Prescott at Cowboys practice on Sunday and says he expects Dak "to have an outstanding season" as he attempts to come back from the gruesome ankle injury that ended his 2020 season. Prescott was carted off the field in Week 5 last October with a compound fracture and dislocation of his right ankle, an injury that required immediate surgery. Dak underwent a second surgery late last year to strengthen his deltoid ligament and make the ankle more structurally sound.
Outside of Aikman's assessment, Prescott has reportedly looked fantastic in the early days of Cowboys camp and has participated in every individual and team drill thus far, which is obviously a good sign.
As per usual, there is a lot of pressure on the Cowboys to get back to the postseason for the first time in three years and a lot of that will fall on Dak's shoulders. But Aikman believes Prescott is more than up to the challenge.
"Dak has the perfect temperament. He's the perfect guy."

Troy Aikman on Dak Prescott
Prescott will reportedly see plenty of action in the preseason so he can once again get acclimated to live defenses. Dak and the Cowboys kick off their 2021 NFL season with a big test as they take on Tom Brady and the defending Super Bowl champion Tampa Bay Buccaneers in the league opener on Thursday, September 9.