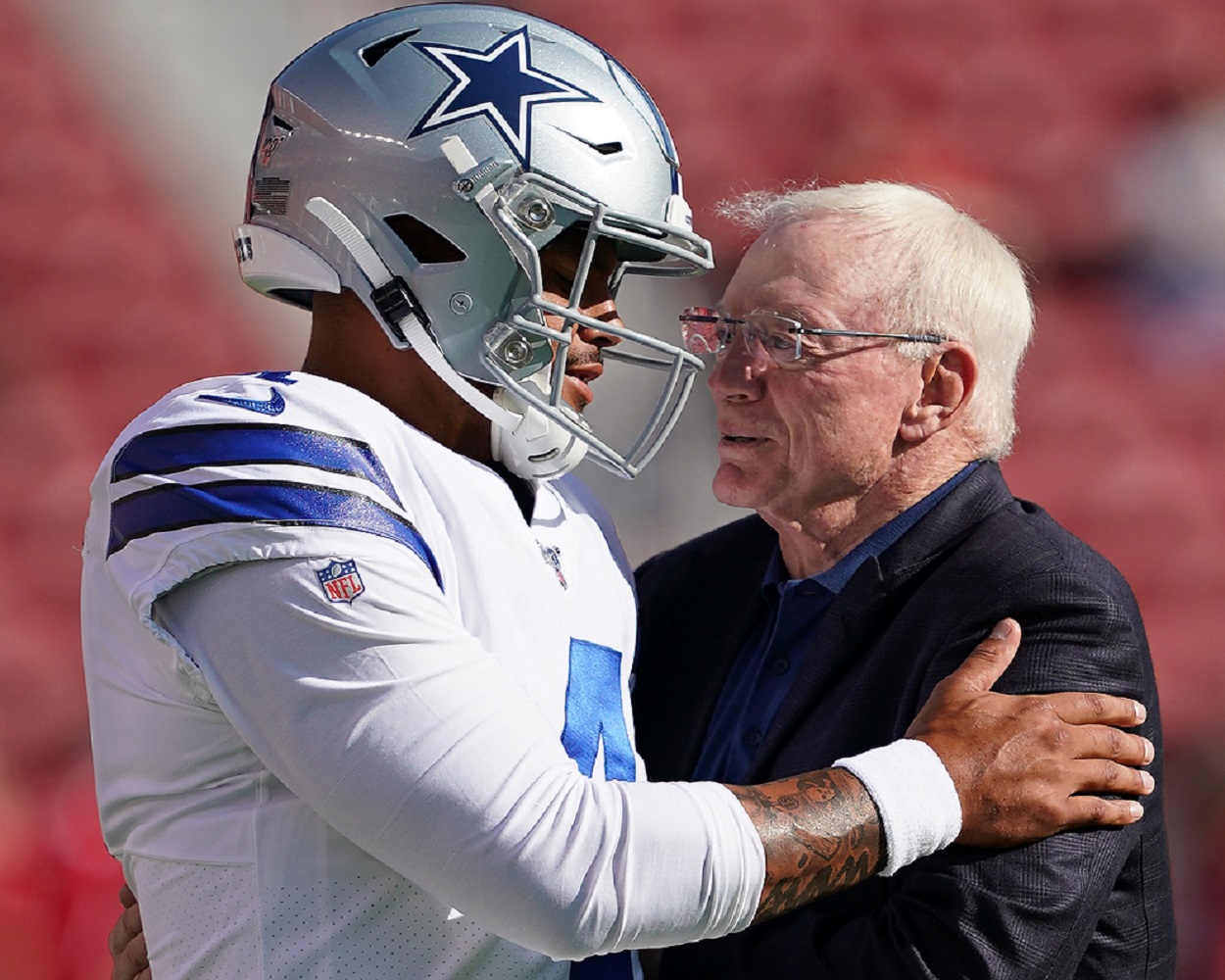 Dallas Cowboys Legend Michael Irvin Served as Jerry Jones' Inspiration to Have Enough Confidence in Dak Prescott's Rehab to Dish Out a $160 Million Contract
Dallas Cowboys owner Jerry Jones compares quarterback Dak Prescott's rehab to that of Michael Irvin, who tore his ACL in his second season.
After essentially two years of negotiations, the Dallas Cowboys and Dak Prescott finally came to terms on a long-term extension earlier this month, a contract that will pay the two-time Pro Bowl quarterback up to $160 million over the next four years and includes $126 million in guaranteed money.
While some thought Jerry Jones was crazy to dish out such a large amount given the fact that Dak missed the majority of the 2020 season after suffering a devastating ankle injury in Week 5, the longtime Cowboys owner is convinced his signal-caller will come back better than ever.
Jones justified his decision in a recent interview in which he compared Prescott's rehab and recovery to that of Hall of Fame wide receiver Michael Irvin, who suffered a major leg injury early in his career as well but came back and became one of the key pieces of the Cowboys squad that won three Super Bowl titles in four years in the 1990s.
Michael Irvin tore his ACL in Jerry Jones' first season as the owner of the Dallas Cowboys
In 1989, which was Michael Irvin's second season with the Dallas Cowboys and Jerry Jones' first as the team's owner, the future Hall of Fame wideout, who'd caught 32 passes for 654 yards and five touchdowns as a rookie, was on his way to having another solid campaign as he's caught 26 passes for 378 yards and a pair of scores when he went down in Week 6 against the San Francisco 49ers with a torn right ACL.
The injury kept him out for nearly a year as he didn't return to the Cowboys until Week 4 of the 1990 season. Irvin recorded just 20 receptions that year as he got back into the swing of things but then caught fire the following season as he became one of the best wideouts in the NFL. He led the league in receiving yards with 1,523, earning him his first Pro Bowl selection, and eclipsed the 1,000-yard mark in six of the next seven seasons, a span in which he earned four more trips to the Pro Bowl and won three Super Bowl rings.
Dak Prescott played in just five games for the Dallas Cowboys in 2020 before suffering a gruesome ankle injury
After being selected in the fourth round of the 2016 NFL draft after breaking just about every single passing record at Mississippi State, Dak Prescott started the first 72 games of his career with the Dallas Cowboys (69 in the regular season and three in the postseason) and was on pace to break several NFL records in 2020 before suffering a gruesome ankle injury in Week 5 against the New York Giants.
In the third quarter of that matchup with the Giants, Prescott was scrambling on a first-down when his right leg got pinned between New York cornerback Logan Ryan and the turf, which resulted in a compound dislocation and fracture of his right ankle. He underwent immediate surgery and then had a second surgery performed in December to help strengthen the ankle.
Jerry Jones compares Dak Prescott's recovery to Michael Irvin's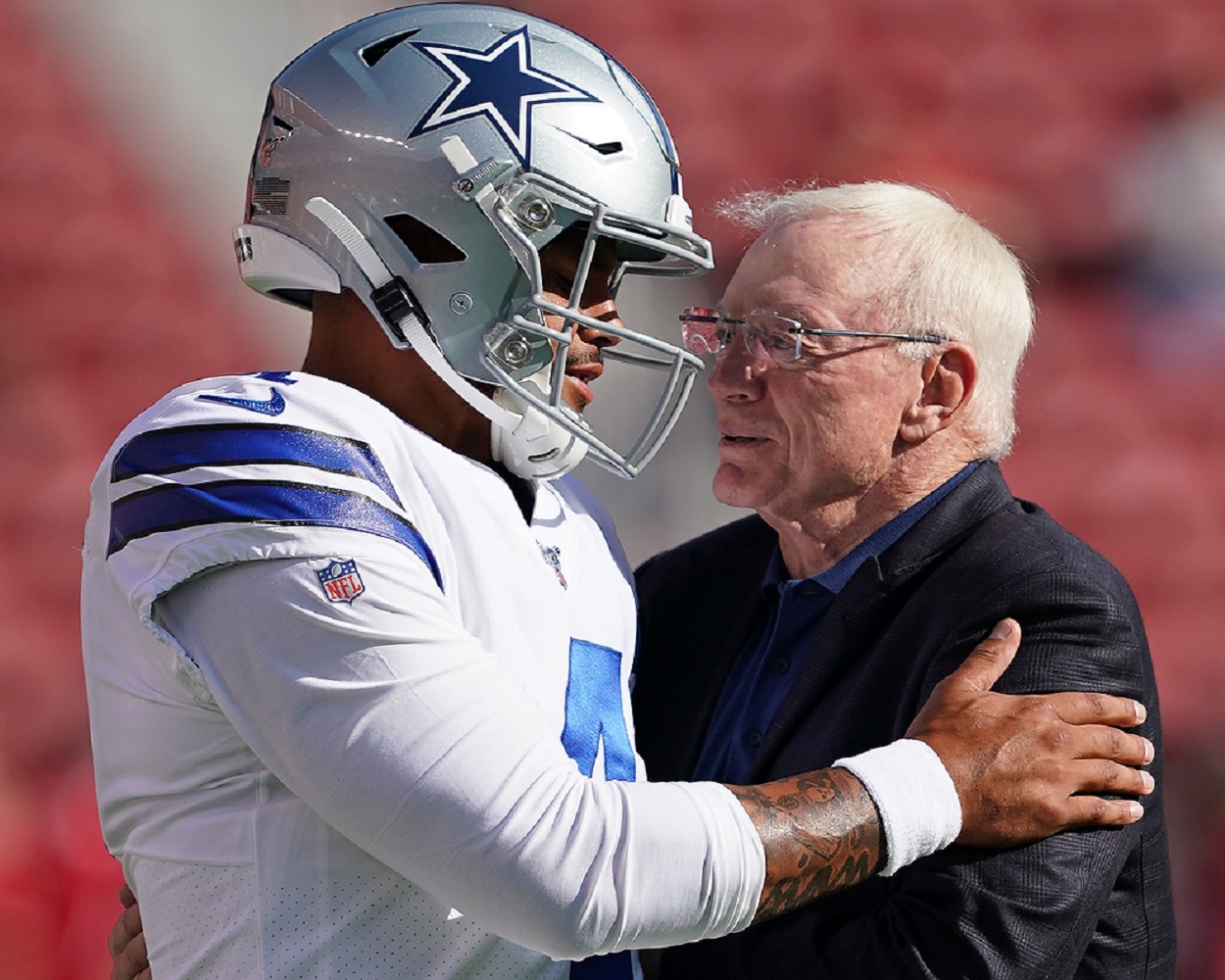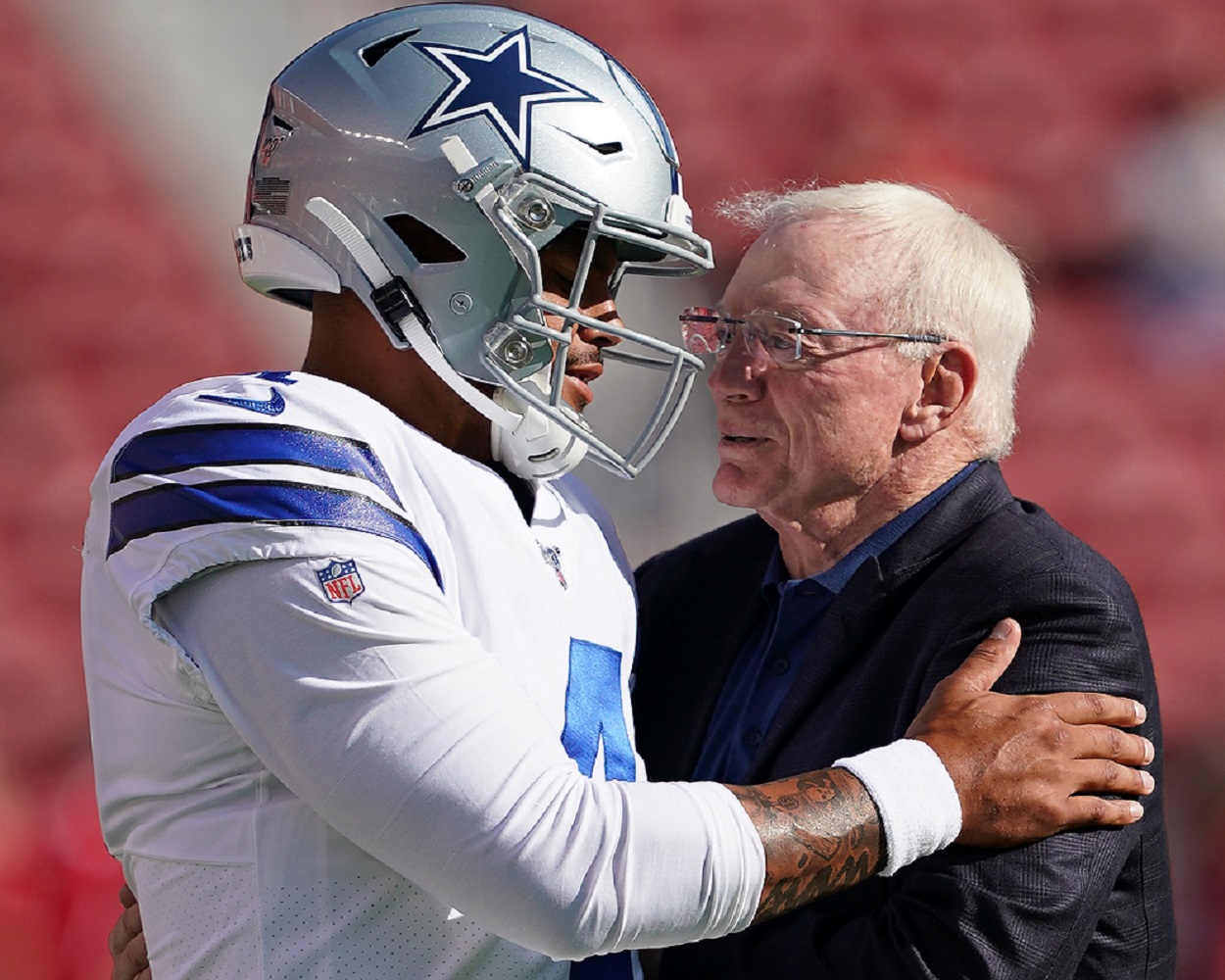 Naturally, given his contract situation, many wondered if Dak Prescott had played his last game in a Dallas Cowboys uniform despite the fact that Jerry Jones continued to say that he was the future of the franchise.
As mentioned, the two sides finally came to an agreement earlier this month and Jones recently discussed how confident he is in his quarterback's ability to return to the level to which Cowboys fans have become accustomed by comparing his recovery to Michael Irvin's, which is essentially an attempt to justify his decision to shell out up to $160 million over the next four years. Here's what Jones had to say to USA Today.
"We compared his rehab with a guy that I thought was legendary as far as how he handled his rehab when he was first injured, and that was Michael Irvin.

"Michael Irvin had the most conscientious work-hard at that time that most that were around his rehab said, 'I've never seen anyone rehab to that degree, work that hard, be that conscientious.' We compared how Dak works on his rehab with how Michael had done it.

"(Dak's) history in dealing with injuries is very good. Very, very good. That has as much to do with anything as to how he rehabs and how conscientious he is in rehab."

Dallas Cowboys owner Jerry Jones on Dak Prescott
As it stands now, Dak Prescott is on pace to be under center for the Dallas Cowboys in Week 1 of the 2021 season.
Stats courtesy of Pro Football Reference