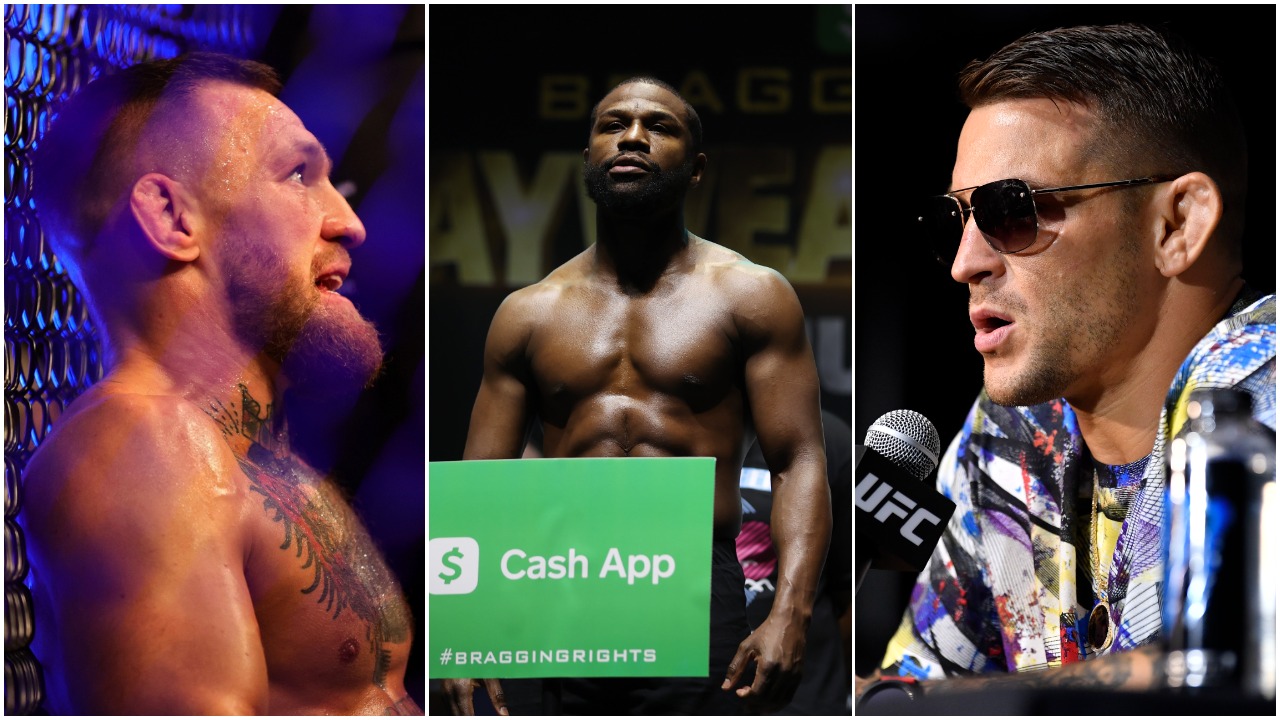 Floyd Mayweather Won a Nice Chunk of 'Easy Money' Betting Big on Dustin Poirier to Beat Conor McGregor at UFC 264
Floyd Mayweather won a nice amount of money as he bet big on Dustin Poirier beating Conor McGregor at UFC 264.
Nearly four years ago, Floyd Mayweather made a ton of money destroying Conor McGregor. And while he didn't make nearly as much on Saturday night, Mayweather pocketed a decent chunk of change watching McGregor get destroyed yet again, this time at the hands of Dustin Poirier at UFC 264.
Conor McGregor broke his leg in a loss to Dustin Poirier at UFC 264
For the third time overall and the second time in six months, McGregor stepped into the octagon to face Poirier on Saturday night in Las Vegas at UFC 264. And for the second time in six months, McGregor was soundly defeated.
After the two exchanged blows for the first minute of the first round, McGregor briefly locked in a guillotine and took Poirier to the ground, only to have it backfire as Poirier escaped and used his superior position to unleash a series of elbows and punches on the former two-division champ over the next three minutes.
Poirier eventually allowed McGregor to get back to his feet but Conor wouldn't stay upright for long as he appeared to roll his ankle after throwing a punch, awkwardly hitting the canvas as Poirier fired off a few more shots to end the round. While Poirier retreated to his corner, Conor remained on the ground as referee Herb Dean ended the fight, giving Poirier a TKO victory. It became clear that McGregor had broken his leg and it was later revealed that he'd suffered a broken left tibia, an injury that will keep him out of action for quite some time.
Floyd Mayweather bet $50,000 on Poirier to beat McGregor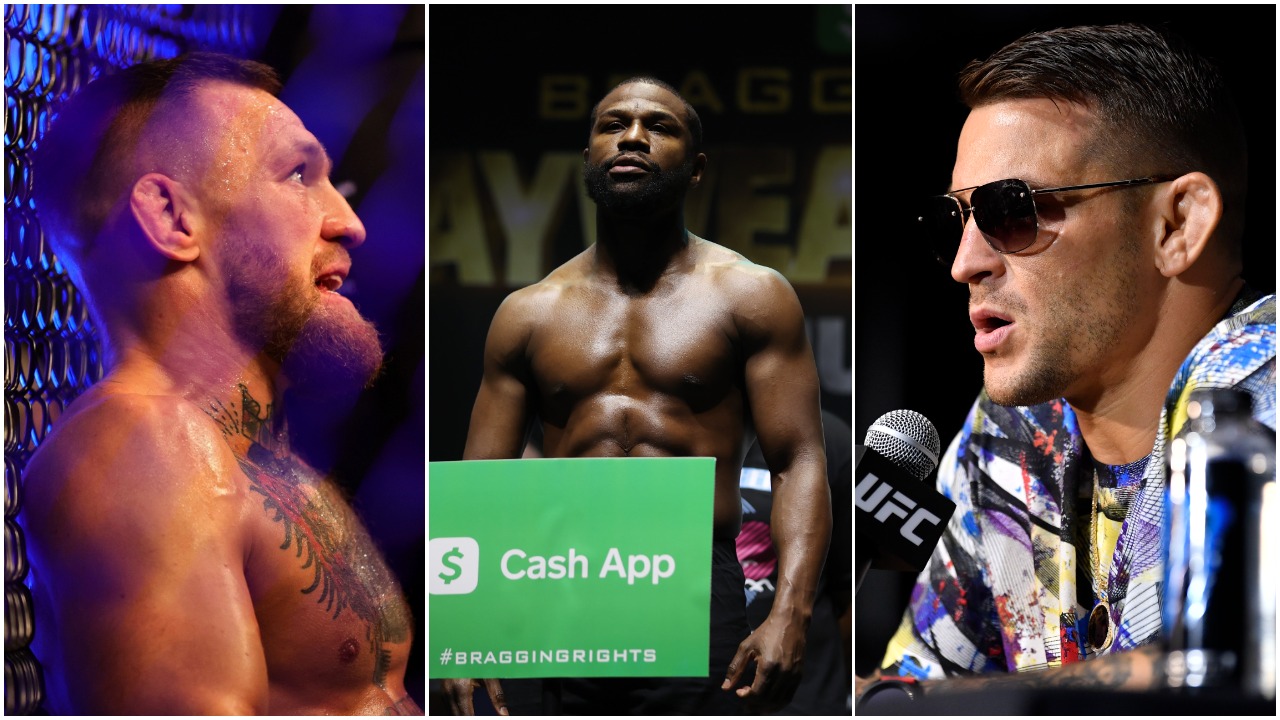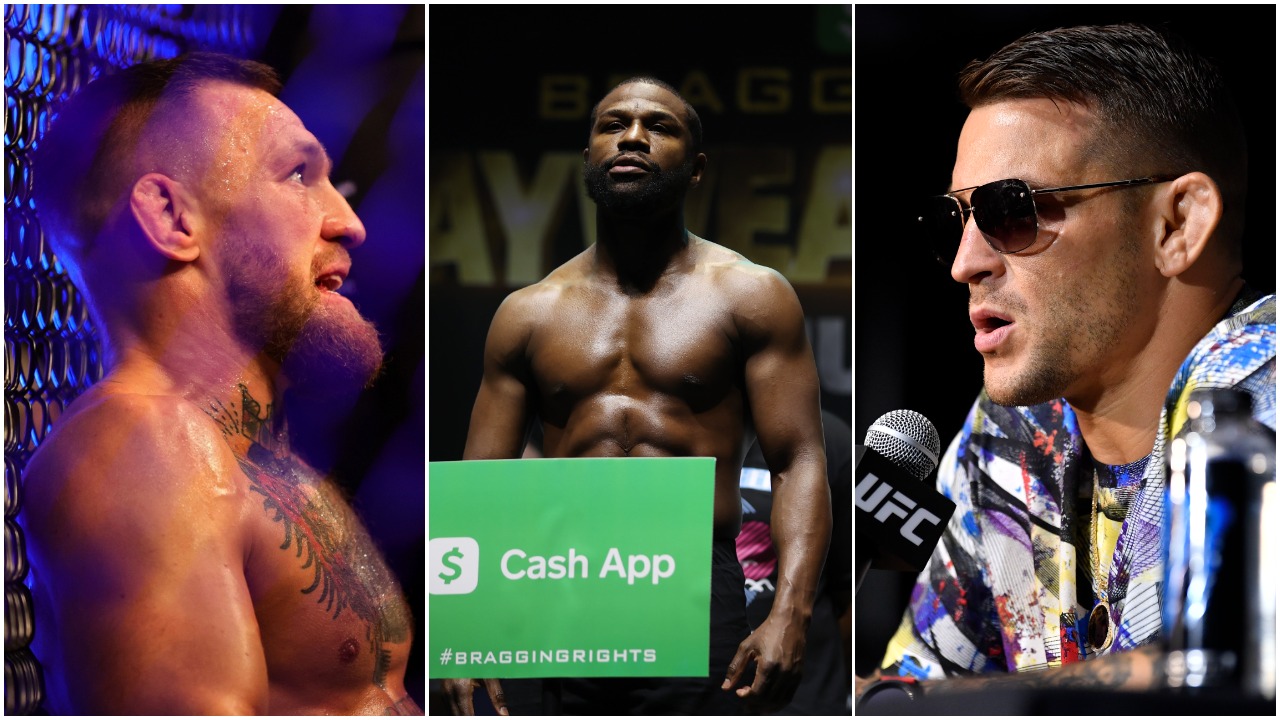 Not long after the fight ended, Floyd Mayweather took to social media to show off his bet slip with Circa Resort & Casino in Las Vegas, one that shows he placed $50,000 on Poirier to win.
As Poirier was listed as a -140 favorite heading into the trilogy bout with McGregor, Mayweather pocketed $35,714.30 and thanked the No. 1 contender for the UFC Lightweight title, writing "@dustinpoirier, thanks for getting me paid."
Sportsline also posted a picture of the slip, which Mayweather had posted on Instagram as well, and captioned theirs with "Easy money @floydmayweather."
Sure, it wasn't the hundreds of millions of dollars Mayweather collected when he easily defeated McGregor back in 2017, but a $35,000 payday just for watching Conor get destroyed on TV isn't a bad haul.
Expect a fourth fight if and when Conor returns to UFC
As McGregor was sitting on the ground with his leg in a splint, he was taking shots at Poirier and his wife (just as he'd done in the buildup to UFC 264) and told Joe Rogan that "this isn't over" during his post-fight interview, indicating he'd be up for a fourth fight when he heals from his injury.
A short time later, Dana White all but guaranteed a fourth fight would happen between the two when McGregor is ready to go and Poirier, who will next face Charles Oliveira for the lightweight title, is certainly up for it. In his post-fight press conference, Poirier said the two would fight again "whether it's in the octagon or the street," also saying "you don't say the stuff he said."
But even if McGregor does come back from this, it's quite clear that he's simply overmatched. Poirier pummeled him back in January in a second-round TKO and was in full control on Saturday night. For now, Conor can use the excuse that he couldn't continue. But had he not broken his leg, McGregor wasn't going to go the distance and likely would have been knocked out in the second round given how the bout was playing out. But if he does want a fourth fight when he heals up, White knows he's got another moneymaker on his hands, perhaps even more so if there's a title at stake.
But the result is going to be the same and you can bet Mayweather would be willing to drop another big bet on Poirier if a fourth fight takes place.