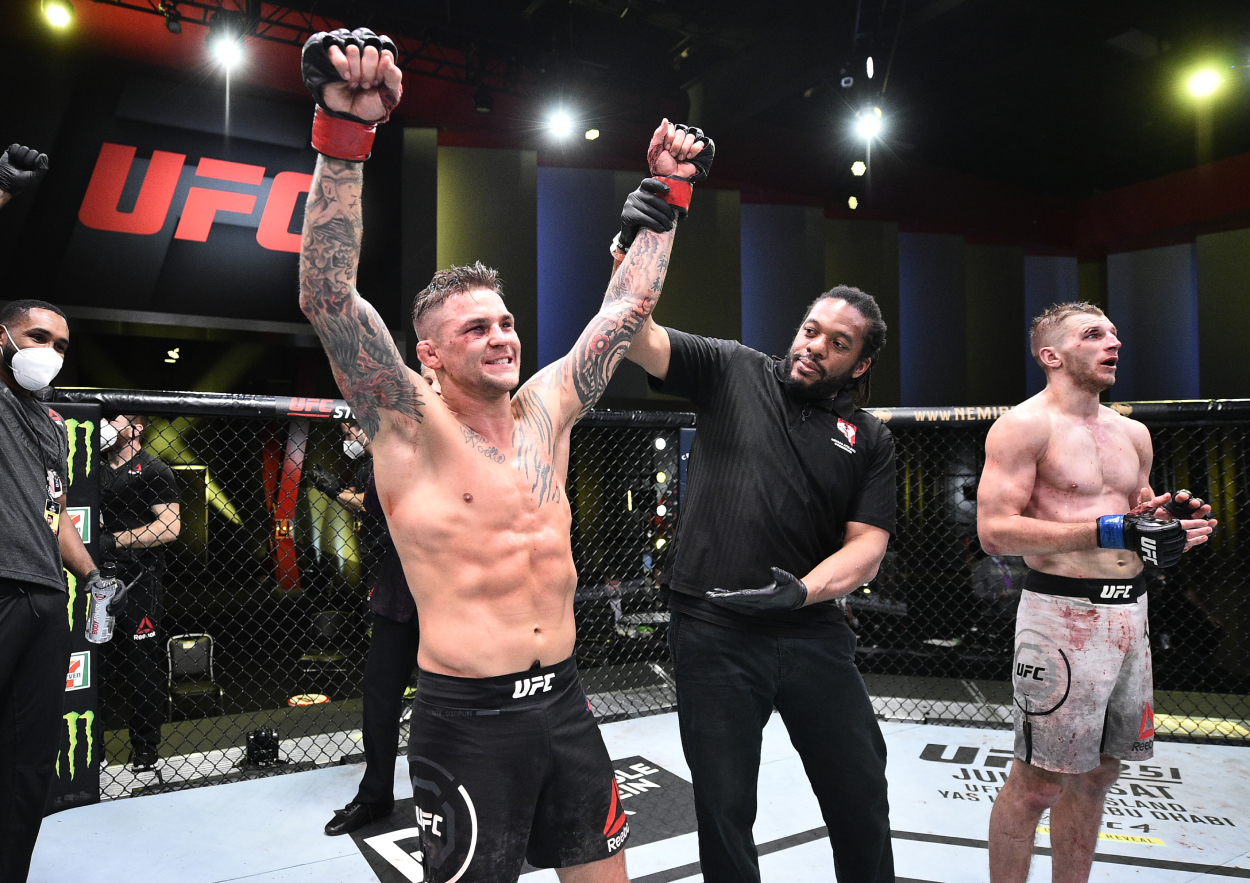 If Dustin Poirier and the UFC Don't Work Out, He's Got Something Else in Mind
Once his UFC days are over, Dustin Poirier has another line of work planned. Poirier and Conor McGregor meet in UFC 257 Saturday.
Dustin Poirier is ready for his rematch with Conor McGregor when the two face off Saturday in UFC 257 from Fight Island. McGregor made quick work of Poirier, scoring a first-round knockout in their 2014 meeting. For Poirier, the UFC has worked out just fine, but in case something happens and it falls through, he's got other plans.
Poirier vs. McGregor was ugly the first time around
If you paid to watch Dustin Poirier fight Conor McGregor back in 2014, you didn't get your money's worth. McGregor ended Poirier's night with a knockout less than two minutes into the fight. McGregor backed up his trash talk and continued to make UFC headlines as he made a bigger name for himself in the sport.
Poirier wasn't the name McGregor was. McGregor had a following. Poirier believed everyone, including the UFC, was happy to see him get knocked out.
"I felt like everybody wanted him to win," Poirier said, according to ESPN. "The UFC wanted him to win. The media wanted this new star. I felt like it was a setup, you know? I felt like the fans in the crowd were there to see me lose."
Poirier struggled to find himself as a child
It may not have been inside-the-ring fights, but Dustin Poirier has been fighting since he was very little. Many of those fights came on the street. Poirier despised being in school as a child. He would usually find a way of avoiding going to school. Poirier said it felt like "a prison."
"He was in first grade, maybe kindergarten, and he snuck out of school and walked four blocks to a grocery store and called 911, just to tell them he didn't want to go," his mother Jere Chaisson said, according to ESPN. "When he was in eighth grade, I delivered pharmaceuticals, and I had two vans, in case one of them broke down. I got off work early one day and was driving home, and I see my van coming down the other side of the road. And it was Dustin! He would just leave school and drive around."
He eventually dropped out of school, but by the time he turned 18, he began going to a boxing gym. Six months after his 18th birthday, he booked his first MMA fight. "I wasn't like, trying to fill a void in my life, but I had found something that really made me fill a void I didn't know I had," Poirier said. "I was head over heels with combat."
Dustin Poirier has plans for his post-UFC days
In an interview with Fight Magazine, Dustin Poirier was quick to point out his cooking ability. Poirier was asked the following question: If a camera crew showed up around the Poirier residence these days, what would be the subject matter of the next documentary?
"I could definitely put together my own cookbook and should have my own cooking show," Poirier answered. "If you want to set that up with Food Network, that's good by me. I'm pretty sure that one guy on the Food Network—Guy Fieri—is a big fan of MMA and a really big UFC fan. I think if we could get a show together, that would be the best way to go."
When "The Knockout Kitchen" was suggested as the name of the show, Poirier gave it a thumbs-up. "That's exactly right," he said. "You got it, man. Now get to work so we can get this pilot shot and put together." At least Poirier has a plan to fall back on once his UFC days are over.