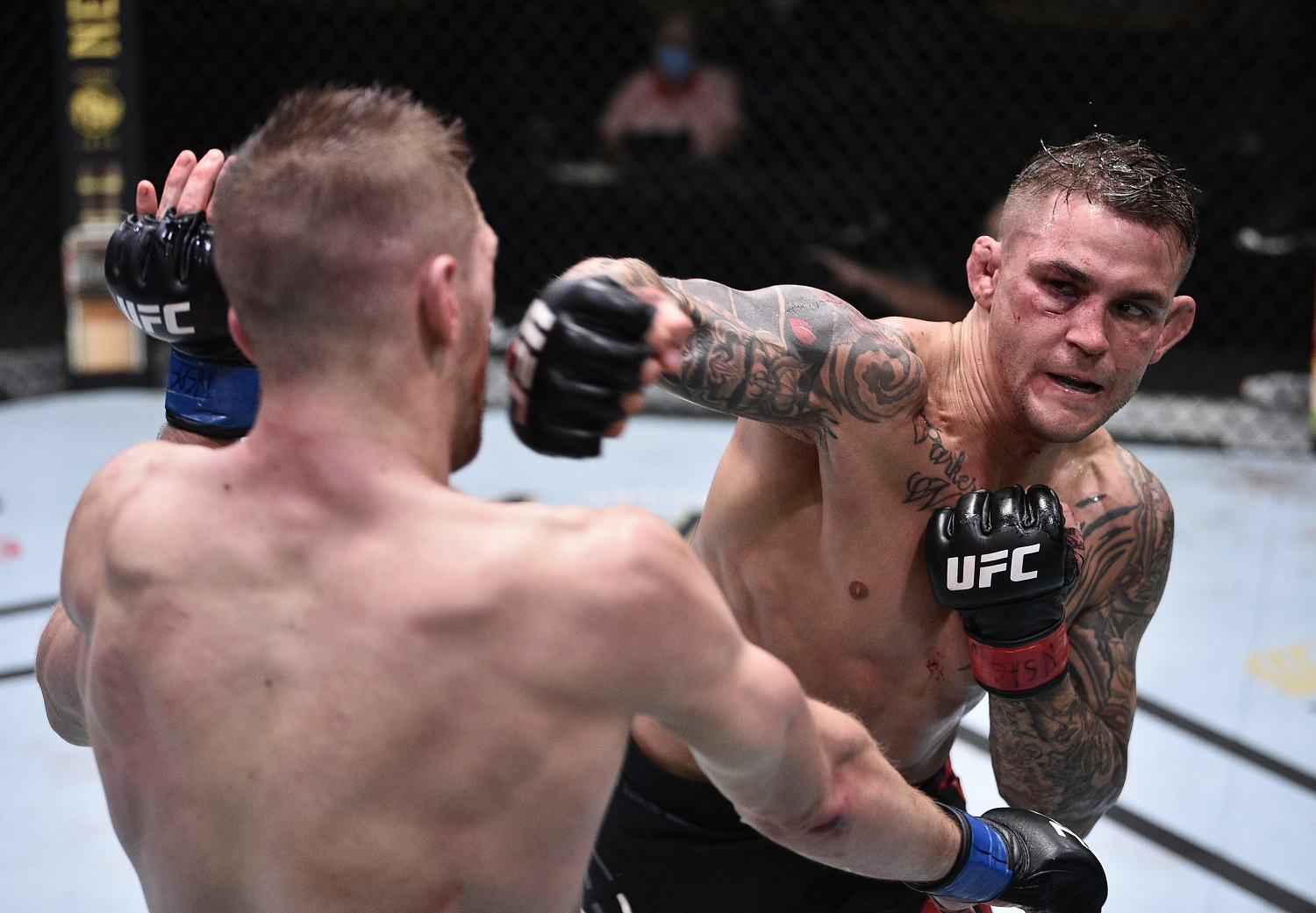 Conor McGregor Opponent Dustin Poirier Stages His Biggest Fights Outside the Octagon
Dustin Poirier and Conor McGregor headline the UFC 257 card more than six years after their first encounter in the octagon.
He's been a fixture in the world's biggest mixed martial arts organization for a decade and delivered some of its most memorable performances. Now, Dustin Poirier's future in the sport comes down to UFC 257 and a battle with Conor McGregor.
A victory in Abu Dhabi almost certainly earns Poirier something no one else has ever received: a second shot at the incomparable Khabib Nurmagomedov.
Dustin Poirier's first fight with Conor McGregor was career-altering
On Sept. 27, 2014, Conor McGregor scored a first-round TKO of Dustin Poirier at UFC 178 in Las Vegas. It dropped Poirier's UFC record to 8-3 and sent him back to the lightweight division. Meanwhile, it was the second of three straight Performance of the Night recognitions for McGregor. The fight put him on the path to unify the UFC featherweight championship 15 months later.
McGregor became one of the biggest names in the sport, but Poirier hardly rolled over. He went 9-1 with one no-decision in his next 11 fights, and he wasn't beating nobodies. Poirier took out Anthony Pettis, Justin Gaethje, Eddie Alvarez, and then Max Holloway to capture the interim title.
That secured Poirier's spot in the octagon against Khabib Nurmagomedov at UFC 242 in September 2019. Nurmagomedov (29-0) won by submission in the third round to re-establish himself as the lightweight champion. Interestingly, Poirier's stock didn't plunge. Beating Dan Hooker in a five-round decision last June improved Poirier's record to 26-6. It made him an attractive matchup for McGregor in UFC 257.
McGregor has fought twice in the last four years. If he's the least bit rusty and loses, there's nothing in the way of a Nurmagomedov-Poirier rematch – other than the unbeaten champion being serious about retiring.
As opportunities go, the second chance couldn't go to a better guy.
Dustin Poirier is good for UFC 257 and Dana White's business
Competitors shuffle in and out of mixed martial arts with great frequency, which makes Dustin Poirier, 32, a rarity in the UFC. Poirier's first fight in president Dana White's organization was on New Year's Day in 2011, and he's never left. Although he has never been more than an interim champion in the organization, Poirier is a known and respected commodity among fans. Having him headline UFC 257 with a fight against Conor McGregor is no stretch.
When the two fought in 2014, McGregor disposed of Poirier in 1:46. Poirier felt he'd lost the bout almost before it started.
"Every time I picked up my phone, people were saying I was gonna lose or that I wasn't good enough," Poirier said, according to UFC.com. "Whatever it was, I was playing into the whole thing. It felt like I wasn't just fighting Conor. I was fighting the MMA media, the fans in the stands. I felt like I was fighting the UFC to a certain extent. I felt like everybody was against me."
Whatever the reason for that, times have changed. Fans now look forward to cards featuring Poirier because there's guaranteed excitement when he steps into the octagon. He earned Fight of the Night honors six times and Performance of the Night in three instances.
His show outside the octagon is every bit as good.
If there's a good cause, this UFC 257 headliner supports it
Aside from his work in MMA, Dustin Poirier is easy for the fight community to embrace heading into UFC 257 vs. Conor McGregor because of his consistent involvement in charity work taking on big challenges.
In 2017, Poirier auctioned off his shirt and gloves from a UFC 211 fight to raise $5,100 for a food bank in his native Louisiana. That led to him starting the Good Fight Foundation to support a number of other local causes, using souvenirs to raise money.
One of the most impressive charity efforts in UFC history began with UFC 242, the September 2019 card on which Khabib Nurmagomedov defeated Poirier by submission to re-establish himself as the lightweight champion. After the fight, the men swapped shirts and announced they would be auctioning them off to raise money for Poirier's charity, which had taken up interest in providing clean drinking water for children in Uganda.
Poirier's auction generated $60,000, and then Nurmagomedov's sale raised $100,000. Impressed by their work, UFC president Dana White donated $100,000 of his own money to bring the fund to over a quarter of a million dollars.
"I'm proud of that. I appreciate them helping out the charity," Poirier said, according to mmamania.com. "It's been growing and I'm very grateful for that."
In June 2020, Poirier received the Forrest Griffin Community Award by UFC for his frequent charity work.
Like Sportscasting on Facebook. Follow us on Twitter @sportscasting19.