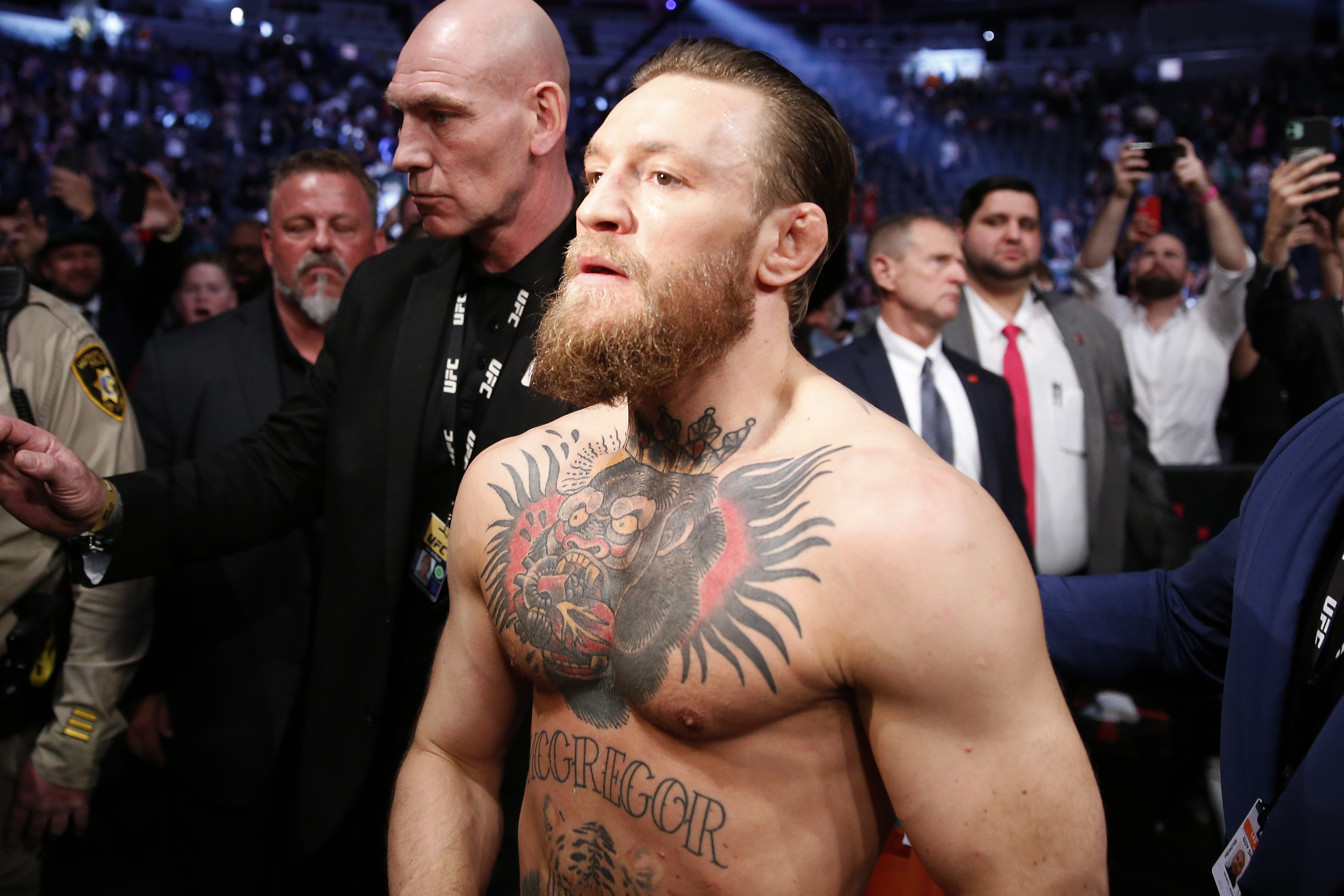 Conor McGregor Surprised Fans in Q&A Revealing Toughest Fighter He's Ever Faced
Conor McGregor is a former two-division UFC champ. In a recent Q&A Twitter session, McGregor revealed the toughest fighter he's ever faced.
Since joining the UFC in 2013, Conor McGregor has been one of the most recognized names in the sport. Since 2015, he's been at or near the top in both the featherweight and lightweight division rankings. He's currently ranked No. 4 in the lightweight division and No. 11 overall in pound-for-pound rankings. The former two-division champ has faced some of the world's top fighters. This week Conor McGregor revealed in a Twitter Q&A session the toughest fighter he's ever faced. 
Conor McGregor makes way to top of UFC
There's no denying the success of Conor McGregor since he joined the UFC in 2013. However, there's no way you could have predicted that success based on the early results of his MMA career. Six fights in and he held a less-than-impressive 4-2 record, which included a pair of first-round submission losses. 
When he made his UFC debut in April 2013, he had bounced back from those early losses and was on an eight-fight win streak. In that debut fight, McGregor earned a first-round knockout of Marcus Brimage. It was a precursor of things to come.
After defeating Max Holloway in his next fight, the Irish fighter's next biggest test came in July 2015 when he faced off against Chad Mendes for the interim UFC Featherweight Championship. McGregor dispatched Mendes in two rounds and claimed the belt.
Five months later, Conor McGregor unified the UFC Featherweight Championship in impressive and record-breaking fashion, knocking out Jose Aldo 13 seconds into the first round and improving his record to 19-2 and 7-0 in the UFC.
Conor McGregor suffers first UFC defeat in one of his toughest fights
Following Conor McGregor's quick work of Aldo, he returned to the cage just three months later and made his welterweight debut against Nate Diaz, who took the fight with only 13 days' notice. 
After an even first round, Diaz began landing combinations in the second. Once the fight went to the ground and McGregor went to his back, Diaz secured the mount, and hit the Irishman with a volley of shots from above. In an attempt to stop the assault, McGregor gave up his back and Diaz secured a rear-naked choke. Moments later, McGregor tapped out and suffered his first loss in the UFC. 
Five months later, Conor McGregor and Nate Diaz met in a rematch. It was a much more even match the second time around as both fighters scored throughout the bout landing heavy shots. In the end, McGregor won by a majority decision.  
McGregor says Nate Diaz is the toughest fighter he's ever faced
Since Conor McGregor defeated Nate Diaz in the rematch back in August 2016, he has had three additional fights. He's earned victories over Eddie Alvarez for the UFC Lightweight Championship in November 2016 and Donald Cerrone in a welterweight bout in January 2020. He suffered his second defeat, a fourth-round submission to Khabib Nurmagomedov in 2018 for the UFC Lightweight crown. 
During an impromptu Twitter Q&A session on Sunday, one of McGregor's fans asked his thoughts on Nate Diaz. 
"Excellent fighter! The trilogy will be of epic proportions when it goes down. Nathan, and his fighting styles, are never far from my thoughts throughout my own practices. When it happens, I'm ready."
Pretty flattering for Diaz to know McGregor thinks about his style when practicing. McGregor continued his praise shortly after when another fan asked the 32-year-old who was the toughest fighter in his career. 
"Nate Diaz. The west coast zombie," McGregor responded.
Conor McGregor is brash. He likes talking trash and doesn't back down from anyone. It's interesting, however, to see the amount of respect he has for Diaz. It would be even more interesting if the two could meet again to complete the trilogy one day in the future. 
Like Sportscasting on Facebook. Follow us on Twitter @sportscasting19.