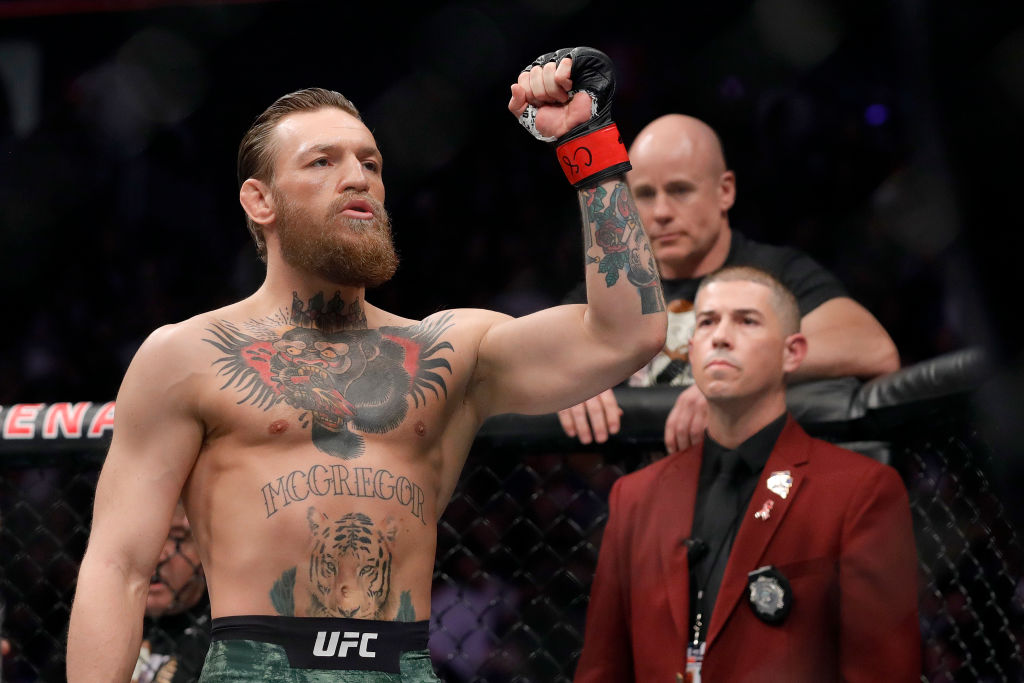 How Much Money Did Conor McGregor Earn in the Octagon During His UFC Career?
Even if Conor McGregor never steps foot in the UFC octagon again, the Irishman has made plenty of money during his career.
Whether you love him or hate him, every UFC fan knows Conor McGregor. During his time in the octagon, the Irishman has made a name for himself as one of the fiercest fighters around; that's quite a bit different than his childhood when a young Conor had to run from local bullies. Beyond establishing himself as a tough customer, though, McGregor has also made quite a bit of money during his fighting career.
In the early hours of Sunday morning, Conor McGregor took to Twitter to announce his retirement. If he's actually calling it a career, how much money did he make during his time in the octagon?
Conor McGregor's rise to UFC stardom
These days, it's virtually impossible to see Conor McGregor as anything other than a professional fighter capable of dispatching almost any opponent. His career, however, didn't always involve punches and kicks.
As a boy, McGregor developed an interest in fighting. While he joined a local boxing club, that never seemed like it was going to pay the bills; in 2006, he began a plumbing apprenticeship, using his hands, albeit in a different way, to make some money.
McGregor wasn't cut out for life as a plumber, so he decided to follow his passion for fighting. As explained in the Independent, he started sparring with Tom Egan; before long, Conor was stepping into the octagon as an amateur MMA fighter.
Thanks to his boxing background, McGregor proved to be a natural and made his professional MMA debut in March 2008. He made a name for himself in Ireland and, in 2013, finally joined the UFC. He went on to claim the championship in both the featherweight and lightweight divisions, posting a UFC record of 10-2.
For all of his in-arena success, however, McGregor has been involved in some notable extracurricular activities. During UFC 223 Media Day, he attacked a bus with a metal dolly; as documented by the New York Times, the fighter eventually pled guilty to disorderly conduct. He's also been involved in some incidents at UFC events and, as reported by the BBC, pled guilty to assault after a fight in a Dublin pub.
Another potential retirement
For all of his UFC success, however, Conor McGregor may be calling it a career. If nothing else, that's what he claimed on social media in the early hours of Sunday morning.
"Hey guys I've decided to retire from fighting," the fighter wrote on Twitter. "Thank you all for the amazing memories! What a ride it's been! Here is a picture of myself and my mother in Las Vegas post one of my World title wins! Pick the home of your dreams Mags I love you! Whatever you desire it's yours."
As CNN noted, though, this isn't the first time that McGregor has called it a career. In March 2019, he took to Twitter, stating that he "decided to retire from the sport formally known as "Mixed Martial Art" today." He, of course, returned to the octagon in January 2020 to fight Donald Cerrone. McGregor also tweeted about retirement in 2016, for what it's worth.
How much money has Conor McGregor earned in the UFC?
Based on past experiences, you're perfectly entitled to view Conor McGregor's latest retirement with skepticism. If he does call it a career, however, the fighter has earned plenty of money in the octagon.
Based on MMA Manifesto's estimates, McGregor has earned just over $15 million in winnings during his UFC career; that number, however, doesn't include undisclosed pay-per-view money and other potential casino bonuses. Regardless of the finer details, though, we know the Irishman isn't hurting for cash. Between his endorsements, business ventures, and a $30 million boxing payday, CelebrityNetWorth estimates his fortune at $120 million.
Conor McGregor has made more than enough money to ride off into the sunset and stop fighting professionally. Only time will tell if he's actually ready to call it a career, though.