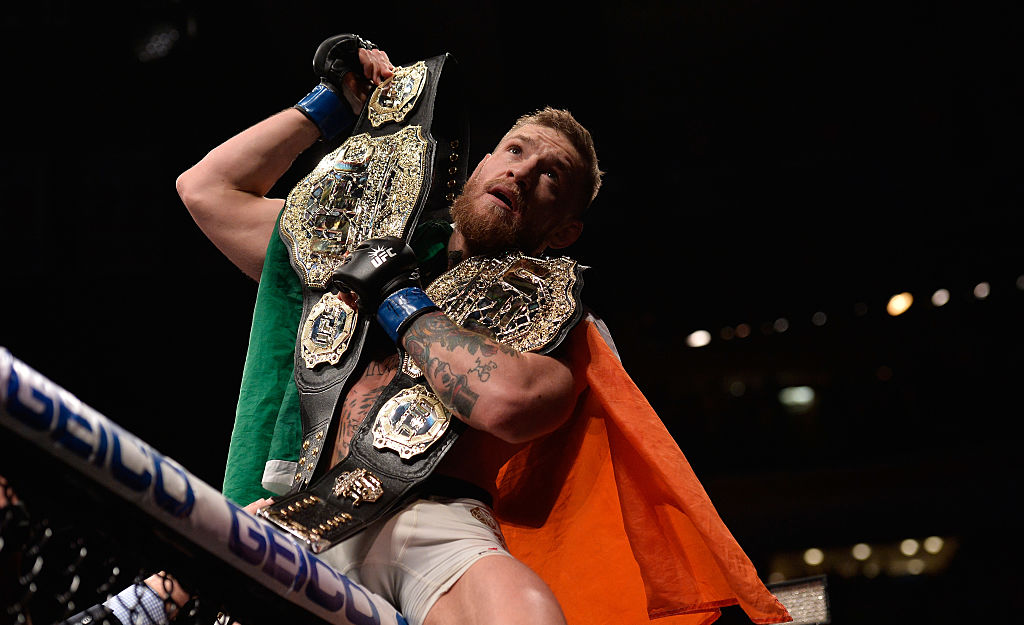 How Many Title Fights Has Conor Mcgregor Won?
In his star-studded UFC career, Conor McGregor is no stranger to title fights. But how many of these fights has McGregor really won over the years?
Conor McGregor is one of the most famous fighters in the UFC. There are a lot of reasons why he's famous, they range from his trash-talking to his record-breaking accolades. One of the things that he's best-known though for is the fact that he's the UFC's first champion to hold two title belts in different weight classes.
What championship titles does Conor McGregor currently hold?
That said, due to a mix of inactivity and a loss to the current lightweight champion, Khabib Nurmagomedov, McGregor currently doesn't hold any titles. Like any fighter in the UFC, McGregor worked his way up the ranks by fighting in smaller organizations. He's won titles there, but McGregor didn't get a shot at UFC gold until 2015, when he faced Chad Mendes for the interim featherweight title. 
While an interim belt isn't as important of a belt as the real one, McGregor was able to knock Mendes out in two rounds. With this win, McGregor secured his first UFC title and, on top of that, a guaranteed shot against Jose Aldo, the long-reigning featherweight champion at the time. Many people expected this to be a great fight, as Aldo had many title defenses under his belt. However, it was anything but that. 
Conor McGregor won three title belts in a year and a half
In just 13 seconds, McGregor shocked the world and knocked Aldo out. This was the fastest fight in any UFC title fight ever, and it also gave McGregor the undisputed featherweight belt.
McGregor immediately started calling out the lightweight champion at the time, Rafael dos Anjos, as McGregor wanted to make more history and become the UFC's first two-division champion.
Unfortunately for McGregor and dos Anjos, dos Anjos got injured and had to pull out of the fight. So, McGregor fought Nate Diaz instead. Diaz, the underdog, stunned the world by beating McGregor in two rounds. Due to this setback, McGregor had to put his ambitions on hold and he instead focused on beating Diaz in a rematch, which he did a few months later. 
By the time that McGregor avenged his loss though, dos Anjos got knocked out by Eddie Alvarez, and so McGregor challenged Alvarez to a fight. Their fight took place in New York and McGregor did not pull his punches.
His title fight against Alvarez was a total lopsided mismatch, and McGregor finished the job and knocked Alvarez out in two rounds. This secured McGregor's third belt in less than two years, and it also made him the UFC's first two-division champion.
Not all attempts were successful though
While McGregor had made history as well as millions of dollars, he didn't settle down. Not long after, McGregor challenged Floyd Mayweather to a boxing match. While every MMA and boxing fan knew that this was a money fight, it technically was a professional boxing fight that actually had a title on the line. 
The WBC, which was the organization that organized the fight, made the WBC Money Belt just for the occasion. As fans expected though, Mayweather won the fight by dodging McGregor's best punches and finally knocking McGregor out in the 10th round. 
By this point, McGregor hadn't fought in the UFC in a long time, and as a result, the UFC stripped his titles from him. He wanted to get back into the game though, so he returned in late 2018 to challenge Nurmagomedov for the lightweight title.
Unlike Alvarez however, McGregor could not dominate Nurmagomedov. Instead, Nurmagomedov dominated McGregor, and after four relatively easy rounds, Nurmagomedov choked McGregor out.
That was the most recent title fight that McGregor's had, but he's not done yet. With his dominant win against Donald Cerrone, Conor McGregor's already looking for another title shot.