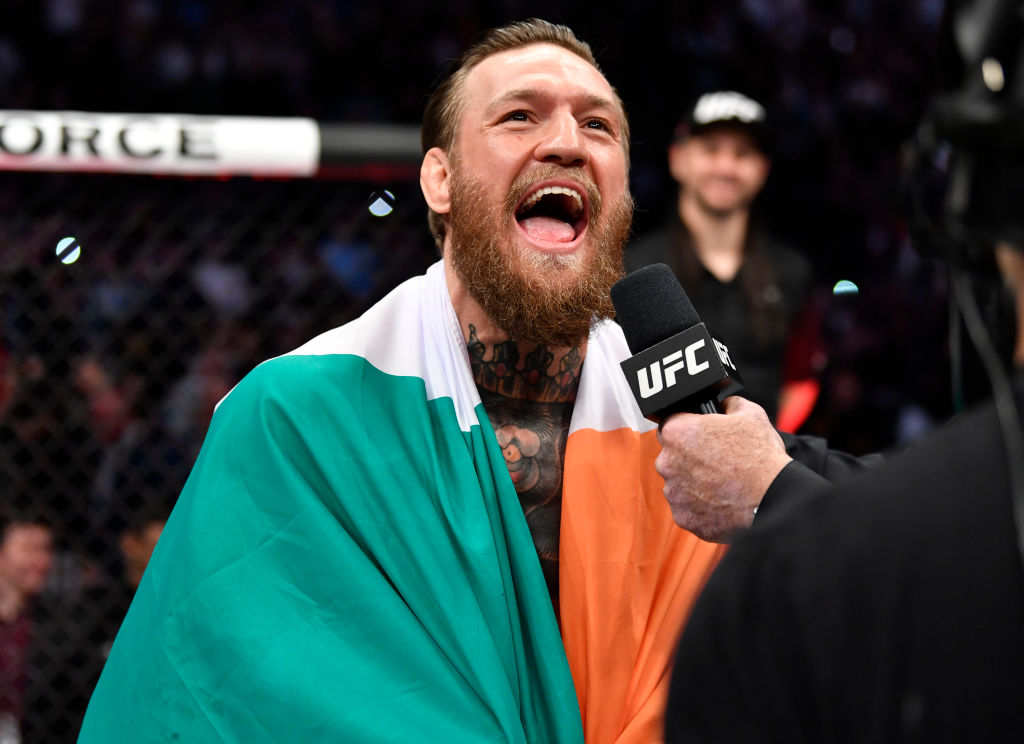 Conor McGregor Is Already Fighting Justin Gaethje and Khabib Nurmagomedov Online
Conor McGregor hasn't fought Justin Gaethje in the octagon yet, but he's already picking a fight with him and Khabib Nurmagomedov on Twitter.
Conor McGregor hasn't fought Justin Gaethje in the UFC, but that isn't stopping him from picking a fight with him online. McGregor went on a profanity-laced Twitter rant Monday where he called out Gaethje and Khabib Nurmagomedov. Could the string of tweets signal a future matchup between the Irish superstar and the new interim lightweight champ?
McGregor curses out Gaethje in angry Twitter rant
Conor McGregor was one of the millions of viewers who watched UFC 249 over the weekend. What he saw in the lightweight title fight between Tony Ferguson and Justin Gaethje clearly triggered the former champ, as he went after Gaethje on Twitter a few days after.
"Justin, there is no danger in a man that hugs legs, we all know," McGregor tweeted Monday. "Try and dance around what the real threat is here all you want. I am going to f*****g butcher you. Your teeth. I'm going to put them on a f*****g necklace. Speak on my skills as a father? You are f*****g dead."
McGregor didn't stop there.
"Don't ever say you represent the great nation of the United States of America ever again," he tweeted shortly after. "No true American would speak so highly of, or allow, a convicted member of a Jihadi terror cell represent them. Never Forget! You are a f*****g blind fool, and I am going to finish the job."
The man McGregor is referring to here is Gaethje's manager, Ali Abdelaziz. Abdelaziz also represents Khabib Nurmagomedov, who beat McGregor for the lightweight title in 2018. That's who McGregor went after next.
McGregor also called out Khabib Nurmagomedov
Conor McGregor started with Gaethje before pivoting to the former lightweight champ. Nurmagomedov destroyed McGregor in the octagon when they first fought, but that didn't stop McGregor from calling him out online too.
"Khabib you absolute embarrassment," McGregor tweeted later. "Scurrying, hiding rat as usual. As I have said many times. As has been seen many times. Through the pane of glass it was confirmed what was always known. "No comment" lol. An embarrassment to real fighting."
It's a bold move to call out a fighter who embarrassed you in the sport a few years earlier, but McGregor backs down to no one. He clearly wants a rematch with Nurmagomedov as much as he wants a title fight with Gaethje.
Soon after McGregor went after Nurmagomedov, the Russian champ fired back.
"Hug legs? Nurmagomedov tweeted Monday. "Have you forgot how I knock you down, or you typing tweets drunk? Beat you in striking, parts you up in wrestling, absolutely destroy you in grappling, Made you grab air with your hands, and at the end you gave up. last one, don't forget your words 'it's only business.'"
Conor McGregor ended by hinting at a UFC return in July
After his Twitter tirade, McGregor finished by tweeting a simple, "See you in July." There have been talks about a fight between McGregor and Gaethje for a while now, and McGregor made it clear Monday that he wants his shot at the interim lightweight champ this summer.
Gaethje said after his win against Tony Ferguson that he wants to meet Nurmagomedov in the octagon, so UFC President Dana White has a tough decision to make.
McGregor attracts the most eyes, but Gaethje and Nurmagomedov are the most dominant fighters in the lightweight division right now. Gaethje might be the UFC's best chance to beat Nurmagomedov, so that's the fight most fans are going to want to see.
McGregor is a master as creating buzz in the UFC, so this Twitter rant could just be a publicity stunt. Even so, he's now in a position where he needs to fight either Gaethje or Nurmagomedov before anyone else. It's still a question of when, but UFC fans will see Conor McGregor step into the octagon with one of those two men soon.