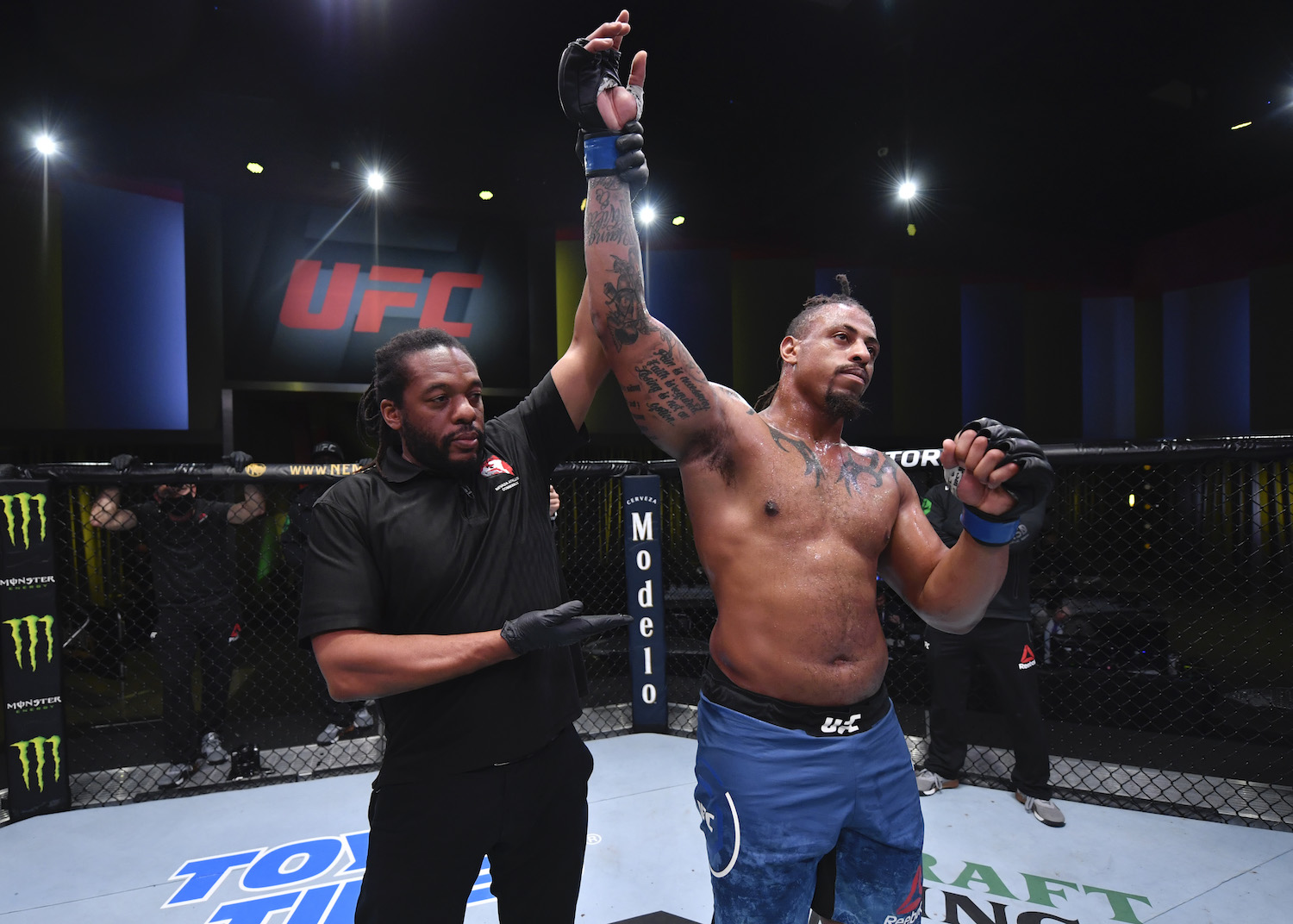 Why UFC Fighter Greg Hardy Cried Before His Last Fight and Then Called Out Terrell Owens After It
Greg Hardy's recent UFC fight took a bizarre twist as an extortion attempt left him in tears before the fight. After it was over, he explained what happened.
Greg Hardy last played in the NFL in 2015 for the Dallas Cowboys. What was once a promising career, which included a Pro Bowl, ended prematurely because of off-the-field issues, in particular, domestic violence charges. 
In 2017, Hardy changed professions and began his career in mixed martial arts. Fast forward to 2020. Hardy is now a heavyweight in the UFC with a 7-2-1 record. However, Hardy's most recent UFC fight on Halloween night almost never happened. Interestingly, it was the skeletons from his past that came back to haunt him. 
Greg Hardy's domestic violence issues
In 2014, just a year after his best NFL season with the Carolina Panthers, which included a trip to the Pro Bowl, Greg Hardy made headlines for the wrong reasons. In May of that year, he was arrested for assault and threatening his girlfriend. Several months later, Hardy was found guilty and sentenced to 18 months probation. After Hardy appealed, the charges were later dropped when the victim failed to testify.
Hardy played one game that season before the Carolina Panthers deactivated him, and then placed him on the league's exempt list while the case played out. Following the season, the Panthers opted not to re-sign him. The Dallas Cowboys, however, signed him to a one-year deal.
After signing with the Cowboys, the NFL suspended Greg Hardy for 10 games for violating the league's personal conduct policy. On appeal, it was reduced to four games. Hardy played 12 games in 2015 for Dallas. However, following the season, the Cowboys did not re-sign him.
Greg Hardy trades in shoulder pads for padded gloves
After a year away from the NFL and no teams willing to sign him, Greg Hardy announced he was pursuing a career in mixed martial arts despite no previous experience. In November 2017, he made his amateur debut. Following his opening fight victory, Hardy added two more amateur wins before turning pro in June 2018.
Hardy impressively won his first professional bout on Dana White's Contender Series, winning by first-round TKO. The former defensive end won his next two fights before suffering his first defeat in early 2019. Several months later, controversy found Hardy in the octagon.
It happened in an October 2019 bout when Greg Hardy defeated Ben Sosoli by unanimous decision. However, after the fight, the result was changed to no contest after it was learned the Hardy used an inhaler in between rounds. 
Hardy cries before fight and then calls out Terrell Owens after
Since the inhaler incident, Greg Hardy had a 1-1 record coming into his Halloween fight against Maurice Greene at UFC Vegas 12. In that fight, Hardy was dominant and won by a second-round TKO. However, after the fight, Hardy's manager posted a confusing tweet suggesting the fight was almost canceled just hours before. Hardy addressed it following the fight.
"Some people from my past, coming to extort me, put me in crazy situations, try to take food out of my family's mouth. Just a lot of outside circumstances going on," Hardy said. "I was breaking down in my bathroom before I even started the fight. I was in tears trying to figure out how I was going to function and if I could go on." 
Hardy confirmed it was related to the domestic violence issues of his past. 
"A lot of past stuff, just coming back, trying to prey on me. You guys know me by now, I would have jumped off a building, did some crazy TO [Terrell Owens] stuff if I was that guy you're always talking about. I'm not. Never will be. I'm a good guy, been a good guy, innocent man, always have been. And when people come back and they try to prey and take advantage of somebody that's coming back and redeeming and regaining, it kind of messes with my head. Especially because they sprung it on me, literally in the middle of me going to fight for my life."
Greg Hardy's past run-ins with the law cost him his NFL career. Could those same mistakes come back and end his career in the UFC? Whatever happens, you can be sure Hardy will go down fighting.
Like Sportscasting on Facebook. Follow us on Twitter @sportscasting19.