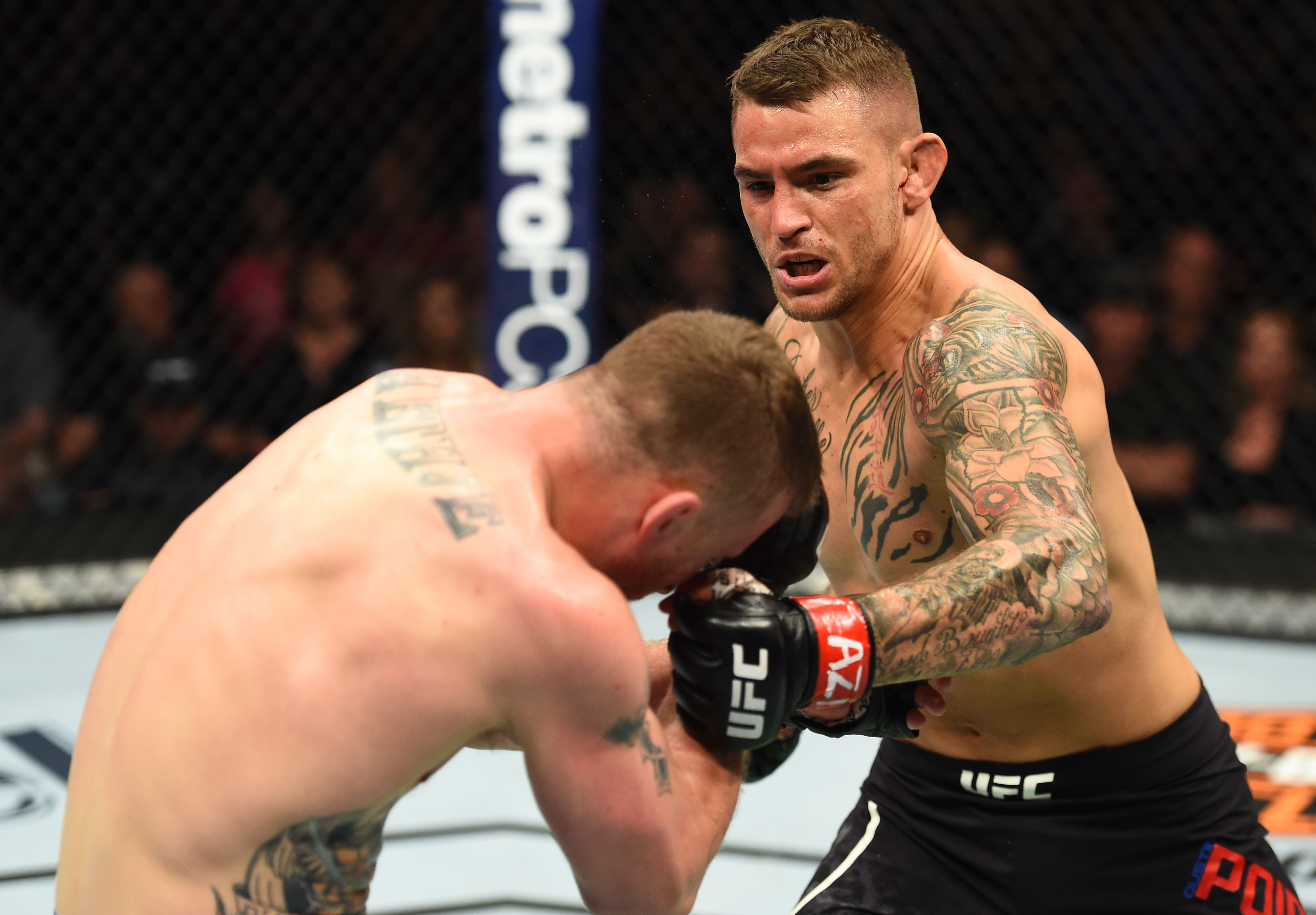 UFC Approves of Dustin Poirier and His Fight Outside of the Octagon
The UFC has officially approved of Dustin Poirier's fight outside of the octagon naming him the recipient of the Forrest Griffin Community Award.
Since 2011, Dustin Poirier has worked his way up through the ranks of the UFC. Currently, he is ranked at No. 3 in the lightweight division. While Poirier's accomplishments inside the octagon have earned him the respect of his fellow UFC fighters, outside the octagon, everyone admires him for the difference he is making in the lives of others.
Dustin Poirier fights way to top of lightweight division
Dustin Poirier turned professional in 2009 and hasn't looked back. Before he joined the UFC in January 2011, he had an 8-1 record. Early in his UFC career, Poirier made a big impression when he defeated the future lightweight champion, Max Holloway, by submission.
Poirier suffered his first UFC defeat in a classic match with Chan Sung Jung. He's also lost at the hands of some of UFC's best in Conor McGregor and Khabib Nurmagomedov, who he lost to in his most recent fight at UFC 242 in September 2019.
Although Poirier has lost to some big names in UFC, he's also had more than his share of victories over some of the sport's top fighters, including wins over Anthony Pettis, Justin Gaethje, and a second win over Max Holloway just over a year ago. 
Making a difference in lives of others 
While there's no denying Dustin Poirier's success inside the octagon, what sets him apart from other UFC fighters is what he does outside of it. For years, Poirier has converted his UFC success into a platform and a way he can help others. He has become well known throughout the MMA community and beyond for his foundation and its many good deeds. 
The idea for it came about honestly. Like other UFC fighters, Poirier didn't know what to do with so many fight-worn items. 
"We would always collect his fight gloves, shorts," Poirier's wife Jolie told ESPN. "Maybe we can benefit somebody else by donating or maybe selling it and raising money to donate to help out others."
"After 41 fights, it's just gross to have that many bloody pairs of gloves and shorts. That's where the idea was born," the fighter candidly admitted. 
The Good Fight Foundation, which the Poirier's started in 2018, has a simple mantra, "We fight for good." Poirier's most successful fundraising efforts happen after each match when he auctions off his fight kits, including his trunks, shirts, and wraps. The proceeds are then donated to a designated organization. 
Through the years, funds have been donated to the family of a deceased Lafayette police officer, used to fund a playground for children with special needs, and in April, the foundation provided 1,000 meals to the families of frontline workers during the COVID-19 pandemic. 
Others recognize Dustin Poirier's good work
Dustin Poirier's deeds have not gone unnoticed. Following his defeat at UFC 242 to Nurmagomedov, the champion traded shirts with Poirier after the fight then sold it for $100,000, which he donated to Poirier's foundation. 
"I had no clue he was gonna do that. He raised a lot of money. It was the biggest donation we've ever had with the foundation," Poirier told Ariel Helwani's MMA Show on ESPN. UFC president Dana White matched the donation.
On June 26, 2020, the UFC named Dustin Poirier the inaugural recipient of the Forrest Griffin Community Award, presented by Toyo Tires®. The award recognizes a UFC athlete for their exceptional volunteer and charity work and the meaningful impact their efforts have on the community.
"Dustin is a great athlete, but more importantly he's a great human being," UFC President Dana White said. "He is a kid who works hard and is passionate about giving back to not only his community, but to those who are less fortunate."
Following his fight against Dan Hooker, Poirier will be covering the fight night food tabs for fans at a hometown bar in Lafayette, Louisiana. His gesture is a way of giving back to locally-owned businesses that have been hurt by the COVID-19 pandemic.
Dustin Poirier is a great fighter and a better human being making a difference in the lives of others one fight at a time.