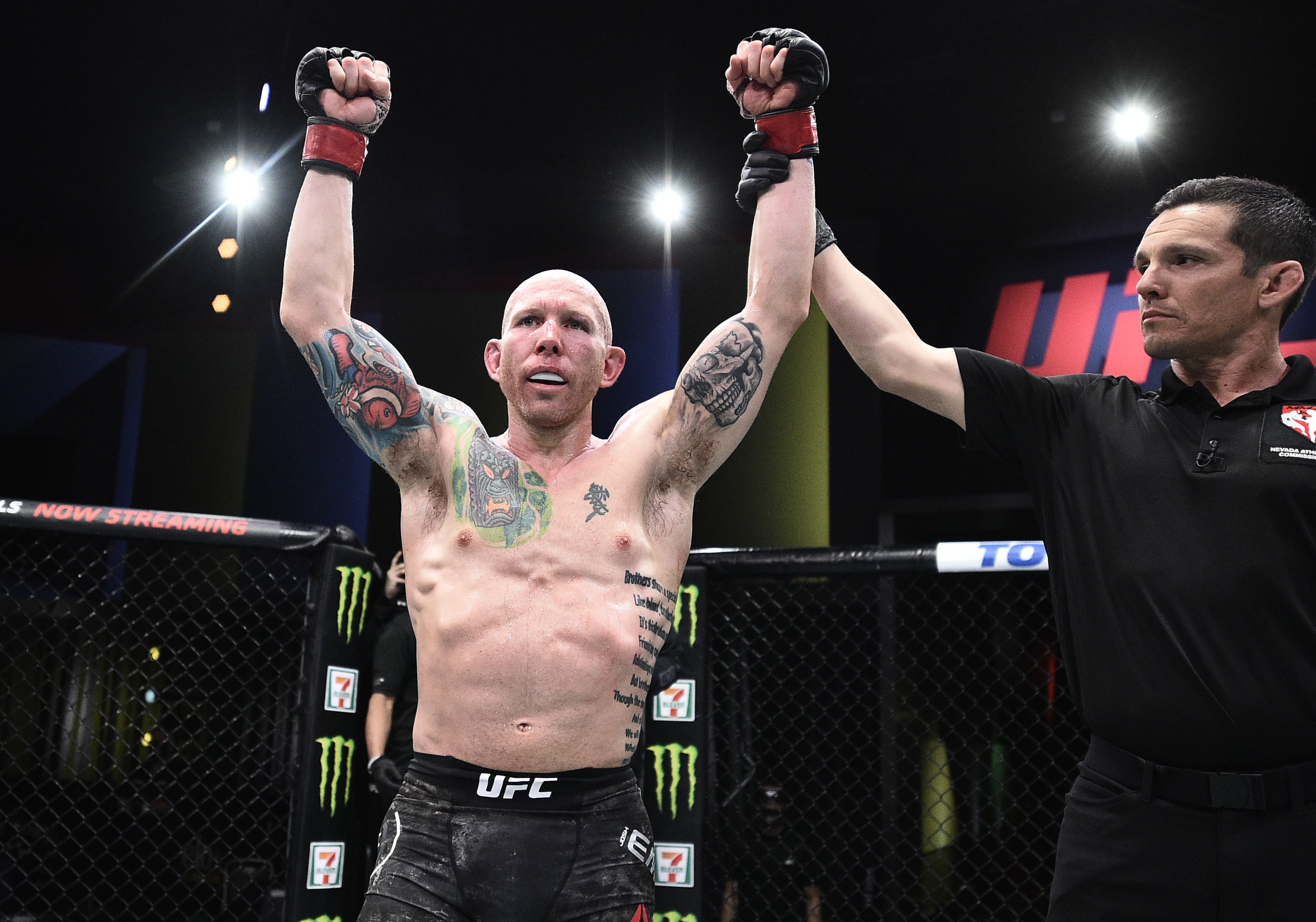 Josh Emmett Tore His ACL During His Most Recent UFC Fight and Still Won
Josh Emmett just proved UFC fighters are a different breed of athlete by admitting he tore his ACL in his recent UFC victory.
Tearing an ACL is one of the most painful and career-altering injuries an athlete can endure. The knee ligament tear almost certainly ends the current season for the unlucky player, and it requires months of rehab to return to full strength. Most football or basketball players who suffer a torn ACL immediately drop to the ground in pain and must be helped to the sidelines. For UFC fighter Josh Emmett, that's not exactly how he handled his injury.
During his most recent UFC fight, Emmett actually tore his ACL and suffered a bevy of other knee injuries in the process. Instead of calling off the fight, he finished all three rounds and even beat his opponent in a stunning display of toughness and heart.
Josh Emmett beat Shane Burgos by unanimous decision Saturday night
In one of the biggest upsets on Saturday night, Josh Emmett beat Shane Burgos by unanimous decision during UFC on ESPN 11. Emmett went into the fight as a +160 underdog.
The hard-hitting bout went the distance, as both fighters traded devastating shots for 15 minutes. Both Emmett and Burgos landed a ton of clean punches and kicks, but neither could find their way to a finish.
In the end, Emmett emerged victorious by unanimous decision. The win improved his UFC record to 16-2. Emmett has been vocal about wanting a shot at the featherweight title, and he was well on his way until his recent injury.
Josh Emmett confirmed he tore his ACL during his win against Shane Burgos
A few days after his win against Shane Burgos, Josh Emmett revealed a shocking twist to his featherweight victory. In a tweet Monday night, Emmett laid out five different injuries he suffered in his knee during the fight.
"Most people would of quit or looked for a way out! I will NEVER QUIT!"
1 Complete ACL tear
2 MCL Sprain with partial tearing
3 Bakers cyst rupture
4 Focal impact fracture of
femur on the lateral
5 Chondral defect (cartilage) on tibia laterally matching impact area," Emmett tweeted Monday night.
So, not only did Emmett tear his ACL during his fight against Burgos, but he also suffered four other injuries to the same knee. Emmett somehow stayed on his feet for the whole 15 minutes and won the fight with the plethora of injuries plaguing him.
Emmett will have to wait even longer for his title fight
At 16-2 in his UFC career, Emmett was on track to compete in a featherweight title fight soon. He's currently ranked No. 8 in the division, but he was rising fast.
After his devastating knee injury, Emmett will have to wait even longer for his chance at a title belt. If he can shake off a torn ACL to finish a fight and somehow win in the end, there's no doubt he can return to full strength as soon as possible.
Emmett is as driven as any UFC fighter in the world. He's had his sights set on a title fight since he turned pro, and this injury isn't going to slow him down. It might take him longer than he expected, but Emmett will find a way to compete for a belt at some point in his career.