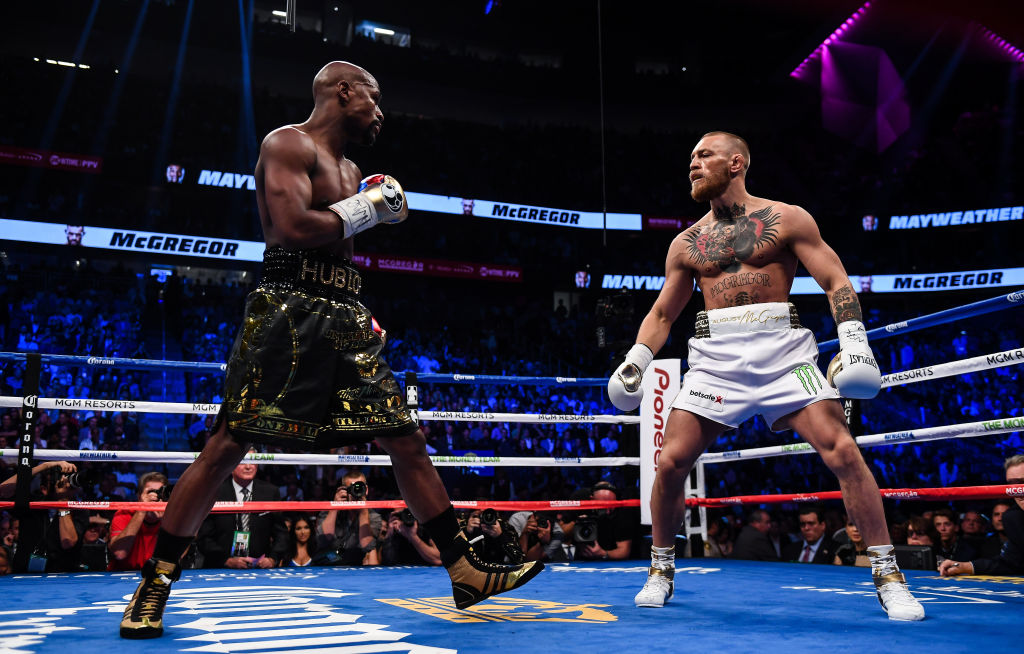 Here's Hoping Conor McGregor Doesn't Try to Keep His Promise to Mike Tyson About Floyd Mayweather
A look at why a second fight between Floyd Mayweather and recently retired UFC star Conor McGregor should not happen under any circumstance.
Oh, joy. The discussion of a rematch between Floyd Mayweather and Conor McGregor has reared its ugly head yet again in the wake of McGregor's recent retirement announcement, his third such announcement in the past four years.
Moments after the highly-entertaining UFC 250 pay-per-view event this past Saturday in Las Vegas, which saw Amanda Nunes defeat Felicia Spencer in the main event, McGregor took to Twitter to post his retirement announcement, as always, making sure the attention was on him and not anybody else.
He followed that up on Sunday night with an Instagram post of his retirement cake. Naturally, Mayweather chimed in, calling him out for quitting before the two could square off again in a rematch from their famous (or infamous depending on who you talk to) 2017 bout, something McGregor has actually been lobbying for quite a bit recently.
Naturally, the rumors are now flying about Mayweather vs. McGregor 2 and fight fans simply have to hope that this never happens. It wasn't good the first time and it would be even worse the second time.
Floyd Mayweather defeated Conor McGregor in 2017 in a fight that looked closer than it really was
While on the surface it seemed that Conor McGregor truly challenged Floyd Mayweather during their crossover fight in 2017, it really wasn't as close as the "Notorious" one thinks it was. I will give him plenty of credit for going into Mayweather's world and giving it a shot but Mayweather knew exactly what he was doing the entire time. Okay, McGregor got some shots in early but it was because Mayweather was letting him do it. It's surprising that a fighter of McGregor's intelligence and experience couldn't recognize a "rope-a-dope" but that's what it was.
Mayweather knew all he had to do was get McGregor winded and that's what he did. He drew him in, as Mayweather has done to so many other fighters, got him tired, and then pounced when McGregor could no longer defend himself, causing the referee to stop the fight in the 10th round.
While a little more entertaining than the few fights previous to this one due to the buzz and the crowd, it was just another past-his-prime Mayweather fight that wasn't that exciting to watch, which is why I was always happy I didn't drop the $100 to watch it live.
Conor McGregor promised Mike Tyson he would defeat Floyd Mayweather
Just short of a month ago, former undisputed heavyweight champion Mike Tyson, who has always defended Conor McGregor's performance against Floyd Mayweather, was at it again on his "Hotboxin' with Mike Tyson" podcast (if you haven't checked this out, do yourself a favor and get on it) when talking with UFC star Francis Ngannou. Tyson was asked what he thought of the performance and applauded McGregor for lasting 10 rounds with Mayweather, who he says is the greatest fighter of the last 100 years, something I'd certainly argue. McGregor caught wind of the comment and tweeted out a response to Iron Mike, which you can see above.
"Thank you Mike, and just know that for the inevitable rematch, with the knowledge I now hold of Floyd's style, plus under the tutelage of my old school boxing coach, I will crack the puzzle, and I will beat Floyd.
I promise my life on it."

Conor McGregor to Mike Tyson on a rematch with Floyd Mayweather
So just weeks before announcing his retirement from fighting, Conor McGregor promises Mike Tyson that he's going to beat Floyd Mayweather. So which is it? For everyone's sake, Conor, just stay retired this time.
A rematch would be nothing but another money grab
I certainly know I'm not alone in not wanting to see a Floyd Mayweather vs. Conor McGregor rematch. As it was with the first fight, it would be nothing but another huge money grab. The only people that benefit from another fight would be Mayweather and McGregor themselves. Well, that's not true. You can't forget the promoters, can you? But actual fight fans would just get one more unnecessary circus.
Yes, millions of people would likely tune in for this again. And I still don't understand why. With all due respect to Mike Tyson, who has forgotten more about boxing than I'll ever know, the reason Conor McGregor lasted 10 rounds is that he wasn't in there with a knockout artist (Mayweather's last KO before McGregor came in 2011) and he certainly wasn't in there against a prime Mayweather, who still whipped him despite being 12 years his senior. Put McGregor, 31, in against Canelo Alvarez, who is just two years younger, and see if he lasts 10 rounds.
But he'd never do that. It's the reason why he's always hyping fights with guys like Manny Pacquiao, who is 41, and Oscar De La Hoya, who is 47. He knows that if he steps in with anyone in their prime that he'd get destroyed. And, to his credit, any of these boxers that stepped into the octagon with Conor McGregor would get destroyed. So if Conor McGregor does come back for one more fight, do it in UFC. If Floyd Mayweather wants to step in the ring to try for win number 51, do it against an actual boxer.
Or both could just stay away forever and I'd be completely okay with that as well.