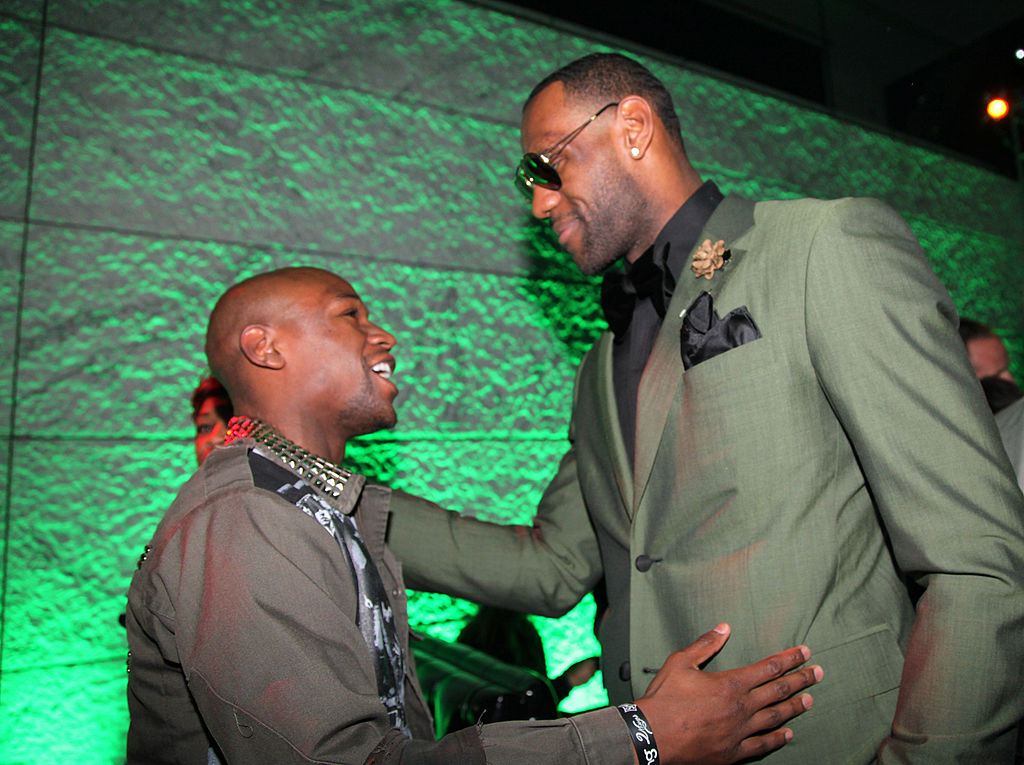 Floyd Mayweather Gets Real About Losing Out to LeBron James
Floyd Mayweather sounds off on LeBron James winning Associated Press Athlete of the Decade.
Floyd Mayweather isn't used to losing.
Over the span of more than two decades, Floyd Mayweather went 50-0, winning titles in five weight divisions. While undefeated in the ring, Mayweather recently suffered a loss outside of it. When the Associated Press named its Male Athlete of the Decade, Mayweather's name was nowhere to be found in the top five. LeBron James was named the winner and Mayweather, never one to be shy with words, wasn't happy about it.
What did Floyd Mayweather accomplish in the last decade?
Floyd Mayweather entered the 2010s with a perfect 40-0 record. In his first fight of the decade, in May 2010, he won a 12-round decision over Shane Mosley to win the lineal welterweight crown. He wouldn't fight again for 16 months, next besting Victor Ortiz in September 2011 to move to 42-0. This is one of just two wins he'd pick up in the decade by knockout.
Mayweather's next bout came in May 2012, when he won a unanimous decision over Miguel Cotto. A year later, he earned another win by unanimous decision, this time defeating Robert Guerrero. Later in 2013, Mayweather outlasted Canelo Alvarez to move to 45-0. He fought Marcos Maidana twice in 2014, winning both fights by decision.
Floyd's next fight was the dream bout with Manny Pacquiao, which many believe happened five years too late in May 2015. While the fight didn't quite live up to the hype, Mayweather came out on top with his 22nd win by decision. The 23rd would come a few months later over Andre Berto. Mayweather's 50th and final win (for now) of his career came in another mega-hyped bout with Conor McGregor in August 2017.
What did LeBron James accomplish in the last decade?
As Floyd Mayweather was dominating the boxing world in the 2010s, LeBron James was making his case to be considered one of the all-time NBA greats. After failing to win an NBA title in his first run with the Cleveland Cavaliers, LeBron took his talents to South Beach in 2010 with The Decision and went on to lead the Miami Heat to four consecutive NBA Finals appearances and two championships before heading back to Cleveland.
Upon his return to the Cavaliers, James immediately led Cleveland to the NBA Finals, losing to the Golden State Warriors in 2015. The next season, James kept his promise of bringing an NBA title to Cleveland as he brought the Cavs back from a 3-1 series deficit against the Warriors, winning his third NBA title. LeBron and the Cavs would meet Golden State two more times in the finals before James bolted for the Los Angeles Lakers in 2018.
No player in the NBA scored more points in the decade than LeBron James, including the playoffs. No player had more wins or won more MVP awards in that span and James appeared in eight consecutive NBA Finals.
Mayweather sounds off on LeBron
Speaking on the disrespect he felt in not winning the AP Male Athlete of the Decade honor, it should be noted that Floyd Mayweather didn't even place in the top five. LeBron was in first by a wide margin over second-place Tom Brady, who led the Patriots to three Super Bowl wins in the decade. Olympic star Usain Bolt came in third, soccer superstar Lionel Messi placed fourth, and record-breaking swimmer Michael Phelps rounded out the top five.
Mayweather recently sat down on "Drink Champs" with N.O.R.E. and DJ EFN and talked of the disrespect he feels by the Associated Press going with LeBron James.
"I love LeBron James, but when we're talking about Athlete of the Decade, that's me. That's me. Hands down. We talking about from 1996 to 2020 and I've never received Athlete of the Decade. At the top of Forbes and I'm my own boss.

"No Gatorade behind me, no Sprite behind me, no Nike behind me. You got to realize, these are billion-dollar companies. And we like to call it 'placement.' So if they paying—you get what you want if you paying enough. But if we going off just honestly, I'm the Athlete of the Decade. Of the last two decades actually."

Floyd Mayweather
With just one-fifth of his career fights taking place in the 2010s, none of those in the final two years of the decade, it's interesting to see how Mayweather backs up his stance. But then again, Floyd Mayweather has never backed down from talking about how great Floyd Mayweather is, has he?