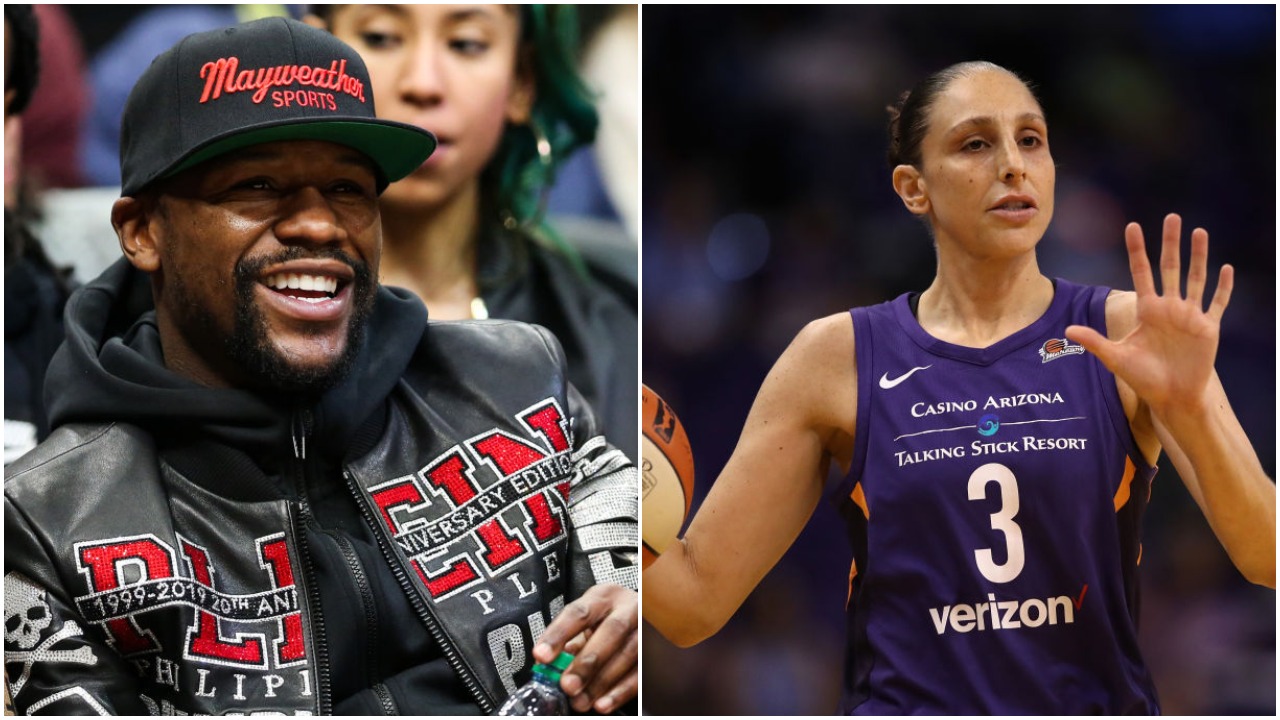 Floyd Mayweather Threatened to Buy Diana Taurasi's WNBA Team for Trash-Talking Him
A somewhat-heated exchange between Floyd Mayweather and Diana Taurasi at a WNBA game led to an interesting threat from the 50-0 fighter.
It's no secret that Floyd Mayweather likes to run his mouth. Whether it's flashing cash on social media or hyping a fight with Conor McGregor or Manny Pacquiao, the undefeated former five-class champ has no problems with making a scene. Apparently, that includes getting into it at WNBA games as well. It was revealed recently that Mayweather once got into it with Phoenix Mercury star Diana Taurasi and threatened to buy her team because she trash-talked him.
Floyd Mayweather and Diana Taurasi are each considered one of the greatest in their respective sports
With a 50-0 record, Floyd Mayweather is considered one of the greatest pound-for-pound fighters in boxing history. After winning bronze at the 1996 Olympics, Mayweather turned pro and went on to win titles in five different divisions, defeating the likes of Oscar De La Hoya, Ricky Hatton, "Sugar" Shane Mosley, Canelo Alvarez, Juan Manuel Marquez, Marcos Maidana, Pacquiao, and McGregor on the way to a 50-0 career record.
WNBA legend Diana Taurasi is a great champion in her own right. After leading UConn to three consecutive NCAA titles, she joined the WNBA in 2004 and has become the league's all-time leading scorer and has won three titles with the Phoenix Mercury. She's a five-time scoring champion, a former regular-season and Finals MVP, a 13-time All-WNBA selection, a nine-time All-Star, and is widely regarded as one of the greatest women's players of all time. Unlike Mayweather, she owns an Olympic gold medal…well, she actually owns four of them.
But like Floyd Mayweather, she's also known as quite the trash-talker, which led to an amazing showdown a few years back in LA.
Floyd Mayweather and Diana Taurasi started playfully jawing at one another
Floyd Mayweather is actually quite a big fan of the WNBA and is a constant spectator at Staples Center to root on his favorite team, the three-time champion Los Angeles Sparks. Naturally, when Diana Taurasi comes to town, it's a big deal as she grew up just about 35 miles east of the city in Chino, and simply because she's Diana Taurasi.
So the Mercury are in LA to play the Sparks a few years back and Mayweather naturally has front-row seats. Sue Bird, a WNBA icon in her own right, was recently a guest on Zach Lowe's "The Lowe Post" podcast and said that Mayweather and Taurasi started a little playful banter back and forth when she would check in and out of the game.
"At LA Sparks games, they actually have seats where they're at the table. Mayweather is literally at the table next to the Phoenix Mercury bench.

"I think it started out somewhat friendly. Like 'Hey DT, blah blah blah blah' and you know Diana, not gonna back down, is jawing back to Floyd Mayweather. I don't know what the actual trash-talk was at that point, but it was a lot of jawing back and forth. She's playing, coming out of the game, talking, talking."

Sue Bird on Floyd Mayweather and Diana Taurasi
But things apparently didn't stay friendly for long.
Things heated up and the undefeated former champ threatened to buy the Mercury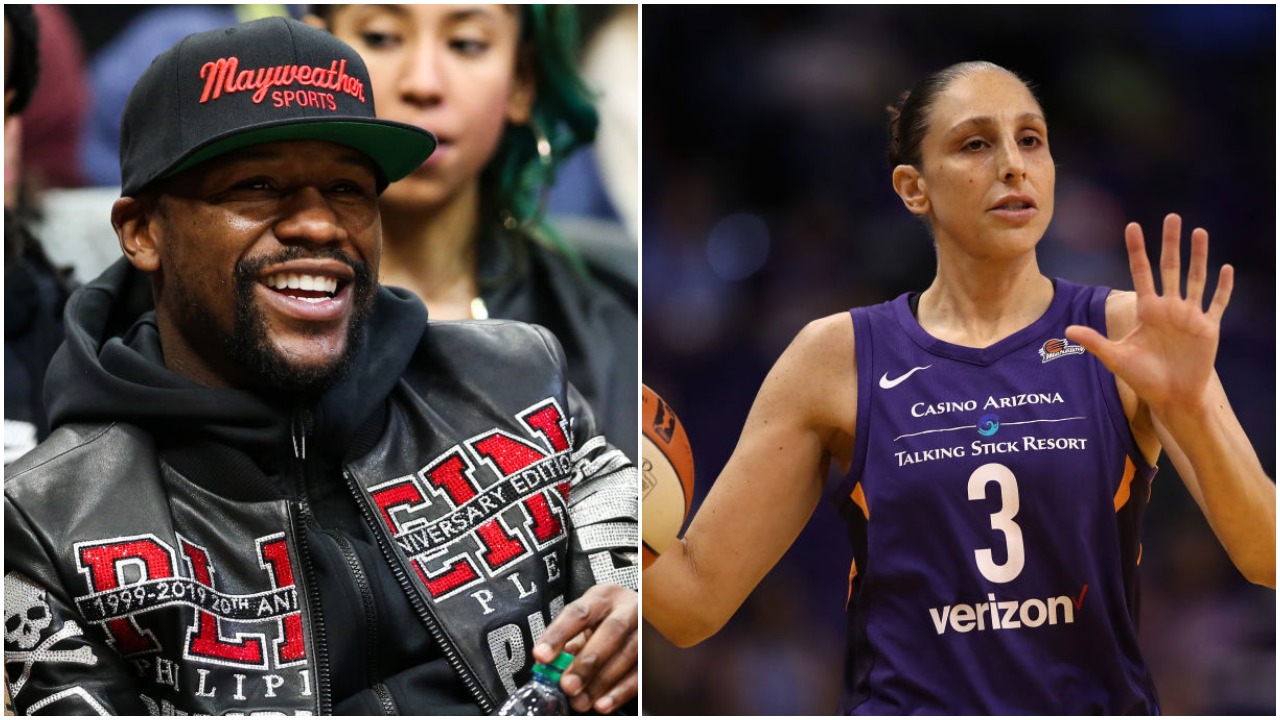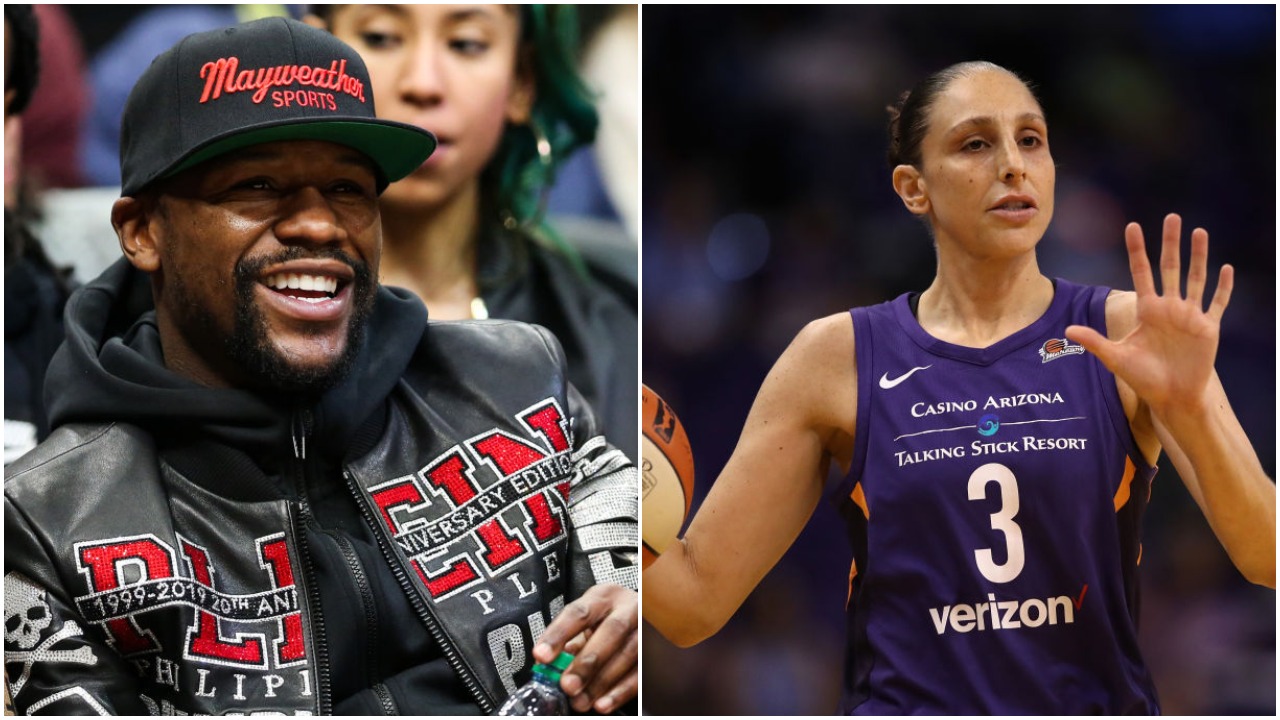 Bird continued on "The Lowe Post" by saying that things started to heat up as the game moved along. Taurasi, who Kobe Bryant once nicknamed "White Mamba," apparently wouldn't let up. And you know that Mayweather isn't going to stop either.
"At one point, I don't know what she said, but she said something that pi**ed him off.

"He goes 'You know what, D? I'm gonna buy the Mercury, and I'm gonna change the name to the Sparks.' And I was like, damn, the ultimate shutdown… It was basically like, 'I'm gonna own you.'"

"She had no comeback! It's the one time she's ever been silenced."

Sue Bird on Floyd Mayweather threatening to buy Diana Taurasi's team
You know the really crazy part? Floyd Mayweather might have actually been able to pull it off.