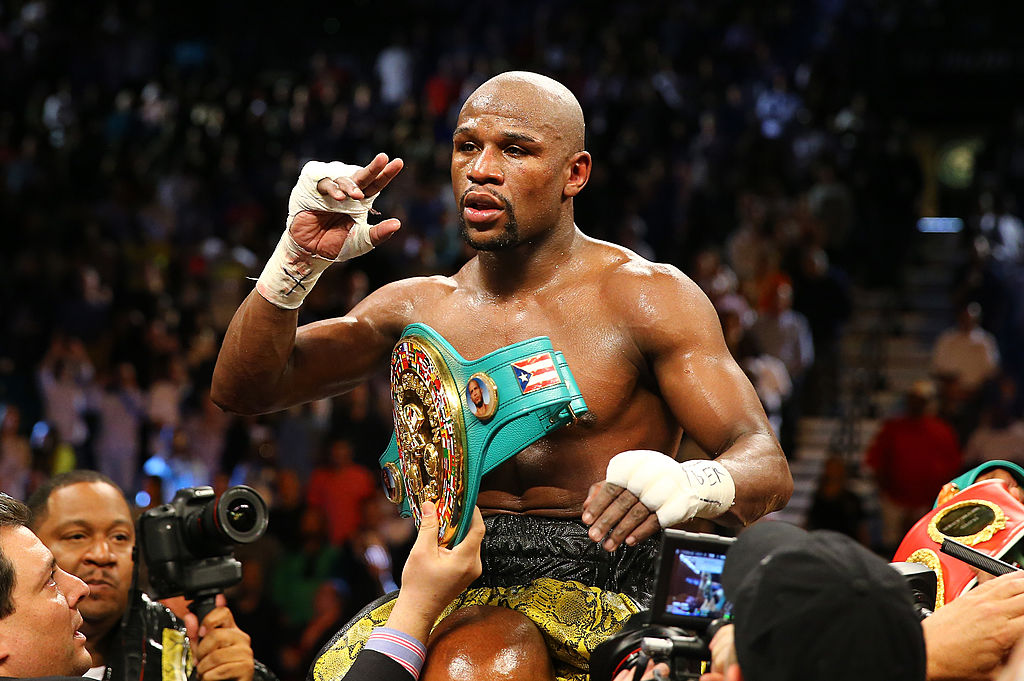 Floyd Mayweather Turned $1 Backflips Into $1 Billion Punches
Boxing legend Floyd Mayweather turned $1 backflips as a child into $1 billion punches as a professional boxer.
He's the wealthiest boxer of all-time and he's also proven to be the most successful one as well with a 50-0 career record. Floyd Mayweather is a self-made man. He grew up poor and had nothing handed to him. He worked for the $1 billion he made as a boxer. His strong work ethic started when he was young. His money-making skills also began when he was a child and it all started with a backflip.
Floyd Mayweather's financial success
Floyd Mayweather was always hungry. Hungry for both food and success, Mayweather used his upbringing as a poor child as motivation to help him succeed in his professional career as a boxer. Motivated by boxing to get away from his troubles at home as a child, Mayweather dedicated himself to the sport at an early age.
His early dedication helped propel him to capture 15 world titles during his professional career. When Mayweather knocked out Roberto Apodaca in the second round on Oct. 11, 1996, in their pro debuts, it started an unprecedented win streak. From that day until Mayweather beat Conor McGregor on Aug. 26, 2017. Mayweather went 50-0. When he defeated McGregor, he surpassed Rocky Marciano for the longest active unbeaten streak.
Mayweather won 27 of his 50 fights by knockout. He was named Fighter of the Decade for the 2010s by the Boxing Writers Association of America. According to BoxRec.com, Mayweather has generated more than 24,000,000 pay-per-view buys and has raked in $1.7 billion in revenue.
Mayweather's younger days
Floyd Mayweather used boxing as an outlet when he was a child. He grew up in a home with very little parental support. Mayweather saw it all as a child. He witnessed crime, drug addiction, and poverty. Despite the rough upbringing, Mayweather took it all in and it helped shape him into who he is now.
"When I was about eight or nine… we were seven deep in a one-bedroom, and sometimes we didn't have electricity," Mayweather claims in the book Money: The Life and Fast Times of Floyd Mayweather. "No heat, no water, no nothing. Nothing. I basically raised myself. When people see what I have now, they have no idea of where I came from."
He got away from it all by training at the gym. His father, Floyd Mayweather Sr., was a professional boxer and helped introduce him to the sport. When he was young, however, Mayweather said it was his grandmother who discovered his potential as a fighter. "I think my grandmother saw my potential first," Mayweather told the New York Times. "When I was young, I told her, 'I think I should get a job.' She said, 'No, just keep boxing.'"
Mayweather's business sense started at an early age
The poverty level at Floyd Mayweather's home as a young kid was very high. "I had three pairs of pants, three shirts and one pair of shoes," Mayweather said in The Guardian. "The running water we had was cold so we would heat water on the stove. We never had a key to open the door and we would pop the lock with a butter knife. There were no lights in the building. It smelt of urine to outsiders who came in, but to me it never because I was used to it. People would say 'Oh, what is that smell. But I was used to it."
It was because of this lack of funds Mayweather got a very early start on becoming one of the wealthiest athletes in the world. "They built a hotel across the street and I would go and do backflips for $1 on the grass outside," he said in The Guardian. "I had a friend called James Brown and, when we had enough money from flipping, we'd go to Burger King."
Those early entrepreneurial skills paid off. In addition to his boxing career, Mayweather founded his own boxing promotion firm. According to Celebrity Net Worth, Mayweather's net worth is $505 million.