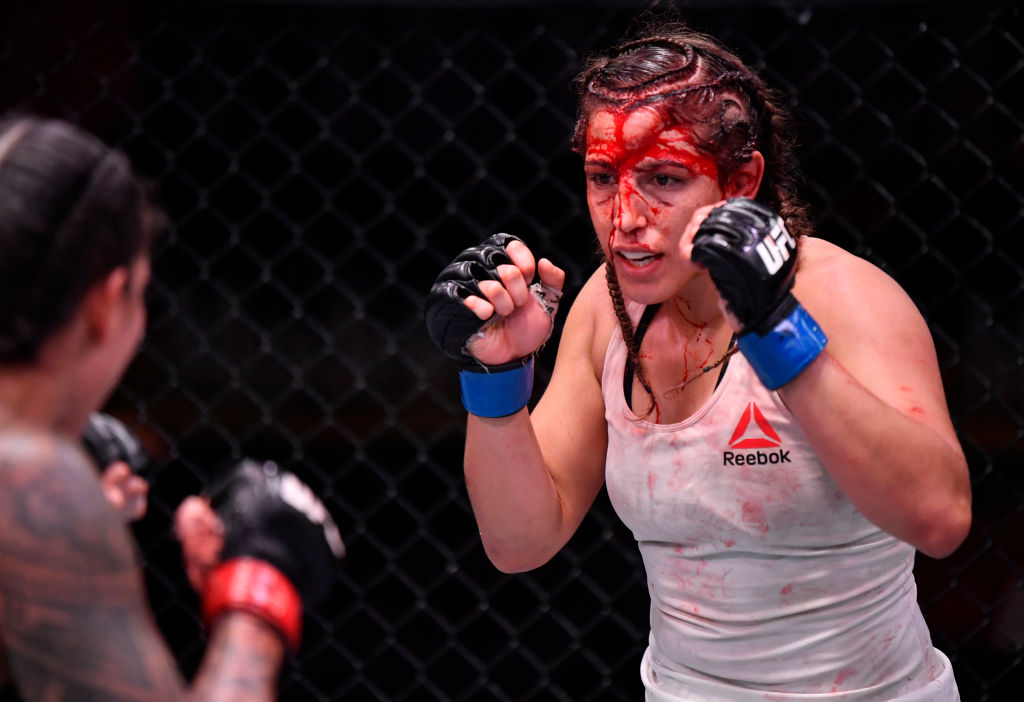 UFC 250 Recap: Amanda Nunes Dominates and Devastating KOs Highlight Night
Amanda Nunes dominated the UFC 250 main event but the undercard stole the show with a pair of stellar knockouts including one Joe Rogan described as the "best walk-off ever."
UFC 250 featured a dominating performance in the main event by bantamweight and featherweight champion Amanda Nunes over challenger Felicia Spencer, but it was the undercard for the night that stole the show. There were two knockouts that left the UFC commentators in awe and an emotional bout as Cody Stamann earned a win just days after the death of his 18-year-old brother.
UFC 250 Main Event: Amanda Nunes dominates and bloodies Spencer
In the UFC 250 main event, women's bantamweight and featherweight champion Amanda Nunes (19-4 MMA, 12-1 UFC) put her 145-pound title on the line against challenger Felicia Spencer (8-1 MMA, 2-1 UFC) and it wasn't even close.
Amanda Nunes came out aggressive and landed early against Spencer, the challenger suffering a cut under her right eye just a couple minutes in. It was just a precursor of things to come.
Spencer tried to take it to the ground throughout the night, but Nunes played great defense. She was in control and only went to the ground when she wanted, each time she remained on top landing several good elbows. Nunes, essentially, beat Spencer at her own game.
Spencer was battered and bloodied at the end of the fourth and commentators thought the fight should have been stopped, but Spencer's corner continued to talk about following the game plan. The game plan hadn't worked up until then and didn't work in the fifth. The champ dominated the fifth and won easily by unanimous decision.
UFC 250 Highlight: O'Malley KO of the Night over Wineland
When Sean O'Malley (12-0 MMA, 4-0 UFC) stepped into the octagon for UFC 250 against Eddie Wineland (24-14-1 MMA, 6-8 UFC), oddsmakers had O'Malley the 4-1 favorite against the veteran. O'Malley didn't wait long to prove Vegas right.
The experienced Wineland set the pace early attacking, but O'Malley countered with numerous leg kicks, one connecting on Wineland's lead leg. O'Malley landed a big kick midway through the round, then followed with a right hand. With just under two minutes remaining in the first, O'Malley faked a right upper-cut, then followed it with an over-the-top right hand that landed square on Wineland's face. Lights out.
Joe Rogan said it was the best walk-off he had ever seen as O'Malley immediately turned and stepped away from his opponent after the right connected but before Wineland had hit the ground completely unconscious. O'Malley improved to 12-0 and 4-0 in UFC and looks to be ranked in the upcoming rankings.
KO of the Night part 2 as Garbrandt drops Assuncao at bell
Cody Garbrandt (11-3 MMA, 6-3 UFC) and Raphael Assuncao (27-7 MMA, 11-4 UFC) battled for two tough rounds, with Garbrandt winning the first. The two fighters both landed punches in the middle off the second, then as the round was about to close, disaster struck for Assuncao. It came in the form of Garbrandt's devastating right hook.
Just as the horn sounded, Garbrandt ducked to his right, loaded all his weight on his right leg, then unloaded a shot that jolted Assuncao and sent him crashing down to the canvas unconscious. It was a shocking end to the round and left Daniel Cormier and Rogan in awe after the O'Malley knockout witnessed earlier in the evening.
"Ducks and throws the right hook. Assuncao was cleanly knocked out. When they go face down, there's no need to count. That was insane," Cormier said of the knockout.
Cody Stamann overcomes emotional death of brother to earn victory
The fact Cody Stamann (19-2-1 MMA, 5-1-1 UFC) showed up to take on Brian Kelleher (21-11 MMA, 5-4 UFC) for UFC 250 was a miracle. Last week Stamman's younger brother Jacob, who was 18 years old, died unexpectedly.
Stamann showed no signs of emotion early in the fight against Kelleher. Both fighters came out aggressive, Stamann landing a couple of early punches. Kelleher rebounded and had a better second round, but most saw the points leaning in Stamann's favor.
In the final round, Kelleher knew he was behind and came out aggressively. Both fighters traded punches in the middle of the octagon with Kelleher landing a couple of big hooks. Near the end, both fighters went down to the floor when the final horn sounded. Kelleher, understanding the situation with Stamann's brother, immediately hugged his opponent. After the two stood up, Stamann fell back down to the ground, his emotions overwhelming him. 
"It's been real hard. I've been fighting tears all day," Stamann told Rogan in the post-fight interview. "It's a hard time for me. I had to buckle up and be a man and get this done for him, for my family, for myself. In the corner, they said, let's go in here and let's do this for your brother. Will mourn him after this."
Now the mourning process can begin for Stamann and his family.