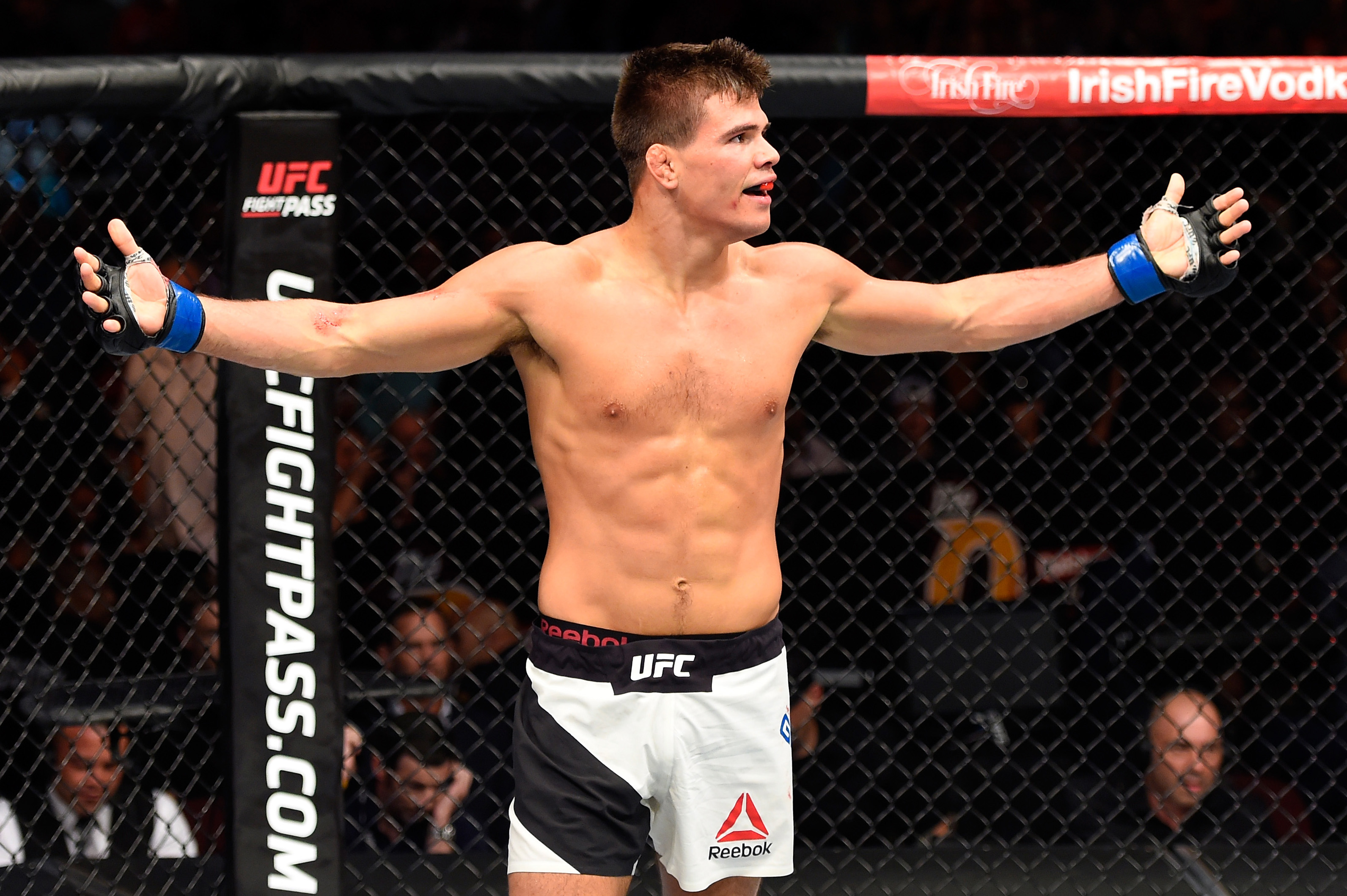 UFC's Mickey Gall Graduated From Rutgers but Majored in Jiu-Jitsu
UFC's Mickey Gall graduated from Rutgers with a degree in communications, but says he majored in jiu-jitsu.
Mickey Gall is set to face Mike Perry in the co-headliner of Saturday's UFC on ESPN 12. Gall said he's a fan of the favored Perry, but he's clearly not backing down. Gall is a graduate of Rutgers University with a degree in communications. He said his major was really jiu-jitsu and he's out to prove all his hard MMA work while he was at college won't be wasted.
Who is Mickey Gall?
Mickey Gall comes into Saturday's UFC fight with Mike Perry with a 6-2 pro record. While he is clearly the less-experienced fighter, Gall's confidence is sky-high. "I think everyone's gonna be in a whole lot of trouble for the next ten years," Gall told UFC.com. "Every day, I'm getting myself better. Every week, every month I'm having incremental growth."
Gall hasn't fought in 10 months. His previous fight came Aug. 3, 2019, when he defeated Salim Touahri in a unanimous decision. Gall was slated to fight Alex Oliveira on Feb. 29, 2020, but the bout was pulled by UFC with no official reason announced.
Gall went 3-0 as an amateur. He has won five of his professional fights by submission. That's been his style all along. "I'm more of a submission guy," Gall told The Daily Targum. "Typically, I'll usually go in there and thump a strike, I'll hit him hard and drop him or rock him and I'll finish with a submission."
Gall is a graduate of Rutgers
According to The Daily Targum, the student newspaper of Rutgers University, Mickey Gall became interested in combat sports around the age of 13. He had played football, basketball, and baseball, but fell in love with jiu-jitsu. He made the transition from boxing to jiu-jitsu at 16 and fell in love with it.
Gall attended Rutgers, but made a 40-minute commute twice a day to keep training. That was his main focus. "My real major was in (jiu-jitsu)," Gall said. "I did what I needed to do to get by, graduated in four years. … (Balancing school and MMA) was rough, I'd be lying if I said school was my main focus but … it was important to me. It was important to my family too, so that made it more important to me."
Not only was Gall training and studying, but he was also working to make ends meet. He was driving a truck, delivering bread to Wal-Marts early in the mornings. Gall graduated in 2014 with a degree in communications.
Gall super confident heading into fight with Mike Perry
According to MMA Junkie, Mickey Gall said he's trending in one direction while Saturday's opponent, Mike Perry, is going the other way. Gall is not afraid to say what's on his mind. He's extremely confident heading into Saturday's bout.
"I'm going to be prepared for the best Mike Perry, but if I really think about it, I think he's been regressing," Gall said at the UFC on ESPN 12 virtual media day. "I know I'm getting a lot better and I think he's on a downward slide, but I've been training hard, I'm peaking, and I'm ready for the best Mike Perry that's ever been.
"In my film study you can see that (he's regressing)," Gall continued. "Mike is probably an insecure dude, probably had a tough life coming up. I don't know if he's handling everything super well right now, but again, who knows and I don't even want to speculate too much because it doesn't matter. I know the hand I got, I know what I bring to the table, and I'm super, super confident."