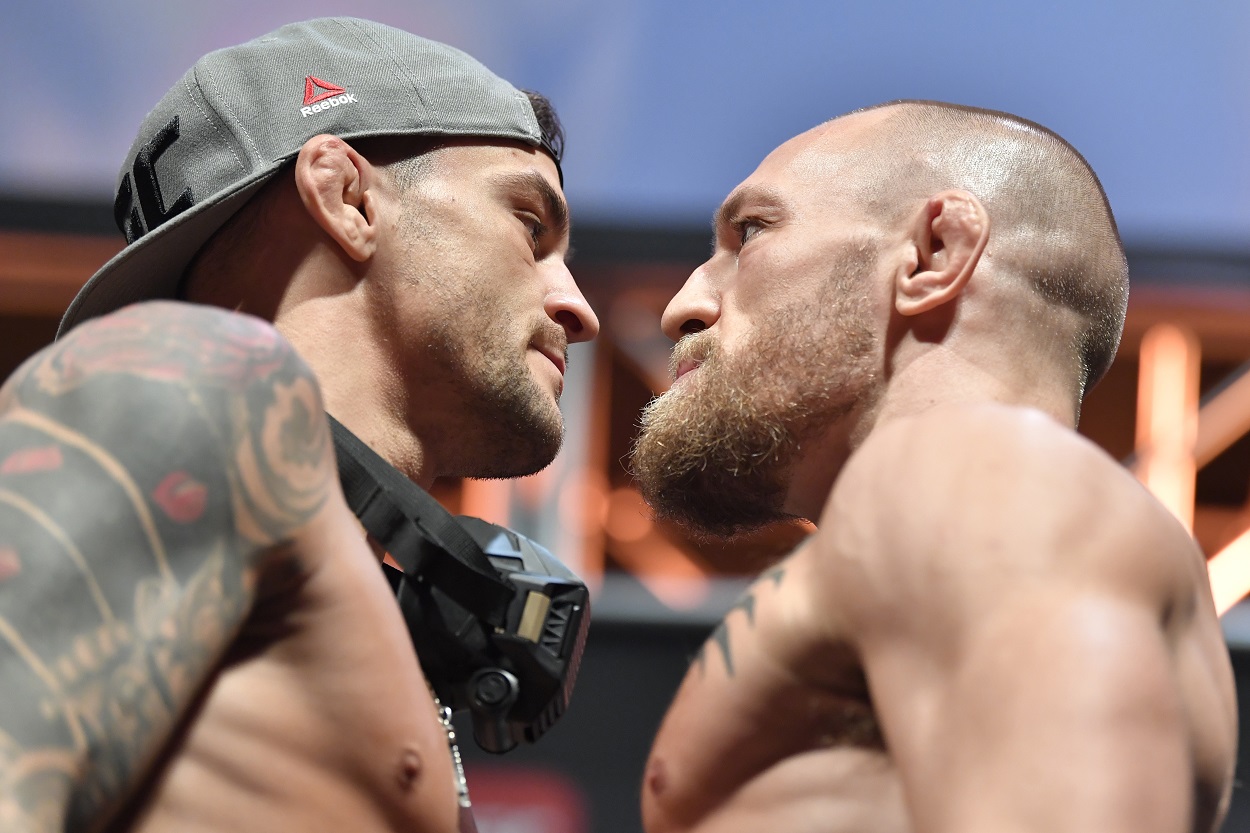 Conor McGregor Channels His Inner Mr. T as He Brings Dustin Poirier's Wife Into Their Feud Ahead of UFC 264
Conor McGregor has dragged Dustin Poirier's wife, Jolie, into their feud ahead of their trilogy bout at UFC 264.
In a move that really shouldn't surprise anyone, Conor McGregor has channeled his inner Mr. T ahead of his trilogy fight with Dustin Poirier this Saturday at UFC 264.
For those who may not get (or remember) the reference, Mr. T famously played Clubber Lang in the third installment of Sylvester Stallone's Rocky series. As Rocky is making his retirement announcement, Lang, the No. 1 contender to Balboa's heavyweight crown, challenges him to a fight, which Rocky wants but his manager, Mick, doesn't. As Rocky and Mick are discussing, Lang turns his attention to Rocky's wife, Adrian, and (slimming the scene down) tells her to come to his apartment show he can show her what a "real man" is.
Ultimate heel move, right?
Well, that's essentially what McGregor has done as he's brought Poirier's wife, Jolie, into the narrative ahead of Saturday night's bout in Las Vegas.
Conor McGregor has dragged Dustin Poirier's wife into their feud ahead of their trilogy bout at UFC 264
Early Tuesday morning, McGregor took to Twitter and left a bizarre (and somewhat creepy) voice message for Poirier, which you can listen to above, in which he said the following:
"Dustin…Peahead…I'm coming for you, Peahead…silly hillbilly."

Conor McGregor
For those unaware, "peahead" was a term Conor threw at Poirier ahead of their first fight in 2014.
But McGregor wasn't done as on Tuesday afternoon, he posted what appeared to be a direct message request on Instagram from Jolie Poirier, although the screenshot hasn't been verified.
McGregor has gone to great lengths in an attempt to rile up opponents in the past, but this is hitting below the belt. But given the fact that Poirier pummeled McGregor in their last fight back in January, it appears the "Notorious" one is looking for any kind of advantage he can get.
McGregor knocked out Poirier in their first bout in 2014, but got destroyed at UFC 257 this past January
McGregor and Poirier first battled all the way back in September 2014 at UFC 178. Poirier was 16-3 at the time and was coming off a TKO victory over Akira Corassani, while McGregor was 15-2 and coming off a TKO victory over Diego Brandao.
Fighting at featherweight, this really wasn't much of a fight at all as McGregor dominated the fight, hitting a couple of spin kicks early and cruising from there. Conor dropped him with a left and then pounced, prompting referee Herb Dean to call the bout just one minute and 46 seconds in.
Their second bout at UFC 257 this past January, however, went much differently. Poirier, who entered the bout with a 26-6 record set the tone early as he hit McGregor, who came in at 22-4, with a big leg kick before securing a takedown. But it's not as if McGregor didn't get in any offense as he certainly got in plenty, hitting Poirier with a number of clean shots in the first round and a big left to open the second.
But Poirier continued to work McGregor's calf, leaving him very vulnerable and weakened. Just before the midway point of the second, Poirier unleashed a flurry of punches and dropped McGregor with a right hook. He then pounced and the fight was stopped two minutes and 32 seconds into the round.
How to watch UFC 264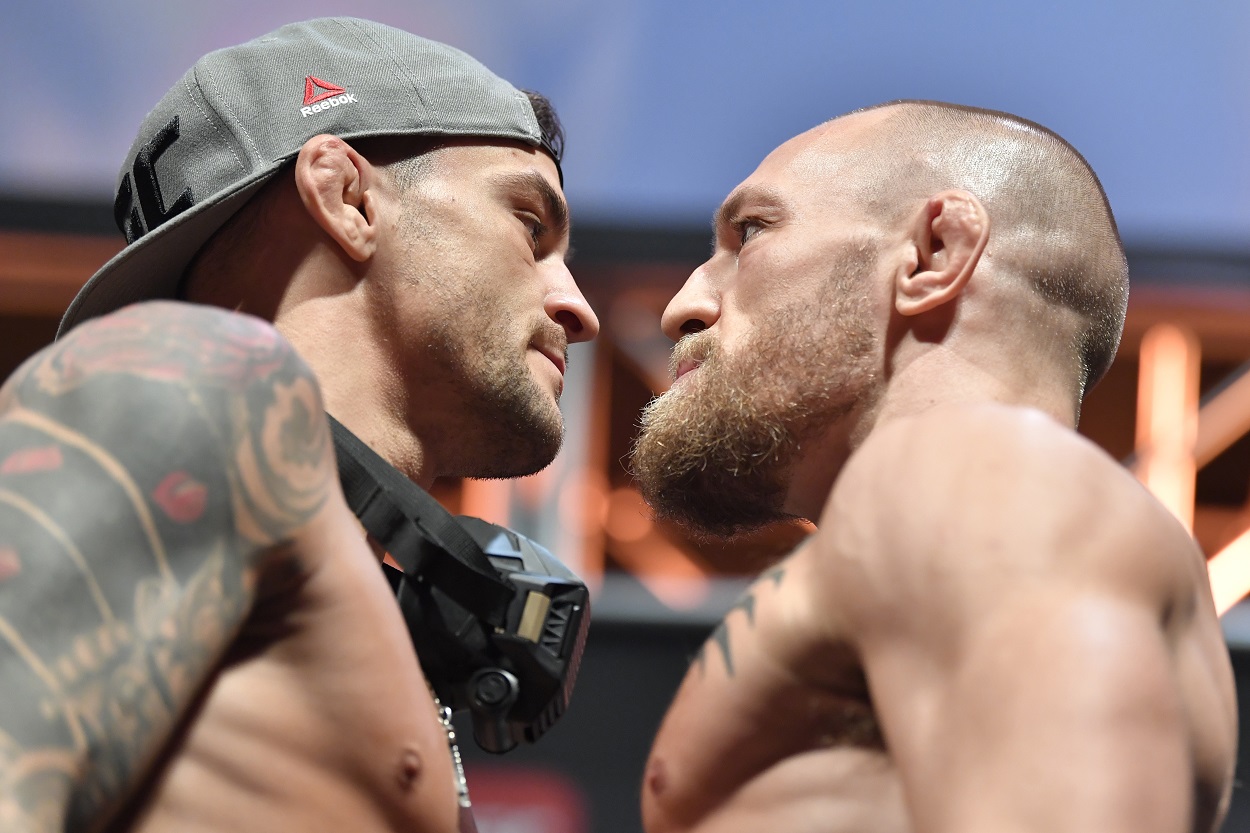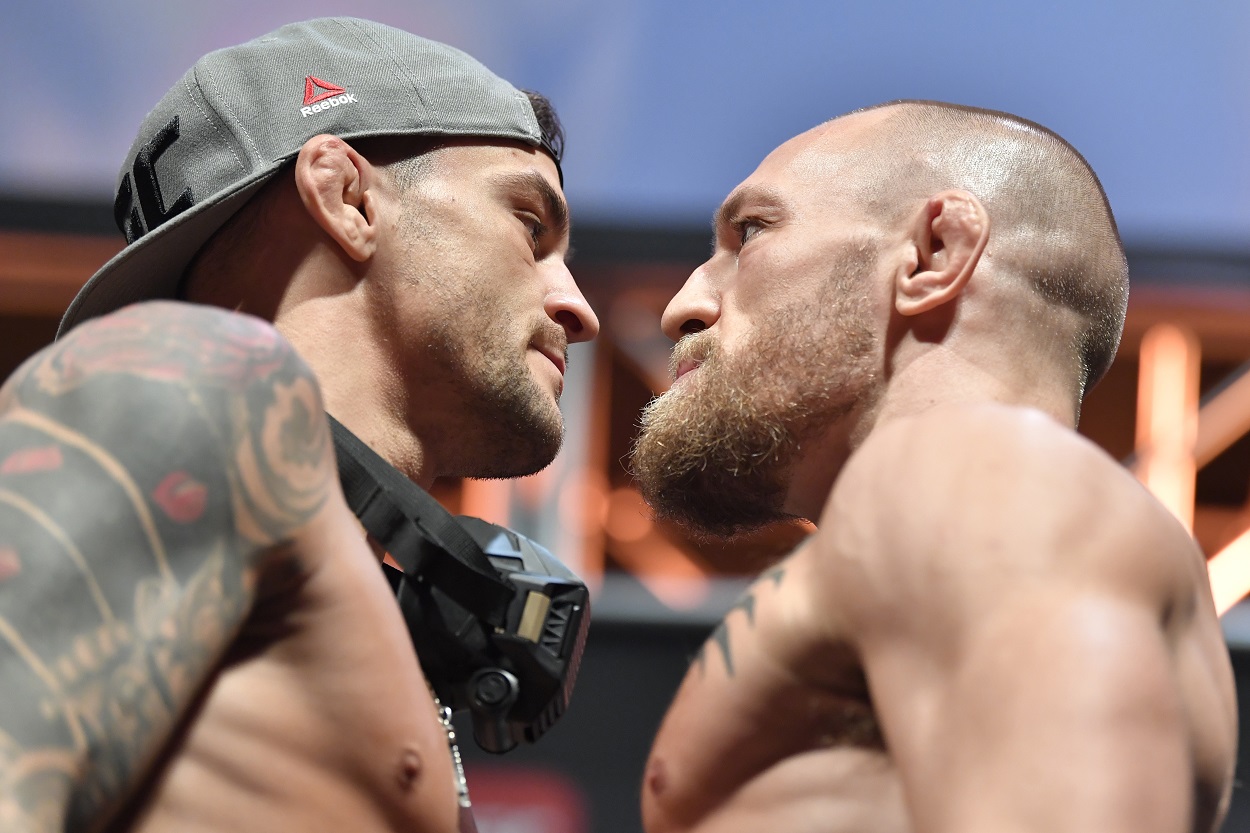 McGregor vs. Poirier 3 is obviously the main event of UFC 264 and is one of five fights on the main card that also features Gilbert Burns taking on Stephen Thompson in welterweight action. Including the prelims and early prelims, there are a total of 13 fights scheduled to take place on Saturday night at T-Mobile Arena in Las Vegas. The early prelims are set to start at 6:15 p.m. Eastern with the prelims beginning at 8:00 p.m. The main card begins at 10:00 p.m. Eastern and can be ordered for $69.99 on ESPN+.
Now we just have to wait and see if McGregor goes full Mr. T and sports a mohawk and some gold chains into this trilogy bout, which likely ends with Poirier taking on the Rocky role and emerging victorious in the end. And we just have to hope that Jolie Poirier is sitting ringside refusing to pity the fool (that would be you, Conor) if that happens.