Dak Prescott Makes a Bold Statement About the Dallas Cowboys Offense While Kellen Moore Makes a Bold Statement of His Own About Dak
Dak Prescott expects the Dallas Cowboys offense to be the best in the NFL in 2021 and offensive coordinator Kellen Moore says Dak will be the same quarterback he was before his ankle injury.
Before Dak Prescott went down with a gruesome ankle injury in Week 5 of the 2020 season, he was on pace to shatter several NFL records and had the Dallas Cowboys offense on pace to be the best in the NFL. Naturally, given the nature of his injury, many wonder how Prescott will perform once he takes the field for the 2021 campaign, especially when he'll have to move within the pocket, throw the ball moving out of it, or take off scrambling.
But watching Dak over the first few days of training camp, Cowboys offensive coordinator Kellen Moore seems to believe those things won't be an issue and Prescott himself says he's once again ready to make the Dallas offense the best in the NFL.
Dak Prescott was on pace to shatter a number of records in 2020 and the Dallas Cowboys offense was on pace to be the best in the NFL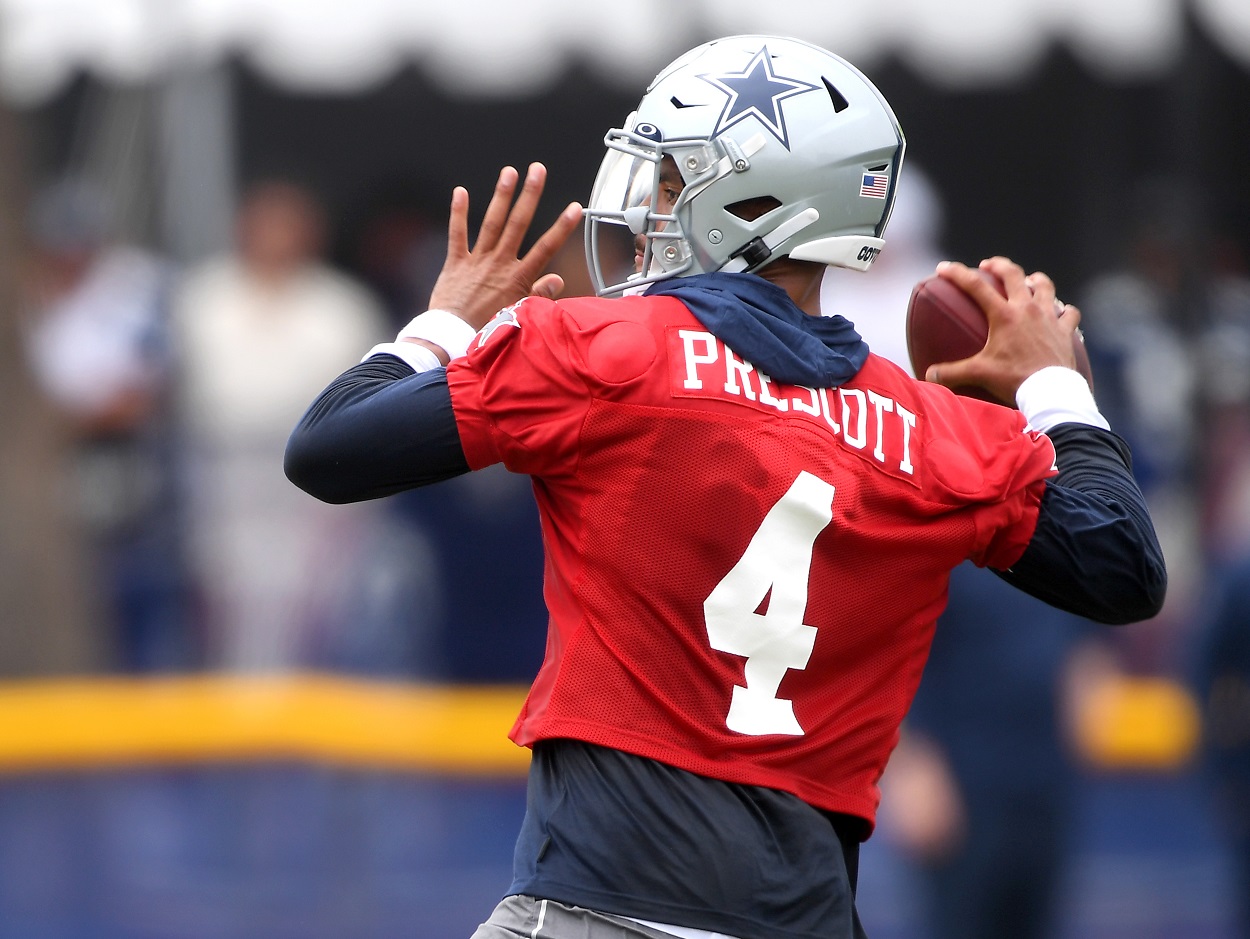 Before Prescott suffered a compound fracture and dislocation of his right ankle against the New York Giants in Week 5 last season, the two-time Pro Bowler was on pace to set several NFL records. Through his first four games, Dak completed 137 of 201 passes for 1,690 yards (the highest total in NFL history through four games) and nine touchdowns.
Had he maintained that pace for 16 games, Prescott would have completed 548 passes, which would have broken Drew Brees' record of 471, and thrown for 6,760 yards, which would have easily surpassed the 5,477 yards thrown by Peyton Manning for the Denver Broncos in 2013.
As for the Cowboys offense as a whole during those four games, Dallas was averaging 31.5 points, 407.8 passing yards, and 509.5 total yards per game. To put those figures in perspective, the Green Bay Packers led the NFL in scoring in 2020, averaging 31.8 points per game, while the Kansas City Chiefs led the league with 303.4 passing yards and 415.8 total yards per game.
Overall, that would have made the Cowboys the top offensive team in the league and Prescott believes that will be the case for the upcoming season.
Prescott expects the Cowboys offense to be the best in the NFL in 2021
Armed with his new four-year/$160 million contract, Prescott began his sixth training camp with the Cowboys last week and participated in 11-on-11 drills for the first time since his injury.
Dak said afterward he didn't think about his ankle at all and that he didn't experience much soreness overall, which is a great sign seeing as how he took part in every single team and individual drill. Of course, he hasn't taken a hit yet, but that's actually something he's looking forward to, saying he wants to see "a live defense coming at me."
And Mike McCarthy does plan to play Dak in the preseason, which begins for the Cowboys on August 5 when they square off with the Pittsburgh Steelers in the Hall of Fame Game. Prescott says it'll be beneficial to take a hit as just one more way to put the injury behind him. And as for how he sees things playing out in 2021, Dak has some high expectations for himself and the Cowboys' offense as a whole (h/t The Athletic).
"Be the best offense in the NFL. Stats, scoring, whatever you want to say, we want to be the best offense and we want to make sure we're playing complementary football, first and foremost, with our defense and with our special teams.

"It's just not about getting out there and throwing it 100 times. But it's about playing complementary football, the run game, the pass game, the action game, and allowing the defense to get rest. Giving the defense a chance to get out there and to be their best when they're out there as well.

"But first and foremost, just be the best offense in the NFL."

Dak Prescott
That's certainly a lofty goal, but Dallas offensive coordinator Kellen Moore believes Dak is ready to roll.
Kellen Moore says Dak will be the same player he was before the injury
Moore is certainly no stranger to dealing with injuries as he suffered a fractured right fibula during the Cowboys training camp in 2016, which paved the way for Dak to become the starting quarterback in Dallas when Tony Romo went down with a back injury.
Moore agrees that it's crucial for Prescott to take a few hits to get back into the swing of things as he says it was a "great feeling" the first time he took one following his injury as it made him feel more normal. As for how he believes Prescott will bounce back from his injury, Moore says he hasn't seen any sign of Dak having issues with his ankle and that he'll be the same mobile quarterback he was before (h/t USA Today).
"That is part of what has made Dak a really good football player. Obviously there's an element of being smart, and understanding situational football, but it would be foolish of us to take that away from him. He can still make plays with his legs. He's got a runner's mentality at times. You know, running someone over and trying to stiff-arm people, that's still a part of him. We just have to find where those situations are right and play really good football."

Dallas Cowboys offensive coordinator Kellen Moore on Dak Prescott
Prescott and the Cowboys kick off the 2021 NFL season on Thursday, September 9 against the defending Super Bowl champion Tampa Bay Buccaneers.
Stats courtesy of Pro Football Reference