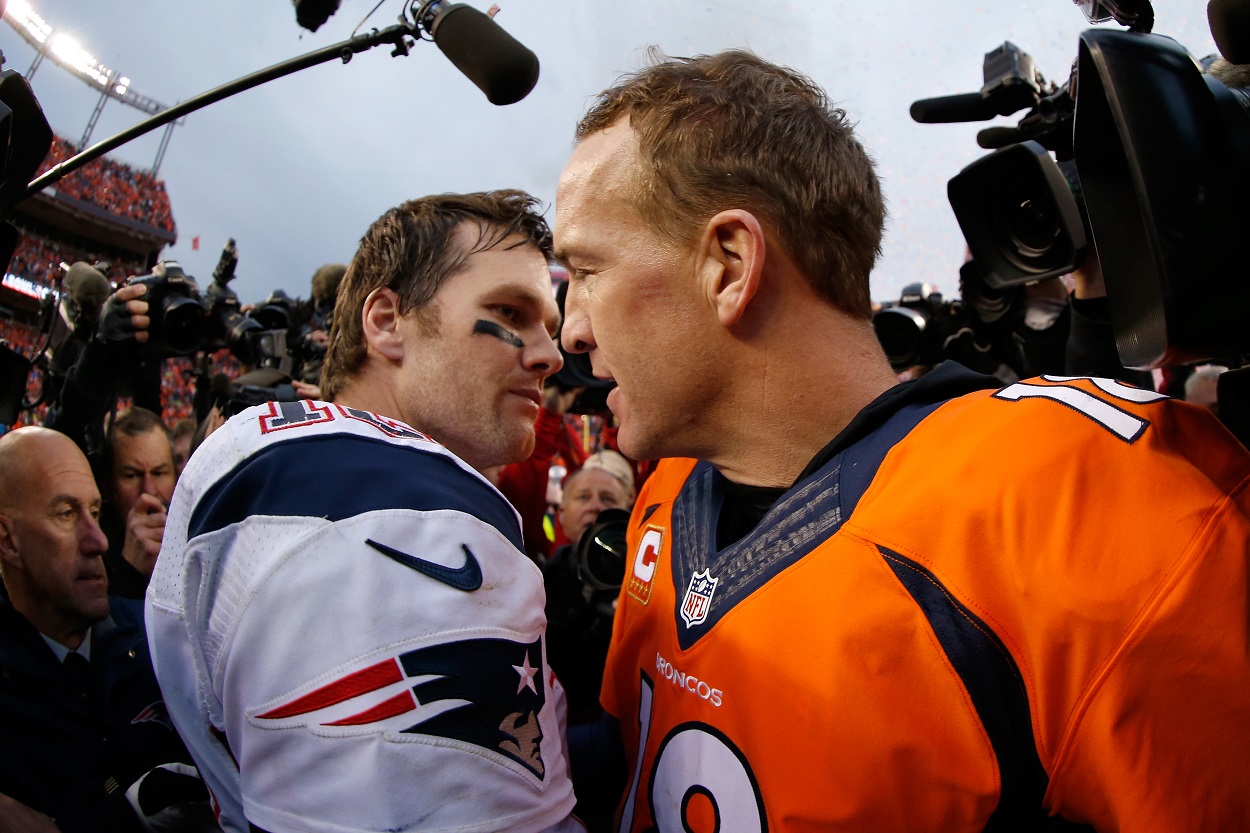 Tom Brady Crazily Predicted Peyton Manning's Future (and His Own) in a Private E-Mail Leaked During the Deflategate Scandal
In a private e-mail sent during the Deflategate scandal, Tom Brady eerily predicted the future of archrival Peyton Manning, as well as his own.
It's certainly a big weekend for longtime rivals Tom Brady and Peyton Manning, who have become very good friends. Brady is making his NFL-record 10th Super Bowl appearance, his first with the Tampa Bay Buccaneers, while Manning was announced as one of the newest members of the Pro Football Hall of Fame on Saturday night in his first year on the ballot, an announcement everyone knew was coming but was still special nonetheless.
While Manning is only about a year and a half older than Brady, he's been out of the NFL for five seasons now after choosing to ride off into the sunset after winning Super Bowl 50 with the Denver Broncos while TB12 has continued to play at an elite level into his 40s and has a chance on Sunday to win his third Super Bowl since Manning hung up his cleats.
Now, what's even crazier than the fact that Brady has outlasted Manning by this long at this level is the fact that Tom Brady actually predicted it would happen in a then-private e-mail sent to a friend back in 2014.
Tom Brady and Peyton Manning are easily two of the best quarterbacks in NFL history
It should go without saying but Tom Brady and Peyton Manning are easily two of the best quarterbacks in NFL history.
In 21 seasons with the New England Patriots and Tampa Bay Buccaneers, Brady has thrown for 79,204 regular-season yards, good for second on the all-time list behind only Drew Brees, who he'll easily pass next season assuming he stays healthy. Manning is third on that list with 71,940 yards in 17 seasons with the Indianapolis Colts and Denver Broncos. As for regular-season touchdown passes, Brady is the all-time leader with 581 while Manning is third with 539.
As for the postseason, Brady holds just about every passing record there is given the fact he's played more postseason games than anyone in history. Heading into Super Bowl 55, he's thrown for 12,248 yards and 80 touchdowns. As for Manning, he's second on the yardage list with 7,339 and fifth on the postseason touchdown passes list with 40.
TB12 won 11 of the 17 games the two played against one another
From 2001 through the end of the 2015 season, Tom Brady and Peyton Manning squared off 17 times, although there were a few instances in which their teams played one another but one of them couldn't suit up due to injury.
But in those 17 games in which both were on the field, Brady won 11 of them, going 8-4 while Manning was with the Colts and 3-2 after his rival joined the Broncos.
Manning, however, held the edge in the postseason, going 3-2 in five playoff games against Brady, all of those victories coming in the AFC Championship Game.
Tom Brady eerily predicted Peyton Manning's future (and his own) in a private e-mail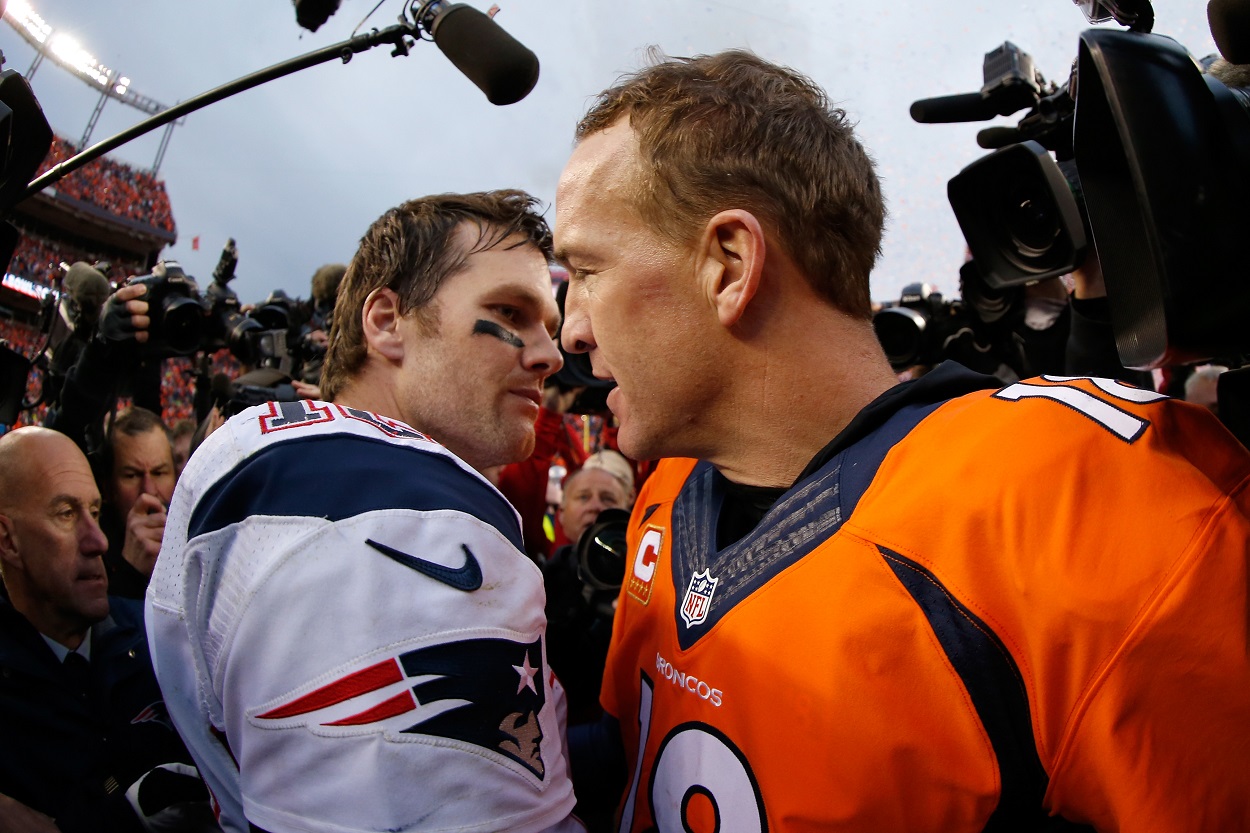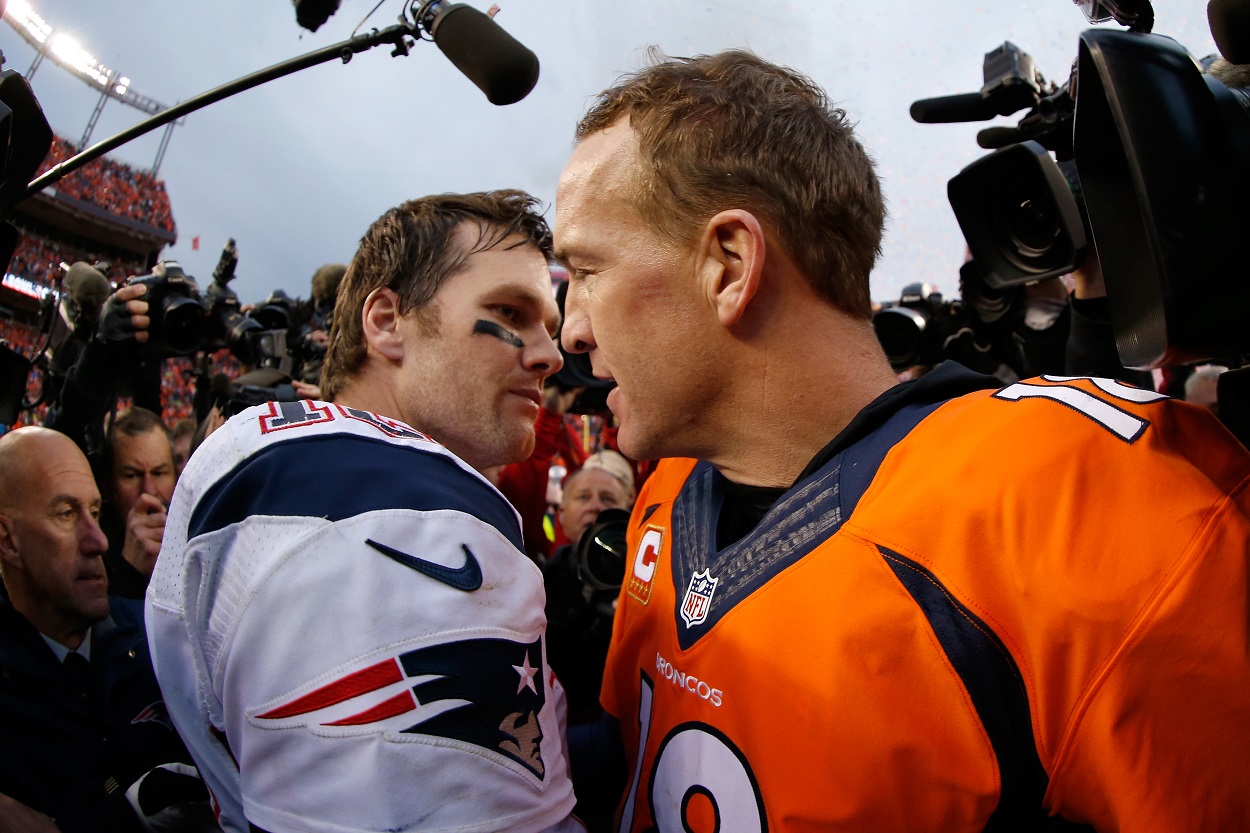 So now that we've got the history of Tom Brady and Peyton Manning out of the way, let's have a look at this e-mail.
So here's how things went down. During the 2014 season, a season in which Brady didn't get off to a great start, which led to him getting benched by Bill Belichick at one point, TB12 was sent an e-mail by a childhood friend containing a link to an article that compared the careers of Brady and Manning and somewhat insinuated that both were on the decline and on their way out of the NFL.
And this was Brady's response (h/t Boston.com).
"I've got another 7 or 8 years. He has 2. That's the final chapter. Game on."

Tom Brady
The e-mail was leaked during the Deflategate investigation and between that message and a few others sent out about manning, Brady did end up having to apologize to his good friend for some things. But just look at how accurate that prediction turned out to be.
Manning finished up the 2014 season and then played one more — so there's your two years — and Brady is still going strong all these years later. TB12 would have been 37 when he wrote that e-mail so the seven or eight years he predicted he'd play would take him to either 44 or 45, which is how long he says he's been wanting to play for a while now. And given the fact he's playing in the Super Bowl at age 43, it seems like that part of the prediction will come true as well.
Stats courtesy of Pro Football Reference