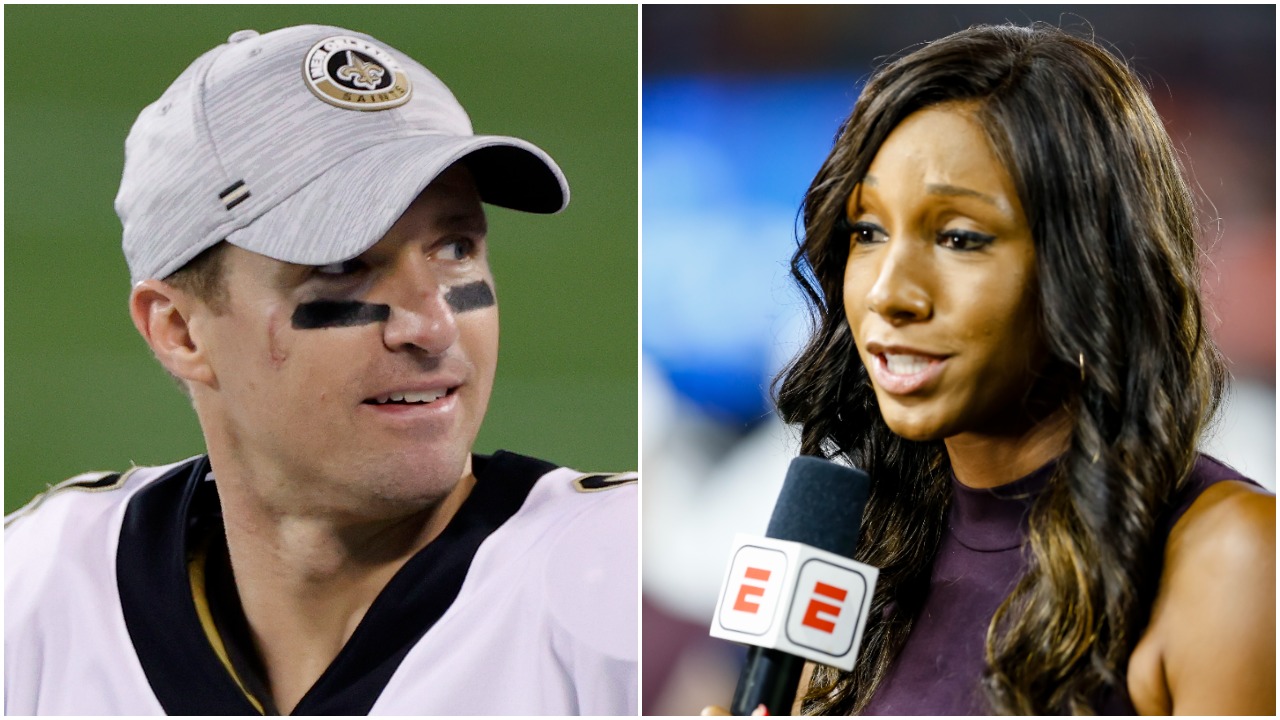 If Maria Taylor Turns Down ESPN's Latest Multimillion-Dollar Offer and Jumps Ship to NBC, It Could Create Another Volatile Situation With Drew Brees
If Maria Taylor doesn't re-sign with NBC and goes to NBC, who is reportedly interested in her, she would have to work with Drew Brees, who she was very critical of last summer.
It certainly hasn't been the best week for ESPN given the ongoing saga involving Rachel Nichols and Maria Taylor. Nichols, of course, was removed from the network's 2021 NBA Finals coverage after comments she made last summer recently surfaced in which she suggested that Taylor was taking over some of her 2020 NBA Finals responsibilities only because ESPN was attempting to diversify its broadcasts, not because of Taylor's merits. But we're not going to get into all of those details yet again.
No, what we're doing here today is looking at the fact that Taylor's contract with ESPN expires in less than two weeks, July 20 to be exact, which actually means she might not be around if the series between the Phoenix Suns goes seven games. The "Worldwide Leader" has reportedly offered her numerous contracts to stay, the latest of which would pay her three times what she makes now, but Taylor has yet to sign a new deal.
And there's a strong chance that she might not at all as a couple of networks are said to be interested in her services. One of those networks is NBC, which could create a scenario in which Taylor and Drew Brees could work together, which would be rather interesting given what went down with those two last year.
Maria Taylor reportedly has a $3 million offer on the table from ESPN and interest from NBC and Amazon as well
lt was recently reported that Taylor turned down a $5 million contract offer from ESPN last year as she was apparently looking for an annual salary that rivals that of Stephen A. Smith, who brings in about $8 million from the "Worldwide Leader." It's now being said that ESPN is offering Taylor a $3 million annual salary, down from last year's offer as the network has been making cuts but still triple the amount she makes now.
Of course, given everything that's transpired involving Nichols, Taylor may not feel comfortable working for ESPN beyond July 20 and it's being reported that both NBC and Amazon might be interested in bringing her in. As Amazon Prime Video is set to be the exclusive home of Thursday Night Football beginning in 2022, Taylor could be used as either a sideline reporter or a host.
It seems there would be more options at NBC, where she could cover both college football and the NFL. With Mike Tirico expected to replace Al Michaels as the play-by-play announcer for Sunday Night Football on a full-time basis following the 2021 season, Taylor could possibly replace Tirico as the host of the pregame show, Football Night in America. Jumping to NBC would also give her a chance to work the Super Bowl in February.
Drew Brees chose NBC Sports over ESPN
Shortly after announcing his retirement from the NFL, Brees announced that he would be joining NBC Sports to serve as an in-studio analyst for Football Night in America. He'll also be joining Tirico and Kathryn Tappen for the network's coverage of Notre Dame football, while also assisting with other events, including the upcoming Olympics and Super Bowl 56 in February. There's also a chance he could end up alongside Tirico and Cris Collinsworth in the booth once NBC fully transitions away from Michaels, who's expected to retire following the upcoming season.
ESPN made a play for Brees to join Monday Night Football, reportedly offering somewhere in the neighborhood of $6 million per year. But the NFL's all-time passing yards leader (for now) obviously turned them down and could soon find himself working alongside Taylor, who was very critical of him last year.
Taylor called out Brees last year for his comments on the national anthem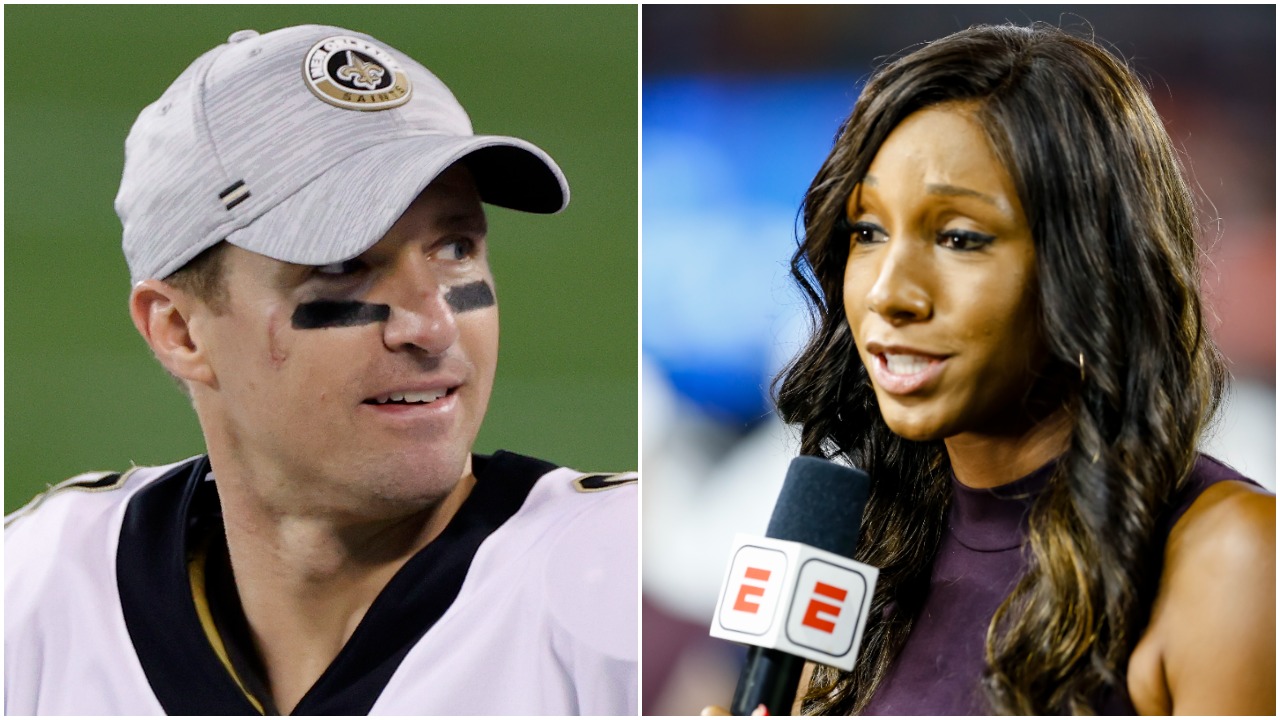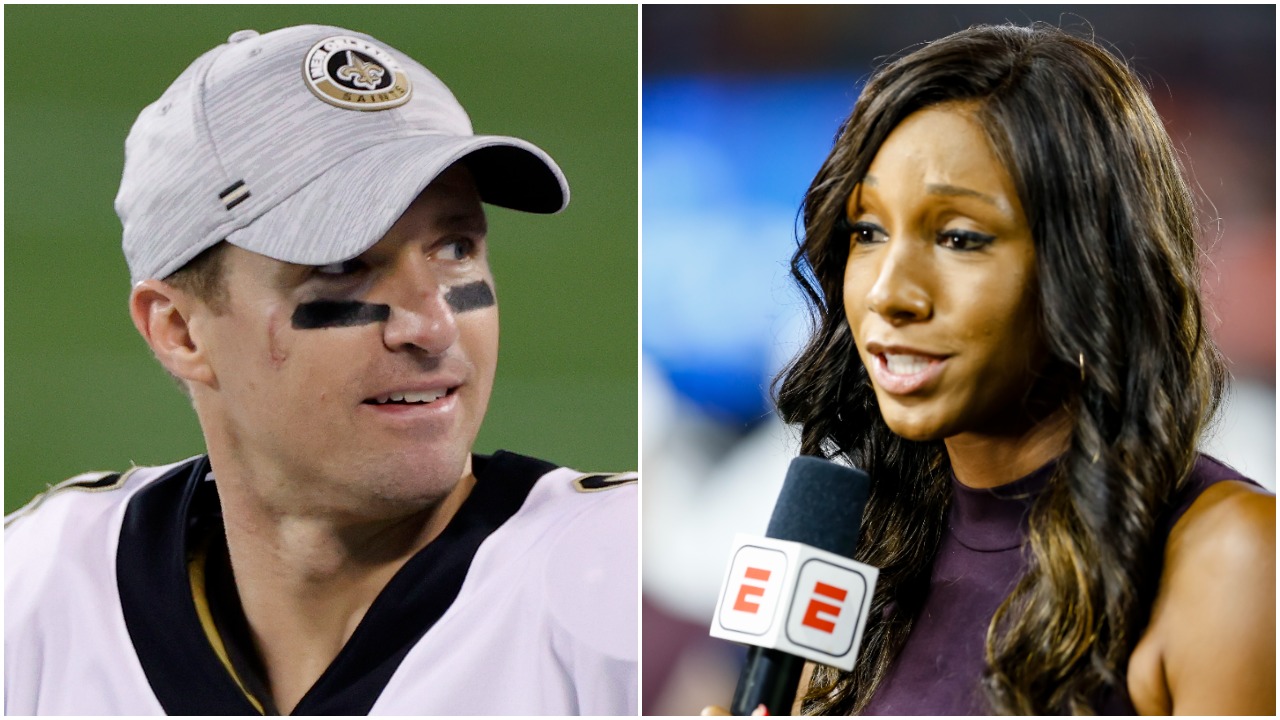 If Taylor and Brees do wind up working together at NBC, it would certainly be interesting to see how the two interact given what played out between them last year.
For those who may have forgotten (or not been aware of), Brees made headlines last June when he spoke out against those who kneel during the playing of the national anthem, saying he would "never agree with anybody disrespecting the flag of the United States of America or our country," comments that received quite a bit of backlash as that's obviously been a very divisive topic for years. Brees apologized (twice) and while some were quick to accept them, including his Saints teammate Michael Thomas, some weren't buying it, including Taylor.
On an episode of ESPN's First Take with Stephen A. Smith and Max Kellerman, Taylor shared some passionate thoughts about Brees' comments and subsequent apologies, all of which occurred only about a week after George Floyd was killed, saying that he wouldn't have said what he said if he had any empathy for the Black community to begin with.
"If you had been educated and forced to confront the issues…and had empathy in your heart, then you would have known the Black experience is not easy, especially when 70 percent of your league is African-American and these are the conversations that you should have had.

"My patience left my body when I saw George Floyd take his last breath. So if that didn't affect you and make you want to reassess how you're going to address a question that includes racial injustice in our country after you watched that man die in the middle of the street, then something is off."

Maria Taylor on Drew Brees
Taylor went on to say that Brees' comments ignored the killing of unarmed Black people in the streets and that he essentially revealed his true self in saying what he said.
So now imagine a scenario where Taylor is the host of Football Night in America and Brees is sitting right next to her as a studio analyst. Would that make either of them uncomfortable? Would Taylor request not to interact with Brees as she's reportedly done at ESPN with Nichols? That second scenario seems impossible, doesn't it? After all, NBC brought in Brees specifically to have his number one responsibility be Sunday Night Football.
One would hope that if Taylor does leave ESPN for NBC that she and Brees would just sit down together and hash things out, which is probably what should have happened with Taylor and Nichols last summer when that whole ordeal first began.
Of course, there's the possibility that none of this comes up as Taylor could just re-sign with ESPN. But if she does decide to jump ship, NBC needs to get out in front of the situation right from the get-go.