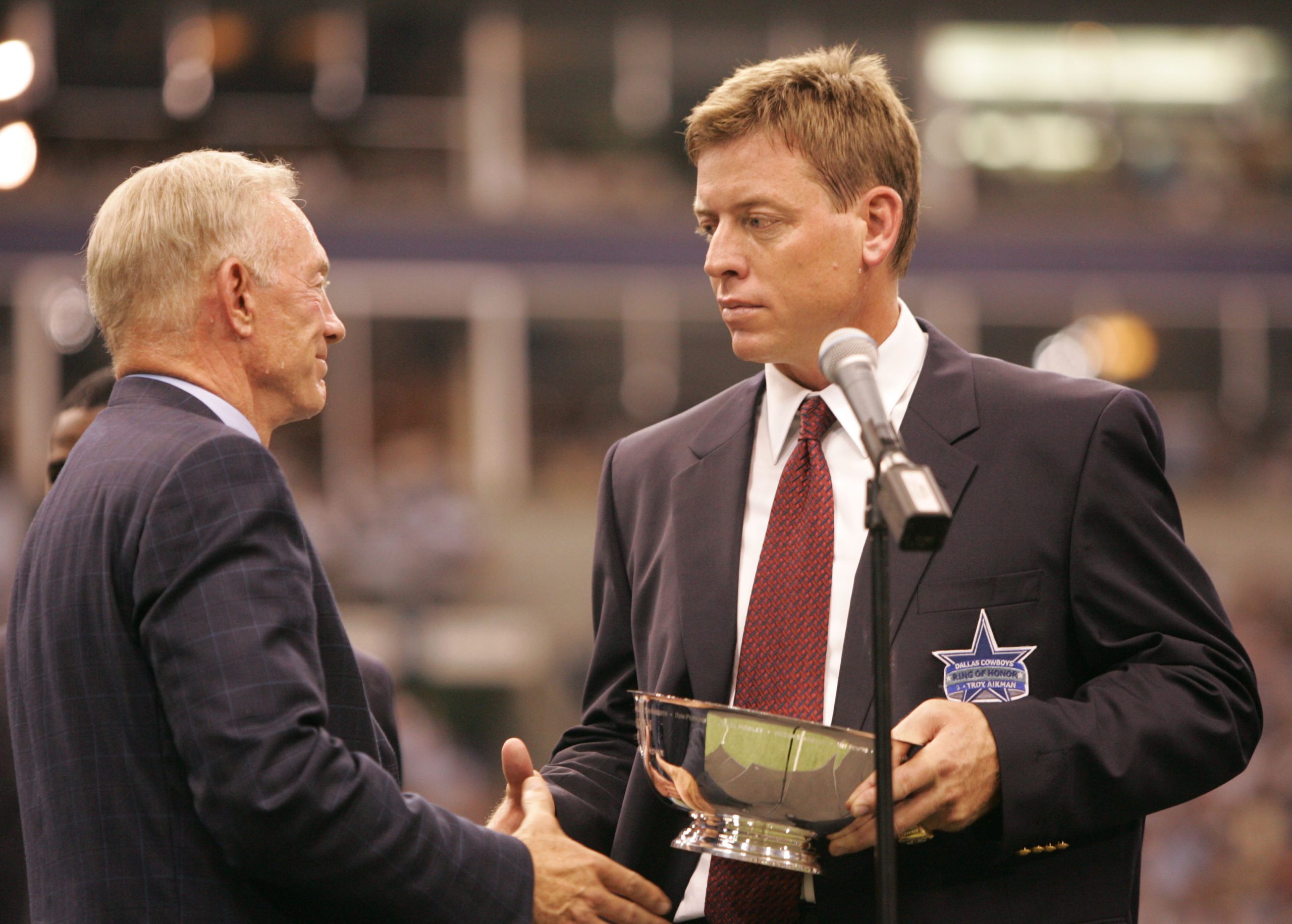 Jerry Jones Says He's Considered Hiring Troy Aikman to a Front Office Role With the Dallas Cowboys
Jerry Jones said he's considered three-time Super Bowl champion Troy Aikman for a role in the Dallas Cowboys front office.
For more than three decades now, Jerry Jones has had complete control over everything involving the Dallas Cowboys. Just a few months after buying the franchise in 1989, he fired Tex Schramm, the only general manager the team had ever known, and replaced him with…himself. And early on, it seemed like a brilliant move. He used the No. 1 overall pick in the 1989 NFL draft on UCLA quarterback Troy Aikman and then put together a team that won three Super Bowl titles in four seasons in the early-to-mid 1990s.
But since that third Super Bowl victory following the 1995 season, the Cowboys have won just four postseason games and haven't even gotten as far as the NFC Championship Game. And Jones has taken a lot of the blame for that. Many believe he essentially handcuffs his head coaches and doesn't allow them to be truly involved in the decision process that goes along with constructing a football team.
Many of his personnel choices have been questioned over the last quarter-century, and it seems the only people he'll even halfway listen to are those who share his last name as sons Stephen and Jerry Jr. and daughter Charlotte are the only other executives in Dallas. Some have called for Jerry Jones the owner to fire Jerry Jones the general manager for years, but that obviously hasn't happened.
However, Jones, now 78, is going to have step down at some point. At least one would think, right? And when that happens, it seems likely he'd appoint one of his kids to the GM role. However, if there were one outsider he'd consider bringing into the mix, it's apparently Aikman, who has said in the past that he'd enjoy the challenge of being a GM for an NFL team.
Jerry Jones says he's considered hiring Troy Aikman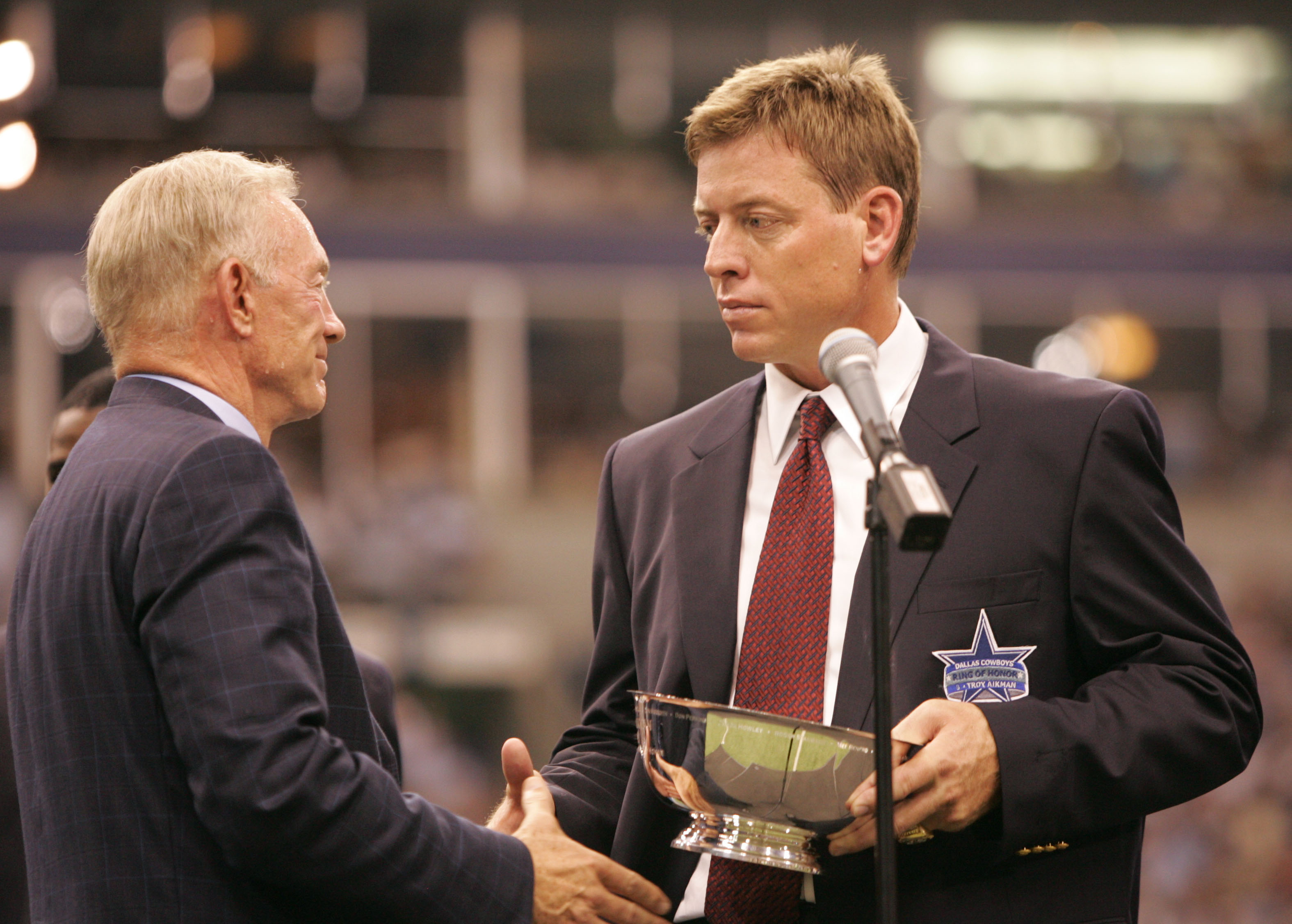 Just ahead of the start of Cowboys training camp in Oxnard, California, Jones, as he's said for some time now, stated he "would do anything known to man to get back to a Super Bowl." Naturally, he was asked whether that included stepping down as general manager. Jones seemingly brushed off the notion, saying the best way to get things done is the quickest way and that the "quickest way is to have the guy with the checkbook be involved at the ground level."
However, when specifically asked about bringing in Aikman, Jones did seem open to the idea, even saying he's already considered making the move (h/t Sports Illustrated).
"I would consider it and I do consider it. I would not be averse to that. … I'd put Troy at the head of the list if we were gonna make a decision as far as football personnel."

Jerry Jones on Troy Aikman
Well, that's something, right? OK, so Jones didn't specifically say he'd be willing to bring in Aikman as the GM. But perhaps an assistant GM? Or maybe something like the Vice President of Player Personnel? One would think Stephen Jones has the inside track to be the next GM, which would likely keep Aikman from accepting a position if one were offered to him as GM seems to be the only position he'd want given past comments he's made.
Aikman has said in the past that he'd enjoy the challenge of being an NFL GM
Aikman has been a color commentator with Fox Sports since retiring from the Cowboys following the 2000 season but has entertained the thought of leaving the booth for the front office. Even as recently as 2019, the three-time Super Bowl champion spoke on the possibility of one day becoming an NFL general manager (h/t NFL.com).
"It's something that I guess I've always somewhat entertained. I've had a chance to talk with [then-Broncos general manager] John Elway in previous years. I've visited with [49ers general manager] John Lynch, and the decision that he made to take on that job in San Francisco, and I've said many, many times, I still believe there's another frontier for me — maybe there's not — but I believe that there is, and I think that might very well be it."

Troy Aikman
Aikman went on to say that while he understands how time-consuming a general manager role would be, the "challenge would make it worthwhile." He also stated how his chances of getting such a role decrease with every passing season as most teams would likely want someone younger.
Despite what Jones says, the Cowboys will likely never be an option
Despite Jones saying he's considered hiring Aikman, the likelihood of Aikman ever being the GM of the Dallas Cowboys is slim to none. And Aikman himself knows this. In a 2020 interview with SI, the six-time Pro Bowler said, "it's always been a long shot in Dallas for the simple reason that it's a family affair."
And Aikman is right on point with that statement. Again, while Aikman could take a smaller role with the Cowboys, he'd ultimately want to be GM at some point, and that's just not going to happen. Stephen has been with the team just as long as his father has and seems to be taking on more responsibility each and every year. Jerry might still have the final word on things, but Stephen has more of a voice now than he ever has.
So if Aikman does ever decide to take the leap and leave the booth for a front office, it probably won't be the Cowboys front office, no matter how glorious or fitting it could have been.