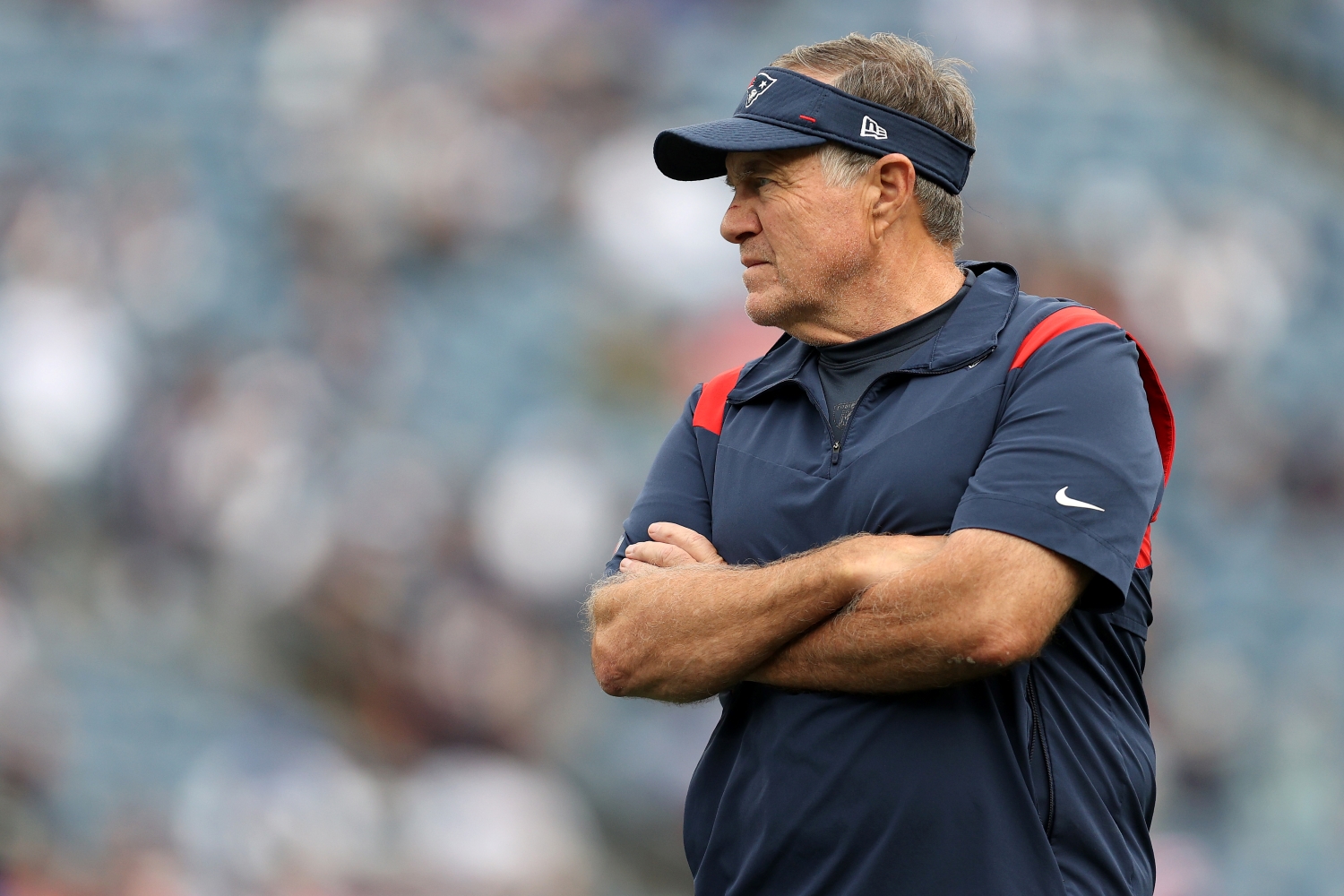 Bill Belichick May Finally Be Forced to Sever Ties With Someone Who Never Belonged in Foxborough in the First Place
Will the Patriots finally pull the plug on another failed draft experiment? With the NFL trade deadline looming, Bill Belichick may have no other choice.
It didn't have to be this way.
If Bill Belichick had simply listened to the people around him, perhaps the New England Patriots would have a top-flight offense. Heck, even a league-average one would be just fine at this point.
But instead of trusting his scouts to steer him in the right direction, the greatest coach of all time (a label that looks more questionable with each passing loss) went rogue. And by placing his faith in N'Keal Harry, Belichick the general manager set Belichick the coach up for failure.
After all, there's no doubt the former Arizona State star has been an abject disaster with the Patriots. From struggling to stay healthy to struggling to master the playbook to struggling to get open, Harry's tenure has featured far more frustrating moments than rewarding ones. With a mere 47 catches for 433 yards and four touchdowns to his name, the 2019 first-round pick appears well on his way to earning the dreaded "draft bust" label bestowed upon players who cause more disappointment than excitement.
While the Patriots didn't honor Harry's trade request this offseason, that doesn't mean the ineffective wideout will continue to play his home games at Gillette Stadium much longer. In fact, Belichick may be forced to sever ties with someone who never belonged in Foxborough in the first place.
With the Nov. 2 NFL trade deadline rapidly approaching, teams must decide whether to go the buyer or seller route. For ones with legitimate Super Bowl aspirations, adding a talented player or two via trade could pay off down the line. On the other hand, teams that don't have a real shot at winning the Lombardi Trophy can attempt to recoup value for players who don't have long-term futures with their respective franchises.
Although Belichick went on an unprecedented spending spree in free agency, the Patriots have obvious deficiencies that make them an unlikely championship contender. From a middling pass rush to a secondary that can't seem to cover on a consistent basis to an offensive line that's had a tough time keeping Mac Jones out of harm's way, they seem to have a few key flaws standing in their way of success.
Plus, the lack of production from the receiver position stands out. Drop-prone veteran Nelson Agholor hasn't come close to justifying his two-year, $22 million deal. Kendrick Bourne hasn't made an impact on a consistent basis. And while Jakobi Meyers deserves credit for racking up 36 catches with a rookie quarterback under center, he's also committed costly drops and missed blocking assignments.
Then again, his bad moments don't measure up to the disappointment brought upon by Harry.
After missing more time due to injury (a consistent theme throughout his brief NFL career), the 23-year-old made his season debut in Week 4 against the Tampa Bay Buccaneers.
He caught one pass for 10 yards.
Facing a Houston Texans defense that currently ranks 25th in points allowed, Harry recorded one catch for nine yards on two targets.
As for his outing against the Dallas Cowboys?
Harry didn't get a single ball thrown in his direction. Meanwhile, Jones chewed him out for lining up in the wrong spot — an embarrassing look for a player who's been in the system since 2019.
What exactly does Harry bring to the table at this point? Why should the Patriots continue to employ someone who seemingly offers nothing except size and an NFL-caliber frame? How does keeping him around benefit anyone?
Belichick obviously had big plans for Harry, but it's clear the experiment has not panned out. With time ticking down for teams to make trades, he should finally part ways with a player who simply doesn't warrant a roster spot in New England. Recouping a late-round pick or swapping him for a player at a position of need (the Patriots sure could use some cornerback help) would bring finality to a situation that's lingered for too long.
What could a potential deal involving Harry look like?
Bill Barnwell of ESPN offered one idea that has the Patriots sending the third-year wideout, a 2022 fourth-round pick, and a 2023 sixth-rounder to the Jacksonville Jaguars for outside linebacker K'Lavon Chaisson and a 2023 fifth-round selection. Like Harry, Chaisson has yet to live up to expectations as a first-round pick, so a change of scenery for both players would make a lot of sense.
Ian Rapoport recently appeared on WEEI radio to discuss the potential of the Patriots dealing the disappointing receiver by Nov. 2.
"If there is value, it would be not a lot," the NFL Network reporter said. "It would be a pick-swap or a late seventh. I wouldn't rule it out. I mean, there are some teams that need playmakers. I think one of the teams that was rumored with N'Keal Harry was the Lions. They don't have a lot of receivers at all. Could those maybe kick-start again? I mean, maybe."
Obviously, the Patriots won't receive anything remotely in the range of the price they paid to take the 6-foot-4, 225-pound receiver. But cutting ties with Harry seems like the right move for everyone involved. He would get a fresh start with another team, and New England would have an open roster spot to use on someone who can actually make positive contributions on the field.
Belichick would essentially be admitting he made a massive mistake, but it's no secret Harry has been a poor fit in Foxborough. And with the Patriots in the midst of a second straight losing season, perhaps a shakeup like getting rid of a first-round flameout is exactly what's needed.
Then again, it never should have gotten to this point in the first place.
But thanks to Bill Belichick, the Patriots missed out on adding DK Metcalf, A.J. Brown, or Deebo Samuel in the 2019 draft.
All statistics courtesy of Pro Football Reference.