After Badly Botching the Stephon Gilmore Situation, Bill Belichick Just Received Further Proof of Why the Patriots Must Make a Franchise-Altering Investment Before It's Too Late
If Bill Belichick had figured out a way to make things work with Stephon Gilmore, the New England Patriots would feature two top-tier cornerbacks in their starting lineup. However, not only did the legendary coach fail to find a financial middle ground with his most accomplished defensive player, but he chose to ship him out of Foxborough for the absurdly low price of a future sixth-round pick.
There's no doubt Belichick botched the Gilmore situation on multiple levels, dating back to well before the 2020 season began. And if he wants to avoid further criticism over his work as a general manager, he better take notice of what happened against the Carolina Panthers and make a franchise-altering investment before it's too late.
Bill Belichick couldn't have mishandled the Stephon Gilmore situation any worse
After earning two first-team All-Pro selections, a Super Bowl ring, and 2019 NFL Defensive Player of the Year honors across his first three years in New England, Stephon Gilmore understandably wanted a raise. Yet rather than taking the typical route of selling high on a player seeking a better contract, Belichick passed on the chance to trade his No. 1 corner prior to or during the 2020 NFL Draft.
Instead, he gave Gilmore a $5 million salary advance to convince him to come back to work.
Then, with the Patriots in the midst of a rocky season under Cam Newton, Belichick bizarrely held on to one of the team's few valuable assets. Although he could have sent Gilmore to a contender for an early-round pick, he held on to him at the trade deadline — a decision that backfired badly.
New England's best defensive back suffered a partially torn quad in Week 16 that set the stage for months of speculation about his future in Foxborough. Even though Gilmore made it clear in the spring that he would not play for the Patriots under the terms of his current deal, Belichick still didn't give him a raise, and he ultimately waited until October to finally find a resolution.
Two months after trading disappointing first-round running back Sony Michel for 2022 fifth- and sixth-round picks, the Patriots sent Gilmore to the Panthers for a 2023 sixth-round pick.
Needless to say, Belichick opened himself up to criticism by how he handled the situation.
Belichick just received further proof of why New England needs to lock up J.C. Jackson
If the Patriots plan to compete for Super Bowl titles on an annual basis, they better figure out a way to keep J.C. Jackson in Foxborough for years to come. And if Belichick needed further proof of why he can't afford to let the playmaking corner leave New England, the Panthers game provided just that.
Jackson, who signed with the Patriots as an undrafted free agent in 2018, picked off Darnold twice, taking one back for an 88-yard touchdown. With a league-high 22 interceptions since he entered the league, the 6-foot-1, 198-pound defensive back clearly has top-notch ball skills and a knack for being in the right position at the right time. Although he's yet to earn a Pro Bowl or All-Pro selection, Jackson should receive that type of recognition for his high level of production this season.
Of course, his dominant campaign will help him at the negotiating table. As an impeding free agent, the soon-to-be 26-year-old has ample motivation to shut down opposing receivers and make quarterbacks pay for throwing in his direction. And with the way he's performed thus far, Jackson's value seems to be at an all-time high.
And that's exactly why Belichick needs to make a franchise-altering investment before it's too late.
With Gilmore donning a Panthers uniform, the Patriots must get a deal done with Jackson to ensure they have a true No. 1 corner for the foreseeable future. Obviously, though, a long-term contract would involve significant guaranteed money and an annual salary somewhere in the range of $18 million.
While that's certainly a substantial figure, New England has to bite the bullet and do everything possible to retain Jackson's services. Considering how much Belichick has struggled to re-stock the position through the draft (including burning second-rounders on Cyrus Jones, Duke Dawson, and Joejuan Williams), why risk losing an established star who doesn't turn 30 until 2025?
Despite having a true No. 1 corner, the Patriots should still consider using an early-round pick on the position in the 2022 NFL Draft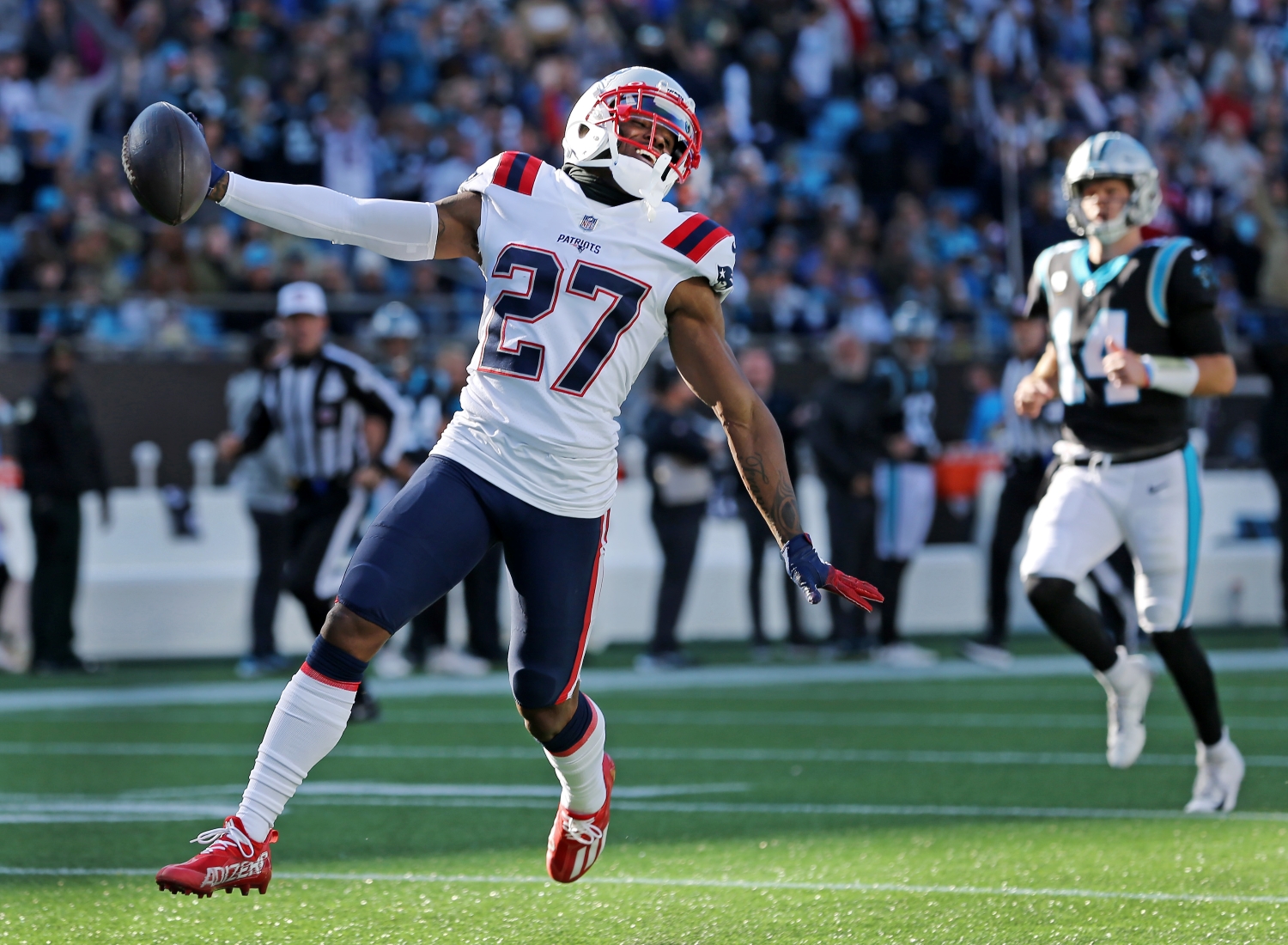 Getting Jackson signed should be priority No. 1 for the Patriots. Sure, they could use the franchise tag to retain his services for one year. But why not reward a player who's clearly put himself in a position to land a life-changing raise?
Plus, Belichick understands the importance of a shutdown corner more than anyone. Over the years, he's relied upon the likes of Ty Law, Asante Samuel, Darrelle Revis, and Gilmore to win championships. Jackson should be the next one to secure a multi-year deal that will make him a long-term fixture in Foxborough.
However, even if the Patriots take care of business with their most indispensable defensive player, that shouldn't preclude them taking a cornerback early in the 2022 draft.
With Williams likely gone, Jalen Mills not exactly living up to his $24 million deal, and veteran Jonathan Jones coming off a torn labrum, New England needs better depth at the position. Belichick didn't select a corner in either of the last two drafts, so it's time for him to add a young, talented player with upside who can develop into a No. 2 opposite J.C. Jackson.
After all, in a pass-happy league designed to make life easier for offenses, you can never have too many guys who can cover.
All statistics courtesy of Pro Football Reference. All contract data courtesy of Spotrac.