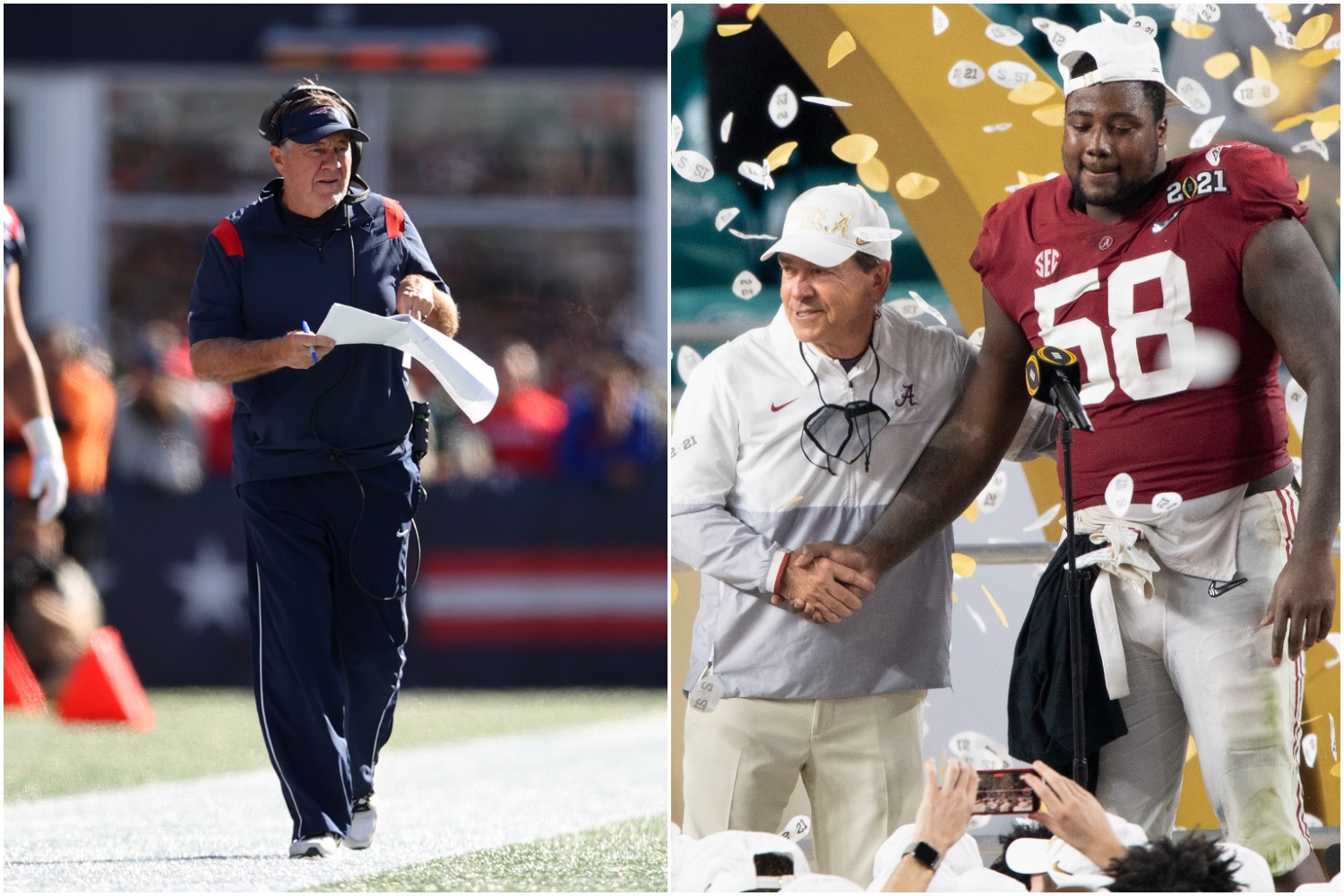 Bill Belichick's Faith in Nick Saban Has Paved the Way for the Patriots to Finally Feature a New Homegrown Defensive Star
Bill Belichick hasn't hit on many of his early-round draft picks in recent years. But by placing his faith in Nick Saban, the Patriots head coach seems to have found a blue-chip defensive tackle in the form of ex-Alabama standout Christian Barmore.
Connections pay off no matter where you work. And considering Bill Belichick has spent nearly 50 years in the NFL, there's no doubt he's developed a deep Rolodex of contacts that includes some of the biggest names in the sport. 
But out of all the coaches he's crossed paths with during his storied career, Belichick certainly shares a special connection with Nick Saban. Once colleagues in Cleveland, the two men have established reputations as all-time greats in their post-Browns days, with Belichick turning the New England Patriots into the most successful dynasty in NFL history and Saban transforming the Alabama Crimson Tide into the top program in college football. 
And by placing his faith in his longtime friend and fellow football savant, Belichick finally has a chance to feature a homegrown star in the middle of his defense. After years of missing on early-round picks on that side of the ball, it looks like the Patriots landed a future Pro Bro Bowler in the 2021 NFL Draft.
New England has struggled to restock its defense through the draft in recent years
Bill Belichick built a dynasty by consistently finding key contributors via the draft. In particular, he excelled at identifying defensive prospects who possessed both the physical skills and mental toughness to hold up in the Patriots' notoriously complex system. 
However, after selecting stalwarts like Richard Seymour, Asante Samuel, and Vince Wilfork during the early days of the Tom Brady era and securing Devin McCourty, Chandler Jones, and Dont'a Hightower (who played for Saban from 2008-11) within a three-year span, Belichick has struggled to restock the pipeline with fresh blood. 
In fact, when you look at the Patriots' last five draft classes prior to 2021, it's scary to see how their top picks have panned out. From burning a 2016 second-rounder on former Crimson Tide cornerback Cyrus Jones to getting next to nothing out of 2017 third-round defensive end Derek Rivers to foolishly trading up to pick No. 56 to take cornerback Duke Dawson in the 2018 draft, Belichick squandered multiple opportunities to bolster the roster with young talent.
Plus, cornerback Joejuan Williams and edge rusher Chase Winovich don't look poised to stick around for the long haul in Foxborough despite arriving as second- and third-round picks, respectively, in 2019. And it remains to be seen whether safety Kyle Dugger and linebacker Josh Uche, both of whom arrived a year ago as second-rounders, develop into high-level starters.
Luckily for Belichick, though, he seems to have found a future defensive star thanks to his continued faith in one of his closest friends. 
The Bill Belichick-Nick Saban connection has paved the way for the Patriots to finally feature a homegrown defensive star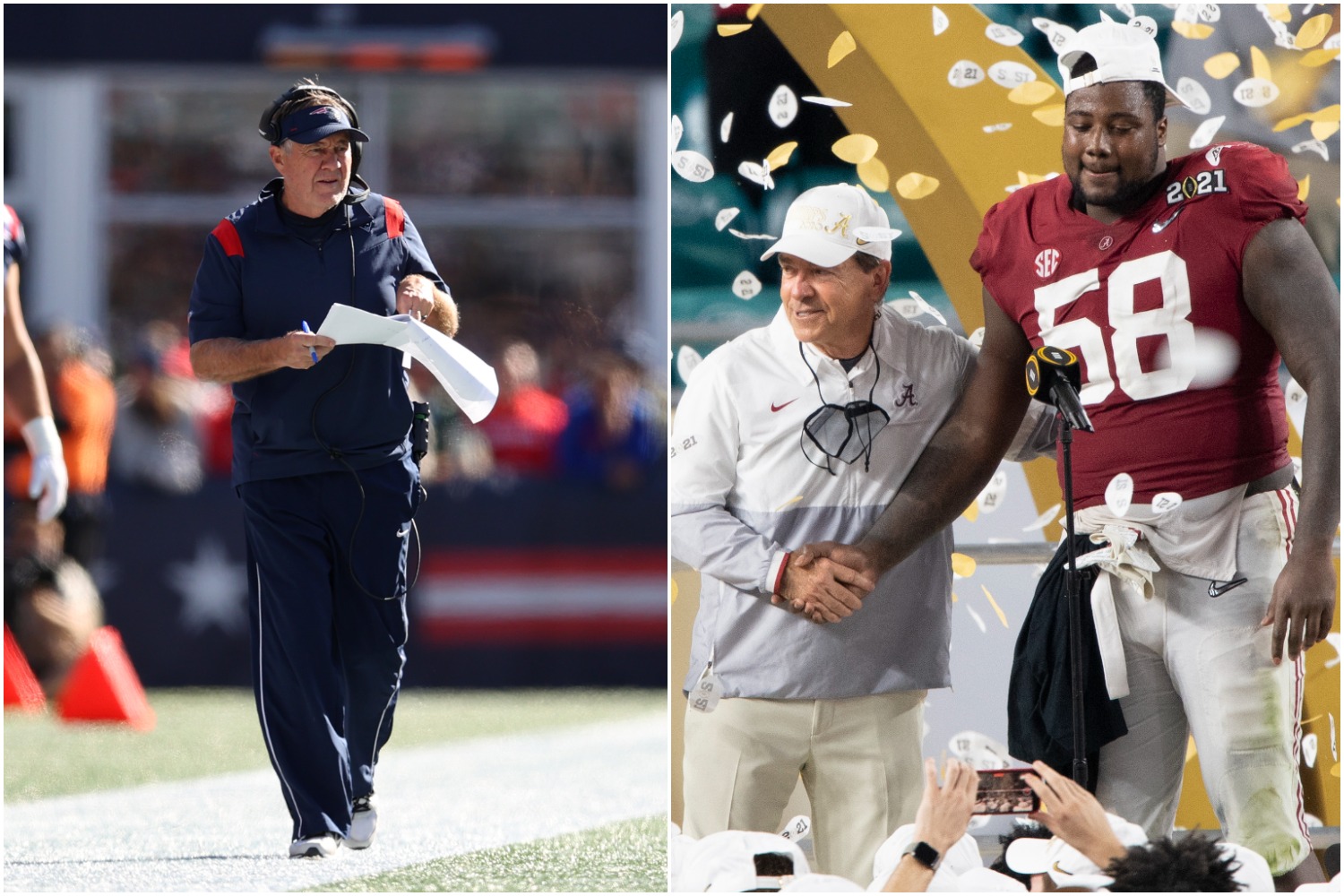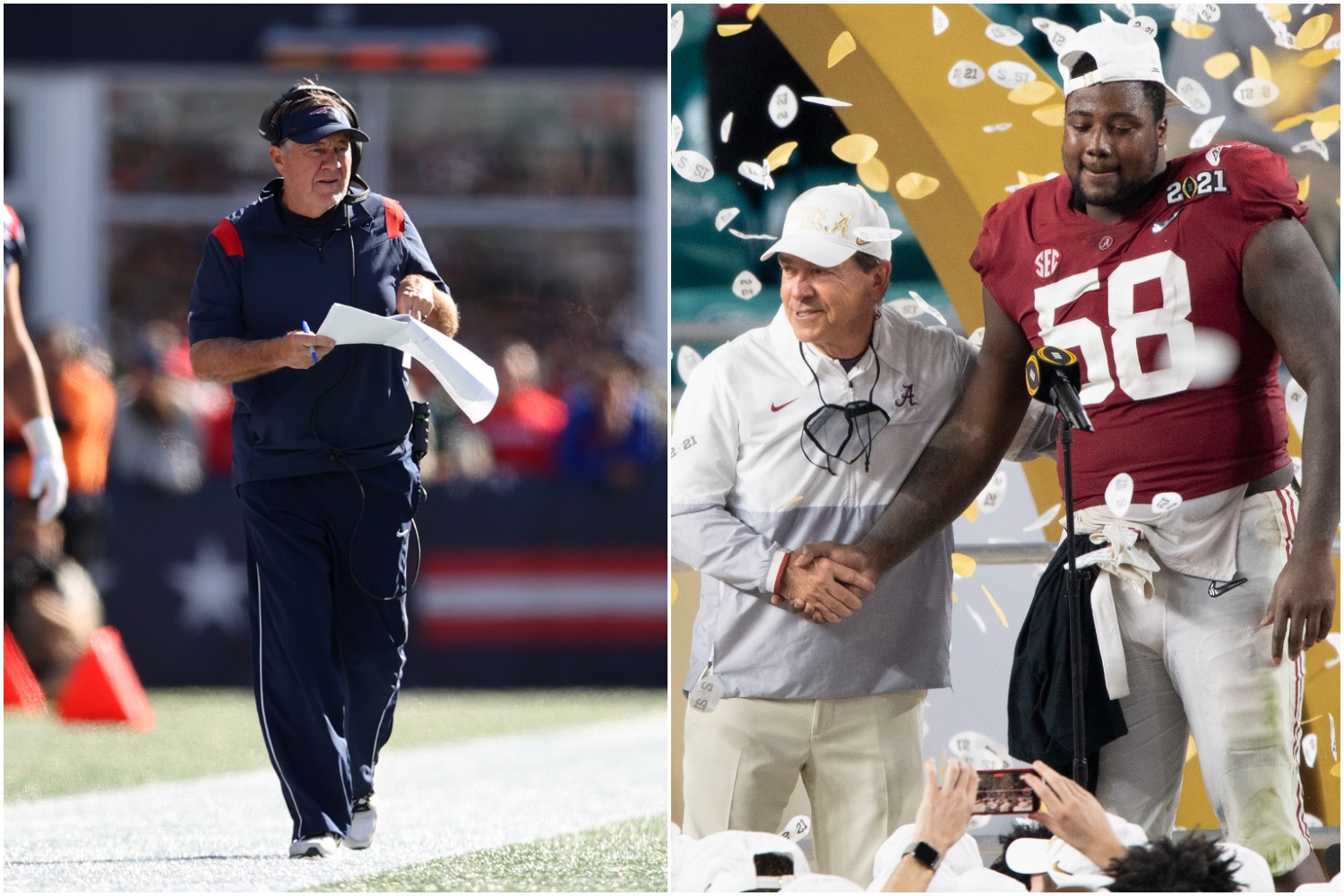 It's no secret the Patriots haven't drafted well in recent years. It's also no secret that Nick Saban has churned out first-rounders on an annual basis for quite some time. 
And even though Christian Barmore waited longer than expected to hear his name called, he clearly landed in an ideal situation by becoming a Patriot. Selected 38th overall in the 2021 draft, the athletic defensive tackle arrived in New England with a reputation as a game-wrecking force who carried some motivation and work ethic concerns. Those doubts caused the 2021 College Football Playoff National Championship Defensive MVP to slide to the second round — a mild surprise given his skill set and standing as the top-rated player at his position. 
However, judging by his uptick in playing time over the last few weeks (he played a season-high 63% of the defensive snaps in a Week 7 win over the New York Jets), it's obvious the uber-talented rookie has done the right things on and off the field to earn the coaching staff's trust. Barmore's emergence has provided the Patriots with a vastly more explosive interior option than traditional run-stuffers like Lawrence Guy and Davon Godchaux. And the fact he's put himself on the radar before the halfway point of his first year in Foxborough reflects exactly why Saban made sure to defend his former player during the pre-draft process.
"We never had any issues here with him at all when it came to structure, whether it was football or academics," Alabama's head coach told Mary Kay Cabot of Cleveland.com. "He always worked hard in the offseason program and he did whatever everybody told him to do. We were were very structured in regards to academics and he worked very hard at that."
Belichick obviously wouldn't have traded up for Barmore if he hadn't received a stamp of approval from Saban. Whatever conversations took place between the two legendary coaches clearly made the Patriots feel comfortable about making an aggressive move to secure a coveted prospect. 
Christian Barmore is just scratching the surface of his immense potential
The Belichick-Saban connection appears to be paying off for a Patriots defense that's desperate for a new generation of leaders to take some of the pressure off aging veterans like Hightower and McCourty. 
Could Barmore eventually become a key cog like his two battle-tested teammates? 
Given his sheer physical tools, he most certainly has a chance to cement his status as a vital piece of a championship puzzle. Combine that with a focused attitude and mentorship from veterans like Guy and Godchaux and you have a recipe for stardom. 
Just don't be surprised if Barmore becomes a household name sooner than later. 
With 17 pressures through seven games, the 6-foot-5, 311-pound lineman already stands out from a pass-rush perspective. As he gains experience going up against top guards and centers, Barmore should continue to refine his craft and develop additional moves and countermoves to add to his arsenal. 
While it would be unfair to anoint him a star at this juncture, it's impossible not to get excited about what lies ahead for a player who put himself on the NFL radar by starring for Nick Saban. So long as Christian Barmore stays healthy and learns how to take full advantage of his natural strength, power, and athleticism, Bill Belichick should be able to celebrate drafting and developing his first Pro Bowl defender since he snagged Jamie Collins — in 2013.
All statistics courtesy of Pro Football Reference.