Cam Newton Just Gave Bill Belichick an Unexpected $1.5 Million Parting Gift Without Spending a Single Penny
Bill Belichick probably cost himself a playoff berth by hitching his wagon to Cam Newton.
After all, the New England Patriots posted their first losing record in two decades largely because of their inability to move the ball and score points. And even though the offense lacked high-end weapons, Newton clearly struggled to master Josh McDaniels' system and provide much stability in the passing game.
Luckily for Belichick, though, he seems to have found a franchise quarterback in the form of Mac Jones. And thanks to the Carolina Panthers, the legendary coach just received an unexpected $1.5 million parting gift from Newton that didn't cost him a single penny.
Desperate times have led to desperate measures in Carolina
After getting off to a hot start in his first season with the Panthers, Sam Darnold transformed back into the turnover-prone, mistake-making machine who left New York Jets fans flummoxed and frustrated for three years. To make matters worse, the 24-year-old suffered a shoulder injury in an ugly Week 9 loss to the Patriots that later got diagnosed as an incomplete scapula fracture.
With Darnold dealing with a multi-week setback and former XFL star P.J. Walker and journeyman backup Matt Barkley as the only healthy quarterbacks on the roster, the Panthers made the bold decision Thursday to bring Cam Newton back on a one-year deal. Coming off a thoroughly underwhelming 2020 season in which he threw eight touchdowns in 15 starts, the 2015 NFL MVP will try to prove he still has something left in the tank.
Needless to say, the fact Carolina resorted to signing a 32-year-old version of Newton certainly raised some eyebrows. But with the team sitting at 4-5 and still in the mix to make the postseason, putting the offense in the hands of an experienced signal-caller over an unproven commodity like Walker makes sense.
Still, whether Newton provides the spark the Panthers desperately need remains to be seen. By landing another NFL gig, though, he just gave his former employer an unexpected parting gift.
Bill Belichick just received an unexpected $1.5 million parting gift from Cam Newton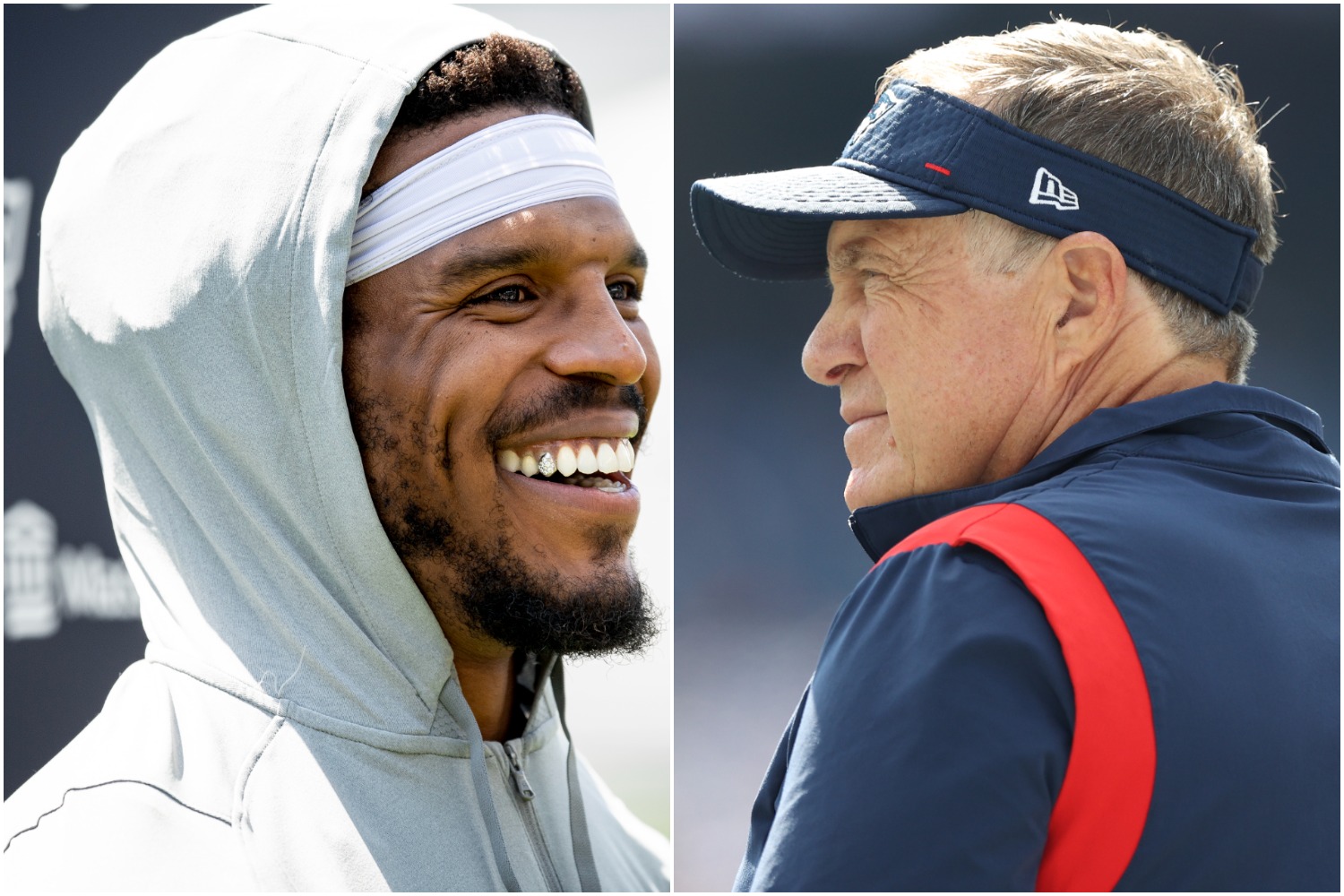 Considering he sat on the free-agent market for several months, Newton signing with Carolina certainly qualified as a major surprise. Plus, the franchise cut ties with him after the 2019 season, which seemingly ensured the three-time Pro Bowler would never don a Panthers uniform again.
However, a dire situation has put Newton in a position to showcase whatever's left of the skill set that helped him become one of the league's biggest stars. And by signing on the dotted line and gaining some semblance of financial security, he just gave Belichick a valuable gift without spending a single cent.
Newton's one-year contract with the Panthers carries a maximum value of $10 million, contains $4.5 million guaranteed, and includes a $1.5 million roster bonus. Due to offset language in his deal with the Patriots, his former boss will have an extra $1.5 million to spend next season.
"This contract means the Patriots are no longer on the hook for Cam Newton's $1.5m guaranteed salary for this year. They will get a $1.5m cap credit in 2022," tweeted Ben Volin of The Boston Globe. "Newton gets to keep the $2m signing bonus from the Patriots, though."
A $1.5 million cap credit may not move the needle much, but with star cornerback J.C. Jackson set to hit free agency, the Patriots need every penny possible heading into the offseason. Thanks to Newton, Belichick will have a bit more financial wriggle room to build a championship-caliber roster.
Ironically, the quarterback's parting gift didn't cost him anything. In fact, Newton gave New England a $1.5 million boost for 2022 by getting almost $5 million guaranteed to play half the 2021 season.
The Patriots look poised to make the Panthers regret how they handled the most important position in sports
As Matt Rhule attempts to make the playoffs with an aging version of the quarterback formerly known as Superman, Belichick looks poised to make the postseason with a rookie under center. Of course, if the Panthers had handled the 2021 NFL Draft differently, they could be in an entirely different position.
At this point, Carolina looks foolish for passing over Justin Fields and Mac Jones with the No. 9 overall pick. That isn't necessarily a knock on Jaycee Horn, a talented corner who could develop into a star. Rather, it speaks more to the organization's ineptitude at identifying quarterback talent.
Think the Panthers could use an accurate, pro-ready passer like Jones leading their offense? The former Alabama standout may not have great arm strength or athleticism, but he definitely has the moxie, toughness, and intelligence to excel at the pro level. Don't forget Jones won the starting job over Newton, which rendered the former MVP jobless.
Plus, wouldn't Fields give Carolina a better chance to succeed? He has a similar build to Newton without the wear and tear on his body. Based his breakout performance against the Pittsburgh Steelers, the Ohio State product looks capable of being the guy for the Chicago Bears. And if Fields finds a way to maximize his immense physical skills, he could become a top-10 player at the position sooner than later.
So, even if the Panthers found a short-term fix by reuniting with Cam Newton, they still don't have a long-term solution to their quarterback woes.
And with the way the front office has botched the transition plan at the most important position in sports, the future doesn't look nearly as bright in Carolina as it should.
All statistics courtesy of Pro Football Reference. All contract data courtesy of Spotrac.