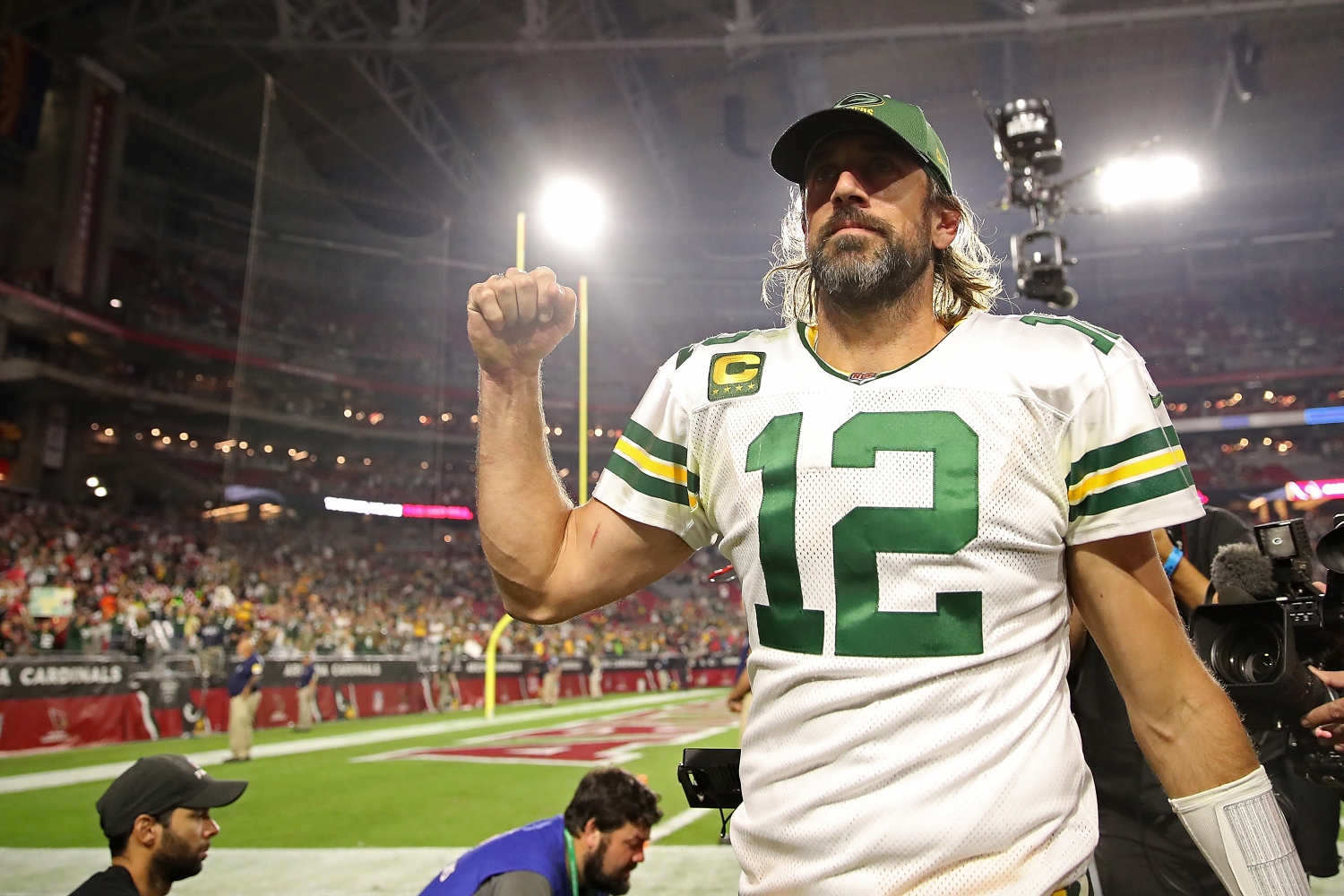 The Green Bay Packers Have Officially Added a Proven Superstar to Their Roster Who Will Make Aaron Rodgers Even More Dangerous Moving Forward
The Packers have officially added a superstar to their roster who will make Aaron Rodgers' life much easier the rest of the way. Can Green Bay finally capture the Lombardi Trophy?
The Green Bay Packers have dealt with personnel issues all season long. From losing key contributors to serious injuries to losing their starting quarterback for a game due to COVID-19, there's no doubt Matt LaFleur has faced quite a few challenges in his third year as an NFL head coach.
Luckily for the current leaders of the NFC North, though, help is on the way.
The Packers officially added a proven superstar to their roster Wednesday who will make life easier for Aaron Rodgers. And if all goes according to plan, don't be surprised if Green Bay starts putting up big point totals on a consistent basis sooner than later.
The Packers have gone from leading the league in scoring to struggling to put up big point totals
Last season's Packers pulled off a 13-3 record for the second straight year thanks to having the highest-scoring offense in the NFL. However, after finishing first in points during the 2020 campaign, they've experienced a significant slip in that category.
Despite possessing an all-time great at quarterback, Green Bay has only averaged 22.1 points per game — good for 20th in the league. In fact, just moving the chains has proven difficult at times, too.
Coming off a season in which they ranked fifth in total yards per game (389), the Packers have barely outgained the lowly Jacksonville Jaguars. While Trevor Lawrence and Co. rank 23rd at a rate of 332.9 yards per game, Aaron Rodgers and his cast of weapons haven't fared much better at 333.4.
Of course, those averages took a drastic dip following Jordan Love's abysmal first NFL start. Still, it's clear the Packers aren't anywhere close to where they were a year ago from an offensive perspective. Then again, it's entirely fair to place some of the blame on injuries and COVID-19, both of which have left the team shorthanded at various points throughout the season.
Green Bay has officially added a superstar to the roster who will make Aaron Rodgers more dangerous moving forward
Bak on the active roster ? @DavidBakhtiari ✖ #WallpaperWednesday pic.twitter.com/UUpiLjKQxA

— Green Bay Packers (@packers) November 10, 2021
After dealing with key absences across the first half of their schedule, the Packers officially added a star to their roster who can help push the offense in the right direction.
The team activated David Bakhtiari from the physically unable to perform list Wednesday. The All-Pro left tackle has spent most of 2021 working his way back from a torn ACL he suffered during practice on the final day of December. Since Bakhtiari began practicing three weeks ago, Green Bay had until Wednesday to place him on the active roster.
While it remains to be seen whether he suits up Sunday against the Seattle Seahawks, Bakhtiari should be back in the starting lineup sooner than later. That bodes well for a Packers offense that's sorely missed the talented offensive lineman's skills and leadership.
A three-time Pro Bowler who excels at shutting down opposing pass rushers, Bakhtiari has earned a reputation as one of the best players at his position. His return should help Green Bay get back to moving the ball and racking up touchdowns without nearly as much trouble.
Most importantly, though, Rodgers should soon have one of his best friends and most trusted teammates protecting his blind side. More comfort and more time to throw should lead to more points on the scoreboard. Plus, Bakhtiari brings physicality to the run game, so his return should allow Aaron Jones and AJ Dillon to inflict damage on the ground. And if that duo forces linebackers and safeties to respect the run, Rodgers should excel in the play-action passing game.
Overall, adding a true superstar like Bakhtiari to the roster gives Green Bay a chance to become an explosive offense down the stretch. However, as much as it helps to have an All-Pro left tackle joining the squad midway through the season, the Packers desperately need some banged-up defensive stars to get healthy before time runs out.
While getting David Bakhtiari back is great, Matt LaFleur's team still needs reinforcements on the other side of the ball
The Lombardi Trophy won't come back to Green Bay if reinforcements don't arrive on the other side of the ball. After all, with a highly motivated version of Aaron Rodgers in the fold, the Packers should ultimately improve enough on offense to contend for a title.
On the other hand, LaFleur's squad would look a whole lot better with All-Pro cornerback Jaire Alexander and top pass rusher Za'Darius Smith on the field. The former finally returned to practice Thursday following a Week 4 shoulder injury that threatened to end his season. The latter looks poised to return at some point after undergoing back surgery.
Getting Alexander and Smith back would make the Packers a dangerous team to face in the playoffs. The dynamic defensive back has the athleticism, route recognition, and technique to shut down No. 1 receivers. Meanwhile, the tone-setting outside linebacker brings much-needed physicality and the ability to get after the quarterback.
Green Bay's oft-criticized defense has shown marked improvement in recent weeks, moving all the way up to sixth in points allowed. But in a postseason scenario, it's hard to see that unit stopping the likes of Dak Prescott and Tom Brady without Alexander and Smith.
So, while adding David Bakhtiari to the roster represented a step in the right direction, the future will look even brighter for the Packers if they're able to get back their two biggest defensive stars, too.
All statistics courtesy of Pro Football Reference.