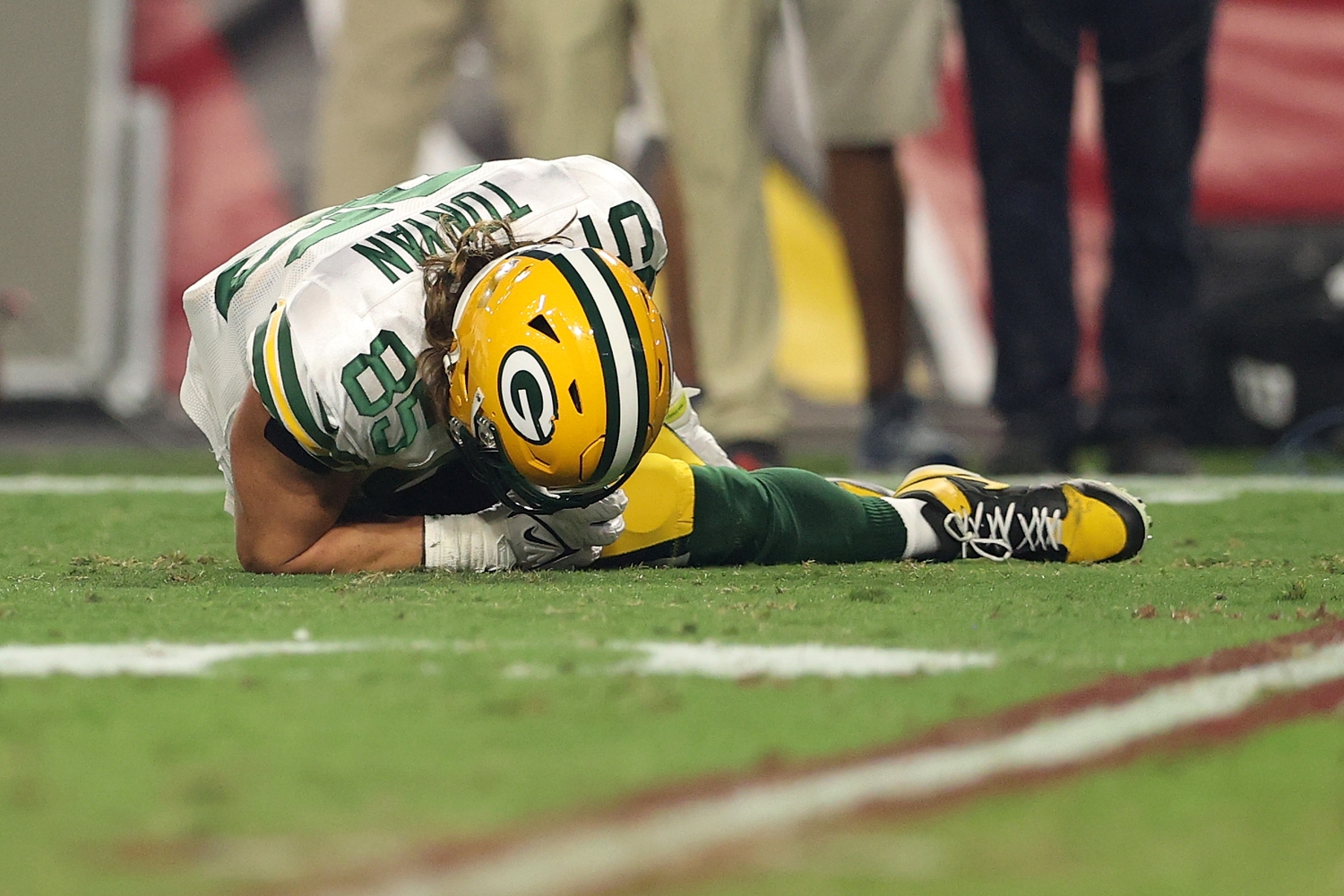 Packers TE Robert Tonyan's Season-Altering Setback Carries Costly Consequences for His Quarterback, His Team, and His Wallet
With Robert Tonyan sidelined by a torn ACL, Aaron Rodgers and the Packers will have to figure out how to put up points without the talented tight end. Unfortunately for Tonyan, his injury could cost him at the negotiating table, too.
Although the Green Bay Packers succeeded in spoiling the Arizona Cardinals' spotless record, they suffered a significant loss in the process. Unfortunately for Robert Tonyan, his fourth NFL campaign came to a swift and painful end during his team's 24-21 victory over Kyler Murray and Co.
With the talented tight end sidelined until 2022, Aaron Rodgers obviously faces a challenge to get by without one of his most trusted targets. However, while the Packers should still feel fairly confident about their chances of representing the NFC in Super Bowl 56, Tonyan's future doesn't look nearly as bright.
After all, his season-altering setback carries costly consequences for his quarterback, his team, and his wallet.
Robert Tonyan's 2021 season came to an end against the Cardinals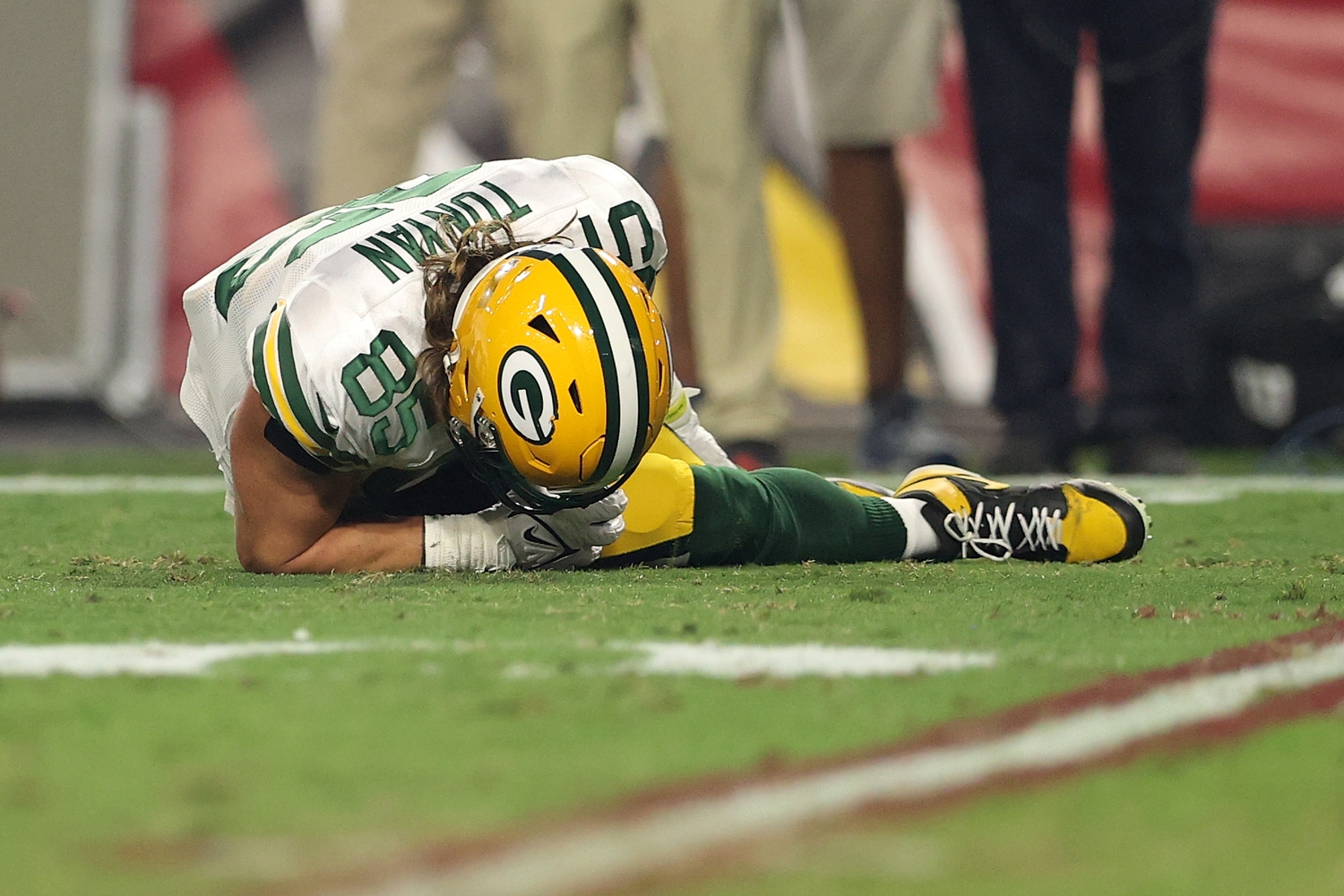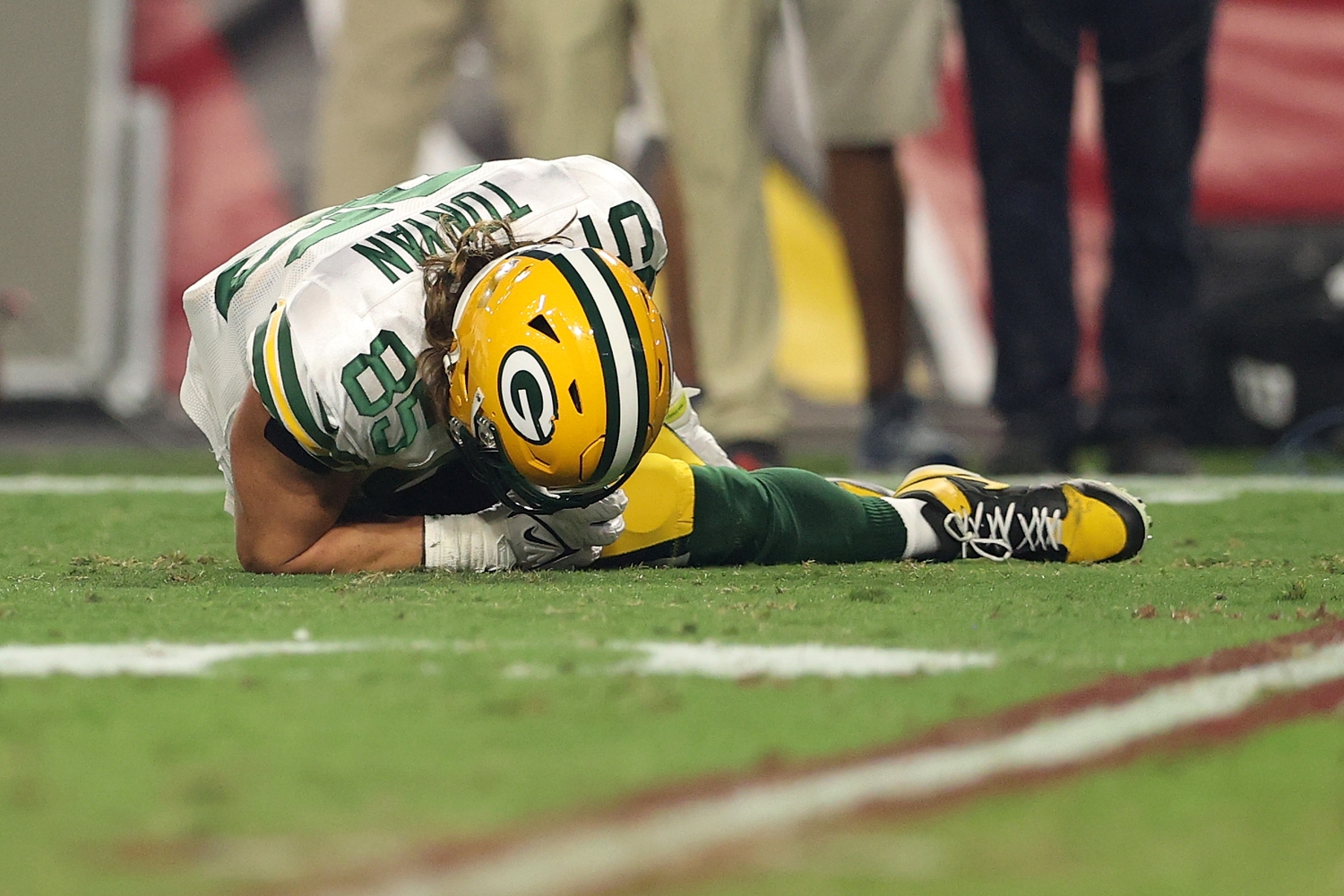 The injury bug bit Green Bay again in Week 8. This time, it sapped the team of one of its most important players for the rest of the season.
Starting tight end Robert Tonyan injured his knee at the end of a 33-yard reception in the third quarter of Thursday's clash against the Cardinals. Although the Packers narrowly escaped with a victory, they lost one of their top weapons to a torn ACL.
An undrafted free agent who originally signed with the Detroit Lions, Tonyan has developed into a valuable member of the offense. Coming off a breakout campaign that helped him land a well-earned raise, the Illinois native racked up 18 catches for 204 yards and two scores before he suffered a season-altering setback.
With their third-leading receiver set for a lengthy rehab process, the Packers seem to lose a key player on a weekly basis. And the fallout of Tonyan's injury could prove costly on multiple levels.
The talented tight end's painful setback could prove costly for his quarterback, his team, and his wallet
Think Aaron Rodgers would like to have a 6-foot-5, 237-pound target at his disposal for 17 games and the playoffs? Unfortunately for the reigning MVP, his job just got a little more difficult in the wake of Tonyan's injury. As a reliable playmaker and willing blocker, the 27-year-old tight end brought tremendous value to the offense. Now, though, Rodgers will have to rely on less-compelling options like Marcedes Lewis (who turned 37 in May) and Josiah Deguara (a second-year player coming off an ACL tear of his own).
Will the Packers suffer the effects of not having Tonyan in the lineup?
That remains to be seen, but with injury issues all over the roster (particularly on offense), his setback certainly leaves the team in a weaker position moving forward.
More importantly, though, the consequences of Tonyan's injury could prove costly for his wallet. As an impending free agent, he needed to put together a solid campaign to set himself up for a major raise. But after tearing his ACL midway through his second season as a part-time starter, will he still land a multi-year deal?
Tonyan's 2020 numbers (52 catches for 582 yards and 11 touchdowns) prove he can produce at a high level. At the same time, though, he will enter free agency as something of a one-year wonder. After all, take away his numbers from a year ago and he only has 32 receptions on his NFL resume.
At this point, it's difficult to see Tonyan securing anything close to the amount of guaranteed money he likely would have secured before his injury. He may even have to settle for a one-year deal and prove he's still the same caliber player. Either way, the odds of him stuffing his wallet via a market-level contract took a substantial hit on Thursday Night Football.
Will the Packers pursue another target for Aaron Rodgers in light of their latest injury blow?
With their No. 1 tight end done for the year, the Packers suddenly have a major hole to fill. Obviously, replacing a player of Tonyan's caliber is no easy feat. After all, he's established a reputation as an up-and-coming player at the position.
Still, that doesn't mean Brian Gutekunst has to stick with the current depth chart. In fact, the third-year general manager could explore the trade market to land a replacement for Tonyan.
Why not give the New York Giants a call about Evan Engram? The 2016 first-rounder comes with durability concerns, but he also possesses excellent athleticism and pass-catching chops. Like Tonyan, Engram will become a free agent this spring, so the Packers would have to be willing to part ways with at least a mid-round pick for a player who could leave in a few months.
If Gutekunst wants to take a chance on someone with less tread on the tires and more upside, he could try and work out a deal for Devin Asiasi of the New England Patriots. Coming off a nondescript rookie season, the 2020 third-round pick has consistently been a healthy scratch and doesn't seem to have a future in Foxborough. Still, given his athleticism and production in college (he posted a 44/641/4 line as a junior), Asiasi could become an impact player in a different environment.
Ultimately, the Packers need to make some move to bolster their depth at tight end. And once the season ends, they'll have to make a big decision about how much they're willing to pay Robert Tonyan to stick around.
All statistics courtesy of Pro Football Reference. All contract data courtesy of Spotrac.