The Miami Dolphins Are Dealing With a Disastrous Situation That Will Get Even Worse by Trading Tua Tagovailoa for Deshaun Watson
Despite entering the season with the expectation of competing for a postseason berth, it's obvious the Miami Dolphins won't be playing in January. After all, with the team sitting at 2-7, there's no doubt Brian Flores' squad has a better chance of landing the No. 1 overall pick in the 2022 NFL Draft than posting a winning record.
What does the future hold for the bottom-ranked team in the AFC East?
At this point, it's impossible to determine exactly which direction the Dolphins will go. But the idea of Deshaun Watson re-locating to South Florida certainly seems like a realistic possibility.
Unfortunately for the Dolphins, they're dealing with a disastrous situation that will only get worse if they decide to send Tua Tagovailoa to Houston.
Protection issues have made it incredibly difficult to get an accurate read on Tua Tagovailoa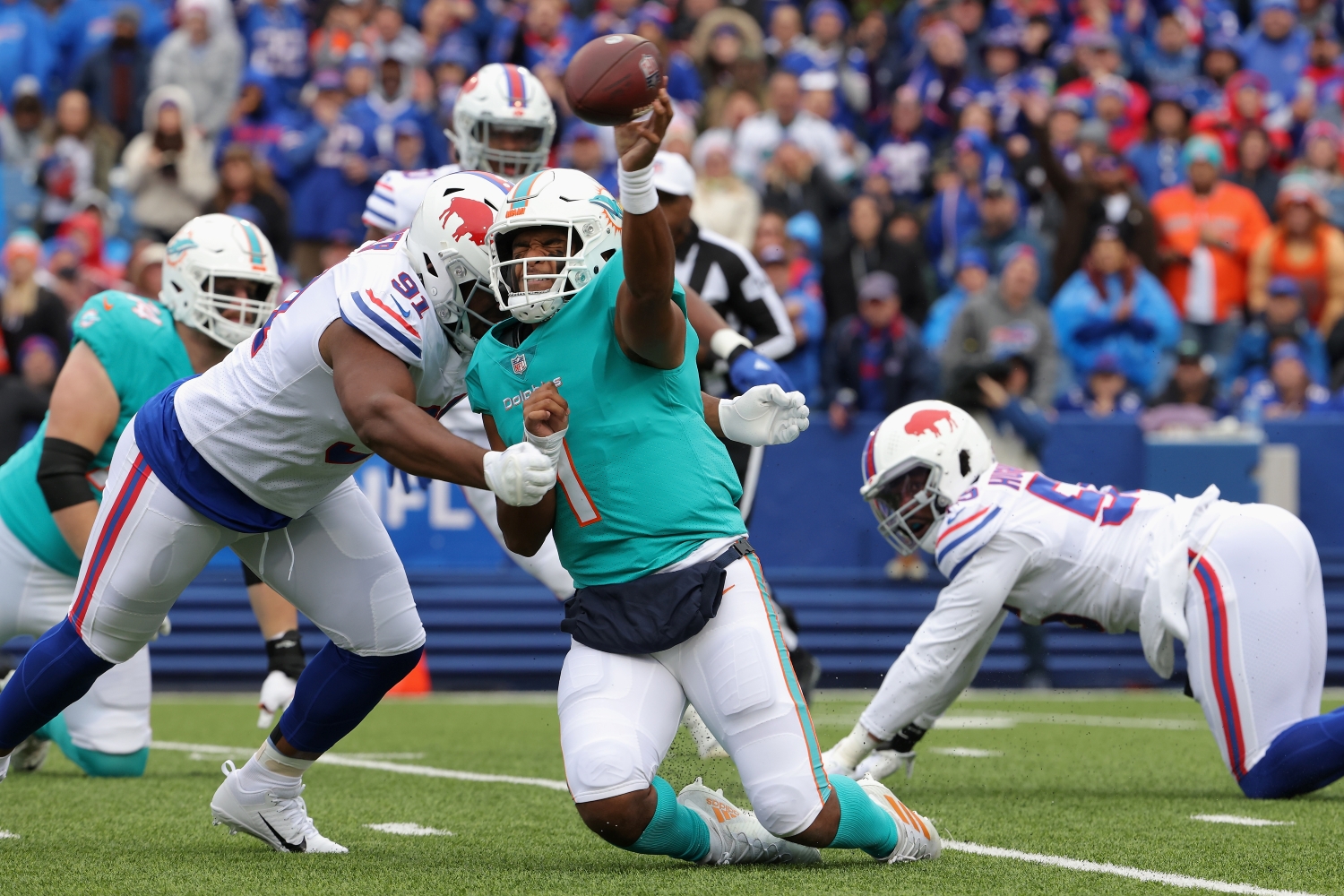 Has Tua Tagovailoa underwhelmed since he made the leap from Alabama to the NFL?
On one hand, it's hard to look at his injury issues and raw numbers (10 interceptions in 14 starts, career quarterback rating of 86.7) and not come away disappointed.
However, it's not entirely his fault, either.
After all, it's nearly impossible for a quarterback to succeed without proper protection. And even though the Dolphins invested a startling number of early-round picks on tackles and guards since Chris Grier took over as general manager in 2016, the metrics prove he made some truly awful draft-day decisions.
According to Football Outsiders, Miami's offensive line ranks 31st in the league. Meanwhile, Pro Football Focus doesn't show much love for that group, either. Here's how the team's "homegrown" linemen grade out in their system:
2020 first-round pick Austin Jackson – 48.7 grade; 68th out of 76 guards
2021 second-round pick Liam Eichenberg – 46.2 grade; 76th out of 79 tackles
2020 second-round pick Robert Hunt – 58.4 grade; 54th-ranked guard
To make matters worse, longtime starter Jesse Davis hasn't provided any semblance of consistency at right tackle. He owns a 49.5 grade and checks in at No. 73 in PFF's positional rankings. Plus, the center spot has been a problem too, as Austin Reiter and Greg Mancz rank 30th and 20th, respectively, among 40 players graded at the position.
As a result of the struggles up front, Tagovailoa and Jacoby Brissett have been sacked 23 times, the running game has been thoroughly ineffective, and the offense has gone from averaging 25.3 points per game in 2020 to only 17.2 this season.
In other words: The Dolphins struggle to score because they can't block anyone.
The Dolphins' disastrous offensive line situation will get even worse by trading for Deshaun Watson
Would Deshaun Watson represent an upgrade over Tua?
Absolutely.
There's no doubt the Houston Texans quarterback possesses superior size, arm strength, and athleticism, and his stats reflect his standing as an elite player at the position.
However, trading for Watson won't fix the offense. In fact, it would make it much more difficult to address the protection and blocking issues that have prevented the team's second-year signal-caller from having a fair shot to showcase his skills.
After all, how exactly would Miami be able to upgrade the offensive line without any draft capital?
Any deal involving Watson will undoubtedly include multiple first-round picks. So, not only would the Dolphins have to part ways with a promising quarterback on a palatable rookie contract, but they would also have to surrender premium selections to secure a proven commodity.
Instead of securing a franchise left tackle or a stud center early in the draft, Miami would have to find another route to improve up front. However, considering Watson makes an average annual salary of $39 million, the team would have significantly less financial flexibility to address the offensive line.
Obviously, the three-time Pro Bowler has immense physical talent and a track record of excellent production. But inserting Watson into a lineup that features too many below-average players up front seems like it would end in more disappointment for Dolphins fans.
Too many blown decisions should lead to the end of the Chris Grier era in Miami
The Dolphins can't afford to let Grier remain in charge of personnel decisions any longer. While the offensive line stands out as an obvious weakness, it's clear several other position groups need significant upgrades, too.
Of course, it didn't have to come to this. But thanks to Grier's run of incompetence, Miami may need several years to build a playoff-caliber roster.
Where would the Dolphins be if they had selected T.J. Watt instead of Charles Harris with the 22nd overall pick in the 2017 draft? They certainly wouldn't have the 27th-ranked scoring defense and just 16 sacks in nine games.
Where would the Dolphins be if they had utilized their haul of first-round picks from the Laremy Tunsil and Mikah Fitzpatrick trades effectively? Rather than re-stocking the roster with long-term building blocks, Grier selected a left tackle who already had to be moved to guard (Austin Jackson), a cornerback who can't get on the field (Noah Igbinoghene), and a guard who went from being a rookie starter to spending most of the 2021 season on the sidelines (Solomon Kindley).
Plus, don't forget the Dolphins chose Tua over Justin Herbert — a decision that looks like a massive mistake with each passing week.
Throw in some bad free-agent deals (Kyle Van Noy and Will Fuller), the curious decision to extend oft-injured wide receiver DeVante Parker's contract, and the strange handling of star cornerback Xavien Howard, and it's easy to see why Grier continues to get roundly criticized by fans of the struggling AFC East franchise.
Unfortunately for the Dolphins, although the arrow appeared to be pointing up after the 2020 season, it's gone in the opposite direction. And if they plan on competing with the likes of the Bills and the Patriots anytime soon, they may have no choice but to start from scratch — again.
All statistics courtesy of Pro Football Reference.